IMPACT Web Design: How We Build Incredible Websites Using Templates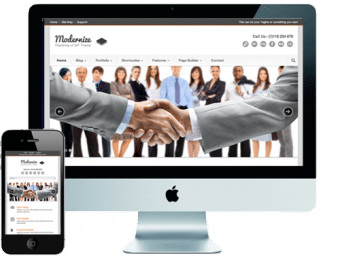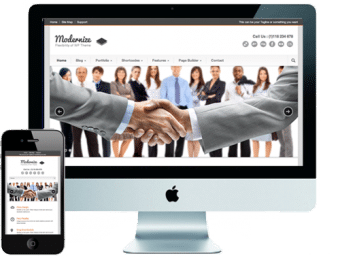 Building incredible websites is part of the culture here at IMPACT. But even more important is our dedication for doing it quickly and efficiently so our customers have a product that benefits them.
Through our experience in web design, we've found that using templates offers a much better product for ourcustomers at a lower cost, allowing them to allocate their resources to other areas of their online marketing.
Building a website from scratch may seem like a good choice, but the bottom line is it takes much longer and will cost you a lot more. You need your website up and running and quickly, which is why IMPACT uses these existing solutions to quickly build up your online presence.
Templates are very cost-effective and are created in a timely fashion. By saving you time and money, it allows us to also focus on developing your website with a solid marketing foundation.
It doesn't make much sense to waste all that time creating a brochureware type website from scratch. Save yourself time and money, and allocate your resources to other important avenues.
How We Pick a Template
At IMPACT, we put a lot of focus into choosing the right template to fit our customers marketing and branding needs. There is a marketing "science" behind the templates we choose for a website. It's the perfect combination of functionality and design that leads us to the right one.
What we look for when choosing a premium template:
1. Responsiveness & Mobile Friendly – There's a great number of people viewing your website or blog using mobile devices like their iPhone or iPads. It's imperative that the template resizes itself to be compatible for those devices.
2. Shareable – Your website and the remarkable content within it needs to be shareable. A proper template will seamlessly integrate with all of the social networks.
3. Lead Generating Slider – You have 5 seconds to make an impression when someone lands on your homepage. The slider (slideshow of images) has to be a powerful to showcase your business and generate leads.
4. Industry Related – Your site needs to portray the appropriate "feeling" of your industry. Here's where your branding comes into play.
5. Cross Browser Compatibility – Your site needs to be viewed the same by everyone! Someone using Internet Explorer needs to have the same experience as someone using Mozilla Firefox or Google Chrome.
6. Easily Customizable – Not all templates are created equal. If a template is flexible, it gives us the ability to manipulate it in ways that will have great impact on your marketing. It allows us to place certain calls-to-action or lead generating content where they will be most effective.
7. Company Contact Made Easy – Ever have trouble locating a phone number on a website? Your website visitors have to be able to contact you via phone or even through your social media accounts. These items need to be prominently displayed at the top of each page.
What We Do to a Template
Once we choose a template that best fits your company's marketing and branding needs, our team of designers goes to work to fully customize the website for your business and industry.
How our designers customize your template:
1. Brand it to Your Company – Although it is a template, it should still be uniquely yours! That means your logo, colors, fonts, and other branding elements will be incorporated into every aspect of the template. By the time it's complete, you won't even know it's a template. The finished product is your beautifully branded website.
2. Build a Slideshow – A slideshow is more than just a collection of images. It's your website's first impression and a prime source for generating leads. By including attractive offers within the slideshow, your enabling your site to generate more qualified leads. We build slideshows that put the focus on your company offers and services to drive relevant traffic to the right parts of your site.
3. Build Pages/Incorporate Content – We build subpages that are effective. Subpages need to be that perfect supplement to the slides on the homepage and the Call-to-Actions setup within the sidebar. They also need to be attractive to those that land on them from search engines or social networks.
4. Fully Optimized - A template on it's own is not optimized for the search engines. We install only the best SEO plugins that allow us to optimize each page of your site. This includes adding in meta tags, alt tags, keywords and proper page titles ensuring your website is found and appears nicely within the search results page.
How We Reallocate Your Resources
By going with an existing template, your company will not only receive a beautifully crafted website much quicker, but you'll also save money which you can reallocate to other areas of your online marketing that will greatly improve your success.
Other areas we reallocate your "saved" resources:
1. More Offers – Instead of simple brochureware, we aim to establish a lead and sales generating website for our customers. By creating attractive offers through effective and strategically placed calls-to-action, we'll help drive those prospects to landing pages in order to gather contact information and generate leads.
2. Lead Nurturing – Once we have our client websites generating leads, we work hard in developing lead nurturing campaigns to help push these leads further down the sales funnel. With automated email marketing, leads will receive more attractive content and offers from your site in an effort to make sale.
3. SEO – While a beautiful site is easy on the eyes, we make sure all of our clients websites are fully optimized for the search engines. This means researching keywords and phrases, and making sure all website content is focused and centered around getting you found.
4. Blogging – In order to generate leads, you first need traffic. Our content marketers work to keep content on our clients websites fresh and engaging in an effort to drive more relevant traffic to your site.
5. Social Media – Simply put, companies need to utilize social media marketing to drive more traffic and raise brand awareness. By setting you up with share buttons on all attractive content on your website, visitors will be able to share it with ease.
Greater Results
The idea behind using templates is to produce greater results for our clients. By saving you time and money, we're also able to work more efficiently in reallocating your resources so you experience the full benefit of an effective online marketing campaign.
By no means are these templates a shortcut. Our team of designers works to customize these existing solutions to represent your company image in an impressive way.
Key Takeaways:
Building template websites saves our clients money which can be reallocated for a stronger online marketing campaign
Creating websites from scratch takes much longer and costs more
We carefully choose templates that fit our customers marketing and branding needs
Once a template is chosen, our team of designers works hard to customize it to fully match your brand
Need Help?
If you're interested in creating a powerful, lead generating website, contact us today to schedule your free marketing consultation.
Free: Assessment
Does your website build trust with buyers and bring in revenue?
Take this free 6 question assessment and learn how your website can start living up to its potential.
Score My Website
Free: Assessment
Does your website build trust with buyers and bring in revenue?
Take this free 6 question assessment and learn how your website can start living up to its potential.
Published on May 18, 2012