Pinterest edges Snapchat to become third-largest social media app in US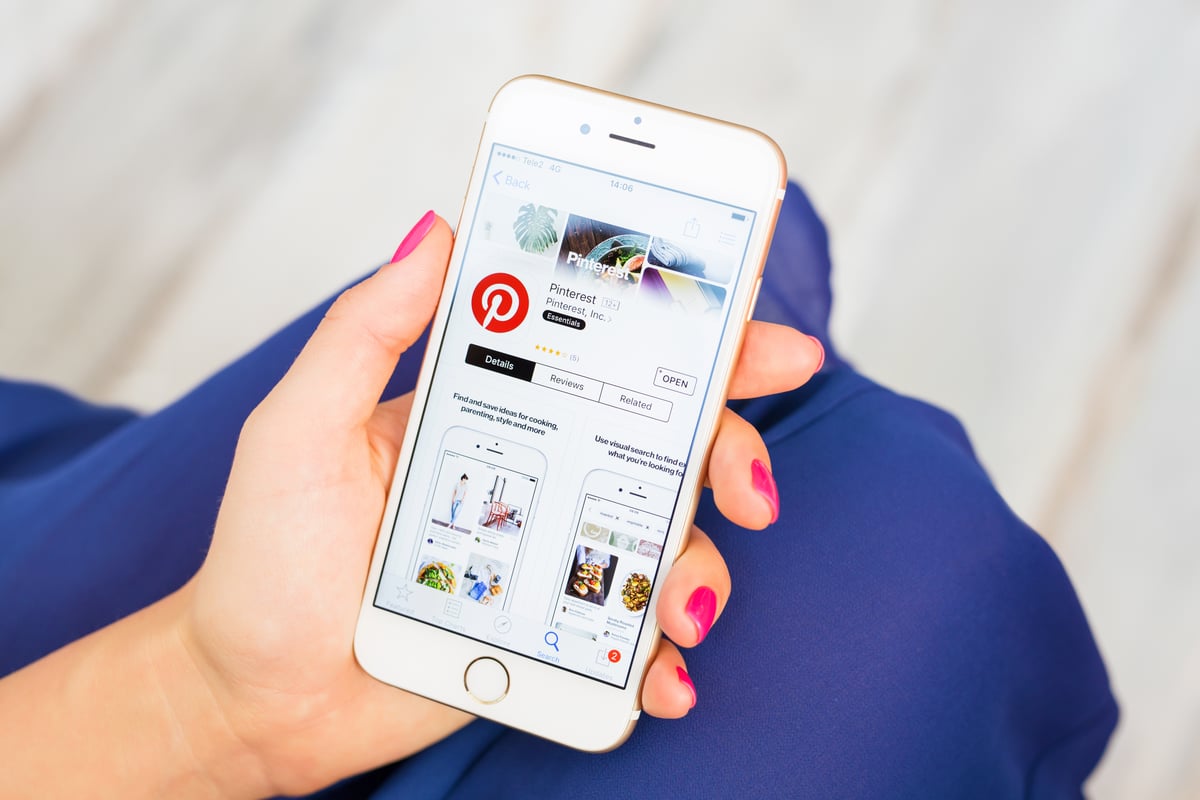 Social media is no longer a tool for simply sharing photos with family.
Today, it is a way for brands, publishers, and users to engage, share ideas, follow relevant news stories, and build relationships of all kinds.
However, with the number of social platforms available, there's sure to be some competition among them. A year ago, TikTok was the sound a clock makes to most Americans. Today, the platform claims to have over 800 million monthly users worldwide.
Instagram's declining growth rate
With the rise of video, it's no surprise TikTok is becoming one of the most used social platforms. With a large majority of its demographics being Gen Z.
As 2019 came to a close, the US growth rate for Instagram fell into the single digits and it should continue to decline over the next couple of years.
eMarketer even revised its US growth rate projections for Instagram, showing a decline over the next two years. In 2020, the projected growth for Instagram dropped from 5.4% to 4.5%, and to 3.2% in 2021 from 4.1%.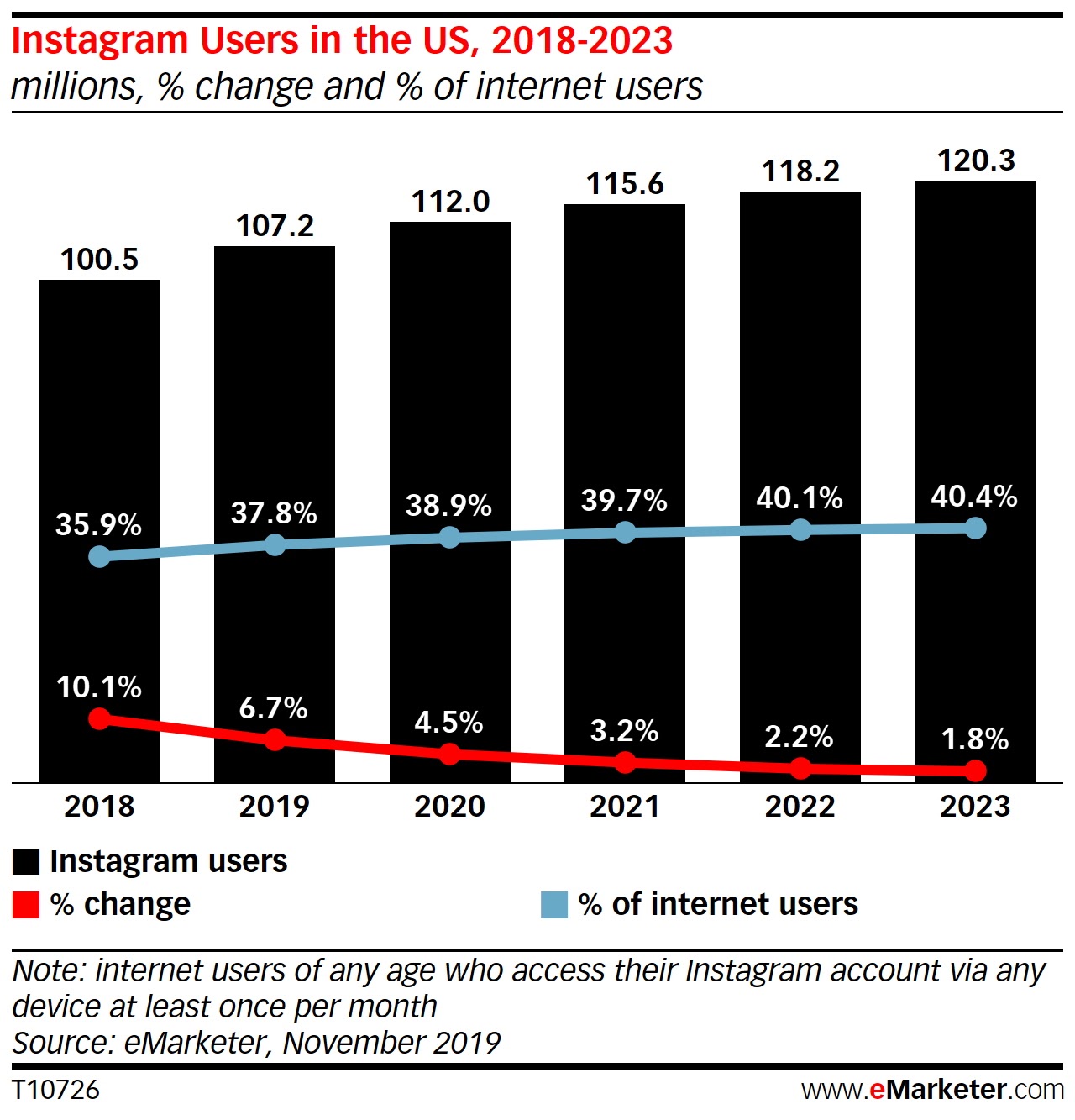 Instagram's growth is projected to continue dropping. A reason for the drop in growth is the emergence of alternative apps such as TikTok and Snapchat — which cater more towards the younger age groups.
Despite the drop in growth, Instagram is still the second biggest social platform, behind Facebook, its parent company.
A big driver of revenue for Instagram is ads. According to eMarketer, ad revenue in the US for the platform will continue to grow at double-digit rates, likely due to the introduction of shoppable explore tab ads.
eMarketer Analyst, Nazmul Islam also stated, "Instagram is doing really well — it is the second-most internet-penetrated social media platform in the U.S. behind Facebook and, despite increased pressure from the competition, we expect it to maintain its second-place position with a good gap from the rest of the platforms."
What this means for your brand's Instagram strategy
Instagram is a great platform for connecting with users and showcasing your products, and a way for you to go behind the scenes and show the people that help make the magic happen.
Many brands on Instagram use the platform throughout the various stages of the buying process. As you're developing your strategy, identify how you can reach users during the discovery, consideration, and decision stages.
Target users in the discovery stage through targeted ads (which can be displayed in stories, user feeds, and the discover section), utilizing hashtags, and potentially partnering with influencers.
Target users in the consideration stage by posting images and videos discussing product details and sharing testimonials.
Target users in the decision stage through posts that prompt them to take action — discount codes, sale announcements, or even limited-time offers.
How Pinterest earned the third slot
While you're likely to find more Gen Z and Millenials utilizing the social video apps Snapchat and TikTok, Pinterest users are evenly represented amongst all age groups.
By being able to appeal to all, Pinterest was able to become the third-largest social media platform in 2019, edging out Snapchat.
Pinterest had a big 2019. Throughout the year the company made numerous updates to the platform making it more user-friendly.
Its updates included new shopping features (allowing users to shop by brand, get personalized shopping recommendations, search in-stock product pins, click shopping ads), Pinterest Academy (which is geared towards business marketing teams), a promoted video ad format, and an updated lens feature to help improve visual search.
Not only did they make those improvements, but Pinterest also announced an IPO.
The changes were made to create a better user experience. This helps users find inspiration for their wardrobe, home, or next DIY project — and keeps them coming back to the platform.
What this means for your brand's Pinterest strategy
What has worked on other social platforms won't necessarily be successful on Pinterest.
The platform isn't just for shopping. It's also great for researching and finding solutions, whether it be related to travel, health and fitness, or DIY, to name a few.
With all of the changes recently made to the Pinterest platform, a part of your brand strategy should be identifying any areas of low hanging fruit that you could quickly implement to bring more users to your posts.
Did you know you can upload your entire product catalog to the platform? That's something anyone with a business account can take advantage of.
Pinterest isn't just a lifestyle site for fashion and DIY. It's a tool that can help drive traffic and leads to your website.
Unlike other social platforms, you should have an SEO strategy while posting to Pinterest. Since the platform is essentially a JQuery search engine, you'll want to treat the copy of your posts like web copy and make sure it's optimized.
Start by having clear titles and descriptions. You can create titles up to 100 characters long, and descriptions up to 500 characters.
An effective pin isn't just about the copy, though. Roughly 83% of weekly US pinners have made a purchase based on pins from brands, so remember to use visually compelling imagery that will help you tell them a story, making them want to learn more.
And, don't forget to make your pins actionable by adding a link that drives users back to your website, where they can learn even more.
What strategies are you utilizing on Pinterest? Let us know in IMPACT Elite.
Free Assessment:
How does your sales & marketing measure up?
Take this free, 5-minute assessment and learn what you can start doing today to boost traffic, leads, and sales.