Local landscaping company sees 33X ROI with IMPACT paid ads strategy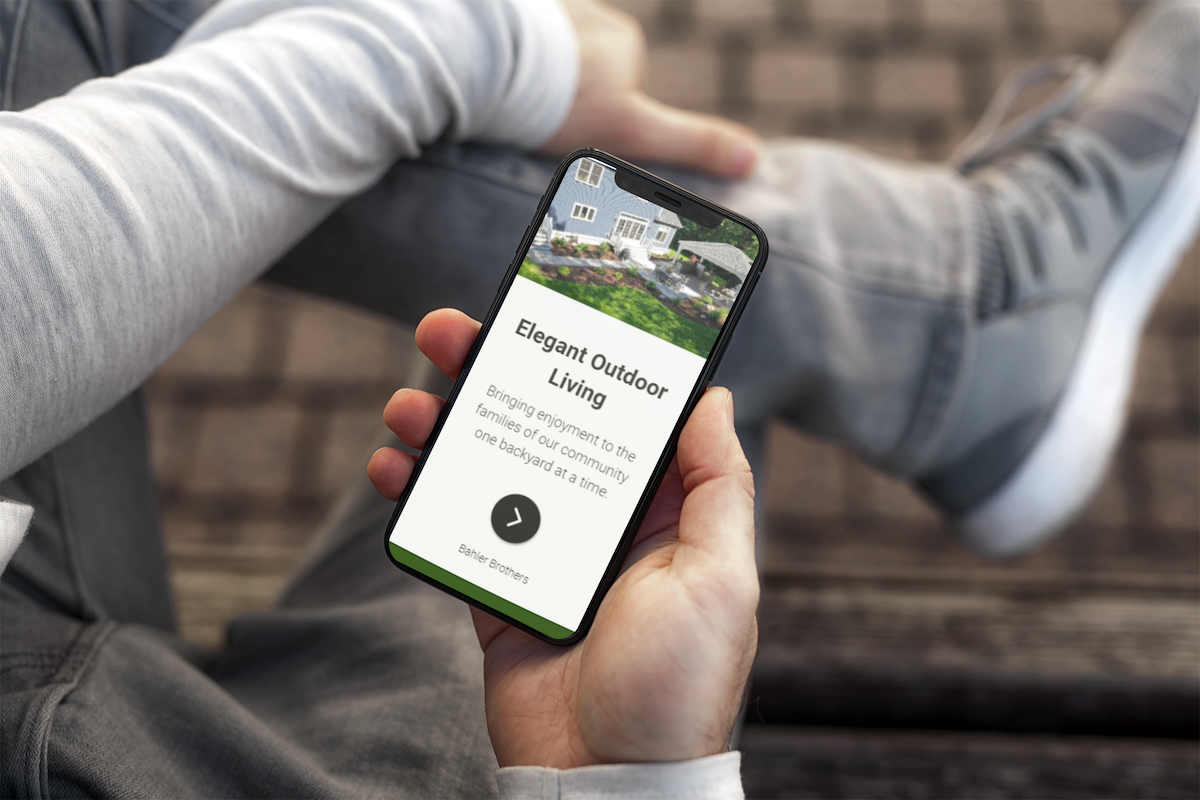 Bahler Brothers is a family-owned and operated landscaping company in northern Connecticut. Their outdoor living solutions are outstanding, and their people are passionate about what they do.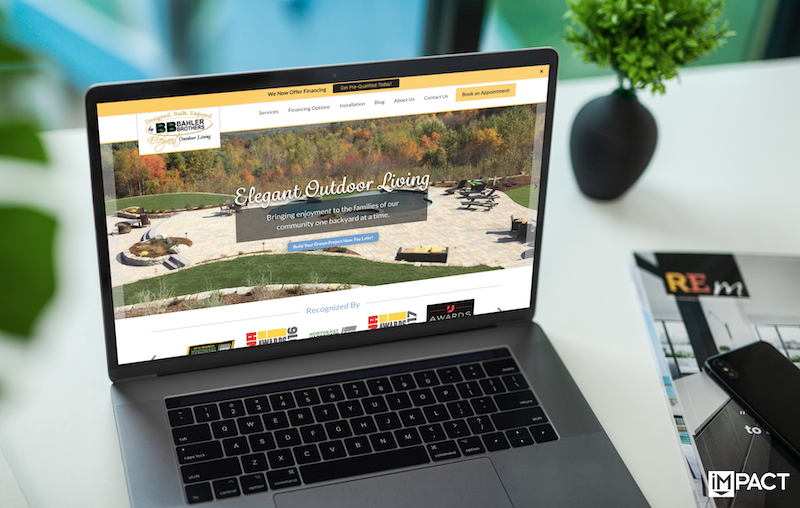 For more than 35 years, Bahler Brothers has specialized in hardscape pavers and outdoor luxury living solutions, specifically in northern and central Connecticut.
They were one of the first landscaping companies in the area to get online and embrace the potential that digital marketing could bring to their company. Since the early 2000s, they have been publishing how-tos and maintenance tips for do-it-yourselfers, as well as a lot of other helpful content.
The Bahler Brothers came to IMPACT in 2017 already bought in on the value of inbound marketing and virtual selling, but they needed a little assistance optimizing the work they were doing and making sure the right people were interacting with their website. They've seen some great success with the power of content, and they wanted to take their strategy to the next level.
🔎 Related:
Content marketing is great, but now what?
The Bahler Brothers team needed help understanding their data and wanted to explore other potential revenue opportunities. They rely heavily on word-of-mouth referrals and wanted to find other revenue streams to compliment this area of their business.
The first thing they wanted to tackle was their blog. It was already bursting at the seams with great content, but it wasn't quite optimized for people to reach out to them for quotes or sales appointments.
They were also experiencing some issues when it came to sales. The sales team saw a lack of traction or conversions to customers from sales calls due to budget constraints.
🔎 Related: What is an omni-channel paid ads strategy?
As it turned out, the most common complaint was that the prospects didn't expect some of the services to cost so much. They needed a way to filter out the unqualified leads earlier on in the process, so their sales team could focus on selling to the right people.
They needed a better way to reach people they could help
We collaborated with the Bahler Brothers team and analyzed their data to come up with a content strategy that would help drive results.
As an incredibly talented team of landscape designers, the Bahler Brothers team was publishing a lot of content specifically about landscaping and some of the other services they provided. While that content was the most popular overall and produced a ton of traffic for them, most of the traffic was from states across the country where they were unable to help.
🔎 Related: The only Google Analytics checklist you'll ever need
After looking into Google Analytics and figuring out which topics people in Connecticut specifically cared about, it turned out that the users within their service area were more interested in the hardscaping and paver side of their business. Not just landscaping in general.
The Bahler Brothers team was then able to implement a new content marketing strategy and start publishing articles related to those topics instead.
To address issues with leads being unqualified due to budget, the team came up with a self-selection tool to aid users get a better idea of what their project's specific needs would cost them. This Project Cost Calculator would allow users themselves to decide if it was worth reaching out to the sales team.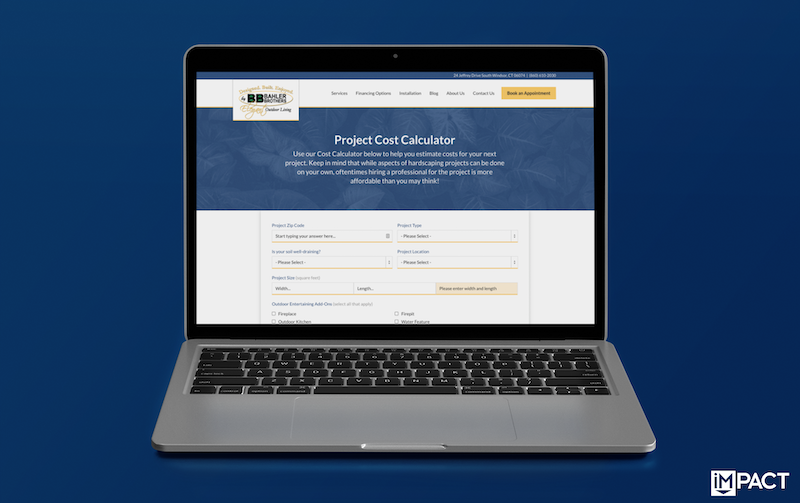 With this tool in hand, users would be able to add in their project's specific requirements and dimensions so that they have a good idea of what it would cost to work with the Bahler Brothers team before reaching out to sales.
🔎 Related: Why you need self-selection pathways on your website
To explore other revenue streams besides their content marketing and referrals, we worked with the team to come up with a Google Ads strategy that would be able to compliment the other work they were doing.
We started with a few campaigns promoting some of their most profitable services, targeting just their immediate service area: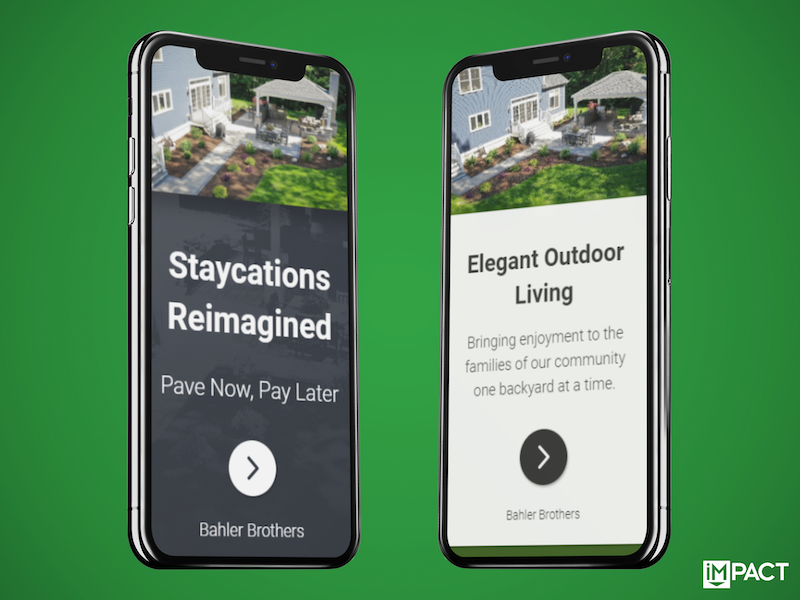 "Now, what do we do with all these leads?"
In less than two years of implementing our new content strategy, Bahler Brothers organic traffic skyrocketed.
Not only has their local traffic improved drastically, they are now getting users from all over the country reading their content. Their blog traffic has almost doubled and they are now one of the most popular landscaping blogs in the country.

On top of that, the Project Cost Calculator has worked wonders. There was an initial dip in overall appointment requests, but the quality of those requests have improved immensely. The sales team no longer wastes hours on the phone talking with prospects who can't afford their services.
Since launch, the Project Cost Calculator has generated more than 600 new leads and more than 20 closed deals directly attributed to contacts filling out the cost calculator.
🔎 Related: What results can I expect from our first Google Ads campaigns?
In October of 2019 we launched our newly created Google Ads strategy and ran a small test budget of $2,500 over the course of six weeks. Since the Bahler Brothers team only services a small area, we had to be sure to only spend ad dollars on users that they can actually help.
Over the course of that six weeks, we generated 17 leads and nine closed deals, resulting in over $40,000 in directly attributed revenue. That's a return on ad spend of more than 16X!
With the success seen by the Bahler Brothers team, they continue to analyze their traffic patterns and write content that their users really care about, and began running Google Ads as a regular part of their revenue stream.
After the initial run on Google Ads, the Bahler Brothers team continued on the platform into 2020. So far, year-to-date, they have spent around $7,500 in ad budget to produce an outstanding $248,000 in revenue directly attributed to their ads. That's a return of over 33X!
"We are fully aware of how demanding of a client we can be, but IMPACT has consistently gone above and beyond with helping to teach and redirect all of our needs around paid media. Between the endless amounts of patience and guidance they have provided, paired with their expertise in the field, our company has seen an incredible return on our investment"

— Kristi Vargas, Bahler Brothers Marketing Director
Curious about how IMPACT can help you with your paid media and ad campaigns? Or do you simply have questions about what you read in this case study? We'd love to hear from you, so set up a time to chat.
Free: Assessment
Does your website build trust with buyers and bring in revenue?
Take this free 6 question assessment and learn how your website can start living up to its potential.