Holy Sh*t! Mike Volpe is on Website Throwdown (And He Can Critique Your Site)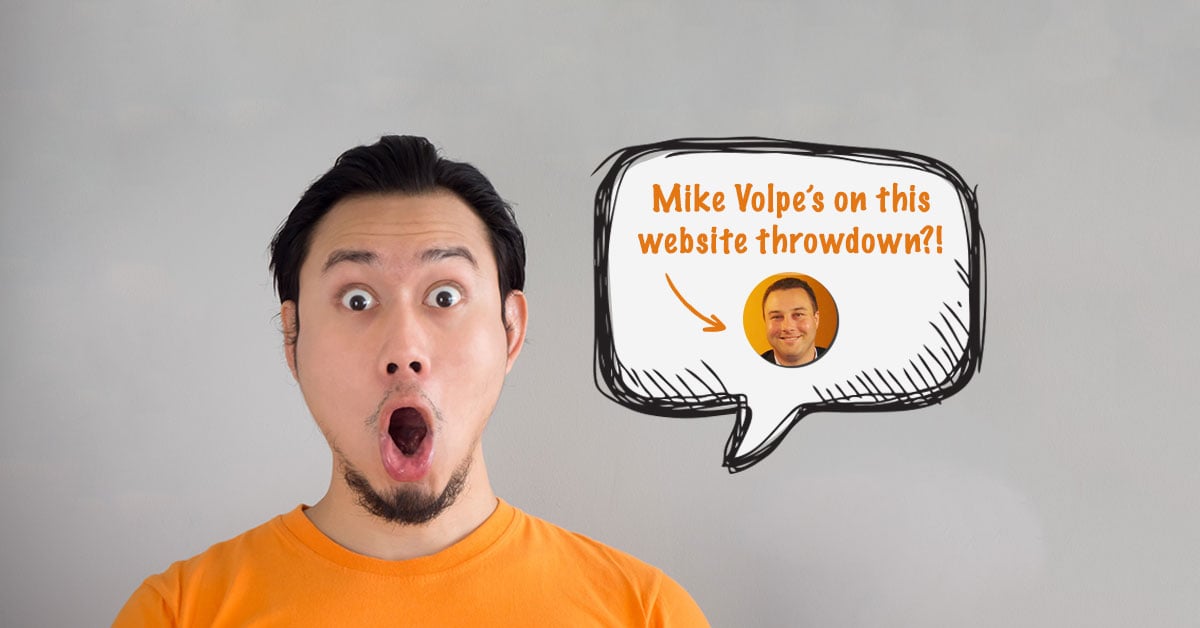 Inbound marketing heavyweight, Mike Volpe, may have been out of the tech spotlight for the most part this year, but covertly, he's been very much active on the Boston startup scene.
On the helms of news that he'll be joining cyber security company, Cybereason, as CMO, we're excited to welcome Mike to Website Throwdown on Wednesday, October 12th as our featured guest.
Holy shit, right?
Since first entering the inbound marketing, Mike Volpe has been one of the people I've admired most in the industry.
While next week, he will be helping me and Tom critique user-submitted sites (there's still time to submit yours for the chance to be one of them, here), let's take a minute to catch up on everything Mike has been up to and what he's doing next.
What Makes Mike Volpe Awesome
Just to give you a little background, Mike Volpe is a MBA graduate from MIT Sloan with nearly 20 years of diverse marketing and startup experience under his belt, ranging from business development and marketing management to CMO.
Most notably, Volpe signed on at HubSpot in 2007 as the company's fifth employee and upon becoming CMO in 2011, he helped the company grow from about a dozen beta customers to over 15,000 subscribers, 1,000 employees, $150M in revenue, and an IPO leading to a $1.7B market cap.
After leaving the company in 2015, Mike threw himself into the Boston tech scene, using his acute business, marketing, and tech knowledge to act as a valuable startup angel investor and advisor, and sit on the boards of Repsly, Inc. and Attend, Inc.
This past June, Mike also organized and hosted Growth Camp, a day-long, knowledge-packed, TED talk style conference attended by about 150+ marketers and sales professional including several IMPACTers.
What He's Doing Now
As CMO of Cybereason, Volpe is now responsible for driving the company's marketing strategy, brand management, lead generation, and overall marketing planning and execution.
"He has the marketing experience, overall technology industry knowledge and creativity to make Cybereason the leading cybersecurity company in the market," explains Lior Div, co-founder and CEO. "... Mike and his marketing team are playing a vital role in making sure everyone knows whom we are."
In a blog post last week, Mike echoed Div's excitement sharing eight reasons why he decided to come on board, and saying he wants to help mold the organization into "another pillar company in Boston."
Aside from returning to his executive roots, Mike also continues to serve on the Board of Directors at Repsly and keeps his thumb on the pulse of the tech community, looking for worthy investments.
Find Out What Mike Thinks of Your Marketing!


Needless to say, Mike Volpe knows a promising product and marketing strategy when he sees one. In fact, I'd go so far as to say, he's one oft he greatest inbound marketers of all time.
Want to hear what hear what he has to say about your business? Submit your website for the chance to be critiqued live on the air by Mike, myself, and Tom, on the next episode of Website Throwdown, Wednesday, October 12th.

From messaging and UX to design and strategy, we were tear your site apart and give you the construction criticism you need to take it to the next level. The submission period for this month's episode closes THIS FRIDAY, OCTOBER 7TH, so don't wait.
Use the form on this page or the button below to throw your site into the running right now!
Free: Assessment
Does your website build trust with buyers and bring in revenue?
Take this free 6 question assessment and learn how your website can start living up to its potential.