Business web and graphic designers, Adobe finally launches Illustrator for iPad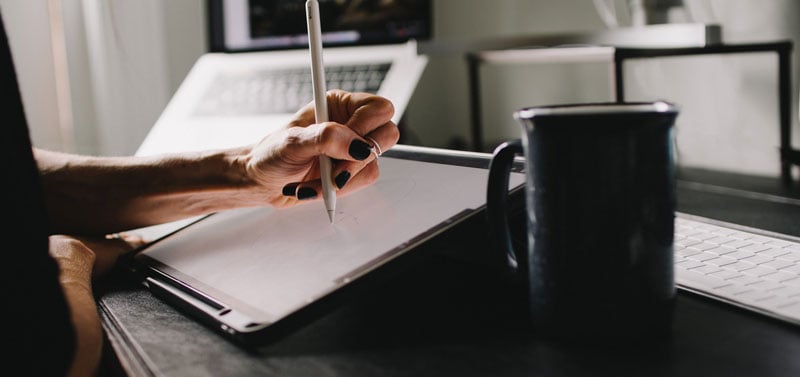 Attention, business website and graphic designers!
Adobe has finally released the long-awaited Illustrator for iPad after its announcement last year. Adobe is no stranger to the app game with a whole suite of apps built for mobile including Photoshop and many light versions of their heavyweight desktop counterparts.
Now after what has felt like the longest year (who's ready for 2021?) they've finally done it for one of the most used creative suite apps among website designs and illustrators alike.
Illustrator for iPad is priced like the other mobile apps at $10 per month or available to download for free with any adobe subscription that already includes illustrator. You can use the app without an Apple Pencil, but to take full advantage of the program you may ultimately want to invest in one as well especially when considering illustrating or drawing.
🔎 Related: Tips for color-blind designing from a color-blind designer
Illustrator has the potential to be Adobe's most powerful mobile app yet, taking bits of development already vetting in the mobile Photoshop and building upon it. Some of the most exciting features include the expansive typography toolkit (including build in adobe font capabilities), robust pattern tools, and seamless file syncing.
One of the stronger aspects that sets Illustrator apart from the other mobile illustration apps especially for web designers who are regulars to the adobe suite, is that the tools will already be familiar, as opposed to learning an entirely new platform.
As expected the mobile version doesn't quite hold up every feature of its desktop mate, but it seems to pare down some features, like combine shapes (similar to pathfinder), for a more optimized experience.
However exciting this all is, there are still a few fan favorite features yet to grace the iPad, like drop shadows and styles. But don't lose hope, my friends, as Adobe says they will "continue to add new features and new ways to bring your design ideas to life," and lists these among other updates coming soon.
So, how will this affect business web designers?
Mobile illustration apps like Procreate have been around for almost 10 years now, but have been reserved mostly for digital illustrators or artists.
More and more websites are looking to create more unique personal branding and getting away from the stock illustration overload. I actually see a lot of practical use for designers who probably already have an iPad kicking, around gathering dust.
(It's me, I'm designers.)
With website trends shifting towards the use of organic or abstract shapes, most designers will take to Shutterstock, downloading many of the same shape packs or texture packs that will quickly get stale.
🔎 Related: 11 website trends you can't ignore going into 2021
Take B2B company, Officevibe, for example. They make use of organic textures and shapes paired with imagery to convey a friendly, collaborative feel.
Even small hand drawn elements as seen here with Ruuster can be created in a swings of the apple pencil and can create assets that are completely unique to your site.
Enter illustrator for iPad. Illustrator for iPad will allow designers to quickly make more of their own assets in house, with familiar tools that will work seamlessly when imported to their desktops.
This means custom textures, icons, shapes, illustrations, all made more efficiently so you can create more accurate assets in less time and effort. I'm super hyped about this having worked in Procreate a little myself, but not really having an easy way to create vector assets from it, where Illustrator for iPad will have that functionality from the start. Can I get an "amen"?
That's not to mention the potential with creating additional brand assets, like blog CTAs, ebooks, blog images, and social media graphics that incorporate a tasteful hint of hand drawn love like this one from Hubspot's Instagram.
Of course it will take some time to get up and running and figuring out how to make the tools work for you, but what better way to put your professional development time to good use? The hard part will be trying not to gloat about how much fun you're having.
Free: Assessment
Does your website build trust with buyers and bring in revenue?
Take this free 6 question assessment and learn how your website can start living up to its potential.