[New Research] How AI & Chatbots Can Help Revive Online Retail and E-commerce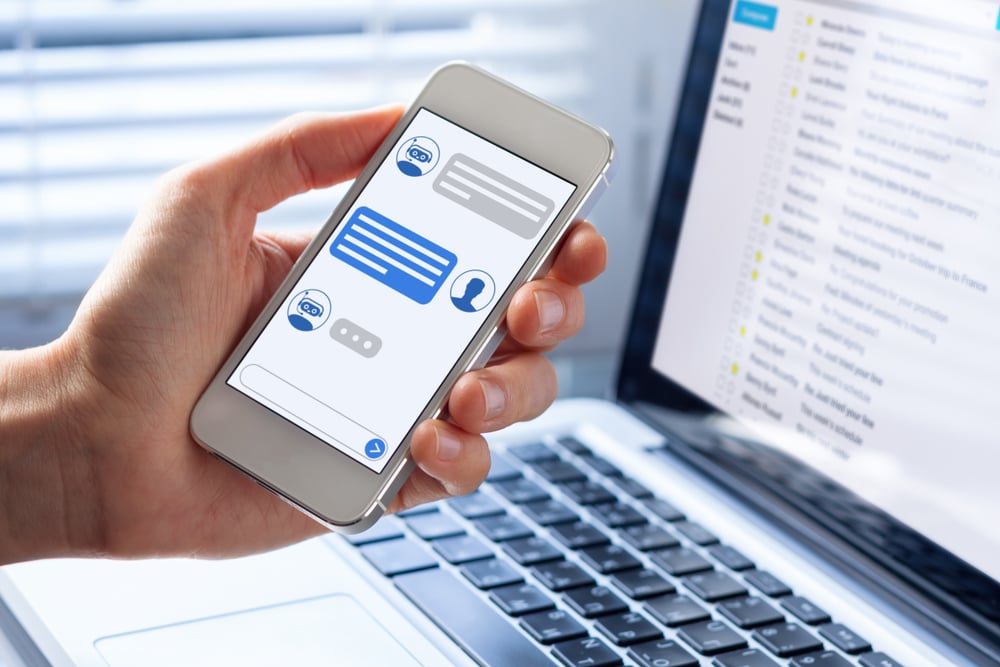 A few years ago, people hated talking to automated systems.
Join the IMPACT coaches for a deep dive on a new topic every month in our free virtual event series.
Calling a big business' customer service hotline usually just left you struggling with the system until you could talk to a real person who could actually help solve your problem.
So much in fact, companies used this common consumer pain point to as a differentiator to attract customers in marketing campaigns, like the Discover commercial below:
However, AI is quickly changing the game in how receptive consumers are to automated customer service including chatbots.
Now, chatbots are not only welcomed by many consumers but actually are a more preferred form of interacting with a business than picking up the phone.
To see the true power of chatbots and AI now and in the coming years, Juniper Research conducted a study analyzing its effect specific to retail businesses.
The study's results showed that AI is more than just a nice-to-have element and in the coming years, those that don't adapt may fall behind.
How Can Chatbots & AI Help Retail & E-commerce Businesses?
Before getting into the Juniper forecasts, it's important to understand the real use-cases that AI technology can have for retail and e-commerce businesses.
First, because more shopping is done online, we know a well-crafted website is key to driving sales.
What some might not know is how much having a chatbot built into the site can help drive customers further along their journey.
Depending on your business, the way you use this technology can vary,but here are a few common ways to leverage this to boost your bottom line:
Deliver Better, More Immediate Customer Service - With pre-built responses, your chatbot can answer customer questions while shopping without missing a beat, keeping your customers "on the hook" and more likely to follow through with their purchase after getting an immediate response. All without a person actually needing to be actively conversing with them.
Upselling Based on Previous Purchases - For return customers, a chatbot can recommend upsells based on items they've previously bought (or what's currently in their cart). This can help show your customer other items that they may not have considered otherwise.
Abandoned Cart Recovery - For customers with items idle in their cart, chatbots can remind them that they're saved. This has been known to increase the chances of a customer returning to the cart and following through with purchase. (For those skeptical of this...I can say it's worked on me more times than I'd like to admit).
Loyalty Campaigns - For return or first-time visitors, depending on your campaign, you can use a chatbot to provide an "exclusive" discount code or limited time offer. This calls more directly to the sale at hand, and increases the chance of follow through if they believe they're getting a personalized deal.
Coupled with advanced AI that can improve your organizations understanding of demand forecasting and customer intent (both individual customer internet and grouped by documented personas), your business can better personalize messaging, meet consumer needs, and sell to the right person at the right time.
Where Are Chatbots Headed? [Statistics & Data]
Juniper Researcher's study showed that chatbots on websites will only become more advanced, and aren't going away anytime soon.
By the end of this year, retail sales from chatbot-based interactions are expected to hit over $7 billion, but that's nothing compared to how much it will grow in the coming years.
It was also forecasted that this number will almost double every year, as chatbots continue to become more advanced at anticipating consumer needs.
By 2023, chatbots are expected to contribute to nearly $112 billion (!!!!).
Moreover, beyond increasing sales, having these chatbots also provide the incentive of major cost savings for retail business owners.
By automating these customer service interactions that are currently being handled by live customer service representatives, retail business will save $7 million this year alone, and by 2023, that cost savings is expected to skyrocket to $439 billion.
Can You Really Afford Not to Invest in This Technology?
Researchers at Juniper don't think so.
In its study, they predicted that those who don't adapt are putting themselves at risk:
" Retailers will face an AI adoption race, where AI-equipped retailers, which have adopted systems as early movers will displace slower moving retailers, because they offer a superior service at optimised price points."
At the end of the day, customer demand is what will drive change and customers are looking for the fastest, easiest, and most accurate answers to their questions.
The ones who can meet that demand are the ones that are more likely to ultimately win the business.
How Can Marketers Prepare?
While this study was specific to the retail industry, it brings powerful lessons to B2B and service-based businesses as well - adapt or risk losing to competitors that do.
While there is of course value in talking to a real person about business questions, there is a more immediate need than ever just to answer specific questions directly to the consumer.
Even if the information is already on your website, it can never hurt to load up these into a chatbot like Drift, HubSpot Conversations, or custom-built tools to provide these answers to visitors that want their answers without searching for it.
So, it's important to prepare now so you can figure out a strategy that works for your business before there is no longer room for heavy experimentation.
For more information on chatbots to aid your marketing strategy, IMPACT has a full section of articles on chatbots and AI to boost your customer service! Check it out!
Join the IMPACT coaches for a deep dive on a new topic every month in our free virtual event series.
Register Here
Join the IMPACT coaches for a deep dive on a new topic every month in our free virtual event series.
Published on May 16, 2019