People are craving trustworthy content, New York Times subscriber numbers show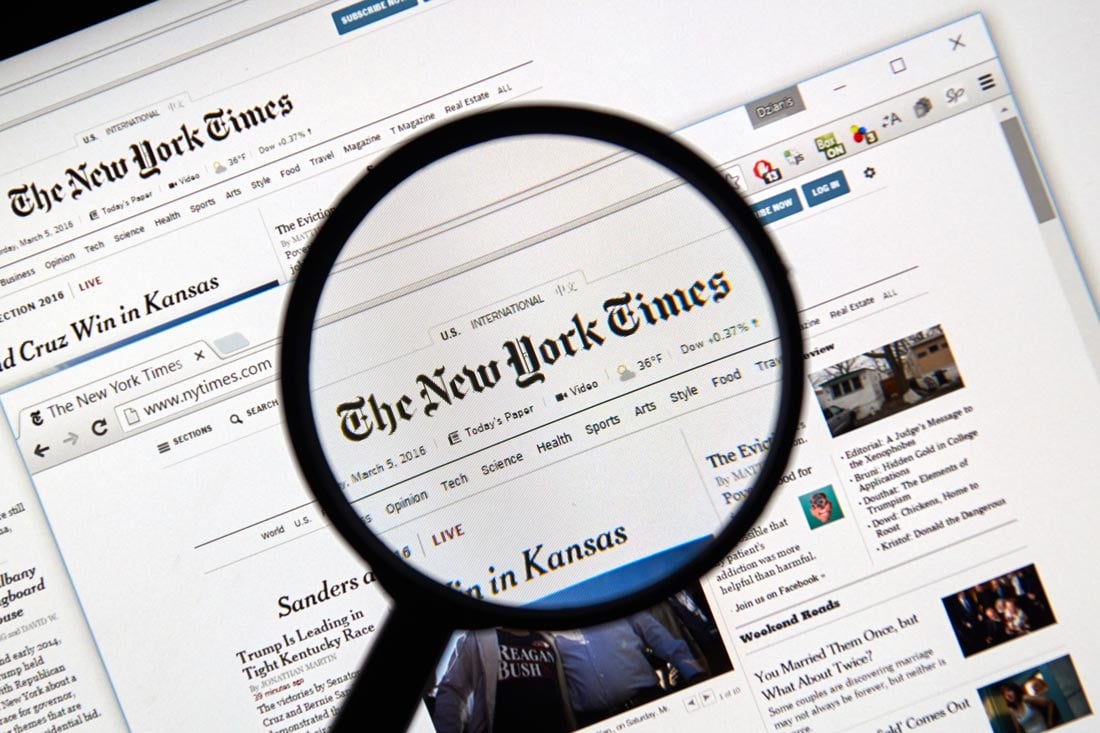 Today, as I scrolled through my Instagram feed, I realized it's been nine weeks since I last sat down and enjoyed a meal in a restaurant. Nine weeks.
With COVID-19 (coronavirus) taking grip of the world and social distancing in place, the global economy has taken a dramatic hit. The restaurant industry, in particular, however, has seen some of the most devastating effects, as many restaurant owners say the COVID-19 stimulus packages passed by Congress thus far do not work for them.
Fortunately, not all industries are seeing the same dip in business due to the pandemic.
Recent data from Google shows an increase in searches for outdoor recreation equipment and activities in the U.S. and tools, and services like Blue Apron and ZOOM are more popular than ever.
One organization that has seen growth that may surprise you is The New York Times.
While ad revenue plummeted by 15% (likely due to brands tightening their wallets under global conditions), the iconic publisher hit 6 million paid subscribers in Q1, 587,000 new digital subscribers coming from that quarter alone.
According to Poynter, 468,000 went to the news product, while the remaining 119,000 subscribed to other digital products such as crosswords, games, and cooking.
Why should digital sales and marketing pros care about this data? Because these numbers tell a larger story about what our audiences are looking for.
First and foremost, people want content
Whether it be because they are looking for an at-home pastime or simply want to stay informed on the pandemic, consumers are craving content — and as the Times' subscriber numbers show, they're willing to pay for it.
People are spending more time online and on social media and consuming media of all forms.
Your business should be vying for this attention.
🔎 Related: 3 ways SMBs are growing during coronavirus (COVID-19)
No, you may not be The New York Times, but as coronavirus keeps people apart, content (and the sharing of it) has become a life raft for maintaining relationships with businesses and loved ones alike.
They want to hear from you and know what you are thinking during this time.
In fact, a study by MWWPR found that 84% of consumers feel the way brands respond to COVID-19 is impacting their perception of the brand overall.
So, don't go dark. Keep creating content and the content people need right now.
Even if your particular product or service is not a top concern at this time, you likely have value you can provide your audience through articles, videos, podcasts, or even your social media.
🔎 Related: What should your content strategy be in a post-coronavirus world?
Pause and reflect on how the pandemic has affected your offering or industry as a whole. What do consumers need to know? What's changing for them?
Or how can you offer some sort of respite? Lending a helping hand, sharing entertainment, or creating a sense of community through your content is even more appreciated than purchase-oriented pieces at this time.
Any of these content efforts will help you stay top-of-mind with your audience and show you care.
Consumers will buy from brands they trust
Many argue that part of the reason The New York Times' numbers are surging right now is because it is a reputable, trustworthy source.
With so much information about the pandemic circulating, it's difficult to separate fact from fiction and The New York Times is dedicated to delivering the truth.
They even released an ad reiterating this last week:
It is because of this longstanding reputation and tradition that people are likely willing to pay for subscriptions.
As we preach here at IMPACT, every organization is in the business of building trust.
Consumers need to trust that you are being honest with them and have their best interests in mind in order to buy from you.
They need to feel confident that you will deliver on your promises and you're not just trying to trick them out of their money.
The New York Times has built that trust with its audience.
It has built it by delivering facts and high-quality content for nearly 170 years and they are seeing the return of it during what are difficult times for many other organizations.
Tomorrow's return
If marketers can take anything away from this situation it's the lesson that you should not only be creating content (especially during this pandemic), but creating content that your audience can trust; content that offers them facts real value when they need it most, even if it is just a smile.
Even if your audience is not ready to buy today, this support will be remembered when they are ready to return tomorrow.
Free Assessment:
How does your sales & marketing measure up?
Take this free, 5-minute assessment and learn what you can start doing today to boost traffic, leads, and sales.