Giving back during coronavirus: How your business can show it cares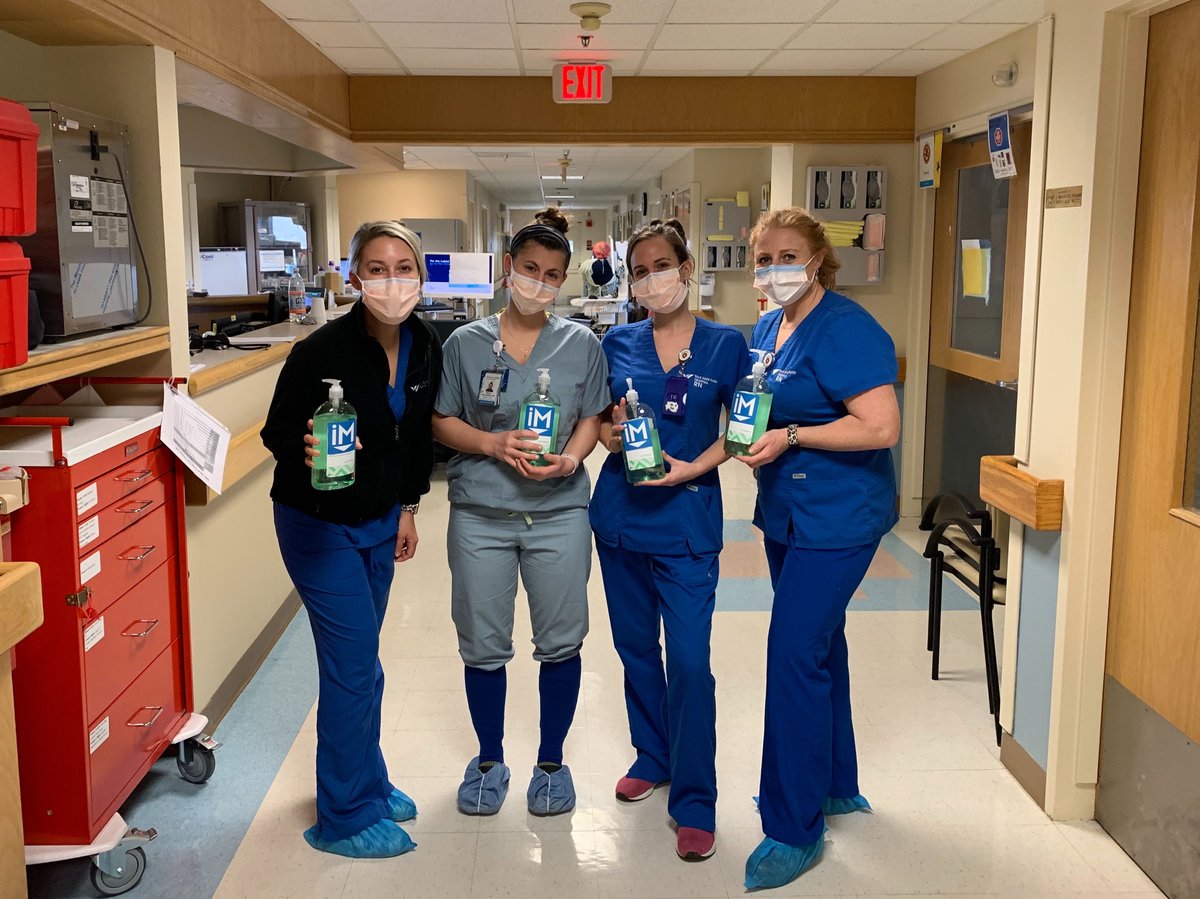 I need a hug.
Anyone who knows me knows I say that a lot, but given the current state of the world, I could use one more than ever — and it's not possible.
Like many of you, I'm entering week three of practicing social distancing alone in my one-bedroom apartment. While not lonely per se (the internet certainly helps keep that at bay with memes and social media challenges galore), I am anxious and overwhelmed.
I've also grown tired of hearing people say we're in "unprecedented times," but, unfortunately, this is true.
Many of us today have never seen something force the entire world to hit pause the way the coronavirus (or COVID-19) has, so not knowing how to react is understandable.
Being a marketer or business during this time only adds another layer to the confusion.
How do you continue your marketing and business efforts while still being sensitive to your buyer's current state of mind? How can you meet their needs? How can you still offer value?
Frankly, I think the golden rule still applies:
Market to others the way you want to be marketed to.
How do you provide customer value during a pandemic?
Any grief or confusion you feel is universal.
Regardless of age, race, gender, occupation, income, it's there for your audience too.
This can't be ignored as you run your business in the coming months.
Ignoring everything going on only makes you appear cold and out of touch with the world, and no one wants to do business with a company like that.
Does this mean you should stop selling? Of course not.
But perhaps you should slow down and see how you can offer your customers and community support — even if it strays a bit from your normal routine.
Lean into what's going on and re-evaluate what new value you can bring to the table.
The fact is your audience may not be ready or even able to buy whatever you sell at this time; no amount or caliber of marketing will change that.
But when they are back on the market, they will remember the brands that showed understanding and humanity when it was needed.
This kind of good faith and trust will work dramatically in your favor once the storm passes.
But how can you help your business weather the hard times and help its audience right now?
According to a recent study by Bain & Company, "during the COVID-19 pandemic, consumers across the global value services, products, people, and institutions that:

reduce anxiety
reduce risks
provide some sense of safety and belonging"

In other words, many buyers are in a survival mindset.
They are being faced with financial and medical insecurity. They are overhauling their entire work and personal lives in order to stay safe and healthy — and it's not easy.
Meet them there. Help ease their most pressing pains and address their concerns.
Here are just a few ways you can show your community you care during the coronavirus crisis and how some businesses are already doing it well.
1. Adapt your services (especially for those at high risk)
While everyone is at risk of contracting and carrying the coronavirus, early statistics show it can be more dangerous for the elderly and those with preexisting medical conditions.
With this in mind, grocery store Stop & Shop has started "seniors-only shopping hours" here in Connecticut.
From 6 a.m. to 7:30 a.m. starting on March 19, the grocery chain opened its doors only to shoppers over the age of 60.
This was done in an effort to help older shoppers stock up on their essentials while avoiding the crowds and chaos of normal hours that may put them at higher risk of exposure.
Do you run an essential business? Consider adjusting your business hours as possible to make it easier for the elderly (or buyers in general) to stay safe.
Even if not essential, offer more services over the phone or over a video conference. Arrange for free delivery or hands-free take out or shopping. (Note: Even CVS is now offering free prescription delivery.)
These are small, but substantial changes that will make customers feel more comfortable going about normal business.
2. Donate your time and resources
Hand sanitizer, disinfectant wipes, medical masks, and other personal protective equipment (PPE) are like gold right now, but those most in need — hospitals and healthcare professionals — are seeing the biggest shortage.
As a result, many businesses are looking at their skills and resources to figure out how they can help.
Breweries and distilleries across the country, like Litchfield Distillers in Connecticut for example, are using their resources to produce and bottle 130-proof alcohol to be used to disinfect surfaces.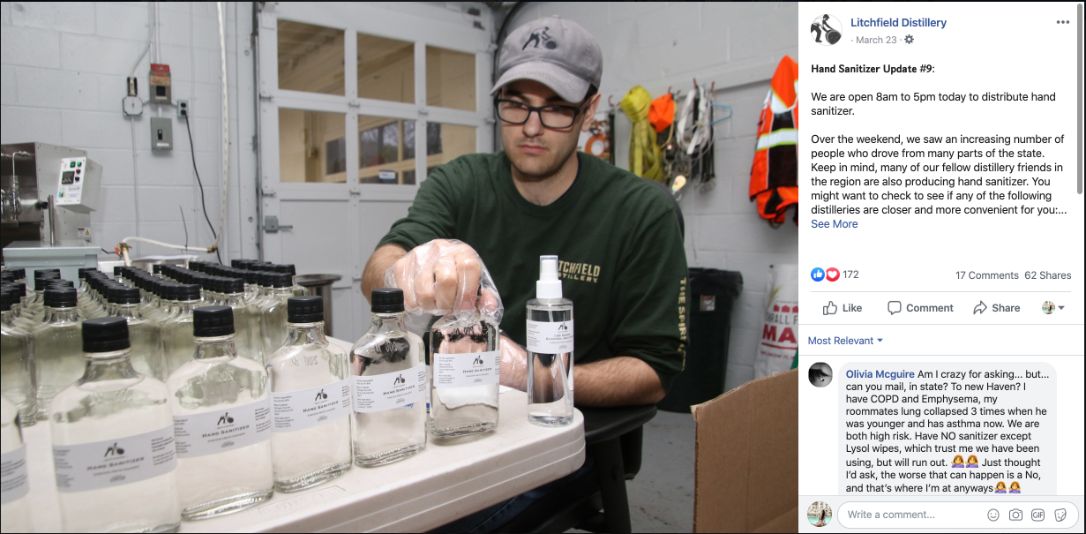 The bottles are free of charge to everyone, but the team is prioritizing essential businesses, first responders, and medical groups.
Similarly, GAP is producing gowns and masks for California hospitals while FOX medical drama series The Resident donated dozens of boxes of PPE from their set to Grady Hospital in Atlanta, where the show is set and filmed.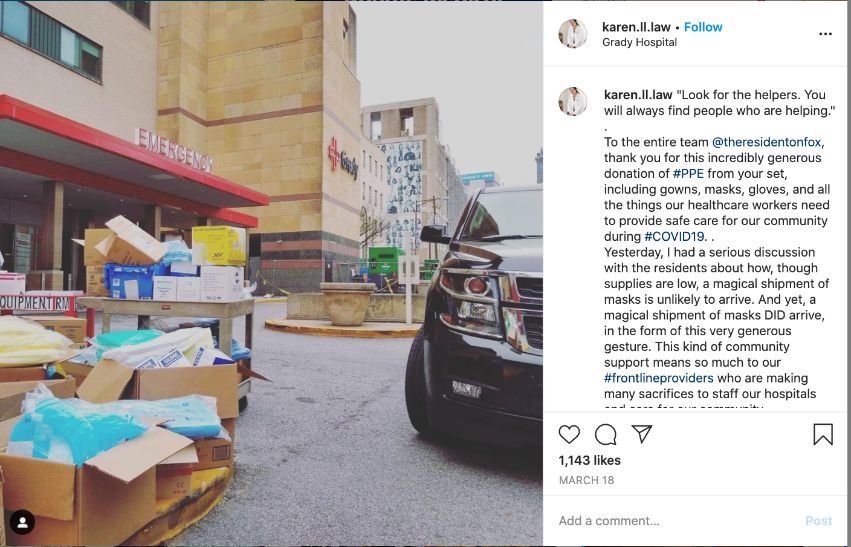 But you don't have to be a big budget production or organization to lend a hand.
At the very start of the coronavirus outbreak, IMPACT purchased four large bottles of hand sanitizer for use at our New Haven headquarters.

Now that we've gone entirely remote for the time being, we've donated the bottles to the local Yale Medical ICU: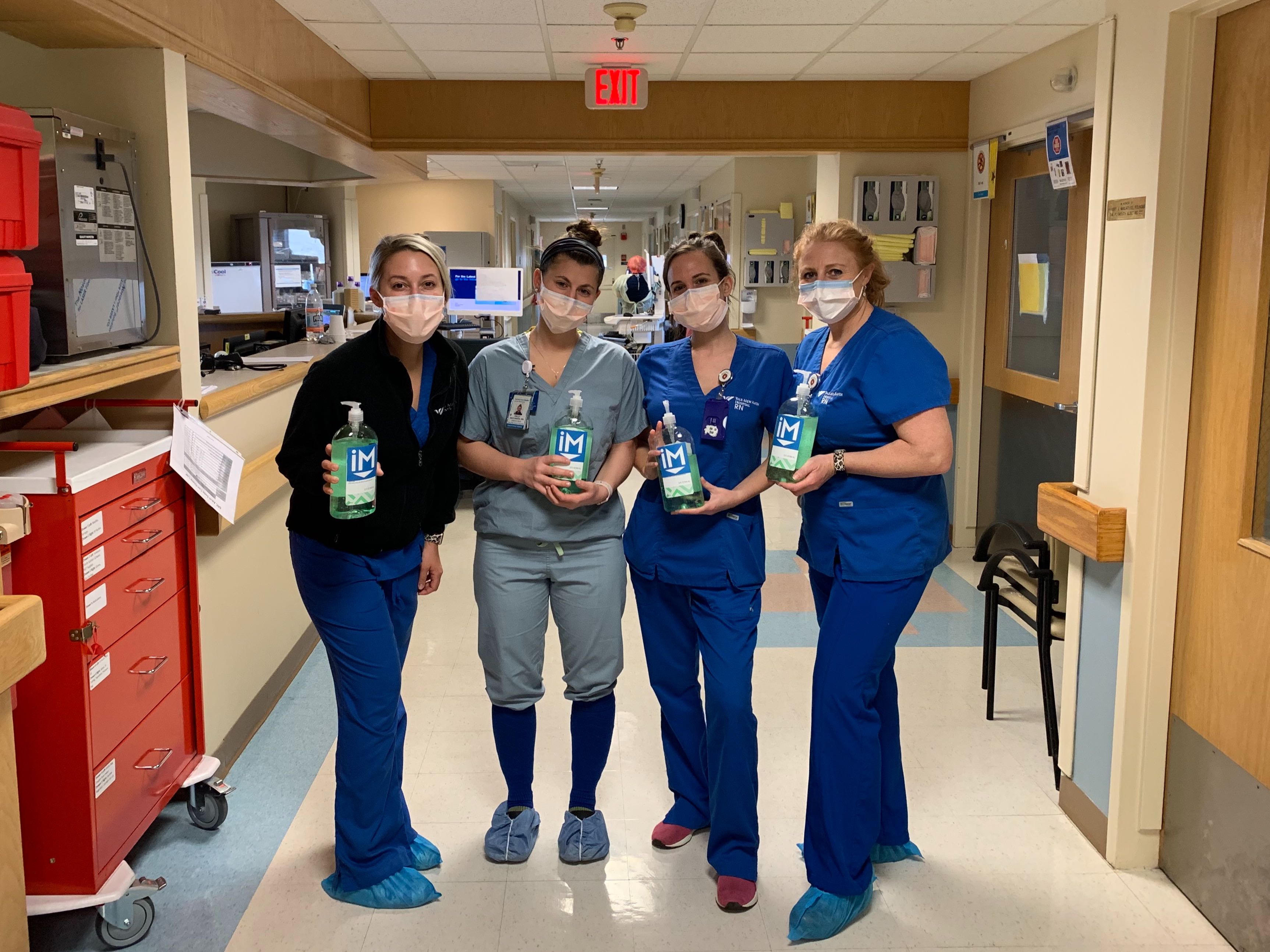 Shortly before that, IMPACT client Litchfield Builders pledged 200 N95 respirator masks to the New Haven Police Department to help our local officers protect themselves against the spread of the virus: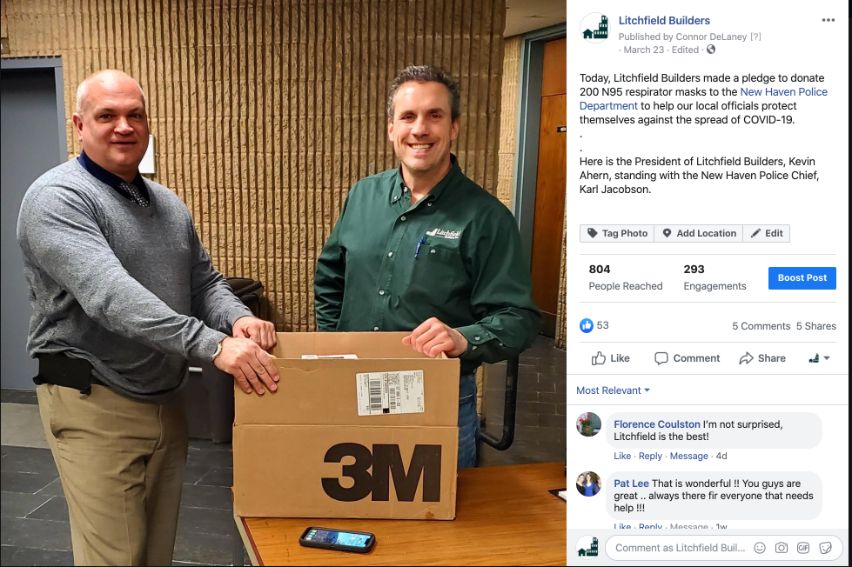 See what supplies you may have around your office or that your resources can help produce and consider donating them to a local organization in need.
3. Support essential workers
While not all of us may have PPE (or equipment to make it) handy, we can still show our support of essential workers.
Millions of healthcare, grocery, restaurant, law enforcement, and other workers across the country do not have the option of staying home. They have to go out and put themselves at risk of contracting coronavirus everyday.
Though there's not much any of us can do to limit that, we can do our part to make their lives easier in other ways.
Starbucks is making sure tired front line responders stay caffeinated with free coffee through May 3, while Crocs is giving away up to 10,000 free pairs of its shoes to first responders every day.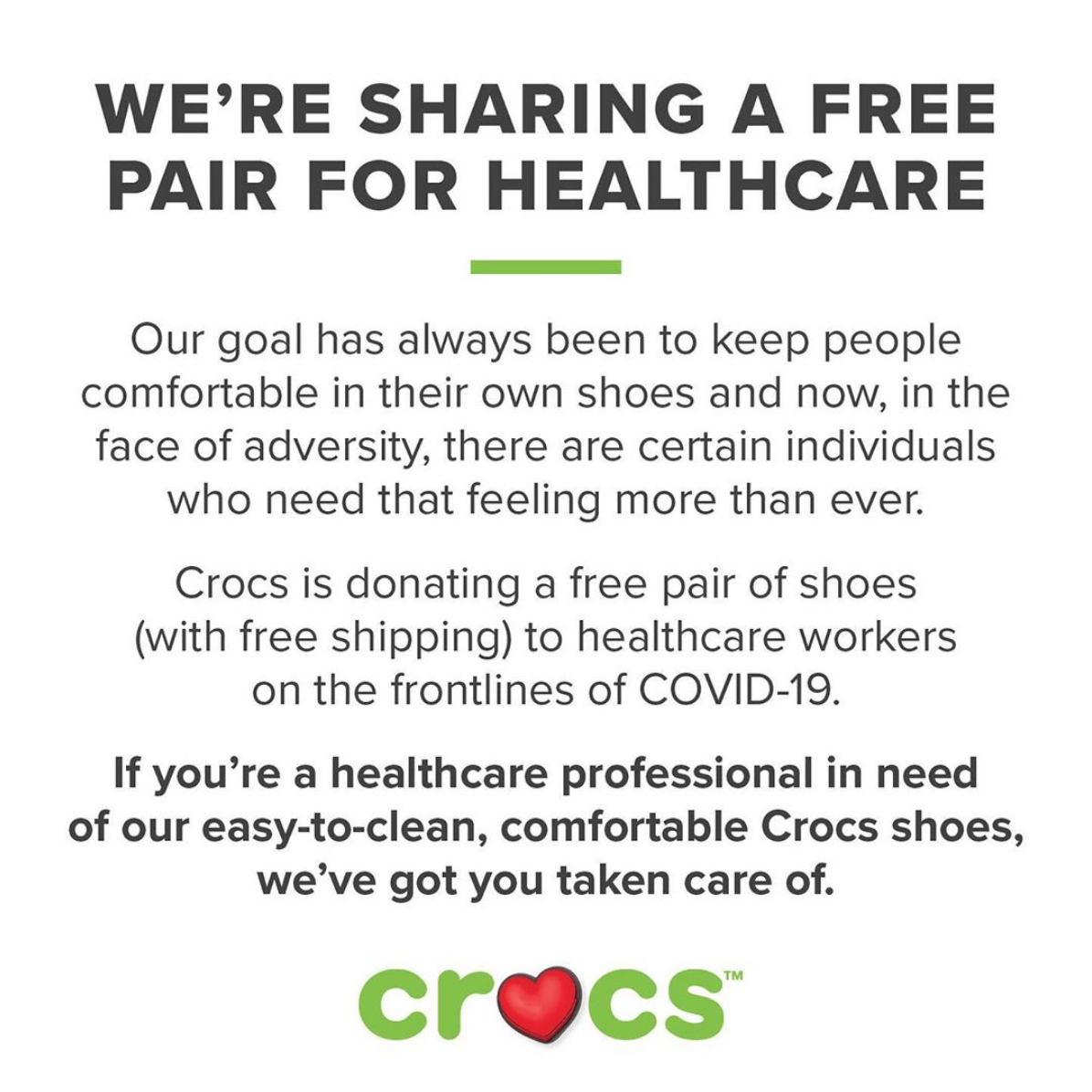 Are you a financial advisor? Maybe offer a free consultation on how to navigate the current economic climate. Restaurant owner? Maybe a free lunch.
Even if your product or service can't directly make the situation better, offering support or comfort to those who can is just as appreciated.
4. Lift your paywall
With more people working from home than ever, online and SaaS products are in higher demand than ever.
However, rather than taking advantage of this situation, consider lifting your paywall and making your product or service free.
Fitness app Peloton is doing just that. The subscription service has extended its normally 30-day trial to a generous 90 days so people stuck at home can still get their exercise.
For all my fellow digital marketers out there, DigitalMarketer did something similar, making its entire training library available free of charge through the month of March while young creatives (students specifically) and teachers can enjoy Adobe's Creative Cloud free for 60 days.
While, at first glance, these may not seem like smart business moves, they are.
Users get to experience the services first-hand with no risk and the brands win over some advocates and possibly even future customers with a thoughtful, and most importantly, helpful offer.
5. Help with the kids
Adults and parents aren't the only ones stuck at home.
Millions of children are now finding themselves homeschooled or taking virtual classes from their kitchen tables in an effort to stop the spread of COVID-19.
It's not easy on students or parents now becoming first-time teachers.
Luckily, iconic publisher Scholastic has launched a Learn at Home website offering dozens of activities and lessons for students in pre-k through ninth grade and dozens of others are releasing free resources as well.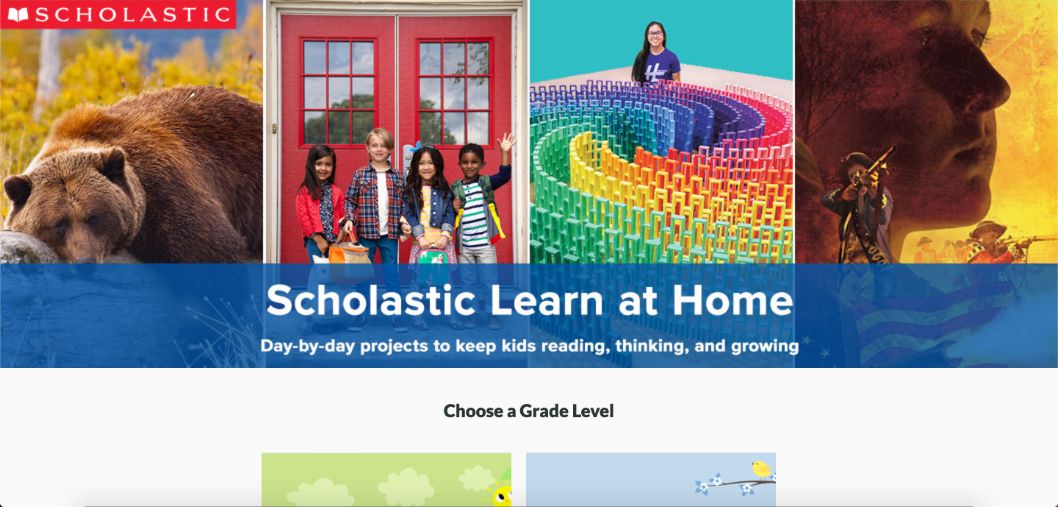 But classes aren't the only thing being disrupted.
For many children from lower income families, school normally provides them with breakfast and lunch, two meals they would not have otherwise.
To fulfill this need (and help parents who may not be able to provide meals even if home), sandwich chain Jersey Mike's is providing free lunch for 700 students in Glastonbury, Connecticut during school closures.
Additionally, nationwide Burger King is offering two free kids meals when you purchase one adult meal.
6. Take their mind off things
All else aside, everyone could use a smile, laugh, or simply a time-pass these days.
In fact, most of us are not only drawn to, but grateful for those that can provide them.
With this in mind, artists and entertainers of all kinds are looking for creative ways to take fan minds of the stresses of the day.
Renowned Italian chef Massimo Bottura is giving free virtual cooking classes on Instagram (see below) while Gordan Ramsay is sharing quick recipe videos on Facebook.
The MET is streaming full operas every night online.
Seattle's Rangeela Dance Company is doing free virtual Bollywood fitness classes on Saturdays and Mondays (you know I signed up), while Playhouse on Park, a non-profit performing arts theatre I volunteer with, is doing daily dance classes live on Facebook.
Even music icon Elton John hosted the iHeart Living Room Concert for America online and on FOX to raise money for FeedingAmerica and the First Responders Children's Foundation.
Whatever your gift or service, now is the time to find a way to share it with your community in any way you can.
Again, even if what your business does cannot directly help those suffering from COVID-19, your thoughts, effort, and support can make a difference.
It's not just business as usual...
If you're in the position to give back to the communities you call home or your community as a whole, do so.
The coronavirus favors no one. We're all in this together and only by working together and helping one another today will we get back up and running stronger than ever tomorrow.
Even if the suggestions above don't seem realistic for your organization, perhaps consider donating a portion of your profits to coronavirus research and relief like Skims and Popsockets, collecting donations for food banks, or supporting blood drives.
No effort is too small. At IMPACT, we're dedicating our time to helping our clients and readers like you navigate this trying economy.
If you need more guidance or resources, stay tuned to our blog or schedule a quick call with our team to talk virtual trainings and strategy.
Free Assessment:
How does your sales & marketing measure up?
Take this free, 5-minute assessment and learn what you can start doing today to boost traffic, leads, and sales.