3 Easy Ways to Optimize Your Website Without a Developer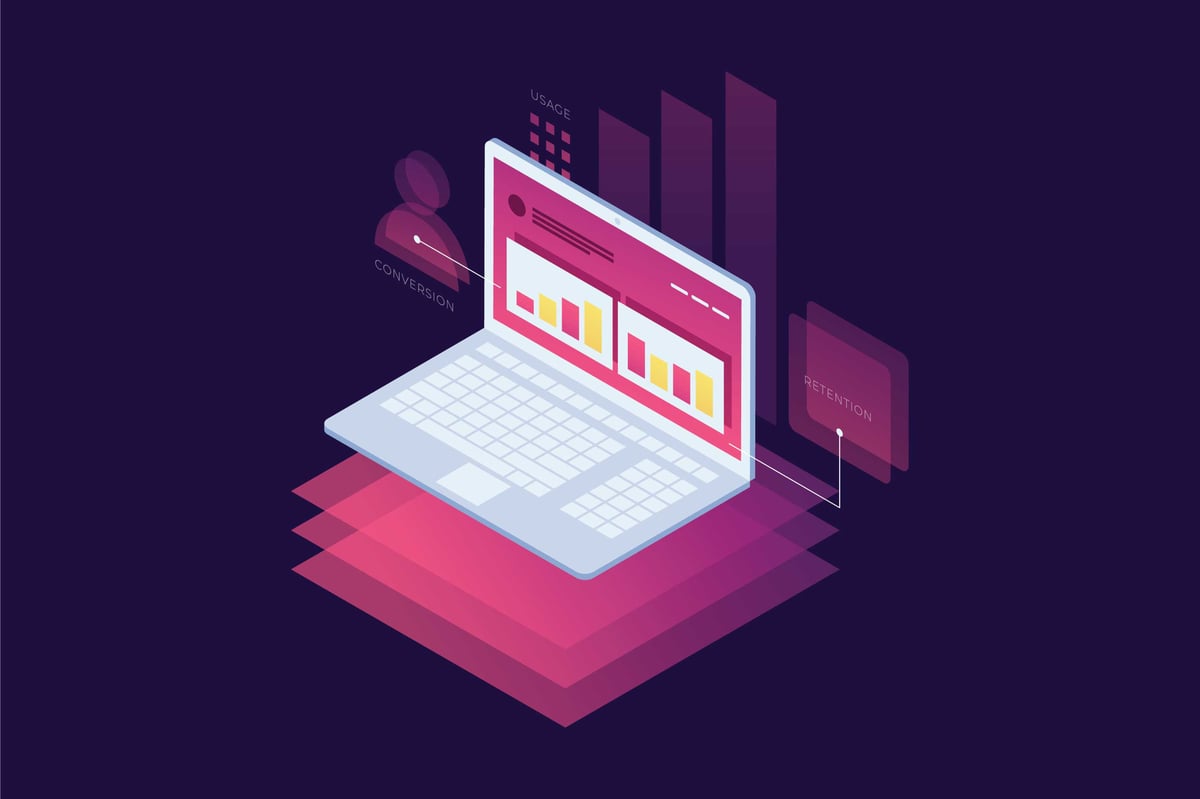 Website optimization whether it be for conversion, traffic, or anything else is something everyone knows (well, hopefully, knows) they should be doing.
Unfortunately, it usually gets back-burnered for new content, pages, and other initiatives.
Why does that happen?
Well, typically optimization is viewed as difficult and time-consuming. Plus, you need a developer to make edits to your site for testing, right?
Wrong.
Optimizing your website doesn't need to be difficult or super technical. It can actually be pretty fun, or maybe that's the geek in me talking. ;)
Here are three ways you can make it easier even without a coder by your side.
Note: I'll be sharing more on website optimization at IMPACT Live in just 2 weeks! Get your ticket to join us here!
1. Gather Data on Your Website
Before jumping into what experiments you should run, what you want to test, and what results you're hoping to get, there's something very important you should do.
Get real data on how it's already doing.
Having an actual site and user data to refer to, set benchmarks with, and compare your results to is key.
After all, without it, how can you know your optimization was a success?
You can't.
You'll want to have roughly 5,000 visits per month to actually draw conclusions from. If you don't quite have that yet, bookmark this article and focus on traffic building first.
If you have this, let's talk about gathering data from it.
There are tons of tools out there that you can utilize to gather the real user data. Here's a peek into my data gathering "starter kit" if you will. ;)
Site Analytics
The first place to start, which isn't (well, I hope isn't) a shocker for anyone is Google Analytics and Google Search Console.
These tools give the visit trends and user insight foundation to help guide your experiments, and ultimately understand where you should be testing.
With Google Analytics, you'll be able to discern what pages get the most traffic, which is typically where you want to begin optimization experiments, as well as other great pieces of information such as browser and device usage, time on page, bounce rate, and more!
Google Search Console, on the other hand, will let you peek behind the curtain of the search engine.
Put simply, it lets you manage and maintain your presence in the Search Engine Results Page (SERPs) by submitting updates to your sitemap and viewing which pages are actually being indexed and crawled.
Heat-mapping Tools
Traffic aside, you should also learn how users interact with your website, content, and calls-to-action.
Tools like Lucky Orange or Hotjar are phenomenal for this.
Using heat maps and scroll maps can shed light on areas of your website that users either don't find value in, don't even see, or actually get confused by.
You can even record user sessions so you'll be able to pinpoint any roadblocks they encounter during their session.
Reviewing your heatmaps can pinpoint areas of your website or page that are important, but users never see, or that they gloss over.
That information can help you identify experiments to run regarding your button placement, hierarchy, or other elements to determine what creates a better user journey and experience.

On-site Search Analytics
A pool of user information that's usually overlooked is your on-site search. Sure, looking at the SERPs and how users are finding you is extremely important, but what are they searching for once they're on your website?
That's where tools such as Cludo, SearchIQ, and others come into play.
They allow you to look into your on-site search analytics to see what search terms your users are using once they're actually on your website.
With them, you'll be able to see what terms users are actually searching and the pages they're clicking on so you can generate more tailored messaging and content to solve for what they're not seeing on your site.
If users are searching for it and it's not immediately accessible for them - that's a big user journey issue!


2. Start Small
It's easy to want to make big changes to your website in hopes of seeing huge spikes in results - but that can ultimately lead to missed opportunities, testing too many things, and usually require a developer. .
My advice is to start small with your optimization efforts.
Focus on high impact website pages, the 20% of your website that delivers 80% of the value.
These are typically the homepage, pricing page, and highest traffic product page, and rather than tackling huge iterations, try small tweaks. Changes in these three areas are some of the easiest and most effective changes you can make:
Messaging
The content of your page is one of the easiest things for a marketer to test and get great results with. Oh, and usually without a developer's help
Your homepage value proposition is a strong place to start. Take your current messaging and experiment with adding statistics to show the value you can provide the user, or try explaining what you do a bit more clearly.
The messaging here should pass the 5-second test: the user should know what you do, whom you do it for, and the value you're provide in 5 seconds or less.
You can also experiment with other high-impact pages like your product page messaging.
Look at things such as how you explain the value of the different features - Does shortening it improve the scroll density on the page? What about the click-through rate on the calls-to-action (CTA)?
There are plenty of places on your site that you can find messaging to test and improve on.
Need some help with messaging? We've got a messaging workshop that will get your content perfectly aligned with your personas. ;)
Call-to-action (CTA) Colors
An often overlooked place to test is your CTAs. Experimenting with the color of your CTA can result in an immediate boost in click-throughs.
Optinmonster wrote an awesome call-to-action color theory article that digs into the psychology of color, and what colors typically convert best
Understanding how your specific users react to certain colors can be tremendously helpful in guiding them on their journey. It's a great idea to create a CTA color hierarchy, where you have a specific color tier to each part of the funnel.
If it's a top of the funnel, learn more type button, choose a more subtle color. Is it a bottom of the funnel, get started CTA? You might want to stick to greens, oranges, and reds.
ConversionXL digs even further into the CTA color debate and shows that over four different experiments, red usually does help boost conversions, but Peep Laja, Founder of ConversionXL, brings up a very, very good point.
That's not the end-all be-all for CTA color.
Sure you may see an immediate jump in conversions by using a certain color. That's a great start, but you need to really know what's driving those clicks because you ultimately want quality conversions based on relevancy and fit.
Not gut-check clicks based on the button color.
Form Length
The third easy area for experimentation that can boost your conversion metrics, is form length.
This is especially helpful on your consultation request forms or another bottom of the funnel conversion points. These are typically the larger forms found on a website because we want ALL of the information, but do you really need it? Probably not.
If you've set other conversion points up to help you, it's likely you've already collected a good chunk of information about the user, so, you can strip away a good amount of fields and leave only the important stuff.
If your form has more than five fields, and some are big questions, you're likely losing some users. More often than not, some of those questions are things that you can get from the user after they've converted if they're really a fit.
Shrink those larger forms to 4-5 fields at most, and you'll likely see a nice conversion percent spike.
3. Use The Right Tool
You've done your prep, gathered data, and planned out what you want to test, so let's get to it.
There are a plethora of choices when it comes to testing software with a range of prices. I'm partial to VWO, Unbounce, or HubSpot's inherent A/B testing because they're relatively easy to dive into without a developer (though it doesn't hurt to have one)
When starting your test, it's critical to set up controls (a variation that hasn't been changed) that you can compare to at the end.
You'll also want to make sure you're not testing too many things at once. That will muddy your resulting data and make the analysis more difficult.
It's a good idea to try and test one major change at a time, but you can also get some interesting data from testing larger changes all at once.
Whatever you do, ultimately, you'll want to gather enough data from the experiment to see user trends and make decisions based off when you can review and analyze everything.
It's a good idea to let your experiment run a minimum of 2 weeks, assuming you have a good amount of traffic as I previously mentioned.
If you get ~5,000 visits in 2 weeks awesome, take an early sample and begin the analysis, then see if it changes after a full month. But, if getting 5,000 visits takes a month, hold off and view it all at once.
If you can, get direct user feedback!
While the tools I mentioned can definitely give you great insight into aggregate user behavior, how they interact with your experiments, and show you solid data, it's always a great idea to get as much direct user feedback as possible.
First-hand feedback on your designs, layouts, and user flows can shed some interesting light on areas you'd likely overlook.
It's not as easy as you'd think to fully get into your user's head and see things from their point of view, so what better way to do that than ask them directly!
Most companies have a few clients that have a special place in their hearts, and that's where you can get your first round of direct user feedback.
If you have a great relationship simply ask the client for an hour of their time - if not, it usually helps to offer a small gift card for their opinions and insight.
This real-world data can help finalize your results from the experiments you ran, and clear up any final concerns you have about what you saw in your A/B tests.
You've heard it before, but it really is better to measure twice and cut once - and this is the way you can do that on your website :)
Test it Out!
Testing doesn't have to be hard, as long as you keep it simple and focused. By experimenting with messaging, placement and your calls-to-action, you can make significant discoveries that may take your website to the next level.
So, get out there and start testing!
If you're hungry for more website optimization insights, make sure to come to IMPACT Live. Christine Austin and I will be presenting a website throwdown case study detailing the good, the bad and the in-between of an optimization.
I'll see you there!
Free: Assessment
Does your website build trust with buyers and bring in revenue?
Take this free 6 question assessment and learn how your website can start living up to its potential.
Score My Website
Free: Assessment
Does your website build trust with buyers and bring in revenue?
Take this free 6 question assessment and learn how your website can start living up to its potential.
Published on July 25, 2018