Pinterest links visual search to Shop tab to ease purchasing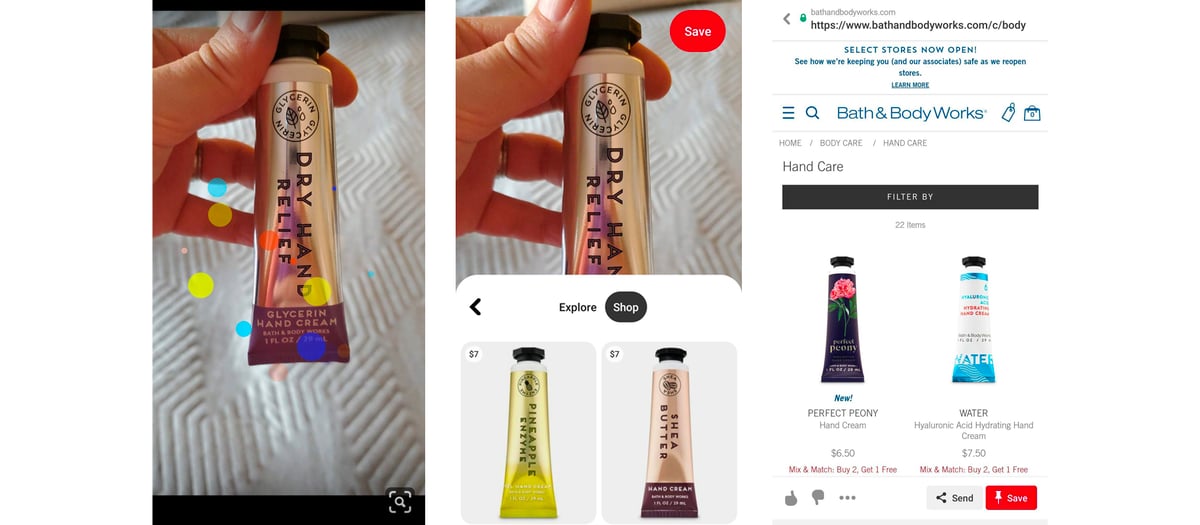 Earlier this week, Pinterest launched the Shop tab in its Lens visual search results options.
This means users can now open the visual search tool in Pinterest and search for shoppable Pins by uploading an existing photo or "scanning" an image via their phone's camera.
Shoppable Pins are in-stock products Pinterest software identifies in the image that can be purchased directly through a linked website. Shoppable Pins link directly to the product page on the retailer's site so users can easily complete their purchase.
For example, maybe you're at a friend's house and you see the perfect insulated tumbler exactly like you've been wanting. Instead of typing in the brand, color, and style in a new search, you can just open up Pinterest search and place the tumbler in front of your camera's lens.
Pinterest will pull up shoppable items based on the image and link you directly to a page where you can buy the tumbler right away.
These shoppable pins are created via a rich integration that makes it easier for merchants selling through Shopify to upload product catalogs to the platform and have them appear in Pinterest Shop search results.
While options for visual search and Shop were already available in the app, what's new now is the ability to use Lens to search from an image stored on your phone or by using your phone's camera.
Why is visual search so well-suited for Pinterest?
Google's visual search tool, Lens, was rolled out in late 2018. But even now, nearly two years later, visual search is not yet a common method of finding a product online. We're still more used to typing in names of brands, product categories, colors, and styles using words rather than images.
However, Pinterest realized that its users are already finding things they want in an image (as opposed to text-based search results) and then having to type a description back into a search tool to purchase it.
For instance, this weekend we decided we're going to update our little condo in Wisconsin.
In addition to redoing the bathroom we're going to get some new bedding and I'm going to make new curtains.
I was looking for log cabin-esque decor on Pinterest for inspiration for all of these projects when I stumbled upon a set of towels I absolutely loved. From there, I searched on Amazon, hoping to find a "red and black buffalo plaid hand towel" of my own.
Sadly, the journey from Pinterest-perfect bathroom design to actual purchase online can be a long and convoluted one. I rarely end up finding the item I fell in love with — and worse, I get frustrated in the process. After adding and removing words in my search to no avail, I eventually gave up and decided I'd just get plain towels.
Using the visual search and Shop options in Pinterest, I could have clicked on the pin with the towels I loved and hit the search button, and then used the Shop tab to find exactly what I was looking for.
I could even drag the search box to specify a specific item in an image or pin.
My visual search for red buffalo plaid hand towels vs. my more specific cropped search from the pinned image. Note the shoppable item in the image on the right side.
With this new update, users can now spot items they love out in stores, at a friend's house, or even on other websites, and use Pinterest's visual search option to find and purchase the item all within a few clicks.
This means you don't have to find something scrolling through Pinterest to use this new search functionality to buy the thing you want. No matter where you spot something you may want to buy, you can pop open Pinterest's handy search tool, open Lens, and boom: the Shop tab will give you links to buy what you're looking for.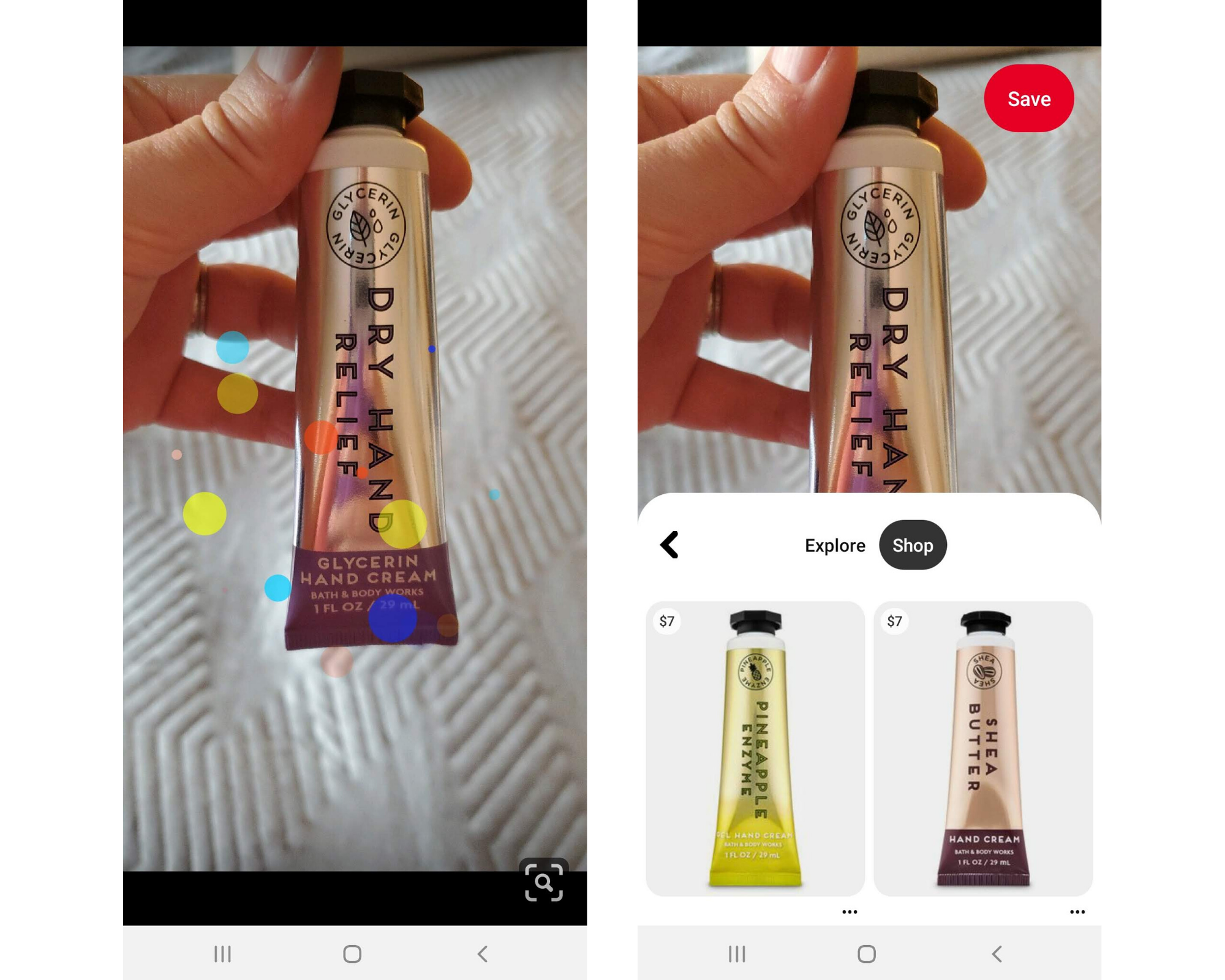 I snapped a photo of my lotion today using the new search options and Pinterest found the exact same lotion in different scents (mine is discontinued) with a link to purchase.
How well does Lens search and Shop work in Pinterest?
While the point-at-something-and-be-told-where-you-can-buy-it idea seems really convenient, it also felt a little too good to be true.
I've used Google's image search tools before and know it doesn't always nail what I'm looking for.
For instance, once I searched an image of a frisbee and it gave me bowls as a result. So, I was wary of Pinterest's new update as well — but it does actually work pretty well. This is because it's pulling specifically from the Shopify-integrated catalog of products and not the entire internet's worth of results.
I tried searching for a candle I already own. When I clicked on the pin it did indeed take me to the item's exact page (not a similar candle — the exact one), which was pretty impressive.
The only thing that seemed to need some work was the price listed on the pin. For instance, this candle was priced at $4.74, but was shown on the pin as $1. It did also show as out of stock, but that it would be returning at some point and was not completely discontinued.
My candle showed up as a linked shoppable pin, even though it's out of stock. It took me to the item's page on the retailer's site, but with a difference price than shown in the original pin.
Will users actually buy things on Pinterest?
While Pinterest is often shoved into the "social media" category, it actually functions much more as a search and, even, note-taking tool.
Users turn to Pinterest to find inspiration for projects, discover new products and creative recipes, and explore ideas for themed parties, build outfits from pieces they already own, and of course, plan weddings.
This means users on Pinterest are often already in a shopping-mindset or are looking for things to eventually purchase related to their search. This is exactly why shortening the distance from pin to purchase is so important.
Previously, I would save items in Pinterest to a board that I would later use as a shopping list for Amazon. If I was planning a birthday surprise or baby shower, my boards were often private, which meant I wasn't even using the limited "social" aspects of the platform.
Now, I don't even have to save the pins for later. I get ideas, find one I like, and make a purchase on the spot.
And I'm certainly not the only one who will do this.
Don't believe me? According to Pinterest, there are three times as many visual searches happening via the Pinterest camera than there were a year ago. Plus, the number of users engaging with shoppable product pins has increased by 44% since last year.
Plus, online shopping frequency has increased during COVID-19 with Pinterest reporting spikes in searches for home office as well as at-home beauty products, backyard furniture, and grocery shopping lists.
While these specific categories may be seeing a surge in search due to the effects of the global pandemic, the increased comfort and frequency of visual search and online shopping is here to stay.
What does this mean for your product marketing strategy?
This update shows that Pinterest is putting even more emphasis on shopping within its platform.
As people get more comfortable with visual searching as part of their online shopping experience, brands that optimize their product catalog to show up in Pinterest's Shop tab can easily convert ready-to-buy users right from the Pinterest app.
To get started doing this, you'll want to install the free Pinterest app in Shopify. It's pretty quick and easy to get started, but they do note that it can take up to 48 hours for the product catalog to sync the first time.
The integration will automatically pull your product information, including the product name, image, description, and price, from your Shopify product catalog. Once this is complete I recommend navigating to the "Shop" tab on your profile and scrolling through your items to make sure all the pins look accurate.
Once the app is installed, you'll have access to features including automatic daily updating of products based on your Shopify catalog and an ads buying interface.
Plus, your products will now show up in the Shop tab as users search for similar items using the visual search tools in Pinterest.
Free Assessment:
How does your sales & marketing measure up?
Take this free, 5-minute assessment and learn what you can start doing today to boost traffic, leads, and sales.