4 Savvy Tips for Building a Work Portfolio That Actually Converts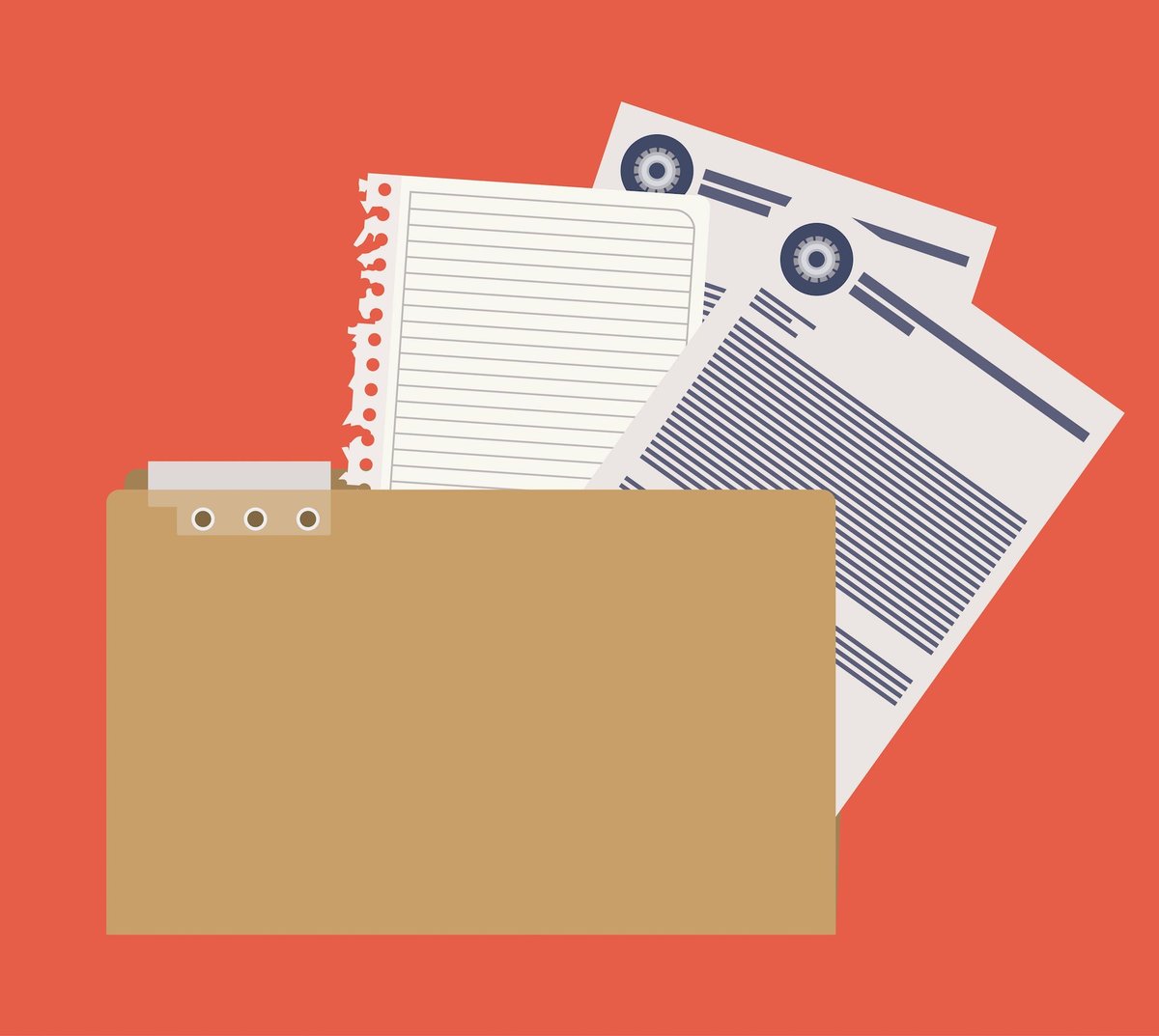 Websites are important to every business, but to some, a portfolio is just as essential.
The quick and dirty definition of an online portfolio is a collection of your best work that you can use to impress and hopefully close new customers.
Why is this important?
John from Simple Square said it best, explaining, "the benefits of [a portfolio] include client education and pre-qualification, accountability, search engine optimization and to show off your talents."

Whether you are an artist or designer, web developer, marketer, home remodeler, event planner, or even biomedical engineer, you can benefit from having an online portfolio to show off your work.
In today's world, competition in the contracting or design world is fierce, which means you need a way to stand out. It is important to not just tell people how amazing the work you do is but to show them.
90% of the information that our brain processes is visual and only 20% of text is remembered. So, don't hide the work that you've spent countless hours on, get it out in front of the public eye.
Struggling to build an awesome online portfolio? Here are a few things to keep in mind when building your company's work portfolio.
1. Be Selective
The first thing you may be thinking is, "I have done hundred of projects, which ones do I pick?"
Take a step back and look at all the work you have done. If you don't have a master list of all your projects, create one, then start ranking them.
Carefully pick the right pieces to show your potential clients and think quality over quantity. Use as many as you feel are needed to show your areas of expertise and appeal to people in those niches.
It is better to have a handful stunning, successful projects than a whole bunch of mediocre ones.
When picking out your projects here are a few things to keep in mind:
Choose the projects that

show off your best work and that you consider a "win."

Focus on the projects related to the

clients you want to work with

.

Show your most

popular service

Show your

biggest strength

.
2. Use High-quality, Eye-catching Visuals
Showcase your work with beautiful images -- yes, the plural; meaning you should have more than one for each project. Having only one record (or view) of your project creates an incomplete picture and lowers the credibility of your claims.
For example, if you are in the construction business maybe you want to think about adding a video or a 360-degree tour of your project. This allows your potential customer to get up close and personal with your work.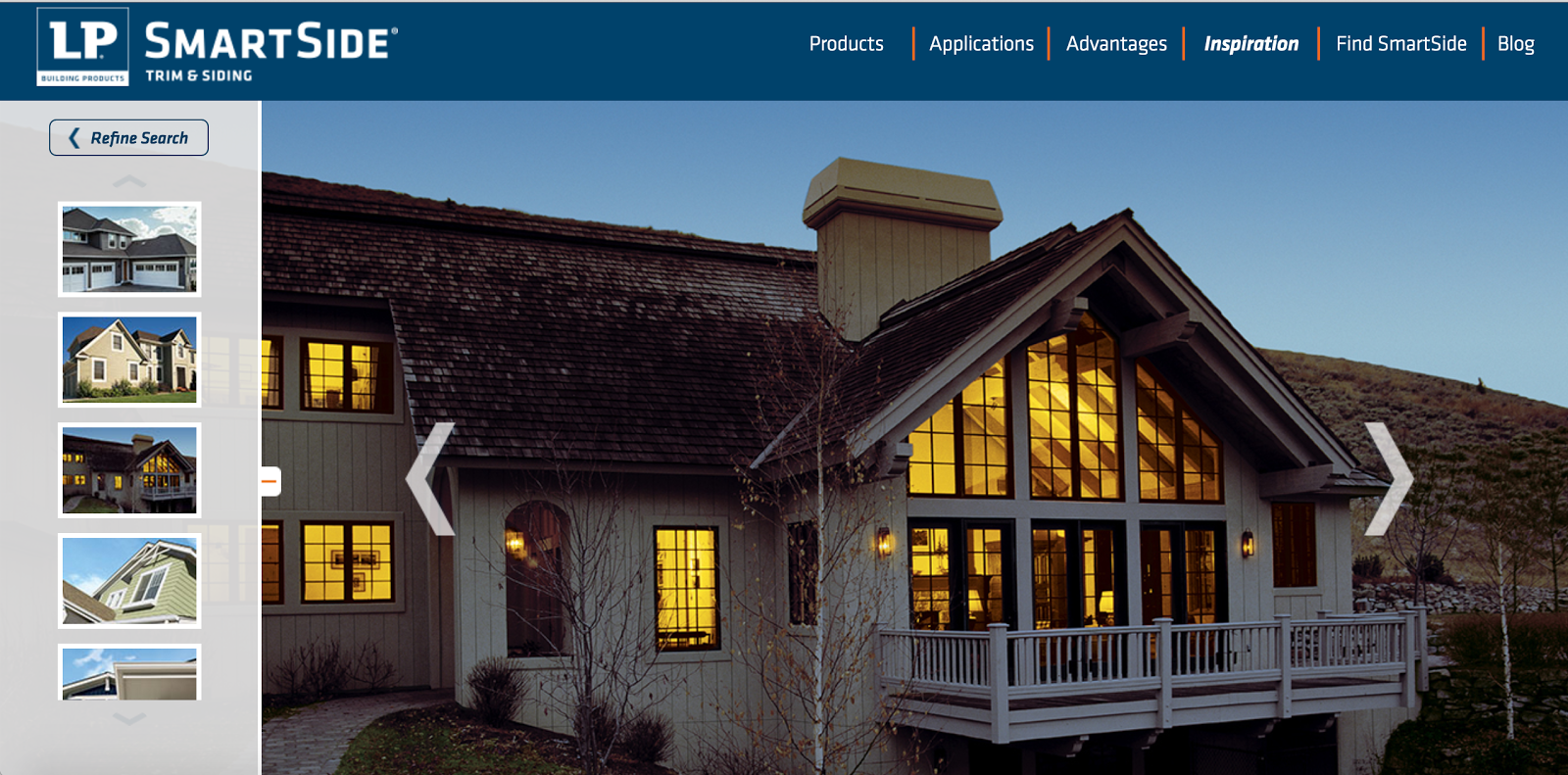 LP SmartSide Panel Idea Gallery, above, shows real life examples of how their paneling works on houses and how it can be used in different ways.
If you work in a non-visual role, like sales, product management, etc, that shouldn't stop you from showing your success. You just have to think a little harder on how to creatively show it. Perhaps, you can lean more heavily on charts or data.
2. Tell A Story (Share a Simple Case Study)
When creating your portfolio, give the images some context by telling a story.
On the project at hand, talk about the client, their goals, and perhaps even share a testimonial from them.
These details will help your prospect relate to your past clients, envision themselves in their shoes, and in turn, better grasp the impact of your work. It will also show them how you work and lays down their expectations for their future projects with you.
You can also consider linking out to a corresponding case study highlighting information like the following:
Project Background

— a brief overview that tells your prospects what you did and what was accomplished. Be short, as you only have three seconds to grab most people's attention. If this project pertains to what they are looking for from you they will continue to read the rest of the case study.

Project Goals and Objectives
Project Services

— what services did you perform for this project.

tbhcreative

does a good job of showcasing what services they completed for this specific project:
Success Metrics and Results - Depending on your business, quantifiable results might be tough to get, but if you can show them, prospects will be more confident in your abilities to do the same for them. Explain in detail what you did in order to get those results, but don't give away too much because you want them to hire you to do the work.
Here at IMPACT we pull the important stats and display them to show how success we will for the client.


Client Testimonials

— Client testimonials are another confidence booster for your prospects. When you show a project in your portfolio, reinforce its success with a testimonial from the client it was completed for like we do here: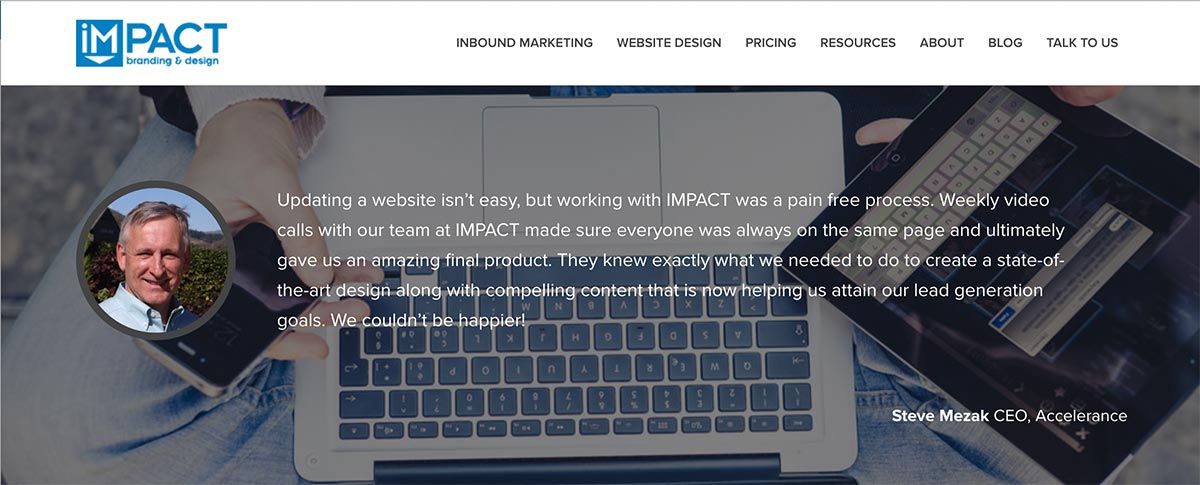 3. BOFU CTA (Bottom of Funnel Call-to-Action)
Your potential client has viewed your entire portfolio, now what?
You don't want them to just leave. You didn't do all that work for no reason!
The goal of your portfolio is to attract potential clients and show them real proof of why they should hire you. Once you've done this, make it easy for them to take the next steps towards working with you.
Add a call-to-action that lets them contact someone or schedule a consultation, assessment, etc.
4. Make it Well-Organized and Fully-Optimized
Don't let all that hard work of gathering all your best projects go to waste by just throwing them on a page.
Put your biggest win projects at the top of the page so that they are above the fold and immediately grab people's attention.
Keep in mind that less is more when it comes to text and you should let your awesome visuals speak for themselves, but make sure they are fully-optimized so you don't slow down your site speed!
Also make sure that your portfolio is easy to navigate, with desired filters and categories. Consider organizing them by project type, industry, or even location.
Last, but not least, don't forget mobile! Make sure that your portfolio is fully-optimized for mobile viewing across multiple devices.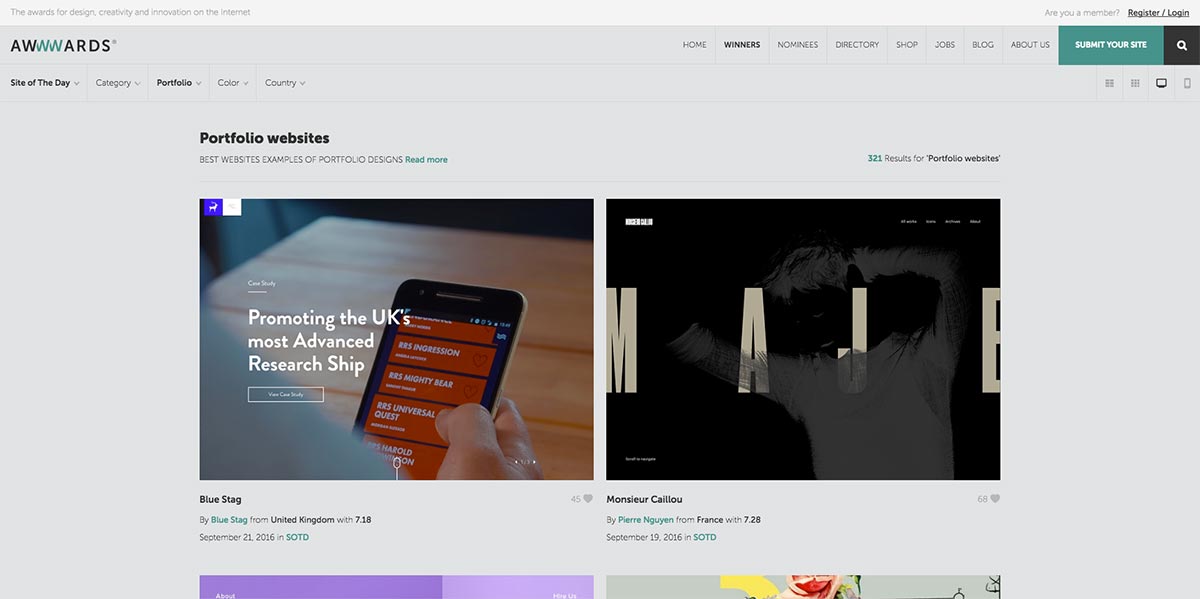 Awwwards Portfolio, above, has a great simple outer portfolio. There is less written content but it still describes the project and has great imagery that makes you want to click on the project to learn more about what was done for the client.
Need help with your company's work portfolio?
Talk to us about redesigning or building your work portfolio on the HubSpot Website Platform.
Free: Assessment
Does your website build trust with buyers and bring in revenue?
Take this free 6 question assessment and learn how your website can start living up to its potential.