7 sharp tips for keeping your next infographic on brand [Infographic]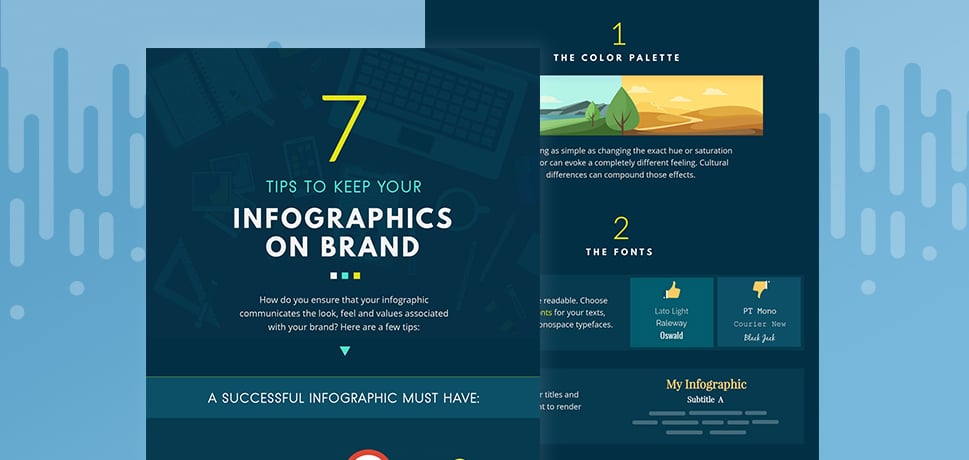 Creating and maintaining a brand for your company is more important than it's ever been.
Everyday, there are new companies being created, all trying to make a name for themselves.
Your brand is often the only thing that separates you from all of those other companies.
And I don't just mean your logo or name. I mean how you communicate what values are important to your company and what connects you with your audience.
That's why your brand can't just end at your product or your website; it needs to be carried throughout everything you do.
That's especially true for your content and marketing assets. In fact, a recent study found that consistent branding across all channels increases revenue by 23%!
One of the toughest marketing assets companies struggle to keep on brand, however, are infographics.
Infographics ability to visually simplify complex ideas makes them powerful marketing assets, but they're more freeform illustrative style can also make them harder to keep consistent with a company's brand.
Fortunately for everyone reading this, Visme.co got a little meta and put together the infographic below outlining what makes a successful infographic and what guidelines you can follow to make sure you're keeping your infographics on brand.
Note: While these tips refer to infographics, they can be applied to any assets you create).
What should your next infographic include?
Before diving into the branding specifics, Visme.co outlines four major "must haves" any infographic should include.
Keeping these elements in mind while designing your infographic will help you communicate the look, feel, and values associated with your brand.
1. A clear vision:
Before you can start designing an infographic you need to have a clear vision of who the audience is that you're trying to reach and how they connect with your brand.
Understanding this will be easier for you to craft the overall message and content of your infographic. You'll also need to have a plan of how you want to implement and distribute your new piece of content.
2. A valuable message:
Make sure you're delivering your audience a valuable piece of content. Every piece of content you write should be answering some questions that your customers ask. If you need some inspiration check out the five topics that Marcus Sheridan says drives the most sales and leads.
3. Captivating graphics:
This might seem like a pretty obvious, but make sure your imagery is more than just pretty images. Your images should add value to your infographics by highlighting and visualizing the concepts and messages shared in your text.
4. A clean and professional look:
When it comes to laying out your infographic, break the content up into small, easy to digest pieces of information that clearly moves the reader through the piece. These aside, to keep your infographic on brand, you should include:
1. You company's color palette
2. The fonts your company uses
3. Your logo (placed at the bottom of your infographic)
4. Imagery that is consistent with they style of imagery you use in other areas of your marketing
5. A consistent style of icons
6. Graphs and charts
7. The same tone and voice used on your other marketing materials.
To get a detailed breakdown of each of these, check out the full infographic below:

Free: Assessment
Does your website build trust with buyers and bring in revenue?
Take this free 6 question assessment and learn how your website can start living up to its potential.