Is the Wrong Person Monitoring Your Social Media Presence?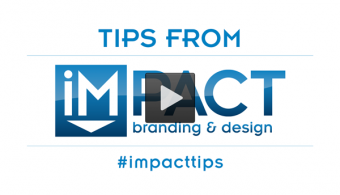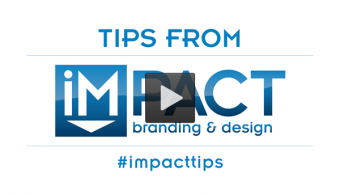 This is a valid question.
Right now, many of you are probably looking at your social media manager or some other person in your company you just shoved the task at (adding just another thing they have to worry about on their plate). The question might even be racing through your mind.
Some of you may not even consider social media an important factor to your marketing campaign.
Let's pause for a second. Have you ever heard of Gary Vaynerchuk? Hopefully, you have. Either way, you should definitely check out his keynote from Inc 500 Seminar 2011. It might be a few years old but it is definitely still relevant to marketing today.
The point I'm trying to make is, during the first half of the keynote he refers to a conversation he has with another woman about the ROI of social media. After going back and forth with the woman, Gary says, "What is the ROI of your Mother?" Social media is everything! It should be the kit and caboodle of your marketing campaign.
So, who's engaging and monitoring your social media presence?
Questions to Ask About Your Social Media Presence
Is Your Company Effectively Reaching Your Target Audience?
Is this person male? Is this person female? Is he or she over or above 30 years old?
I hope that those questions weren't too personal.
According to a recent study by socialbakers, Facebook admins tend to be older than 30 and skew male.
They might be breaking the stereotype that all admins are young hipsters, but I think that the person handling your social media will differ based on the company. It's not going to be the same. Often times it will depend on who your target audience is.
To effectively answer the above question, I want you to think about this question, "Is your company effectively reaching your target audience?"
Think about your answer. Don't just say what ever comes to your mind. I'll give you a moment or two.
Okay, before you start bashing social media, take a look at your social media analytics. Key performance indicators can go a long way. Some KPIs might include reach (number of fans and followers), likes and shares, comments, mentions, retweets and data based on traffic. This will give you a better indication of how well your social media "manager" is engaging with and building relationships with your audience.
In order to effectively reach your target audience, you need to know who your buyer personas are and what social platforms they're hanging out in. If you don't know who your buyer personas are and where they are engaging you're missing an opportunity to target them.
Are You Actively Responding to Comments and Questions?
The biggest part of social media marketing is monitoring the engagement on your social profiles. You cannot just publish content and do nothing else. You regularly need to log in and respond to comments, questions, and customer service inquires.
Monitoring your social media presence shouldn't take up your whole day. Surprisingly, it should take you about 45 minutes a day. And, yes this is something you should be doing every day.
If you attended INBOUND'13 and went to Anum's session, "Social Domination: How to Conquer "The Big 3″ Social Media Networks" You've most likely seen this already but here are the tips you need to effectively monitor your social presence in 45 minutes.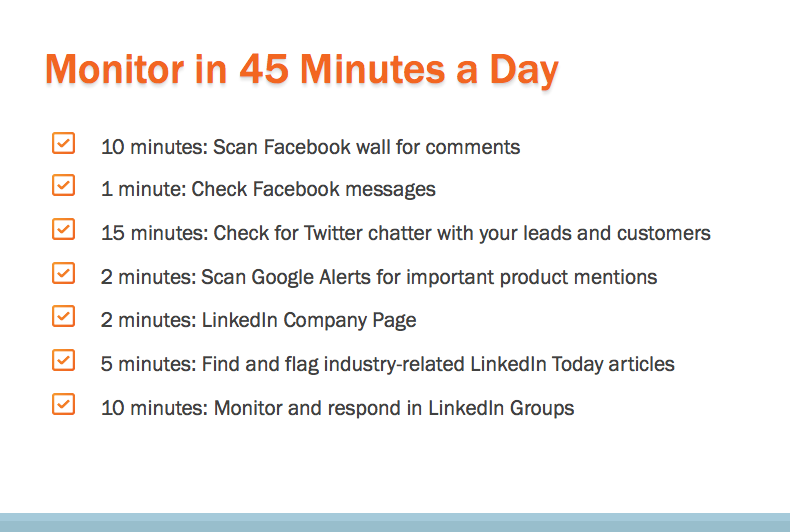 Within the last year or so, you may have noticed that more and more customers are turning to social media to display satisfaction, voice complaints and ask questions. Since social media, has become an outlet for customer service it's important to ensure that you're actively engaging and listening to your audience.
But is someone constantly monitoring any engagement? If not, someone should be.
Who's Monitoring Your Social Media Presence?
So, we are back to the original question, when I got a little too personal. Who's monitoring your presence? Is this person an intern, a dedicated social media manager, or a mid level employee that has fifteen other things on their plate?
Social media is important in getting your name out there and building relationships. Unfortunately, you won't be very successful if the wrong person does it.
Unfortunately, you shouldn't give your intern the task of managing social media, not only will they be overwhelmed but they have no clue who your audience is or the bigger picture of what your company does. So you're a medical software company or a law firm, do they understand the bigger picture of what your company stands for?
Whoever's monitoring your presence, needs to be dedicated. That should be their entire job. Don't push it onto someone else's plate. Otherwise, it might not have the same impact as it would if one person was actively engaging with your fans and followers.
Free Assessment:
How does your sales & marketing measure up?
Take this free, 5-minute assessment and learn what you can start doing today to boost traffic, leads, and sales.