25 Design Tools, Apps, & Resources to Seriously Upgrade Your Visual Appeal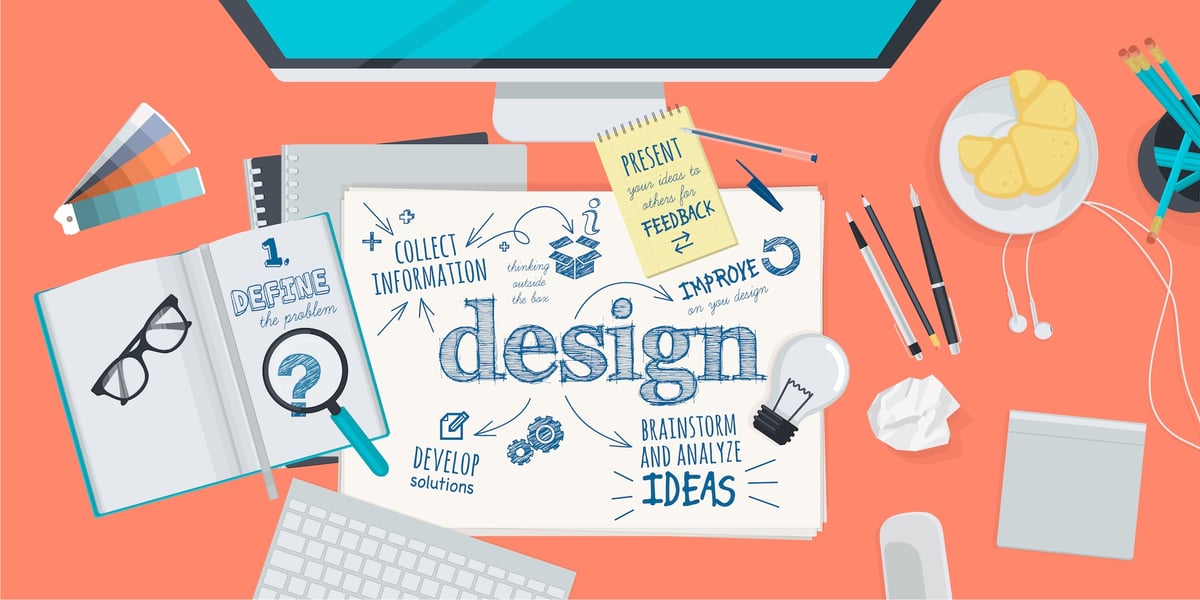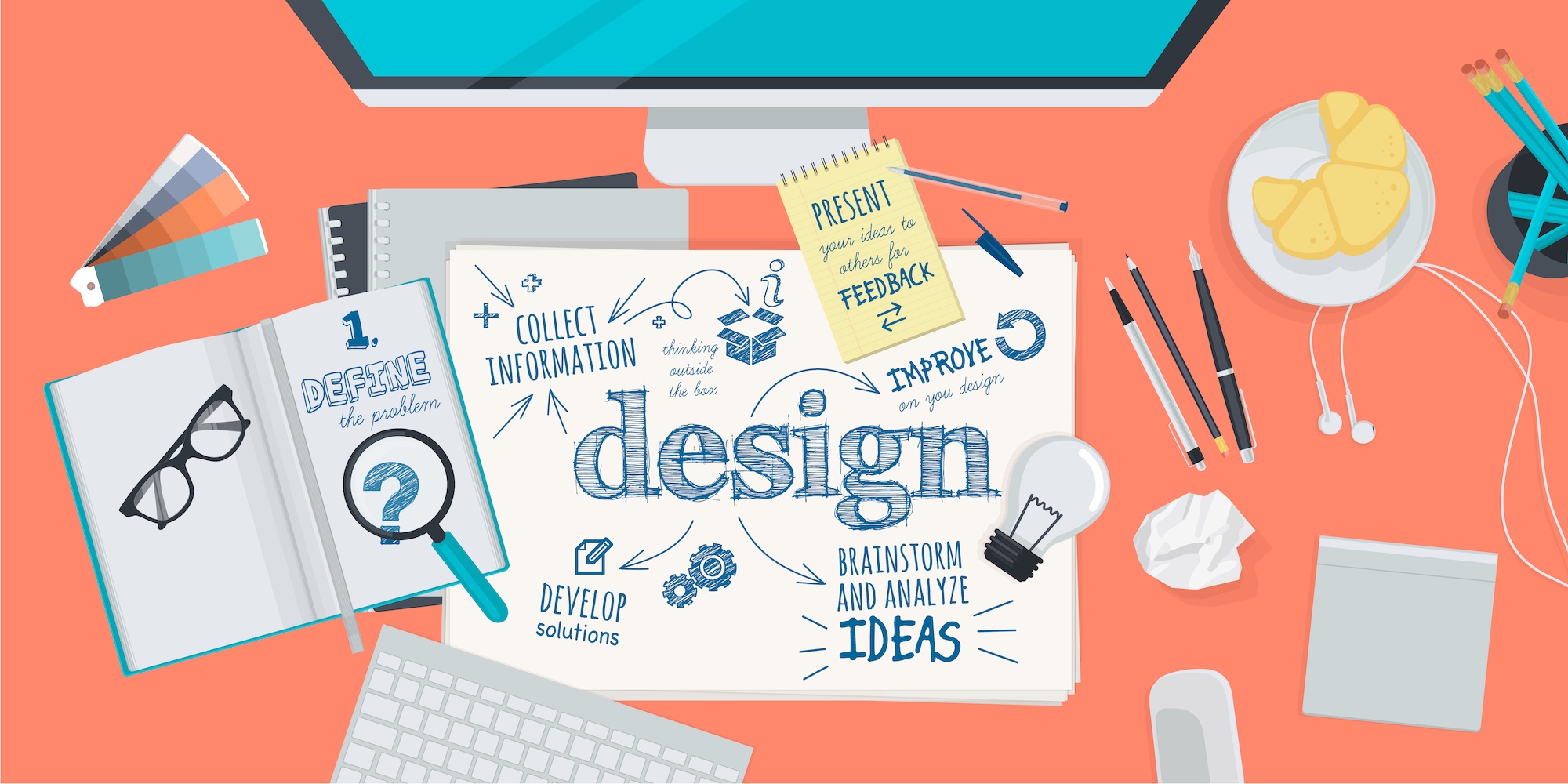 The first article I ever wrote for the IMPACT blog was about visual marketing.
At that time, marketers were just getting to know and embrace visual media platforms like Instagram, Vine, and YouTube as essential factors in their success. (What kind of stone age were we living in, am I right?)
Now, over two years later, a lot of things have changed, but the impact and importance of visuals has not. More than ever, design and visual communication is needed to effectively reach consumers of all ages and backgrounds.
Not convinced? Just take a look at these statistics:
Visual marketing and communication works, but many are still intimidated by its intricacies and costs.
Like the latest fashion, people are often under the impression that looking good and creating stunning visuals requires a big budget, Photoshop skills, or both.
But, that's not the case anymore, people!
All of the apps and services featured in this article are either free or extremely affordable for businesses on a budget. You very well don't need all 25, but regardless of your design knowledge, I'm sure you'll find one or two to fit your needs.
Visual Editors
Online visual editors make you look like a Photoshop pro, without having to use the iconic Adobe software or any other desktop software.
Most of them have a simple drag-and-drop interface that makes it easy to create beautiful designs in a short amount of time and without the learning curve of advanced photo editing software.

Canva allows you to create images for social media, blog posts, web banners, and anything else you could want.
They have a ton of templates already laid out for you, plenty of published photos to draw inspiration from, and a user-friendly interface. Canva is free to use, however you can purchase premium images for $1 each.
Picmonkey is another web based photo editor that you can use for free. Picmonkey is especially great for creating collages.
Photo Mockup Tools
Photo mockups allow you to create custom images without having expert photo editing skills. They're very useful for dropping in screenshots of your app or software into high quality photos featuring the device your software is used on.
Placeit is easy to use and they've got a wide selection of high quality templates to choose from.
Unlimited small-image downloads are available with a free account, but for high-resolution images, you will need a subscription. Monthly plans start at $12 per month or you can purchase single downloads for $8 each.
Cool Mockups is a more affordable option for those who understand the basics of Photoshop.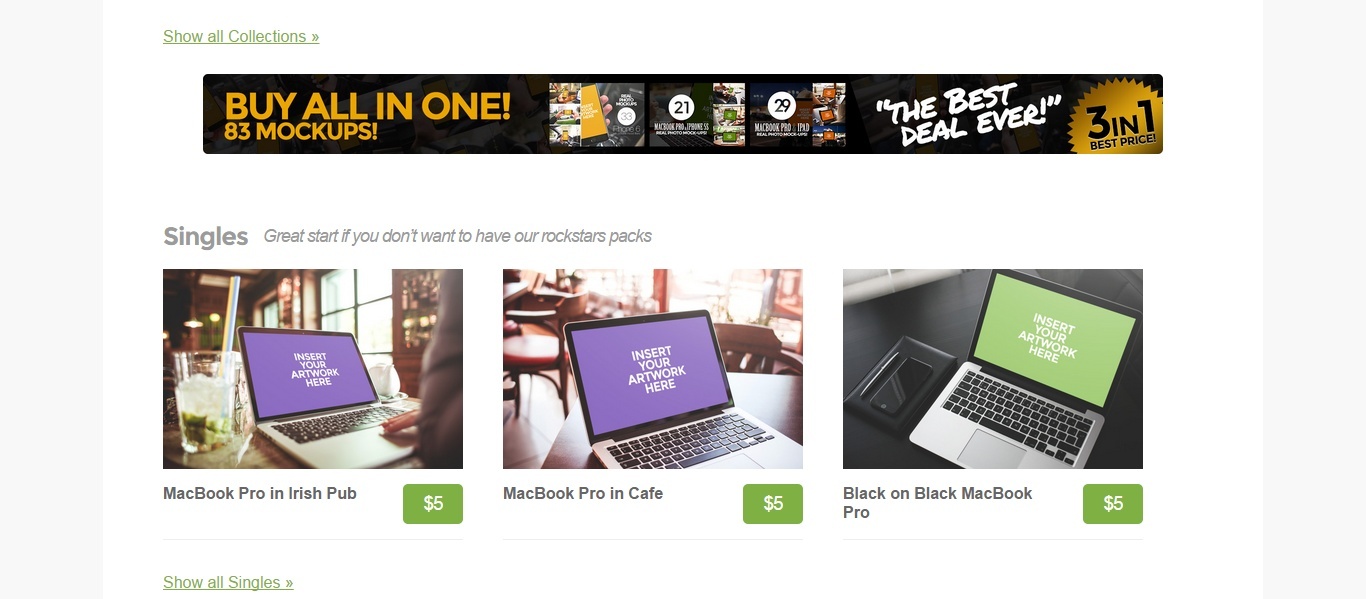 They sell packs of PSD files for as low as $11. You simply open the file you'd like to use and add your image where the placeholder is.
Free Stock Photo Resources
You can never have too many sources of high-quality, free photos to use for your digital media. If you haven't read it already, check out our recent post -- 10 Free Stock Photo Websites That Don't Suck.
Just in case those ten aren't enough, here are two more.
Splitshire hosts a solid selection of high quality photos for free and they also have premium images available for purchase.
Their premium service costs $5.50 per month and the photos are automatically uploaded to your Dropbox folder. These premium photos are not featured on the website.
Another source of stunning images, Life of Pix features photos of nature, cities, and lifestyle. Most of the images are uploaded by the advertising agency Leeroy, but others are from random contributors.
Infographic Resources
We're big fans of infographics for sharing information in a way that's easy to digest and visually compelling. (Check out this post to see what I mean: 5 Compelling Infographics to Inform Your Marketing Strategy in 2015.)
Creating infographics used to be relatively expensive at several hundred dollars per project, but with these tools, it's become much more attainable for small and medium-sized businesses.
Piktochart makes it incredibly easy to design your own infographics for your business.
You can choose between a free account that has limited templates and features their branding on the infographic, or you can sign up for a premium account that costs $29 per month.
They have over 400 beautiful templates to choose from and their interface is very user friendly.
Infogram is another option that allows you to use a limited free account or a premium account for only $18 per month.
They don't quite have the selection of diverse templates, but they are great if you are more focused on creating charts and graphs for presenting data.
Screenshot & Annotation Tools
Screenshots are very effective for explaining how to use your service, providing visual proof for claims, and many other occasions where an image speaks louder than words. However, we often like to include annotations and visual aids, such as arrows, with our screenshots to help them make sense.
Skitch is a service made available through Evernote that lets you teasily take screenshots from within your web browser, annotate them, and add other visual elements.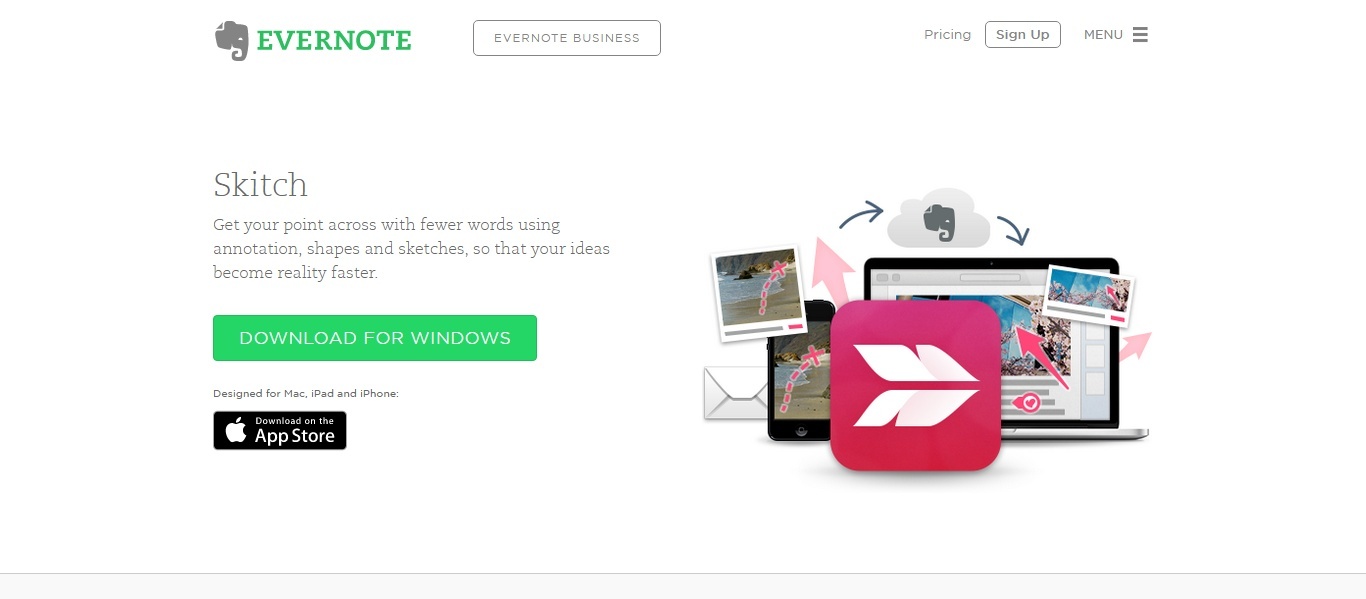 The images are saved in the Evernote folder of your choice or you can download them to save elsewhere.
This one's a favorite among the IMPACT team. Similar to Skitch, Awesome Screenshot is an extension that you can add to your Chrome, Safari, or Mozilla browser that allows you to take screenshots with a couple of clicks.
In addition to giving you a variety of capping options (i.e. entire page, selected area, local image, etc.), it also gives you several options for annotating and editing. You can add text and directional cues among other things.
Stock Video Resources
Most people are familiar with stock photos, but you can also find stock videos to use in your marketing materials, royalty-free. Stock videos typically cost more than stock photos, but they allow you to stand out more and create a more personable presentation.
Dissolve has over 700,000 HD stock videos (and photos) in their collection. While no plan is available at this time, but for as little as $49, you can get royalty-free licensing rights to their high-quality and stylish choices.
Although they don't have quite the selection of Dissolve, Life of Vids provides completely free video clips with no copyright restrictions. New videos are being added weekly and high resolution files can be downloaded from their Vimeo account.
Meme Resources
Love them or hate them, memes work. Depending on your buyer persona, memes can be a fun source of content to use on social media or on your blog. They are easy to create, for the most part, royalty-free, and with the following tools you can knock out several in a few minutes at no cost.
Memegen was created by Imgur, which hosts a significant amount of the total images you see shared in social media. This tool allows you to search images in Imgur and add text. From there you get a shareable link or code to embed the meme.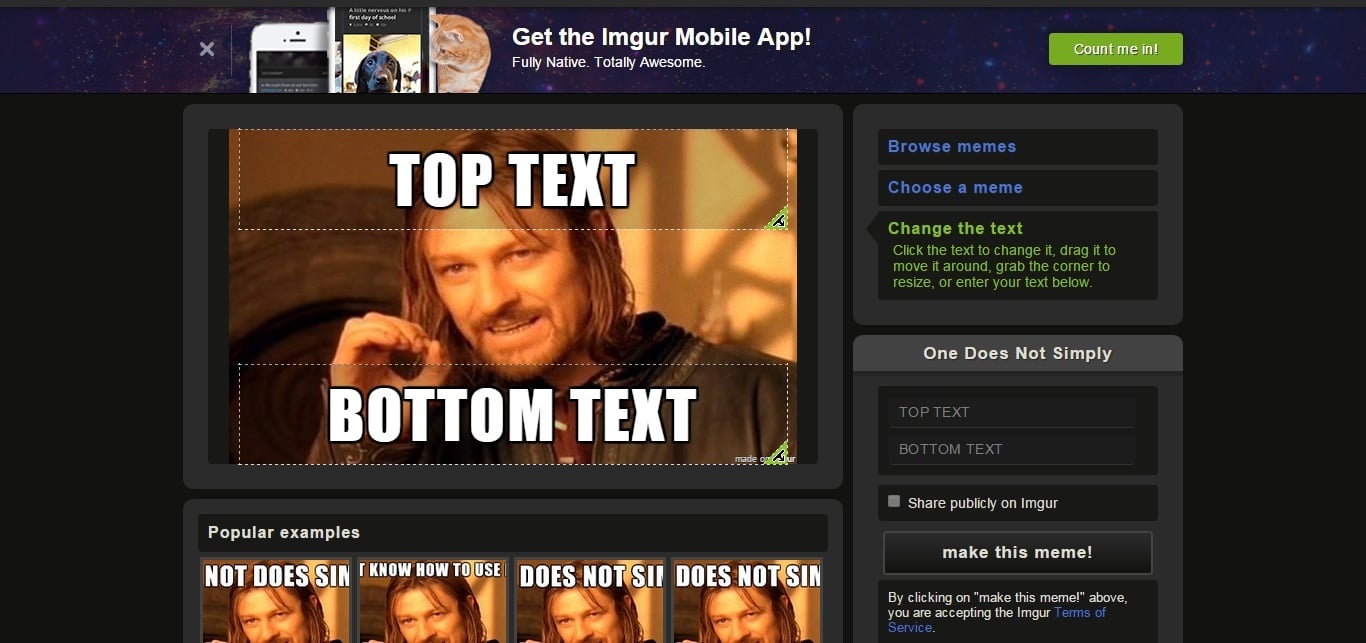 Imgflip is another simple tool, only you don't have to create an account and you are able to edit the font of the text.
GIFs
GIFs are most widely known for their comedic relief these days, but they're also useful for adding dimension or highlighting interactive elements or functionality without having to share an entire video. They're also a great way to save bandwidth and storage space.
Are you looking to create a GIF from an existing YouTube video? This is the perfect tool.
You simply paste the URL to the video you want, select the part of the video that you want clipped, and convert it into a GIF.
Recordit is another one of our favorites in the office. An app for Windows or Mac, Recordit allows you to capture videos and create GIFs of your own screen. This is perfect for highlighting tech products, services, or functionality.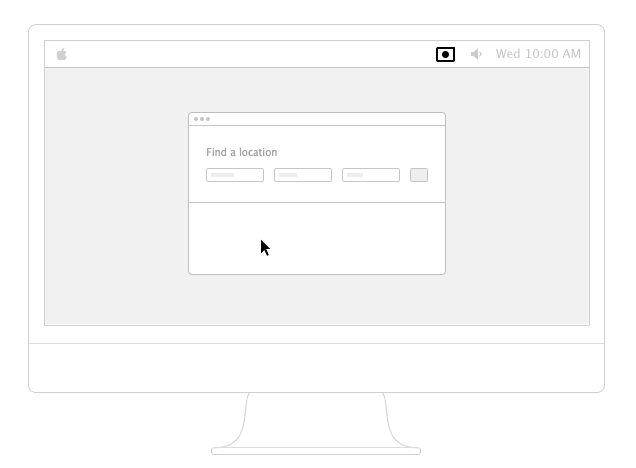 If you're looking for an existing GIF, instead of creating your own, this is the place to go. Giphy is a free search engine that sifts through reddit, Twitter, and a host of other sources to find you the right gif for your keyword.
Typography Tools
Typography or graphic displays of quotes and other test are popular social media content and they can also add a nice touch to blog posts.
While Canva is great for creating typography as well, ShareAsImage is a great alternative. ShareAsImage is a Chrome extension that costs $8 per month and allows you to quickly create high-quality images (they provide photos) featuring the quote of your choice.
This is the source of many of the quote images you see brands post on Instagram.
Image Resizing Tools
Each social media platform has an ideal image size that performs best. Unfortunately, they're not the same across the board -- that's where these tools come into play.
Social Image Resizer Tool takes all the busy work out of resizing images for social publishing. This tool allows you to resize and crop images based on the optimal size for each social media platform, which they provide for you. It's no frills, but easy-to-use and effective.
Image Compression Tools
Page load times have an impact on SEO and one of the biggest culprits for slowing down load times is large image size.
Tinypng is a free tool that allows you to shrink the size of your images, while only slightly decreasing the quality of the image. It only works for PNG files and has a plugin for Photoshop as well.
Icon Resources
Icons are used everywhere from website design to infographics. They subtle, yet effective ways of addition visual support to your content without being distracting.
Some brands use icons as consistent feature in their social media images, website branding, or other visual elements that are associated with their brand. There are tons free icons available online, but packs of high-quality icons are easy to find at a low-price as well.
The Noun Project has an icon for pretty much anything you can imagine, with 25,000+ icons and growing. You can use their icons for free with attribution or you can pay $10 per month for a premium account and never have to worry about attribution.
Ballicons offers a colorful set of flat design icons that you can resize bigger without having to worry about distortion.
They offer a free pack of 20 icons or a bundle of all 110 for $19. PSD, PNG, and SVG file formats are available so you can edit the colors and shapes.
Round Icons also sells bundles of icons in a larger variety and quantity than Ballicons. They have a few free sets to choose from or you can buy all 8,500 icons for a one-time purchase of $206.
Quiz Builders
Quizzes get a ton of engagement on social media.
While most quizzes are just meant for entertainment, they also provide a creative way to survey your audience and gather feedback.
PlayBuzz allows you to create Buzzfeed-type quizzes (and other types of interactive content) for free that you can then share or embed anywhere you want. You can choose from: polls, personality quizzes, trivia quizzes, and photo quizzes.
Qzzr is another simple app that lets you create interactive quizzes for free.
It's the choice of major organizations like NBC, Yahoo, TechCrunch, LinkedIn, and even our friends over at HubSpot. With their basic, free plan you get:
Unlimited quizzes
Unlimited shares
Multimedia content
Embed anywhere
Custom themes and colors
Full analytics
Includes Qzzr branding
Free: Assessment
Does your website build trust with buyers and bring in revenue?
Take this free 6 question assessment and learn how your website can start living up to its potential.