Growth hacking: 33 digital marketing courses, tools, and resources for an explosive strategy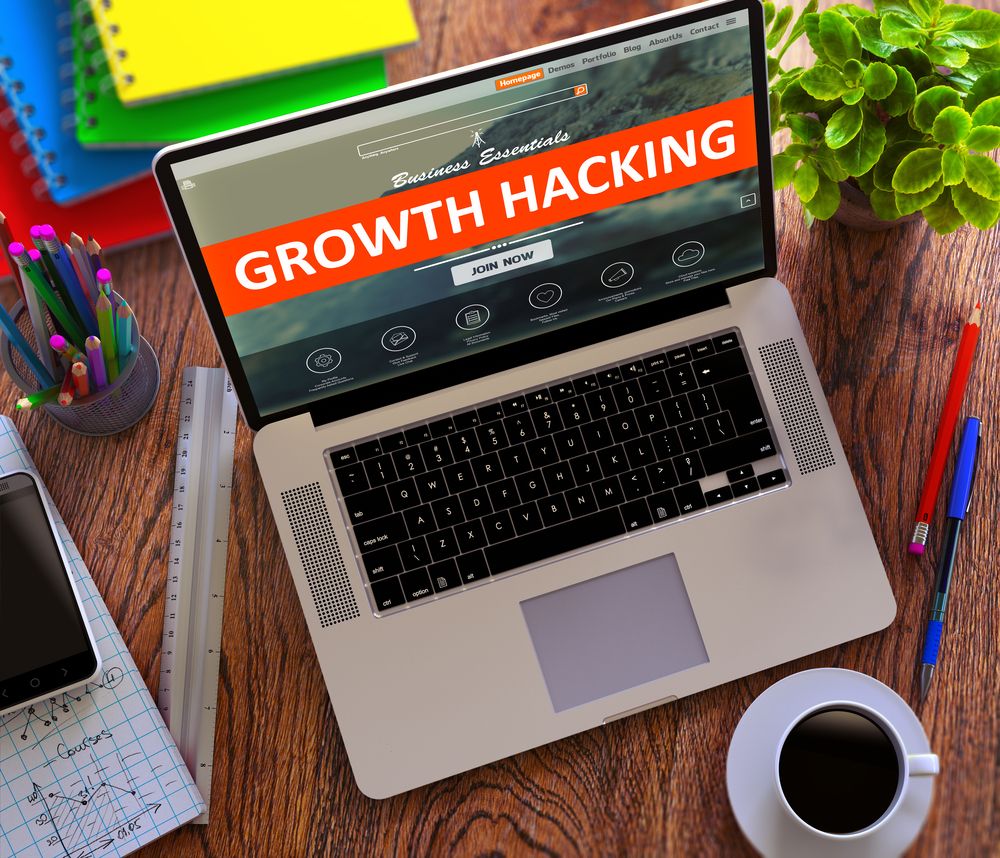 Growth hacking is the hottest trend in marketing right now.
Unfortunately, a lot of marketers still don't quite understand the concept of growth hacking and aren't sure how to put it into practice.
That's why we've put together a list of the BEST digital marketing courses, tools, and resources to "hack" your knowledge and experience in this strategy of marketing.
After going through these resources, you'll learn that the secrets to explosive growth are much simpler than you think and the tools that growth hackers use offer an advantage that almost feels like cheating — almost. Let's get started.
Growth hacking books
I don't know about you, but when I'm trying to learn a new skill or strategy I like to start with a good book on the subject. This gives me a foundation to build on and it points me in the right direction to dig even deeper. Here are few to get you started on growth hacking.
Growth Hacker Marketing: A Primer on the Future of PR, marketing, and Advertising

by Ryan Holiday

(Amazon)
This book is exactly what it says it is -- a primer on growth hacking.
You'll learn the mindset of a growth hacker, the basic approach that a growth hacker takes, and you'll get to see plenty of real-world examples from notable brands such as Dropbox, Airbnb, Facebook, and Twitter.
If you'd like a preview of what this book includes, check out this article here.
Growth Hacking - A How To Guide On Becoming A Growth Hacker

by Jose and Joe Casanova (Amazon)
The first half of the book explains basic terminology and concepts associated with growth hacking and the second half shares specific case studies from brands such as TechCrunch, Quora, Zynga, Living Social, as well as the brands discussed in Ryan Holiday's book.
They Ask, You Answer by Marcus Sheridan (Amazon)
While not touted as a "growth hacking" book, They Ask, You Answer details the tried and true business philosophy and content creation strategy that we use at IMPACT to drive traffic, leads, and sales for our clients. It all comes back to one simple idea — answer the questions your audience wants and needs answered.
Digital marketing courses
After you've primed yourself with a good book, a great digital marketing course can help you learn how to apply them.
This year, IMPACT launched IMPACT+, a treasure trove of actionable tools and training for sales and marketing professionals. We have courses on everything from email marketing, content strategy, and automation to virtual selling, on-camera performance, and ROI reporting. With these comprehensive, on-demand lessons you can learn at your own pace and slowly but surely "hack" your way to success.
Growth hacking communities
Looking to surround yourself with like-minded people? These are the places they're hanging out.
This community currently has just under 2,000 members and apparently Ryan Holiday is one of the moderators. There are no requirements to join.
The structure of this website is similar to Reddit in that it's based around users sharing useful content. Right now they've got over 65,000 growth professionals.
Unlike the others, you have to pay to join this community and memberships start at $49 per month or you can purchase a lifetime membership for $179. Their website has over 100 videos where experts on startup growth reveal their secrets.
Episodes feature names familiar to inbound marketers such as Neil Patel (co-founder of KISSmetrics).
Growth hacking articles and resources
I've searched high and low for the best articles on growth hacking. The titles speak for themselves and yes, they are all worth reading.
Growth hacking tools
Now we're getting to the good stuff. Sure, it's nice to have a grasp on the concepts and to appreciate how growth hacking has helped other businesses, but we want to be where the action is!
These are the tools-of-the-trade that you can start using to grow your business today. Most of these services offer a free trial, so you can try before you buy.
Inbound marketing and marketing automation
It's no secret that we love HubSpot. The Inbound platform allows you to easily manage all of your blogging, landing pages, social media, email marketing, and marketing analytics in one place. They include all of the tools you need to create and automate your sales funnel.
On top of that, they have the best library of Inbound Marketing resources available. Plans start at $200 per month.
InfusionSoft is another all-in-one marketing solution similar to HubSpot, except their service isn't completely focused on Inbound Marketing. Plans start at $199 per month.
Traffic acquisition
Colibri is a tool that allows you to:
Monitor what people say about your brand
See what people are saying about your competitors
Identify factors that influence the purchasing decision of your buyer persona
After the 14-day free trial, plans start at $95 per month.
This is a free tool that's easy to setup and use. It allows you to place links in your content that your persona can click to automatically send a tweet to their followers.
Check out this article to see how we use this tool ourselves.
Nimble is a contact management tool that allows you to manage relationships without data entry.
It combines all of your contacts, emails, activities, follow-ups, and social signals from everywhere into one app to keep you organized and enhance your communication.
After the 14-day free trial, plans start at $15 per month.
Looking for a robust list of actionable growth hacking tips? This comprehensive collection from Growth Simple will help you boost performance in social, email, user acquisition, user retention, and design.
Market research and user feedback
Consumer Barometer is a free resource for eCommerce companies to gather insights about consumer behavior online.
There's no sign up required, you just go to their website and start browsing through the information.
Polldaddy allows you to create polls and surveys that you can send to your customers or audience. This tool is known for its powerful reporting and filtering capabilities.
You can get a limited plan for free and paid plans start at $200 per year.
Typeform allows you to create beautiful, user-friendly forms and surveys. Their forms have an interactive approach that's more personable and engaging than your average survey.
Their basic plan is free and paid plans start at $20 per month.
Qualaroo is another service for creating surveys, however, they are focused more on helping you identify why your persona makes certain decisions on your website -- not just what they do and how they do it.
After the 14-day free trial, plans start at $63 per month.
Olark is a chat application that also provides analytics and user insights. You can set up triggers based on user behavior to automatically ask your persona if they need help after they've visited the pricing page twice, for example.
You can customize the design of your chat box to match your web design perfectly.
After the 14-day free trial, plans start at $15 per month.
Lead generation
Hello Bar is a simple and free tool that allows you to insert a CTA at the top of your website within a horizontal bar.
Your bar (and CTA) is designed around one of three goals: to drive traffic, collect emails, or send visitors to social media. Your bar can be customized to match your site and it tracks the number of clicks for you.
SumoMe is a collection of tools that help you increase conversions on your website. The tools include:
List builder
Heat maps
Social sharing
Scroll box
Smart bar (similar to Hello Bar)
And several other useful tools. You can use a limited account for free forever and premium accounts start at $10 per month.
This tool sounds a little creepy, but it's incredibly useful for understanding the behavior of your buyer persona on your website. SessionCam lets you watch recordings of your website visitors so you can identify problem areas on your website and see everything from their perspective.
You can use the service for free (up to 500 visitors per month) and then paid plans are available upon request.
Visual Website Optimizer makes it easy for you to setup conversion goals and run A/B tests without having to understand code.
After a 30-day free trial, plans start at $49 per month.
Email marketing
You can use sendwithus to track and manage your email-driven revenue and engagement. It also allows you to create drip campaigns and run A/B tests. Their Hacker plan is free and paid plans start at $79 per month.
Vero allows you to track the online behavior of your persona and then automatically send them emails based on that behavior, such as abandoning their shopping cart. After the 14-day free trial, plans start at $99 per month.
Customer.io is another email tool that allows you to automate emails based on behavior triggers from within your website or app. Their service offers flexible segmentation, conversion tracking and A/B testing.
They have a basic free plan and paid plans start at $50 per month.
Klaviyo allows you to create automated and personalized email campaigns based on user behavior and "smart rules" that you select.
They offer a basic free plan and paid plans start at $25 per month.
If that list wasn't enough, here are 50 growth hacking tools for marketers at startups.
Free Assessment:
How does your sales & marketing measure up?
Take this free, 5-minute assessment and learn what you can start doing today to boost traffic, leads, and sales.