5 Ways to Become an Absolute Boss at Lead Generation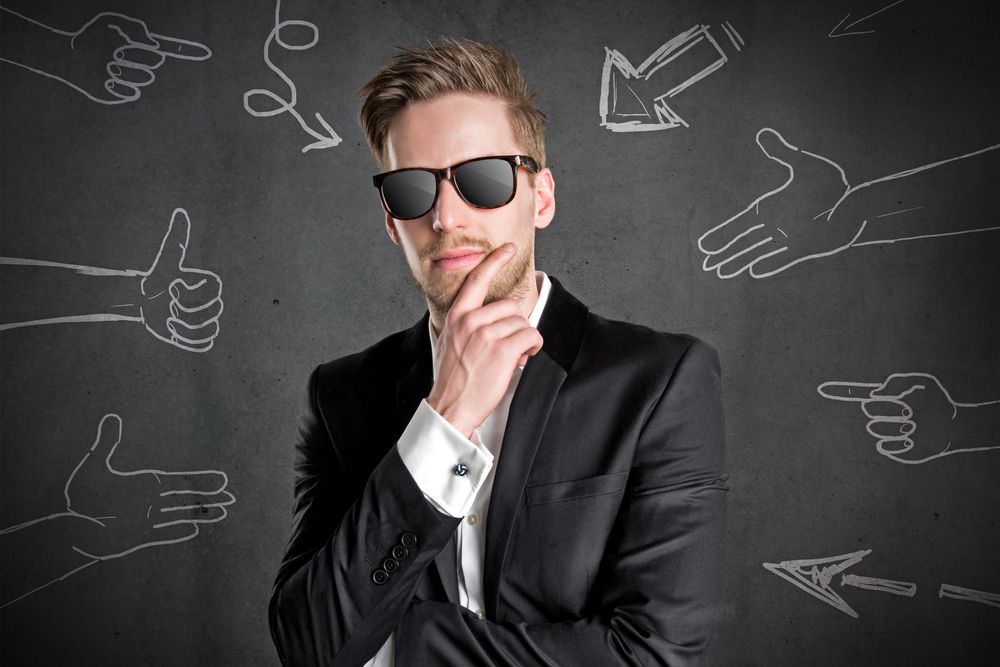 The most effective way to sell to someone is to start by not selling them anything at all.
In fact, these days there's a lot that comes before the ask.
Aware that people don't just walk around eager to give out their email address or phone number to anyone within an arms reach, you need to be focused on building a foundation that invites trust and engagement.
It all starts with your website.
And with ambitious goals for 2015 looming just a month away, it's about time you took the reins on this whole online lead generation thing.
But before you make a mess of things, take a few minutes to work through the following tips and tricks. We've already seen them work for us, now it's your turn.
1. A/B test everything
Before you start generating leads, you need to be sure that the content you're creating (or already have in place) is optimized enough to invite conversions.
This calls for continuous A/B tests that aim to compare the effectivity of two variations of a particular site page, email, bit of copy, etc.
It's important to keep in mind that just because something if performing well, doesn't mean it can't be performing better. The only way to truly know is to test.
Check out these examples of A/B tests that were able to significantly increase lead generation:
HubSpot explores the influence of Twitter images
In an effort to determine whether or not tweets including images have any influence on conversions, they conducted the following test.
They scheduled 36 tweets over a week's time using 18 different blog posts, ebooks, and templates, using the title of the resource as the copy with no modification.
The comparative set of tweets used the exact same blog posts, ebooks, and templates with the same copy, only these tweets contained an image as well.
The tweets were published on different days, however the timeframes remained consistent to ensure accuracy.
According to the results, tweets with images saw a:
36% increase in clicks
41% increase in retweets
48% increase in favorites
31% increase in visits
33% increase in visitor-to-lead conversion rate
55% increase in leads
Vidyard adds video to their landing page
In an effort to determine how video impacts conversion rates, Vidyard conducted the following test using Unbounce.
During their development days, Vidyard was relying on just a landing page to collect e-mails from people that expressed an interest in what they were working on. To determine how to get the most out this page, they created three different variations: one without video, one with the video embedded in the page, and one with the video in a lightbox modal popup.
According to the results:
The landing page without video saw a 6.5% average conversion rate.
The landing page with the video embedded in the page saw an 11% average conversion rate (69% conversion lift.)
The landing page with the video in a lightbox modal popup saw a 13% average conversion rate (100% conversion lift.)
Bettingexpert.com explores alternative copy above their forms
In an effort to determine how different header and button text sandwiching a form could potentially influence the number of submissions, BettingExpert conducted the following A/B test.
They created a split test that incorporated two different variations of the form. These two forms were set up as follows:
The control form employed the header text "Join BettingExpert" and a button that read, "Sign up +."
The treatment form employed the header text "Get FREE Betting Tips" and a button that read, "Sign up & Get the Best Daily Tips."
They ran the test for nine days and were able to reach a sample size of 13.560 visitors, and 291 conversions.
According to the results, the treatment form increased signups by 31.54%.
Actionable tip: New to this? Start small. We saw an 78% increase in conversions on the landing page for our offer, The Beginners Guide to Inbound Marketing, by simply switching the button text from "Free Download" to "Show Me How to Attract More Customers."
For more on how we did it, check out this article.
2. Create contrast
When determining where and how contrast should be leveraged on your website, you'll need to start by identifying exactly what it is that you want to get out of each specific page.
Let's take your blog for example.
Ask yourself, "What is the number one action you want your blog visitors to take?"
Sharing your post on social media? Subscribing? Clicking on the CTA?
Aware that the human eye is attracted to contrasting colors, you'll want to use dissimilar colors for the button and background to encourage visitors to pay attention.
This could mean the difference between this:

And this:
Which one would you click on?
Keep in mind that contrast isn't limited to the color pairings you use to create CTAs. White space is another design element that can be used to accent your focal point. In this case, the focal point would be the call-to-action you are employing to drive visitors to a place where they can convert.
Too much white space can create a divide, but too little will often results in an overly crowded space that will deter visitors from taking the desired action.
Point being, give your CTAs a little room to breath.
Actionable tip: Use a heat mapping software (like CrazyEgg) to measure the performance of the content in your blog's sidebar.
In doing so, we found that our time and resources were better spent elsewhere, which drove our decision to nix the sidebar all together. As a result, we eliminated unnecessary distractions and created contrast for the call-to-action at the bottom of the post.
(We took things a step further and reinvented the traditional bottom of the post CTA to include a form. By eliminating the middleman, we were able to increase conversions on our blog by 78%.)
3. Stop worrying about giving too much away
If you're trying to convince a visitor that your business is capable of delivering the results they need, prove it.
A brand that does a really good job of sharing their successes is Buffer:


They're literally giving this information away for free on their blog, yet their CEO Joel Gascoigne is admittedly making $175,000 a year.
If that's not proof enough that you can give away your secrets and still be profitable, then I don't know what is.
With all of their posts are brimming with actionable, data-backed value, they're able to shed a positive light on their level of expertise and distance their posts from the rest of the noise in social streams.
Actionable tip: Before your next content brainstorm, ask your team members to bring to the table one notable thing you've done this week, month, quarter, or year. This can be anything from an A/B test that improved conversions, a blog article that went viral, a co-marketing opportunity that proved profitable, etc.
Working through each example as a team will help you to determine which triumphs would make the most valuable blog articles or offers. From here, you can hash out the process behind what you did, make note of the steps you took, and begin to string together a piece of content that will shine in comparison to all of the cheesy "7 Ways Inbound Marketing is Like Baking Cookies" articles out there.
4. Strive for relevance
It's no secret that inbound initiatives serve the greater good of the company, but in terms of targeting, they provide seemingly limitless opportunities.
It's important to keep in mind that there's a big difference between supplying content that is valuable, and content that is specifically valuable to your buyer personas. You see, relevance doesn't pertain to just the subject matter, but also the distribution.
When distributing content, you want to focus your efforts on the platforms that your personas typically hang out. Not sure where that is? There are a number of ways to uncover your ideal audience's preferred channels for information consumption.
As you onboard new customers, ask them to complete a survey or answer a few questions regarding where they get their news, what formats they prefer, when they are most likely to read articles, etc.
Also, don't be afraid to dig into your analytics. Which sources are bringing in the most leads? The best leads?
Actionable tip: If you're a HubSpot user, the Sources report delivers a great deal of information in terms of which sources drive not only the most traffic, but also, which channels convert the most leads.
You can even trace leads back to the campaign they converted on, the referral source, the social platform, etc. With this information in tow, you can create and distribute content with more purpose, ultimately resulting in more qualified leads.
5. Don't set it and forget it
Your social media strategy isn't a crock-pot. Don't treat it like one.
While automation certainly has its advantages, setting it and forgetting it isn't one of them.
Why?
For one, too heavy of a reliance on automation will ultimately result in a presence that feels stiff and uninviting.
Not to mention, failing to revisit your posts to check in on their performance will put you at risk of missing out opportunities to connect and respond to visitors and leads who are engaging with your content.
Keep in mind that any questions you leave unanswered are now up for grabs. If your competitors get their hands on them, you've lost a potential sale.
Harsh? Yes.
But wait, there's more.
Social strategies are meant to be dynamic. Aware that what worked 6 months ago might not work now, it's important that you're tuning into any and all engagement and feedback on social in order to inform adjustments that have the ability to improve conversions.
Actionable tip: If you're a HubSpot user, check out the new Reports tab for Social Inbox. Here you'll find 5 pre-populated reports (Compare Time Frames, Compare Platforms, Compare Channels, Campaigns and Reach) that can be used to visualize the performance of your social media marketing across several platforms.
With only 1 in 3 marketers able to measure the ROI of their social media efforts, taking advantage of this opportunity to analyze and compare data will help you improve your lead generation efforts and get a leg up on your competitors.
Free Assessment:
How does your sales & marketing measure up?
Take this free, 5-minute assessment and learn what you can start doing today to boost traffic, leads, and sales.