Subscribe
Join 40,000+ sales and marketing pros who receive our weekly newsletter.
Get the most relevant, actionable digital sales and marketing insights you need to make smarter decisions faster... all in under five minutes.
Thanks, stay tuned for our upcoming edition.
The 5 Biggest Problems Sales Teams Face with the HubSpot CRM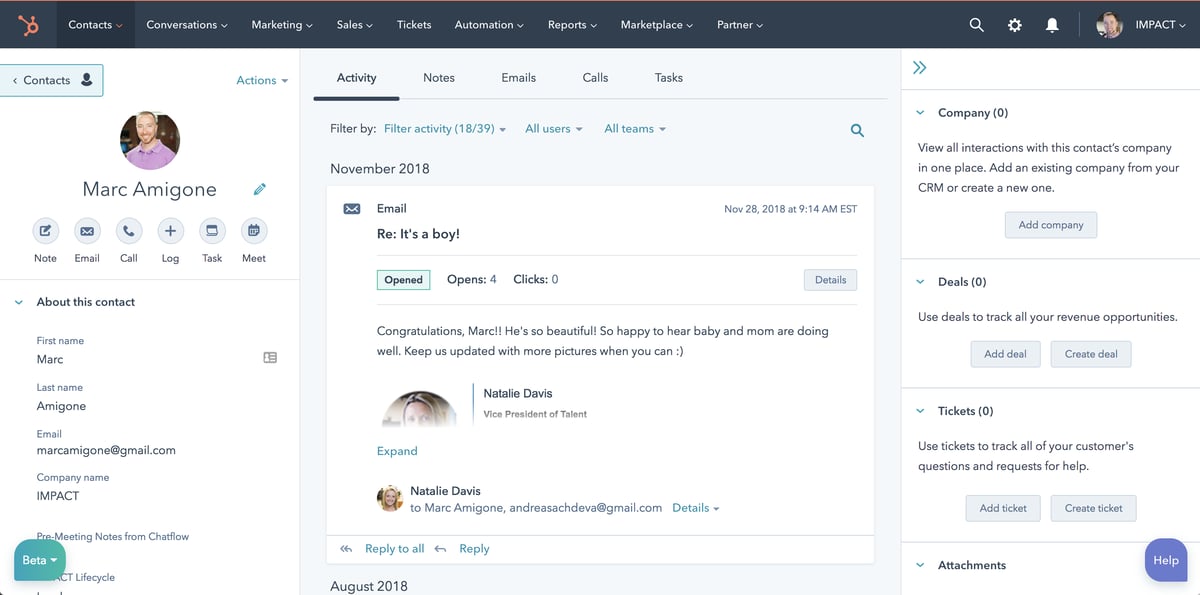 When I started working for HubSpot as an inbound marketing consultant in 2012, the vast majority of our clients used Salesforce.com as their CRM.

It was the industry standard-- though, not because it was universally loved-- so HubSpot's Salesforce connector was one of the main value propositions the company had to offer.

That was all fine and dandy until the Brian, Dharmesh, and the powers that be decided HubSpot had more to offer the world than marketing software.

First, it was Signals which eventually became Sidekick and then eventually, HubSpot Sales.

Central to that product growth trajectory was the HubSpot CRM.
A Star is Born: The HubSpot CRM
In the almost five years since INBOUND 2014 when the CRM was first launched, the product has come a long way.

Thousands of businesses run on it.

While the HubSpot CRM has won lots of business from CRM competitors like Salesforce.com, Zoho, and Sugar (IMPACT included), it's not without its problems.

After polling a wide array of audiences, here are the biggest problems people keep experiencing when using the platform:
1. Reporting
When I asked for feedback about problems they experience with the HubSpot CRM, the almost universal response I received was reporting.

The feedback I kept coming back to was, "I'm not a data scientist."

Before we go any further, it's important to call out some context: HubSpot started out as just a marketing platform.

The average marketer was and still is expected to have a basic understanding of how to leverage data to optimize their performance, so understanding how to use the reporting tools in marketing hub wasn't too tall an order.

I don't think anyone can make that claim for the average salesperson (or sales manager for that matter).

As IMPACT's lead HubSpot specialist, Carina Duffy, pointed out in her 2018 presentation at IMPACT Live, succeeding with HubSpot is often less dependent on your ability to leverage the software and more on your ability to formulate a winning strategy before you even log in.

HubSpot gives you lots of options for structuring reports, but without a mid to high-level of sales operations experience or knowledge of how data is structured, it can be difficult to setup the CRM in a way that reports on valuable data trends for the long term.

Without that level of knowledge around data and how to use it, most sales teams or sales leaders dive into using the tool only to figure out reporting as they go.

While that's a great way to get your hands dirty and learn, lots of teams' sales processes evolve over time.

What happens if you want to incorporate feedback that dictates a tactical shift in your process and you need to start collecting a new data point?

All of the sudden your reporting is skewed from before you started collecting that info versus before. Extrapolating insights over time becomes that much more difficult.

All that to say, mapping out your sales process, the data points you'll need at each stage of the process, and then setting up the CRM accordingly will be the best way to avoid these data pitfalls.

While the average sales team won't know how to do all of that on their own, that's where hiring an expert (either on a one-time project basis or ongoing) comes in.

Before you say, "How can I afford a consultant to help me set all of this up?," think about your sales team's productivity.

If your sales team's close rate went up by 5%, what difference in revenue would that create? What about 10% or 20%?

If those numbers are more than the cost of a consultant, it just might be worth the investment so you can leverage date to zero in on what's keeping your team from hitting and exceeding their goals.
2. Customization is Limited
In our 2016 article, we pointed out one of the biggest problems with HubSpot, in general, is the trade-off its users need to make between usability and flexibility.
While users of the HubSpot CRM can be up and running in a few days seeing value, the ceiling they hit with that value might be lower than solutions like Salesforce.com or MS Dynamics.
This is because customization on the HubSpot CRM is extremely limited.
Onboarding to more comprehensive platforms are a big undertaking that almost always require a professional consultant to customize the toolset to your instance, but the range of options that come from that customization are robust.
If you're willing to pay up front for a highly-customized solution, it will fit your sales process like a glove (at that moment in time), but you'll likely always have to go back to that same consultant when you need to adjust your setup as per your evolving process.
Meanwhile, the trade off we referenced in 2016 is still true today when it comes to the HubSpot CRM.
What you gain in usability, you lose in flexibility. You simply can't do as much as you can with other tools and it can be difficult to scale with it.
The people who struggle the most with this challenge are those that leave solutions like SFDC, MS Dynamics, or a custom built solution for HubSpot.
The best way to deal with this limitation is to play to HubSpot's strengths.
Instead of following the system you used with your previous solution, embrace the fact that HubSpot doesn't do what your old system did.
Perhaps HubSpot's simplicity will help you streamline your process.
If nothing else, you have to weigh all of the pros of the HubSpot CRM (tie-ins with other HubSpot tools, sales enablement tools like snippets, templates and sequences, easy-to-use UX) against the cons (lack of customization, limited reporting capabilities).
3. It's Immature Compared to Other Solutions On the Market
Salesforce.com was founded in 1999, Dynamics in 2001. So, HubSpot is relatively new to the CRM game and it still leaves a lot to be desired.
Given their CRM was an offshoot of their pre-existing marketing automation product, it's reasonable to assume developing the product trajectory of their CRM hasn't been their top priority as a company and given the addition of Service Hub at INBOUND 2017, it probably won't be for some time.
While that might scare some people away from trusting HubSpot CRM as a solution for their business, as the HubSpot Growth Suite continues to develop as a product, the companies that lean into the interlocking features across the platform see the most benefit.
If you're looking for a CRM that can keep up with your ever-evolving intricate sales process and fit like a glove over all the minutia you've built into your previous CRM solution, HubSpot may not be for you.
However, either way, the tool is slowly, but surely advancing and I'm excited to see where it goes in the future.
4. Revenue Tracking
One of the other big shortcomings people identified during my research was HubSpot's inability to handle revenue projections.
Teams often have to keep spreadsheets up-to-date alongside the HubSpot CRM to project the long-term revenue implications of the deals they track in the CRM.
For instance at IMPACT, when we sign a new client to an ongoing retainer, we need to know how much revenue we're collecting on an ongoing basis, not just the month we close the deal.
We can't do that in HubSpot, so we have to map the data we're inputting in HubSpot into a spreadsheet (as opposed to working out of one platform).
You may be thinking, "What's the big deal? So you have to keep a spreadsheet up to date?"
HubSpot's value proposition as an All-In-One solution is it's most compelling message. That falls apart if it's "All-In-One plus a spreadsheet."
Plus it creates an additional liability--where do you go for the ultimate source of truth? HubSpot or the spreadsheet? Whose job is it to update where?
These are the issues HubSpot has managed to successfully solve on the marketing side of their platform, but the sales platform has some ground to cover.
More robust CRM solutions are more well-equipped to solve this issue natively, but not HubSpot. Fortunately, the HubSpot Connect Network is able to help this cause. One Connect Partner in particular, QuarterOne, seeks to solve this very issue.
5. Implementation - Expectations vs Reality
HubSpot does a fantastic job of marketing their CRM as an easy-to-use solution that will show value to your sales team right away.
While some of the sales enablement tools I mentioned above will definitely kick into gear right-off-the-bat and show an early ROI, getting the CRM up and running, customized to your team's needs, and firing on all cylinders is not something that happens overnight.
When asked during the research for this article, members of the HubSpot Partner Agency community spoke to a recurring problem of their clients implementing the CRM and not being happy with their results because they haven't accounted for the necessary customization, automation, and lead management planning it takes to implement the CRM successfully.
While one could make the argument that implementing any CRM requires that much planning, most CRM's aren't marketed in the same way as HubSpot.
Treat the HubSpot CRM like any--consult with a professional who's done the job before and plan to dedicate enough internal resources to the implementation to make it work for you and your team.
We helped The Newport Group solve this very challenge. We helped them streamline their sales process while transferring knowledge and expertise with the CRM throughout the implementation process.
The Good, the Bad, and The Ugly
At IMPACT, we use the entire HubSpot Growth Suite, including HubSpot Sales Pro.
As a sales rep, it makes my life easier every day. I leverage the snippets, meetings, and templates tools on a daily basis.
If I ever got promoted to sales manager, however, I'd expect the HubSpot CRM's limitations would start to rear their ugly head.
Every sales leader needs to make a choice here: do I roll up my sleeves (or consult a professional) to gain a deeper understanding of sales ops, data, and how to make the HubSpot CRM work for me, or do I revert back to the good ol' spreadsheet days where the team has to work out of multiple systems, but I'll ultimately have the most control over how the data is presented?
It's often easier to invest in an alternative solution for team reporting and planning like a spreadsheet than it is to learn how to leverage the tools to accomplish your goals. Sometimes it's best to invest in professional help, pay the price, and cry once.
Free Assessment:
How does your sales & marketing measure up?
Take this free, 5-minute assessment and learn what you can start doing today to boost traffic, leads, and sales.