Marketing during coronavirus: an essential small-business strategy checklist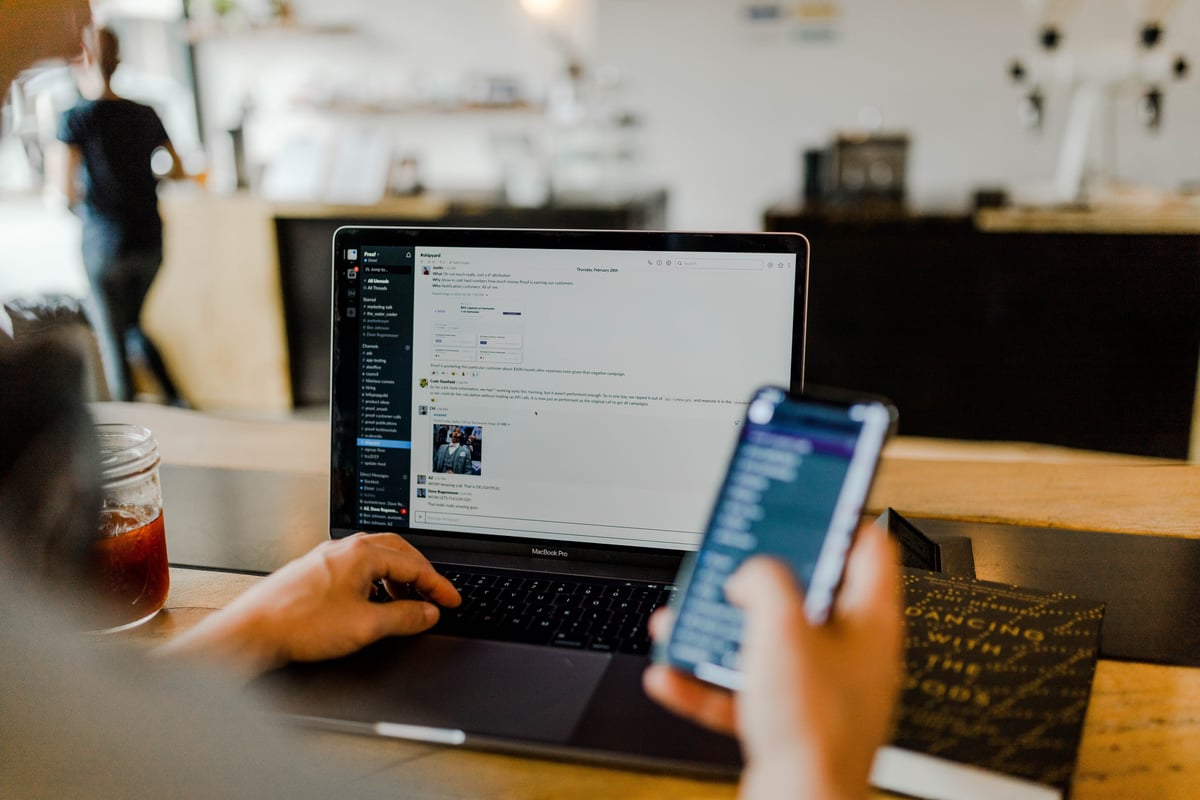 Two weeks ago, my job was focused on generating tickets for our upcoming Digital Sales & Marketing World conference. We were in the homestretch, less than a month from our April 5th start. For anyone that's worked on an event, you know that those last few weeks are crunch time.
We should have been in our last push for ticket sales, finalizing the logistics and getting our team prepared for the big event. Instead, we were faced with making the extremely tough decision to postpone the event we had worked so hard on.
Two week ago, the world was in a different place.
Coronavirus (COVID-19) changed everything
We were far from the only business hit with tough decisions to make over the past two weeks. In addition to live events postponing, cancelling, or going virtual, companies are faced with a multitude of questions, from how to set up their team for remote work to how to keep customers in unstable economic times.
Other businesses have been forced to temporarily close or lay off employees. From a marketer's standpoint, everything we once knew has been turned on its side.
So, how should marketers be handing all of this? Well, we need to adjust to a new normal.
Should every company address coronavirus?
This is a worldwide pandemic, the likes of which none of us has seen. It's affecting everyone's lives in one way or another. Not addressing it is like ignoring the 300lb gorilla in the room.
That said, how you address it will depend on your business, and you need to be mindful of tone, considerate of basic human emotions, and thoughtful of others' sensitivities. The same goes for how you continue to market in general.
Let's look at the coronavirus marketing checklist that every business needs right now.
The coronavirus marketing checklist
Email
It seems like I've been getting a minimum of five emails a day from businesses letting me know how they are handling coronavirus. While this might seem like overkill, it's actually not.
For the businesses I interact with most, I appreciate being kept in the loop on what they are doing and any important information I might need, like stores closing or hours changing.
Companies that are doing this well are being informative, honest and, most importantly, focusing on what they know is important to their customers.
Here's an example of a good COVID-19 update.
I'm getting married this coming October and was in the midst of bridesmaid dress shopping when all of this started taking a turn. The company I ultimately chose for my bridesmaids sent out this update, which in the midst of a lot of panic, helped ease my mind: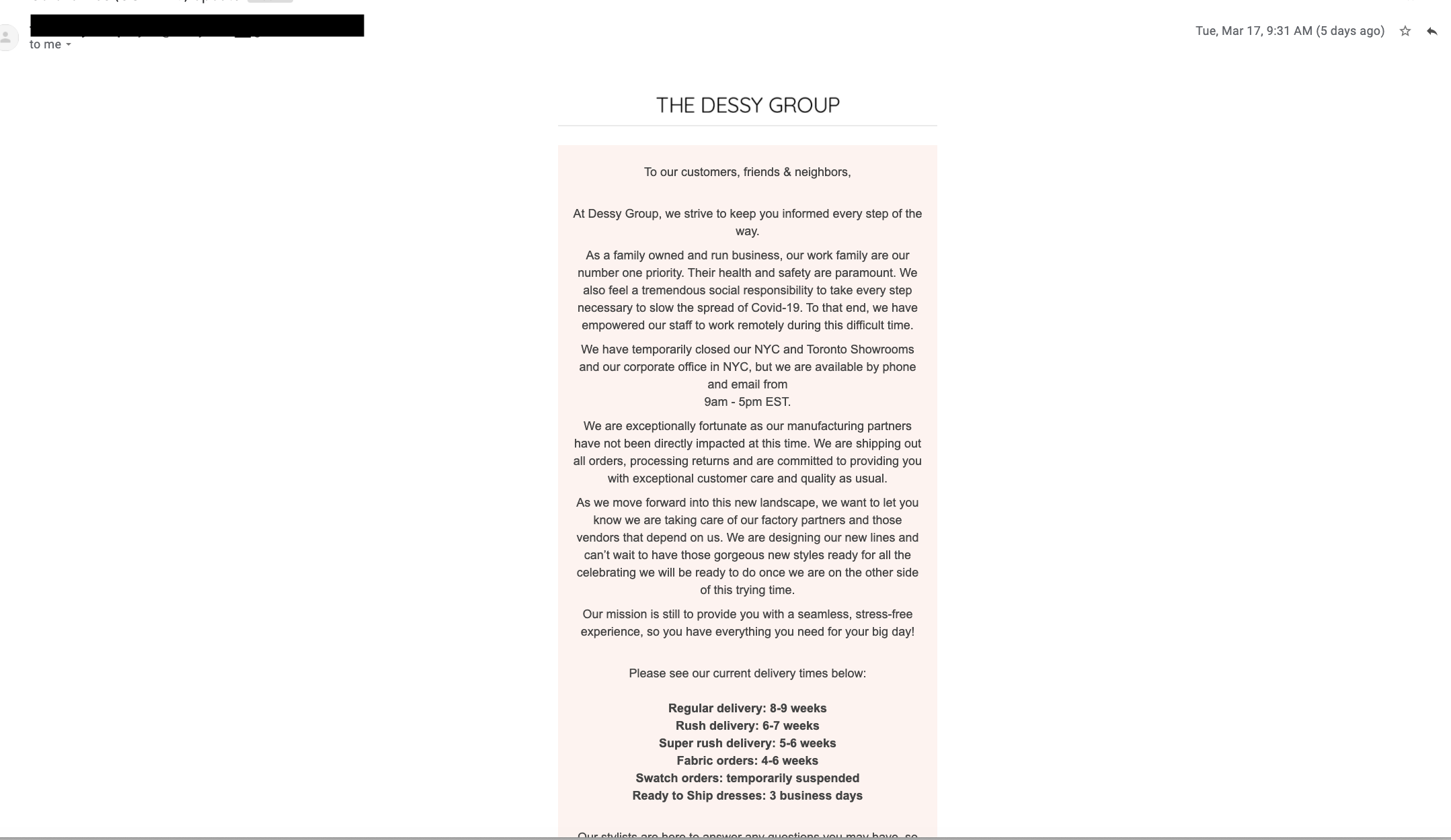 This email is clear, honest, and lets me know all of the information I need as a customer.
Now, here's an example of an email that did the opposite: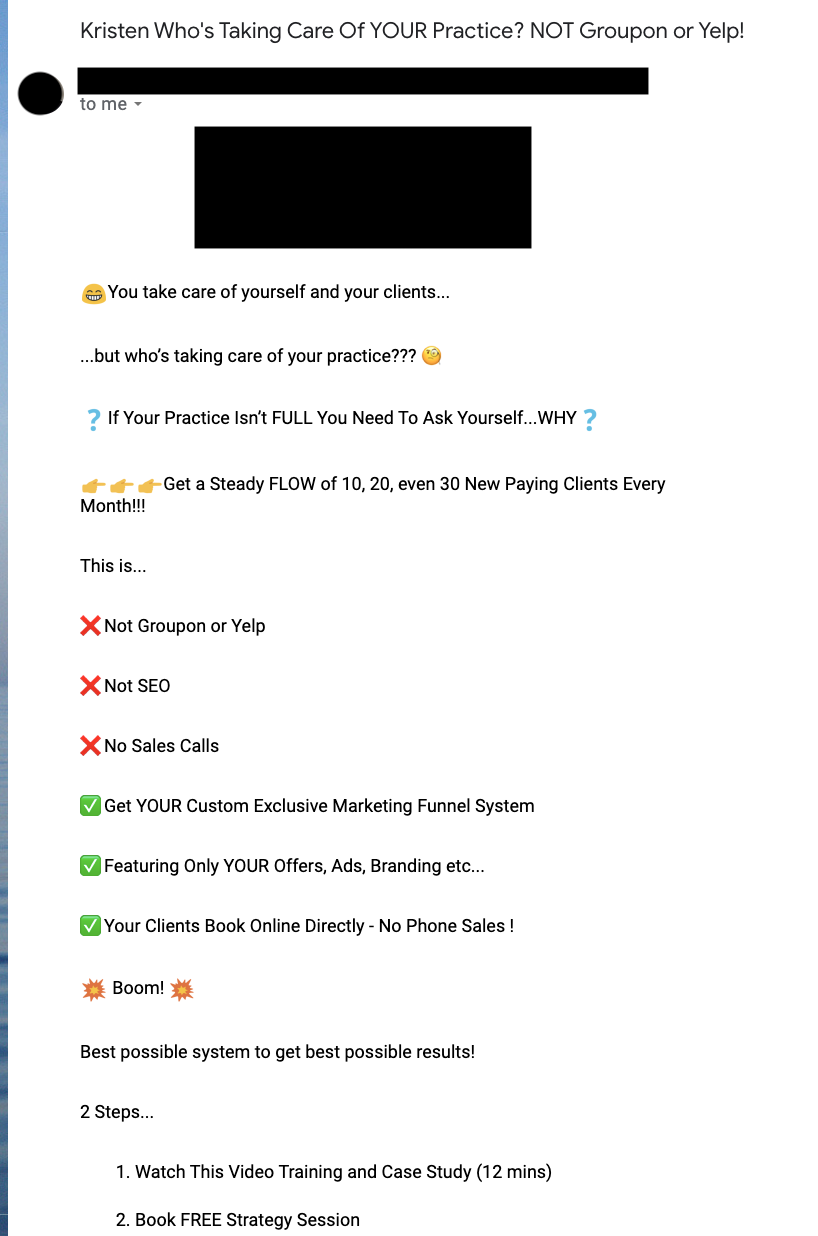 Not only is this email rather tone-deaf in these times, but it's also not relevant to me (as I don't work for a wellness practice). This was from a business that had parsed my email from LinkedIn a while back.
In a time where businesses are genuinely concerned about leads, this feels opportunistic, not trustworthy.
It's important to let your clients know that you are thinking of them and want to help where you can and where it might be appropriate for your business to do so. However, make sure your tone remains sensitive to what's happening in the world.
🔎 Related: How businesses are going digital in the age of coronavirus
Your website
How you address coronavirus on your website will depend on your business. For example, if you're in retail you'll want to make sure that you call out changes in hours, e-commerce availability, and any change in shipping or other issues your customers might face.
If you are a service-based business, make sure your blog is up-to-date with information your customers need. Let them know how meetings will be affected (going digital) and any other ways you plan to continue working with your clients so they see minimal disruption.
If you're in an industry like healthcare that will inevitably be inundated with questions and you don't have a blog...start one! Creating easy-to-access resources for patients is crucial right now and will help ease the anxiety most of us are feeling.
Social media
Social media is one of the fastest ways to keep your customers up-to-date with the information they need. It's also a great way to keep in regular contact with your audience and keep an eye on the conversations they are having online.
If you're a business that's had to temporarily close, it's more important than ever not to ignore your social media. Keep your posts honest and let your customers know exactly what's happening. Keep providing them with resources they might expect from you.
Here's something I just experienced with a local business.
My hair salon had to close as of last Wednesday, and I can't tell you how happy I was to have gotten my roots done before (you ladies will understand).
Even though they can't take any appointments in the next few weeks, they've kept their Instagram going with tips for caring for your hair without a salon, handwashing techniques, and genuine concern for the community.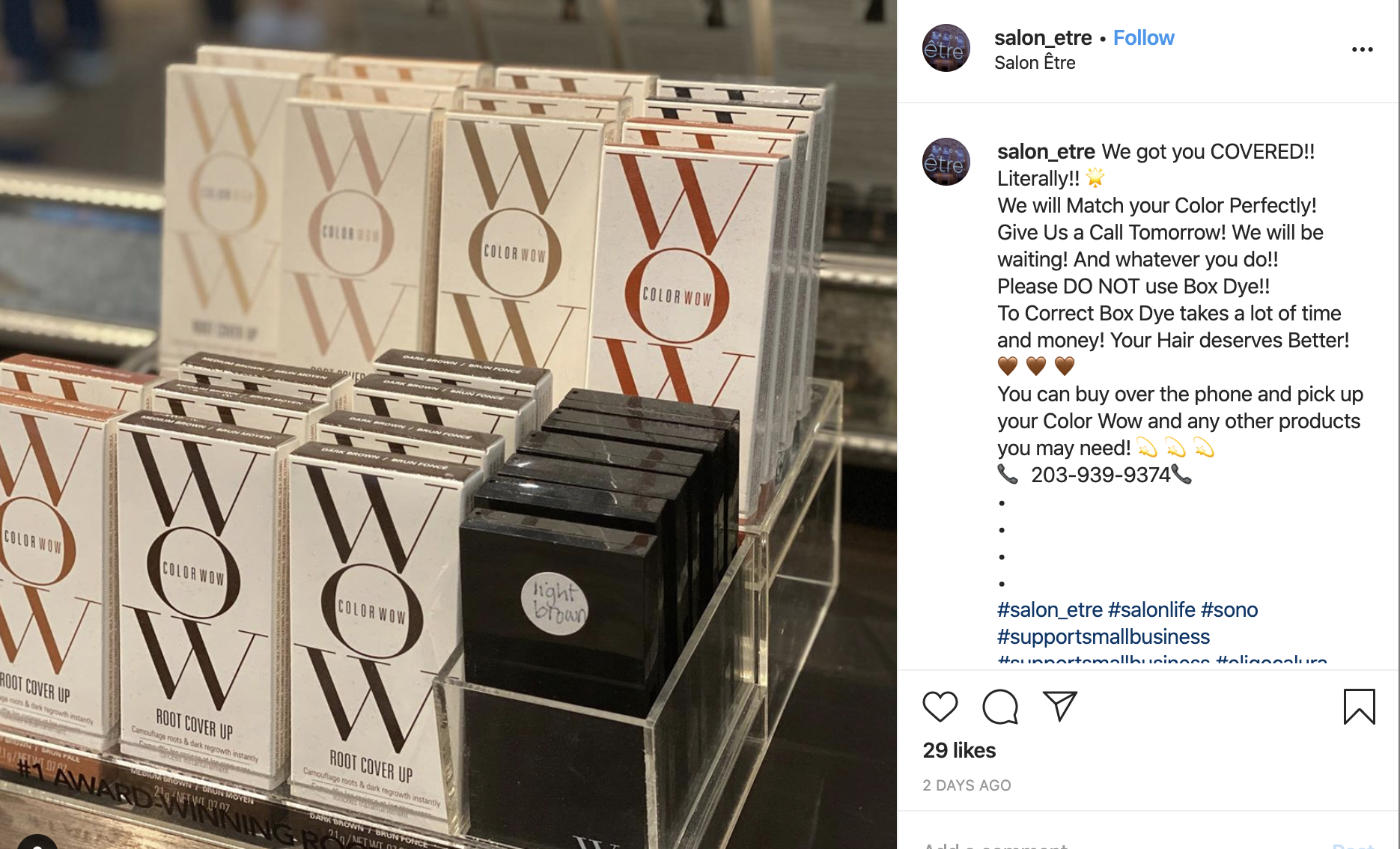 As a customer, I appreciate that they are continuing to maintain this touchpoint and have shared posts like the one above to friends and family in the area to help them keep some income going while they've had to close.
Now is not the time to stop your marketing; it's a critical time to make sure your customers know you care.
Google listings
If you have a business that depends on local foot traffic or in-person meetings, do not forget to update your Google My Business listing! Anyone searching for your business needs to know if you've had to change your hours (or close) and how to contact you.
For those of you in the restaurant or hospitality industry I'm talking to you specifically.
A lot of restaurants are still doing take-out and are reliant on this income. Since many people look up restaurant reviews, hours and menus via Google My Business, do not overlook this piece of your marketing right now.
Paid media
Many companies are going to be looking to cut their spend right now, and paid media will be a budget item that gets cut first.
As our Facebook Ads Specialist Ali Parmalee recently told me, completely cutting off your ads is not advisable. By scaling down on your budget instead of cutting it completely, you won't lose the optimizations your campaigns have built.
🔎 Related: What you need to know about virtual selling, in response to COVID-19
If you are running any paid media right now, you'll also want to keep tone in mind. Running ads toward helpful resources to your clients or customers would be a better approach (in my opinion) than pushing products or sales that might make your business come off as opportunistic in a time where people are worried about spending.
A good rule of thumb would be to ask yourself: "is this going to help my customers right now?"
Events
Like Digital Sales & Marketing World, many live-events have been postponed, have gone virtual or worse, been cancelled.
If you were organizing an event, it's important to keep both ticket holders and potential attendees up-to-date on all changes you've made, even if you don't have all the details yet.
Send email updates, post information to your social media accounts, and update any event listings you had on third party websites, like Eventbrite.
Having just gone through this ourselves, I know how many little details there are to consider. Please feel free to contact me if you need any help, advice — or just need to vent!
Things won't be 'business as usual' for a while, but don't let it stop you
Let's face it, when the economy gets unsteady, companies look to minimize costs wherever they can. Unfortunately, this often leads to cuts in marketing spend. Even if your company is faced with budget cuts, it's important not to stop your marketing all together. Instead, find ways to adapt.
Marketing can still help generate leads and give your sales team (if you have one) the tools they need to close deals with resources like video, content, and analytics on a budget.
Leveraging platforms like social media and strategically using email marketing can keep your business top of mind for customers, while providing them with information that helps them get through these tough times.
Now is the time to build and keep trust with customers as we all get through these turbulent times together.
Free Assessment:
How does your sales & marketing measure up?
Take this free, 5-minute assessment and learn what you can start doing today to boost traffic, leads, and sales.