"Creator's Block Book Club: The Subtle Art of Not Giving a F*ck" (Creator's Block Ep. 79)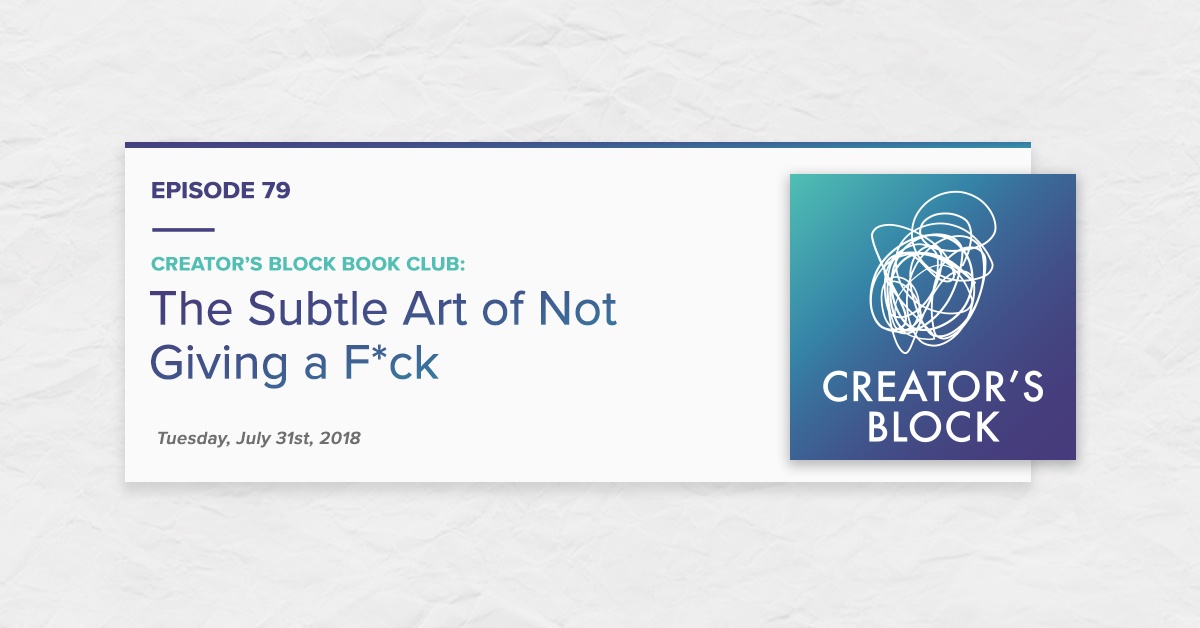 My love for reading was born from an early age.
So much so, that when Santa asked a young four-year-old Justine what she wanted for Christmas, I replied simply, "a book."
Knowing this, it should come as no surprise that I now subscribe to Book of the Month and average at least two books in a given month.
Unfortunately, I always struggled when it came to reading books related to work.
In my mind, reading for professional development wasn't "fun," and therefore, made it really easy for me to quit halfway (if even that far) through.
It was only recently that I started being more selective in the books I chose to read for professional development and begin to enjoy it.
Chances are, you won't catch me reading a book that dives into marketing practices or strategies (that's what amazing articles are for!). Instead, the books I choose to read to further advance my career are often ones that apply to all aspects of life.
When Marcella recommended Mark Manson's The Subtle Art of Not Giving a F*ck, I couldn't help but laugh.
I figured it would be light and funny, with lessons on letting things go.
Instead, I found myself engrossed in stories about values, love, dedication, and more.
(Don't get me wrong though; I laughed plenty throughout the entire piece.)
I loved how relatable Manson made every lesson and how easy it is to apply certain mindsets in your every day.
Listen in as Marcella and I talk through The Subtle Art of Not Giving a F*ck and let us know if you'll be picking up a copy soon!
Listen to the Episode
What We Talked About
An overview: The Subtle Art of Not Giving a F*ck
Stand out stories
Our favorite messages and how to apply them in your daily life
Whether we would recommend to others
Resources
Our Fav Books (this year!)
What to read next!
Also, please enjoy the trailer for Mission Impossible Fallout (if you listen to the episode, you'll understand why).
We Want to Hear from You!
First, subscribe to Creator's Block on Apple Podcasts. Second, have a question or an idea for a future episode of the podcast? Let us know!
Or, you can leave us a comment below! Until next week...
Free Assessment:
How does your sales & marketing measure up?
Take this free, 5-minute assessment and learn what you can start doing today to boost traffic, leads, and sales.