Instagram Launches New Reminder Tags for E-commerce Merchants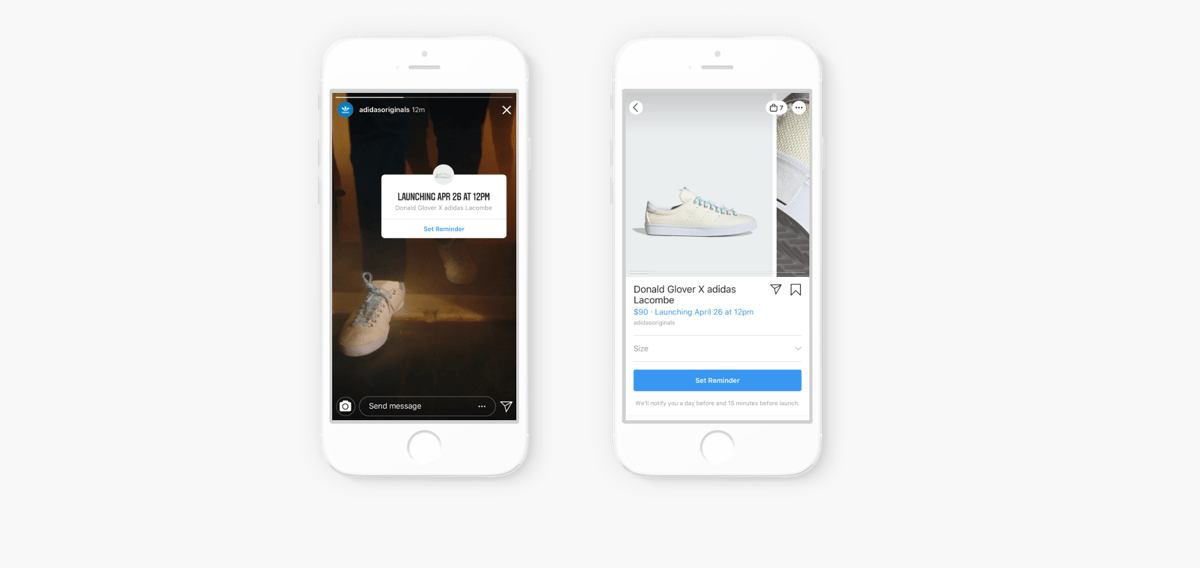 When Instagram started testing "shopping tags" back in 2016, brands immediately flocked to the feature. Over 60% of users discover new products through Instagram, so having a way to lead them directly to those products for quick purchases can be a serious boon for businesses.
Instagram has since worked to further streamline purchasing on the platform.
Instagram Checkout rolled out this year — immediately making Instagram its own e-commerce powerhouse. Even before the feature was widely available, companies using the beta version were seeing explosive results. Fashion company Natori was able to boost its Instagram traffic by 1,416%, and tech accessory brand Native Union saw a 2,666% increase.
This Monday, Instagram announced the beta for "reminder tags" — a new Instagram shopping feature allowing brands to keep users in-the-loop about upcoming product launches.
How reminder tags work
If sneaker and vinyl culture have taught us anything — it's that people love exclusives. They are willing to wait in long lines and feverishly refresh their computer screens to get them.
Instagram doesn't want anyone to miss an update. With this latest feature, brands can add product launch stickers to Stories. Once they set a date on the sticker, users can tap the sticker to automatically add a reminder to their phone. Once the reminder goes off, they can click the notification to be shot straight into Instagram shopping mode.
Currently, the feature is already available for 20 brands — including Levi's, Highsnobiety, and Mr. Porter.
What does this mean for marketers?
Let's start with the obvious. This is a FOMO magnet.
Fear of missing out occurs in just under 70% of Millennials and over half of all social media users. Giving FOMO-driven buyers exclusive drops set to a timer can be a goldmine.
But beyond the anticipation garnered by these tags, here are the two main takeaways for marketers.
Influencer-exclusive drops are coming
Instagram's official announcement hinted at the idea of upcoming influencer-exclusive drops.
Creating influencer-exclusive drops can help win over top influencers while giving their fans a more personalized product. Unique makeup kits and one-of-a-kind sneaker colors are an inexpensive, measurable way for brands to immediately leverage influencers.
Drop culture is now for everyone
For years, drop culture has been tied to high-fashion, streetwear fashion, sneakers, and a few other fields. But Instagram has just changed this. Why can't toy companies have exclusive drops? What's stopping tech companies from doing unique colorways? And why can't you have a limited release on some unique toothbrushes?
Well, you can! And there's nothing stopping brands from doing just that.
Nike's tactic of perfectly undersupplying nearly every sneaker release has paid dividends, but it's also created a subculture. People love exclusivity. Brands who can delivery exclusivity early on using Instagram will win some big battles.
In the past, creating drops required you to build hype either on your website or in your stores. But now, simply having an Instagram following can get your exclusive merchandise in front of everyone.
This can make the platform more lucrative for any business willing to explore this new feature.
Free Assessment:
How does your sales & marketing measure up?
Take this free, 5-minute assessment and learn what you can start doing today to boost traffic, leads, and sales.