[New Research] Smart Speakers Overtake Smartphones in Annual Shipments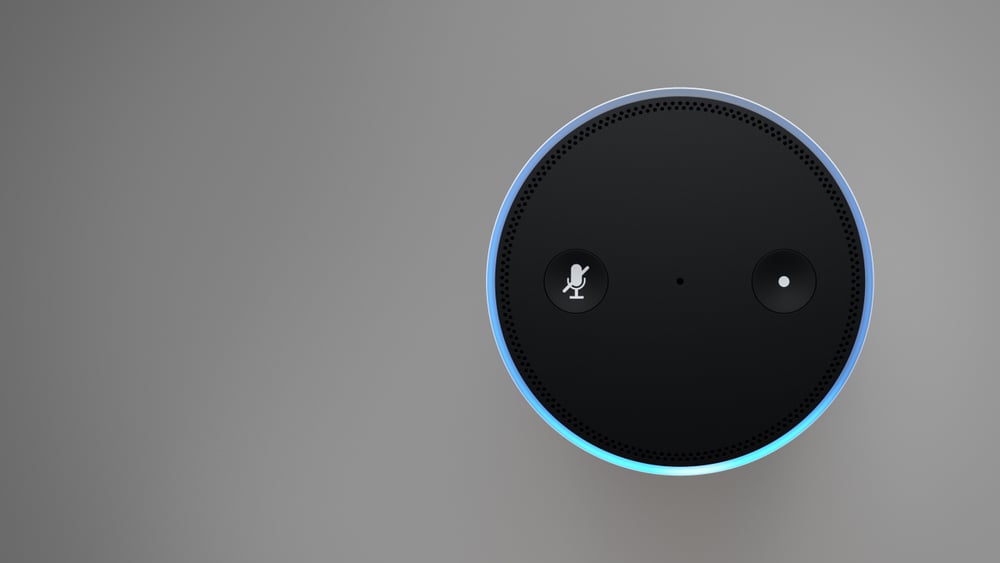 A few years ago, a smart speaker was still a jaw-dropping piece of technology.
Even as recent as 2016, I only had one friend who owned one, and I was absolutely amazed that this tiny device not only knew when I was talking to it, but it could also turn off lights, play requested songs, and perform searches on Google.
Fast forward to now, smart speakers are nearly a household staple — it's honestly become more shocking to shout "Alexa" or "Hey Google" at someone's house and get no response.
Recently, analyst company Canalys studied exactly how much the smart speaker market has grown annually in comparison to smartphone growth.
Interestingly, the findings show that not only are more users buying smart speakers, but they are doing so at a rate that is actually surpassing smartphone shipments.
This data has valuable takeaways for marketers as far as how they should be approaching voice-search — and how soon they should be prioritizing these efforts.
Canalys' Findings
Canalys found that smart speaker shipments grew 131% year over year.
This means that buyers are adopting smart speakers at a faster and faster rate.
Amazon had the majority of Q1 2019 shipments, occupying 22% of all global shipments, followed by Google, with 17%.
Both Amazon and Google have sold more speakers globally in the first quarter of 2019 than in the same period last year. Amazon had very impressive annual growth, with shipments up 85% compared to last year, while Google had more modest growth at 7%.
What is really interesting about Canalys' study is not only the growth of smart speakers, but the decline of smartphone shipments.
At this point in time, there are more smartphones than there are people on planet earth. Smartphones have been around for over ten years, and we've gotten to a point where most people who want one, have one (or more than one!).
For this reason, its not surprising that Q1 2019 was the sixth consecutive quarter of decline in new smartphone device shipments.
Canalys characterized this decline as a "freefall" for the smartphone market.
Again, given that smartphones have been around for some time now, it's been expected that their growth would eventually plateau, as all interested parties have adopted the technology.
This is supported by findings that the mobile-desktop split has largely stabilized, with mobile use for online activity more or less consistent for the past two years.
To be clear, the fact that smartphone shipments are slowing isn't suggesting that mobile isn't relevant to marketing efforts — it simply means that smartphones are no longer an emerging technology. In other words, they're something we can expect all consumers have and are using, and their use is more predictable than ever before.
Rather, the big lesson from this study is that smart speakers represent a new emerging technology.
As marketers, we should be aware of (and, frankly, be excited by) this new challenge. In the last few years, online mobile technology, which was unheard of more than ten years ago, has overtaken desktop searches, completely shifting the way people interact with the internet. In fact, Google has recently implemented a mobile-first indexing plan to better serve mobile users.
Will we look back in ten years and see that smart speakers have had the same impact on our day-to-day interactions online?
It's Time to Prioritize Voice Search
Marketing, as an industry, has yet to truly make voice search a staple in the SEO space — even though we have improved.
ComScore predicts that by 2020 — that's right, just six months away — nearly 50% of all online searches will be performed with voice search.
As more and more users are buying smart speakers, that number will only go up.
For this reason, it's important to familiarize yourself and your team with voice search best practices and implement them on your website now, because the shift is underway.
There are a few key differences with voice and typed searches that are important to be mindful of as you create content or blog posts for your website. To name a few:
Voice queries tend to be longer and more niche, meaning intent is stronger
More voice queries look for an immediate answer
Locality plays a big role in voice searches — having location-based information on your website can help you gain more organic traffic
Once you have the right information, it's easy to put the steps in place to get your website voice-ready. Many of these steps only require a few minor changes from what you're currently doing, but implementing them can make a big impact in helping those searchers find your content.
Free Assessment:
How does your sales & marketing measure up?
Take this free, 5-minute assessment and learn what you can start doing today to boost traffic, leads, and sales.