8 Most Important Social Media Marketing Trends in 2018 to Watch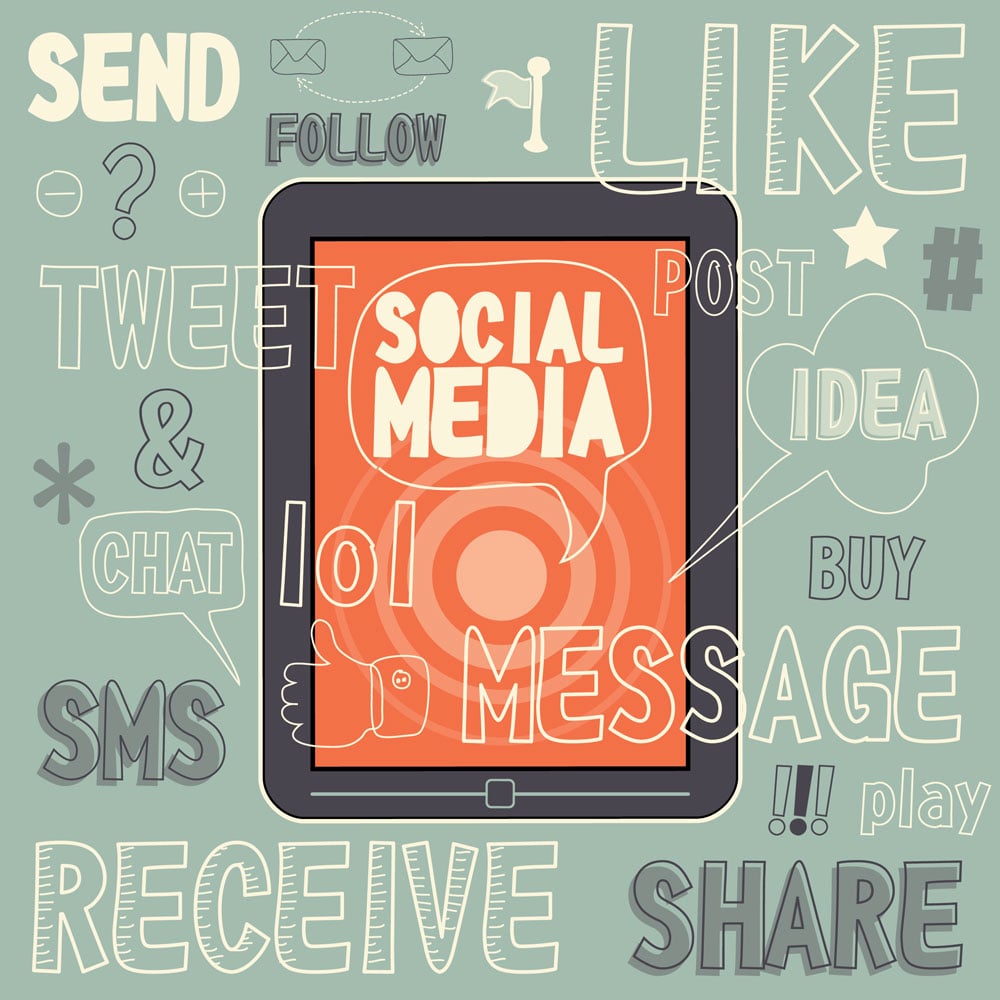 Every marketer knows social media is one of the most effective ways to expand your reach, connect with your target audience, and grow your business.
However, along with everything else in inbound, social media is constantly changing.
Just take a look at 2017, for example.
In the past year alone, Facebook seduced Snapchat users to Instagram with the addition of stories, the president of the United States took to Twitter to communicate official policy positions in 140 characters (now he has 280, but we'll get to that), and Apple announced plans to alter the way we interact with our mobile devices.
As more and more brands expand their reach with social media, the competition on these channels is increasing and people's attention spans are decreasing.
So, how should marketers adjust their social media marketing in 2018?
They need to stay on top of the changes and be ready to pivot.
As we move into the next year, we are going to see an overall increased amount of time spent on social platforms, with big brands digging in and committing to a much larger investment in social media marketing. 2017 saw a 60% increase in social media budget over 2016, which is set to continue into 2018
You want to stay ahead of the curve and your competition, but you also don't want to waste time and money on a something fleeting that won't stick around. So how do you figure out what's going to be worth your investment?
Well, we did the hard part for you and identified the hottest trends in the social media world for 2018, hopefully giving you enough time to get them implemented right after the new year.
Before we dig into it, however, here are some of the biggest challenges social media marketers are going to face in 2018.
Social Media Marketing Challenges in 2019
Less Organic Reach
As more and more businesses increase their presence on social media platforms, the organizations themselves have made big moves to combat spam. In most instances, this means marketers have to fight a decline in organic reach.
With less organic return, brands are likely to take a more selective approach to social media marketing. They will have to be very particular about where and what they post and invest more in paid ads to keep their numbers up.
Social Media Video Peaking
According to research done by Kenshoo, spending on social video advertising grew 130% this year, with no sign of stopping.
The problem with this is the market for social video is being saturated. Businesses are now going to be challenged with producing even more relevant video content and distributing it properly if they actually want to get noticed.
"New Tool" Fatigue
Hootsuite did some research and found a lot of their customers are fed up with the never-ending list of new tactics, tools, and formats for handling their social media marketing.
In 2018, there is going to be a shift back to the basics.
Marketers are going to have to try and prove the ROI of existing tactics. This means metric measurements will be more important than ever as brands try and identify what strategies are working and what isn't.
Okay, so there are the challenges. So what can you do to overcome them? Onto the top social media marketing trends for 2018…
Social Media Trends for 2019
1. Instagram Stories
Yes, yes, Snapchat was first to let users share short videos that delete after 24 hours, but it worked! It worked so well Facebook decided to take a whack at it both on Instagram and in the app that bears its name.
With its huge audience, it should come as no surprise that within the first year of the Instagram story debut, it has surpassed Snapchat's view count with 20 million views a day. At that same rate, nearly half of all Instagram users will be using Stories by the end of 2018.
This means brands trying to connect with their customers on Instagram must take the time to get on board with stories. Regardless of B2B or B2C, they are a great way to showcase your company culture or put your processes on display.
The stories are fun to use and to view, allowing you to add filters, tags, and text. One of the biggest brand benefits of Instagram stories is that they are discoverable, meaning that Instagram users can see your stories even if they are not your followers.
In addition, just like with any other post on the platform, you can hashtag relevant keywords to help users find you faster and easier. These tags are clickable, so brands can dive into their niche markets and target more effectively than ever. Brands are going to be trying new ways to engage with their story viewers by taking polls and asking questions with their posts. You can even tag your location
Now it's definitely a long shot for most, but any account with 10,000 followers or more can also add links to their stories, which is a huge advantage considering Instagram doesn't allow links in posts otherwise.
2. Social Media Influencers & Micro-Influencers
Not long ago, the fastest and easiest public relations tactic was hiring a celebrity to endorse or promote your brand or product, but that can come with a hefty price tag (and now Kyrie Irving is joining the flat-earthers).
Nowadays, a more reasonable solution is social media influencers (or micro-influencers), who are celebrities in their own circles.
Micro-influencers can have an incredible amount of reach, usually with followings in the hundreds of thousands or millions. Brands are shifting towards paying these influencers to promote their specific products because they deliver 11 times the ROI compared to traditional digital marketing, and 49% of people suggest that they depend on influencers for their purchase decisions.
This is not just a trend, but a billion-dollar emerging industry. Many of these influencers walk away with six-figure incomes, all from promoting brands to their massive followings. Take Ryan ToysReview for example. Ryan is an irresistible 6-year-old who is estimated by Forbes to have made $11 million this year through his YouTube channel. Ryan opens toys, plays with them and then offers his opinions. With 10 million subscribers, he is leading the charge for the social influencer industry for 2018.
Over 90% of marketers who employ an influencer marketing strategy believe it is successful. In 2017, brands struggled to connect with their audiences with traditional advertising tactics, so expect influencers to take off even more than they already have.
3. Augmented & Virtual Reality
While augmented reality's initial impact will be on mobile gaming, it is likely that social media platforms will find more ways to incorporate the new technology as well.
Snapchat is already on board, teaming up with Bitmoji to allow users to project animated versions of themselves into the real world doing lots of random things. Not to mention Pokemon GO, which has let players catch the beloved pocket monsters in their real surroundings for a couple of years now.
Even the new iPhone 8 and Google's Pixel 2 have incorporated augmented reality with talking emojis amongst other things.
Getting away from the novelty of it all, the potential of augmented reality for brands is immense. Companies will be able to showcase their products in brand new ways to customers, like seeing how a piece of clothing looks on them or how a certain chair would fit in their living room.
Implementing AR into your marketing efforts can take some significant time and budget, but we expect a more manageable solution to AR customization to come out this year through social media.
In terms of Virtual Reality, most technologies have at least another year of development before they hit mainstream markets.
There is some hope for 2018, however.
Facebook, for example, has been working on a project called Spaces that is designed to allow friends to connect in VR. Since Facebook owns Oculus, a VR headset retailer and software company, it's no surprise that they are making this jump and it's an exciting move for marketers.
Facebook wants to release Spaces in 2018 and when they do, it is probably going to be the first VR social media experience. While still a ways off, marketers should start strategizing around this groundbreaking opportunity.
4. More Live Streaming is Coming
While Facebook Live and other live streaming have been around for awhile now, the way people and brands are going to use them is changing.
We are going to see a lot more of it in 2018, and the people who do it well will be reveling in the organic reach it will generate. The significance of live streaming is not from it gaining popularity, but rather the technology we have to do it is improving.
We get better phones with better hardware every year, meaning better and more accessible video recording and processing.
In 2018, more brands will begin to harness the power of live streaming and will incorporate it into their monthly content plans. And like Facebook, Instagram, YouTube, and even LinkedIn even more social platforms are sure to follow as they try to capitalize on the trend.
5. Generation Z
What the heck is Generation Z? Gen Z are millennials' little sibling, born in the late 90s / early 00s.
This generation is the first to grow up 100% online and their tech-savviness is unparalleled. According to RetailDive, Gen Z is 2-3 times more likely to be influenced by social media than they are by sales or discounts.
In other words, they value social media and what others are doing more than they do price itself. That's a huge shift from the price conscious shoppers of the past.
Now, most marketers won't worry about Gen Z for at least a few years, but the very first of them are about 22 years old now and graduated college in 2017. A Gen Z workforce is on its way, and marketers should stay ahead of this curve on this one, especially B2B.
Goldman Sachs says that Gen Z is more valuable to marketers than millennials in 2018 because their buying power is only going to increase, and we need to shift social media strategies accordingly.
There will be a shift in social media investments to Gen Z-friendly platforms like Snapchat and Instagram, and away from those like Facebook.
6. Online Hangouts Become the Norm
Online hangouts are the perfect harmony between the live streaming trend and Gen Z. Houseparty, for example, is a free app where you can live video chat with multiple people that saw rapid growth last year and is starting to turn heads.
Because of this, yes, you guessed it, Facebook is reportedly investigating ways to create a similar functionality within their live streaming platform.
7. Twitter... is Still Here
And it probably doesn't even know why.
For most businesses, it might be better to invest more time and money in increasingly popular platforms like Facebook and Instagram next year.
Twitter has been struggling in the past few years (in fact, we made a fairly significant #Twexit last year), and it needs to make some big changes in order to stay relevant in 2018.
It was the slowest growing major social media platform in 2017, despite the viral coverage of President Trump's statements on the platform. Many users are leaving Twitter due to unfair code of conduct enforcement with regards to the President.
With this in mind, expect them to hit the drawing board in 2017 with any and all attempts to switch things up. They have already increased their character limit to 280 characters and experts predict they will soon fully launch their subscription model for advertisers, among other things. The bottomline is: stay on the lookout. They aren't done yet.
8. Stricter Conduct Policies
Along the same lines as Twitter's code of conduct issue, many platforms are rethinking how they govern their users.
After a series of controversial issues during the 2016 presidential election, social media platforms have embraced a more involved approach.
Facebook, for instance, recently turned over a ton of ads that seem to be connected to Russian hacking, and has invested in new AI and human forms of monitoring.
In the wake of several graphic live streams, some resulting in death, Facebook also had to hire more staff just for content monitoring.
At this point, it seems more like damage control than a proactive solution, but we expect platforms to implement more preventative and long-lasting measures when it comes to content monitoring.
As a marketer, you need to know and understand these guidelines to ensure you don't get penalized.
Key Takeaways
The 8 social media trends above (and likely many more as time passes) will impact users and brands significantly in 2018.
The end of the year is almost here, and, with these trends in mind, it's time to reconsider your social media approach to maximize your ROI.
In order to hit the ground running in 2018, get your plans underway now so that you can stay ahead of the curve with these latest trends.
So what did I miss? Anything else we should keep our eyes on? Leave us a comment and let us know!
Free Assessment:
How does your sales & marketing measure up?
Take this free, 5-minute assessment and learn what you can start doing today to boost traffic, leads, and sales.