We Abandoned Twitter. Here's Why. (#Twexit)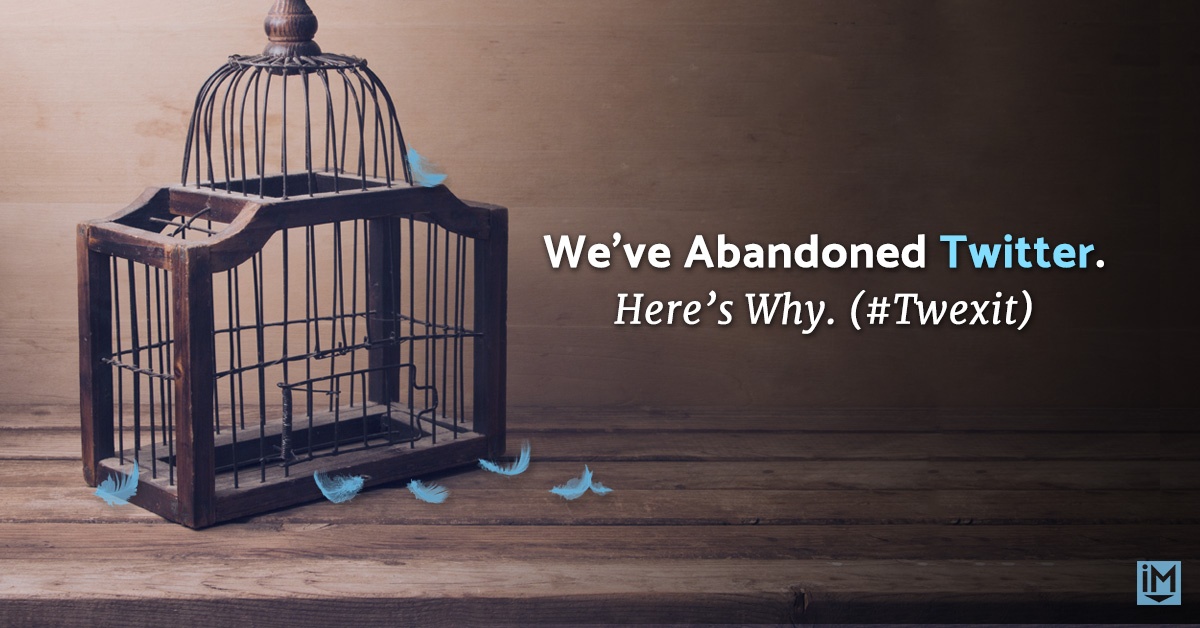 Sonny and Cher. Diana and Charles. Britain and the EU. Brangelina.
Personally, professionally, or politically, there are just some breakups we never get over.
The parties seem inseparable and their relationships look flawless from the outside, but then, wham -- things end and we learn they weren't as picture perfect as we thought.
Well, friends, brace yourselves. This one may come as a shocker, and will undoubtedly be controversial among social media marketers, but after nearly 8 years, we're breaking up with Twitter.
Consider this article our #Twexit.
Join the IMPACT coaches for a deep dive on a new topic every month in our free virtual event series.
Now, before I get into why IMPACT is calling it quits, we have to acknowledge the good, and there is quite a bit of it.
(Note: The company account will still be accessible, auto-publish articles, and be active during live events --where it has proven its worth. We just won't be babysitting it anymore.)
What is Working With Twitter
At its inception, in 2006, Twitter was a game-changer.
The "microblogging" platform's 140-character limit was a breath of fresh air from the verbose Facebook, delivering messages faster than most texts. It forced users to be direct and concise, and UI-wise, it was quite minimal, resembling almost a stock ticker.
Overall, it was a Godsend for users who wanted their information faster, and its appeal only grew as celebrities and events like Ashton Kutcher and SXSW jumped on board, and the platform began rolling out native photos and videos.
Thanks to these advancements, Twitter saw 1382% member growth in 2008, going from a mere 475,000 users to over 7 million. By 2012, it hosted 340 million new tweets a day and an average of 1.6 billion search queries. Even Google began incorporating tweets into its search results!
Following its IPO in 2013, financial and user growth at Twitter slowed dramatically, but despite its troubles on the stock market and struggle to turn a healthy profit, there's no denying the social network still plays a large role in current events and modern media.
The Power of Real-Time
Whether it be a political scandal or celebrity death, when news breaks, the first thing many people do is check Twitter for live developments and public reactions.
With 59% of users logging on for news and the platform being declared the largest source of breaking news during the 2016 U.S. Presidential election by New York Times, real-time updates are clearly one of its biggest strengths and differentiators.

Unlike Facebook and Instagram, which have discontinued real-time updates in favor of advertiser-friendly and engagement-driven algorithms, Twitter still allows users to bypass its algorithm and enable the reverse chronological updates that made it famous.
This capability has allowed them to corner the market for real-time coverage, discussions (see Twitter Chats), and live events, and become a powerful, authentic, branding tool.
Today, celebrities, influencers, brands, and news networks flock to the platform to:
Share instantaneous, concise information and links

Comment on current events in real-time

Communicate and engage their audiences in real-time discussions

Show brand personality

Establish a public brand voice
Like it or not, Twitter has carved out a niche for itself in contemporary culture and many big names still capitalize on it. Let's look at a few examples:
Apple
Despite not having a corporate Twitter handle itself (only one for support), tech giant, Apple, still monitors and uses user tweets to stay a part of the conversation.
For example, in its latest series of iPad commercials uploaded last week, Apple responds to customer complaints and comments from Twitter in a unique and memorable way:
Less than 24 hours after being uploaded, the videos have already been viewed over 1 million times, showing resonance and interest by the company's audience, and not only capitalizing on Twitter conversations, but encouragoing more.
Twitter Politics
"For all of its flaws and the badness of the product itself, this election has proven Twitter is vital….The immediacy and speed is unmatched by any other network." - Ben Thompson, Founder of Stratechery
As mentioned earlier, the platform also played a huge play in the 2016 presidential election and even with the votes in, it hasn't slowed down.
Rather than hold conventional press conferences, President Trump is still known to usually respond to current events, policy questions, and criticism via Twitter.
This has become such a norm, citizens and journalists (who make up more than a quarter of verified accounts), wait anxiously every day to see what he'll tweet next.
I love Twitter.... it's like owning your own newspaper--- without the losses.

— Donald J. Trump (@realDonaldTrump) November 10, 2012
While a bit notorious, Trump's activity over the course of his candidacy earned him a devout following that surpassed Hillary Clinton's as early as late 2015, according to Wall Street Journal.
Celebrity Causes
Aside from the controversial freshman politician, many other high-profile personalities and causes have seen great success through Twitter in the past few months.
For instance, take actor, Kal Penn. In response to a racially-charged mention, the Harold & Kumar Go to White Castle and Designated Survivor actor, tweeted a link to a page he created to raise funds for Syrian refugees on January 28th:
He set the donation goal at $50,000 for the International Rescue Committee, but within 24 hours, raised over $300,000. (Note: As I write this, it's hit $860,276.)
New York-based writer and speaker, Ashley C. Ford, saw similar jaw-dropping results in December 2016 when she tweeted her then 66,000 followers with the message below:
A cool thing you can do today is try to find out which of your local schools have kids with overdue lunch accounts and pay them off.

— Ashley C. Ford (@iSmashFizzle) December 6, 2016
Without a phone number or direct link, Ford's verbal call-to-action generated hundreds of thousands of dollars being donated the country.
According to the Associated Press, the tweet spawned the resolution of "...almost $100,000 in lunch debt in Minneapolis schools and $28,000 in St. Paul's, [while] Donors...erased $6,000 in debts in Topeka, Kansas, $2,000 in Bellevue, Washington, $1,200 in Wilmington, Delaware, and $900 in Herminie, Pennsylvania."
Plus, in 2014, Ford also raised over $450,000 for the public library in Ferguson, Missouri with a similar social effort.
Unfortunately, not everyone has seen such amazing financial gains from their Twitter marketing efforts… which brings me to the meat and potatoes of this article:
What's Not Working with Twitter (At Least Not for Marketers)
Don't get me wrong; I love Twitter.
Like seriously, love it. I have four accounts -- but that's beside the point.
From an inbound marketing standpoint, it's just not working for traffic and lead generation anymore.
The problem is noise.
Real-time updates may be Twitter's USP, but at the same time, they are its biggest foe.
By nature, real-time updates mean a lot of updates, and unfortunately for Twitter, that's turned into too many -- and marketers are heavily to blame.
Algorithm enabled or not, nearly 360,000 tweets are sent every minute and the platform is cluttered with noise.
This barrage of information makes it more difficult than ever to get tweets seen, let alone clicked, and that doesn't fair well for traffic and lead seekers.
As CEO of Social Media Examiner (SME), Mike Stelzner explains on the podcast
Perpetual Traffic", "All you have to do is look at the raw [Twitter] feed, which no one does, [to see] it's like a river. It's impossible to keep up with it."
SME, one of the biggest influencers in social media marketing, sees less than 4% of its website traffic coming from social media overall and even less from Twitter specifically. (Ironic, ain't it?)
Even Twitter Cards and Sponsored Tweets, that brands pay to get pushed to the top of user timelines, quickly get lost in the shuffle with the amount of content being shared.
On an episode of his podcast, "Marketing School", Neil Patel also declared Twitter "dead," sharing that roughly only 2% of his 233,000 followers turn into website traffic each month.
And again, this is one of the biggest names in digital marketing, people.
"I tweet a lot," he detailed. "I have someone who helps me out, schedules tweets, et cetera. I've tested doing them manually, seeing if that increases engagement, et cetera, but out of 233,000 followers, only 5,403 visitors…Twitter's basically a waste of time."
Needless to say, IMPACT's numbers weren't much better.
With nearly 60,000 followers, 38 scheduled tweets being sent a day (plus ad-hoc messages and automated blog pushes), and 25 employees sharing on average 2 tweets a day, less than 2% of our website traffic (2,351 visits) came from Twitter in November 2016, and only 47 new contacts were generated.
This was down from almost 5,000 visitors and 129 contacts in 2015, and 7600+ visitors and 156 contacts the year before that.
By January 2017, our 12-month Twitter traffic was a depressing bell curve that we could no longer ignore:

So, we said enough is enough.
Looking at these numbers, we cut our employee advocacy program which was only bringing in about 200 visitors from Twitter at this point and went down to only 12 scheduled tweets a day.
Now here's the crazy part:
Despite these changes, our overall website traffic grew by over 40,000 site visitors that month.
December 2016:
January 2017:
It's ridiculous, I know. I still don't believe it myself, but it happened and we had an epiphany.
If we could so dramatically cut a tactic and still grow by leaps and bounds, maybe that tactic wasn't as valuable as we expected... Maybe we didn't need Twitter.
So, we cut it loose.
Why We've Abandoned Twitter
Before I go any further, let's get one thing straight:
IMPACT didn't get off Twitter altogether.
Like I mentioned early on, the @impactbnd account is still there to be followed and like Social Media Examiner. Our new articles will be automatically published for followers to enjoy and we'll engage during live events -- but the buck stops there.
Looking at our data, we decided that for all the effort we were putting into Twitter day-to-day, we weren't seeing the return in traffic, leads, or sales, that we should have been.
So, starting today, we won't be scheduling tweets, monitoring the newsfeed, live-tweeting Website Throwdown (which has moved to Facebook Live), or engaging with the audience there outside of live, in-person events.
(You read right; Reach out to us on Facebook instead.)

You can still reach many of our team members, such as myself, on their individual accounts, but as an organization, IMPACT has made its #twexit.
Should You Leave Twitter Too?
Not necessarily.
Full disclosure, this is an experiment on our end.
Like any smart agile marketer, we looked at our data and made a strategic call based on it.
Our website and marketing weren't seeing the results we were looking for, and other social media channels, like Facebook, are currently showing more promise for us. So, we depreciated Twitter and reallocated our resources to test something new.
But that doesn't mean it's the right move for your business or our clients, for that matter.
Evaluate your own Twitter efforts and goals against its performance and ask yourself if there are places that may help you better achieve them.
If your marketing goals are traffic and lead-based (and data shows it's not delivering), popular numbers say you may want to pull back your Twitter strategy.
However, if Twitter is contributing to your goals, or you're more concerned with building a community and sharing your brand voice, tweet on, friends.
Every business is different.
The Lesson: Stay Agile
Who knows, this experiment may not work for us, but we really won't know until we try it.
In modern marketing, you need to constantly be looking at your data and adjusting your strategy to help improve them. You need to be willing to pivot, to test different things, and accept failure.
We're not saying everyone should drop Twitter, right now. We're saying times change and sometimes your marketing needs to as well.
Follow your data, not just your gut.
Agree? Disagree? No matter what your view, I want to hear what you think about the state of Twitter or our plan of action. Let me know if the comments below!
Join the IMPACT coaches for a deep dive on a new topic every month in our free virtual event series.
Register Here
Join the IMPACT coaches for a deep dive on a new topic every month in our free virtual event series.
Published on February 21, 2017