Twitter Releases Agency Playbook for All Things Twitter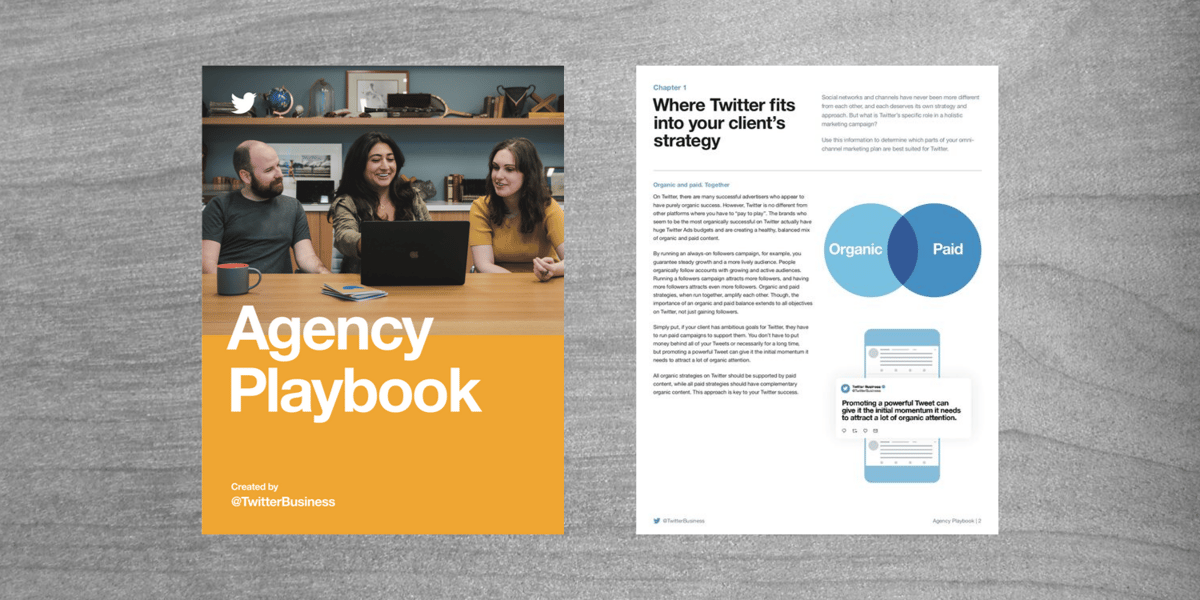 There are always debates around best practices for posting on different social networks, but without actual data there is really no telling what works and what doesn't. Twitter has put together a detailed guide that breaks down what it takes to be successful on the platform, from basic tweet structure to paid advertising.
On September 9th, Twitter released an Agency Playbook, which it positions as your key resource for all the information you need to achieve the best results for everything Twitter.
The company has used years of historical data to define best practices and direct tips on how to be successful on the platform. Even though the title is focused towards agencies, the playbook is really for marketers, social media and community managers, and agencies alike.
Whether or not this guide will be useful for you will depend on a few factors. Are you currently established on Twitter, or looking to be? Is Twitter a place where your target audience is consuming and interacting with content? If so, I would suggest digging into this guide to be sure you are using the platform in the best way.
What's in the guide
The playbook starts by outlining where Twitter should fit into your marketing strategy, and how paid efforts can support that. You will learn the ins and outs of paid advertising on Twitter, but also the importance of organic posts and how the two efforts are intertwined.
There is a whole chapter dedicated to optimizing the set up of your profile, including things like what visuals to use, which Tweets to pin, and how to find and interact with relevant accounts.
The authors also dig into how to create the best tweets by explaining how to use videos, images, GIFs, hashtags, CTAs and more to drive the most engagement. They even emphasize the importance of consistently checking in on your campaigns and optimizing them over time based on performance.
The next sections are a deep dive into advertising on the platform, and they break down the different campaign types, targeting options, creative ad specs, and analytic tools.
Overall, the guide is jam-packed with valuable information on how to get the most out of the platform. If you're not sure if you want to spend time reading the whole thing, skip to page 22 for an actionable list of top takeaways from each chapter.
The playbook and totally free and ungated — you can check it out here.
What this means for marketers
The release of this guide comes on the cusp of some other news last month where Twitter revealed it was making several updates to the platform to enhance the user experience. It even rolled out a new desktop design in July.
So, what do all these updates tell you? Twitter isn't dead, and it wants to make sure we know that. The company is striving to stay relevant in a world where instagram and Facebook are dominating the social media marketing scene with a combined 3.38 billion active monthly users compared to Twitter's 330 million.
Recently, IMPACT's Head of Editorial Content Ramona Sukhraj wrote an article on this exact topic where she talks about why Twitter is still relevant, and what marketers should really be using the platform for. She states, "Twitter is not about pushing people back to your website or capturing their information. It's about being a part of the conversation, staying relevant, and establishing yourself as a thought leader."
So, will you be re-visiting your Twitter strategy? Tweet us @impactbd and let us know!
Free Assessment:
How does your sales & marketing measure up?
Take this free, 5-minute assessment and learn what you can start doing today to boost traffic, leads, and sales.