Love is in the air: 6 Valentine's Day marketing campaigns to swoon over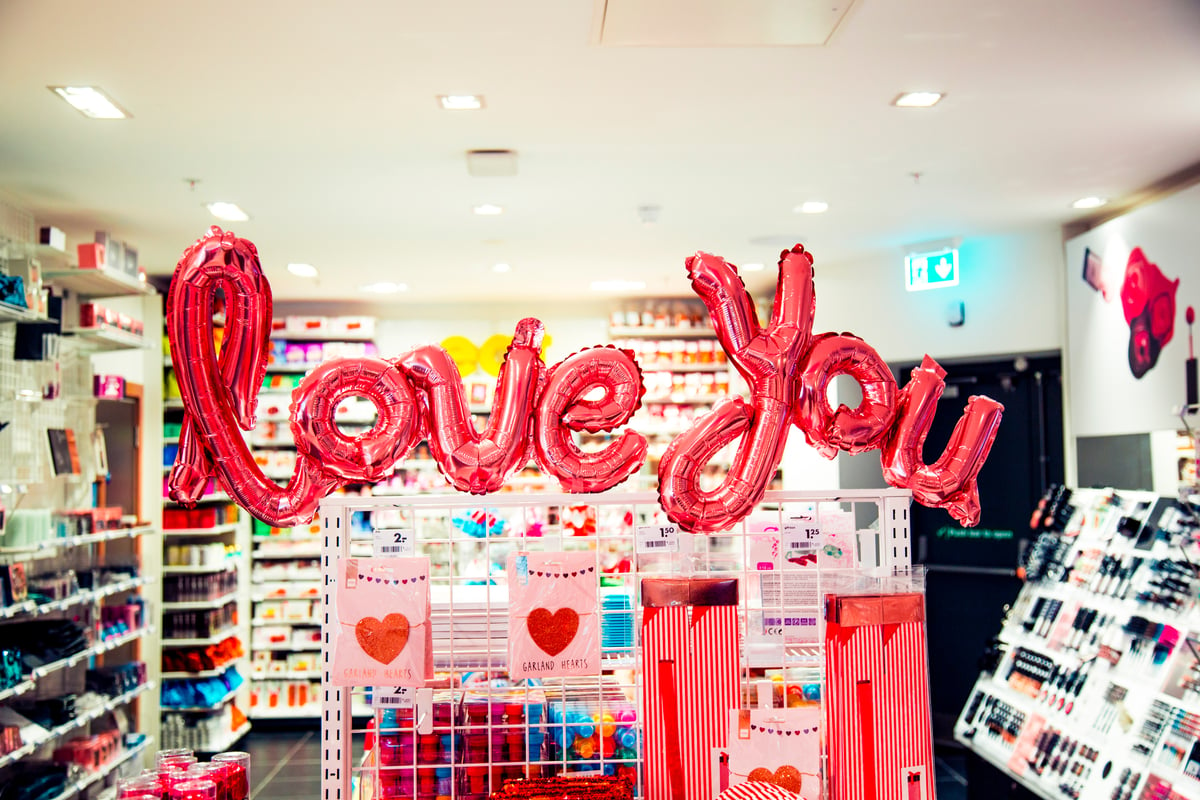 Whether you love it or hate it, Valentine's Day is officially here.
From the traditional gifts of flowers, chocolates, and fancy dinners, to the ever-more-popular "Galentine" celebration, Valentine's Day offers businesses in retail, hospitality, and entertainment the opportunity to tap into hearts (and pockets) to benefit their bottom line in Q1.
This year, we're taking a look at some Valentine's Day campaigns that leverage playful advertising and marketing, as well as user-generated content (UGC) to help drive engagement and sales.
Big and small, holiday campaigns don't have to be complicated or elaborate to make an impact. All it takes is the initiative to capitalize on the season and some clever flair to attract consumers to an offer.
Ready to dive in? Don't worry — we have something for everyone, from the friend or coworker to the budding new romance, married couple, and the scorned ex.
1. Dunkin' Donuts: Drink Pink and Share Your Heart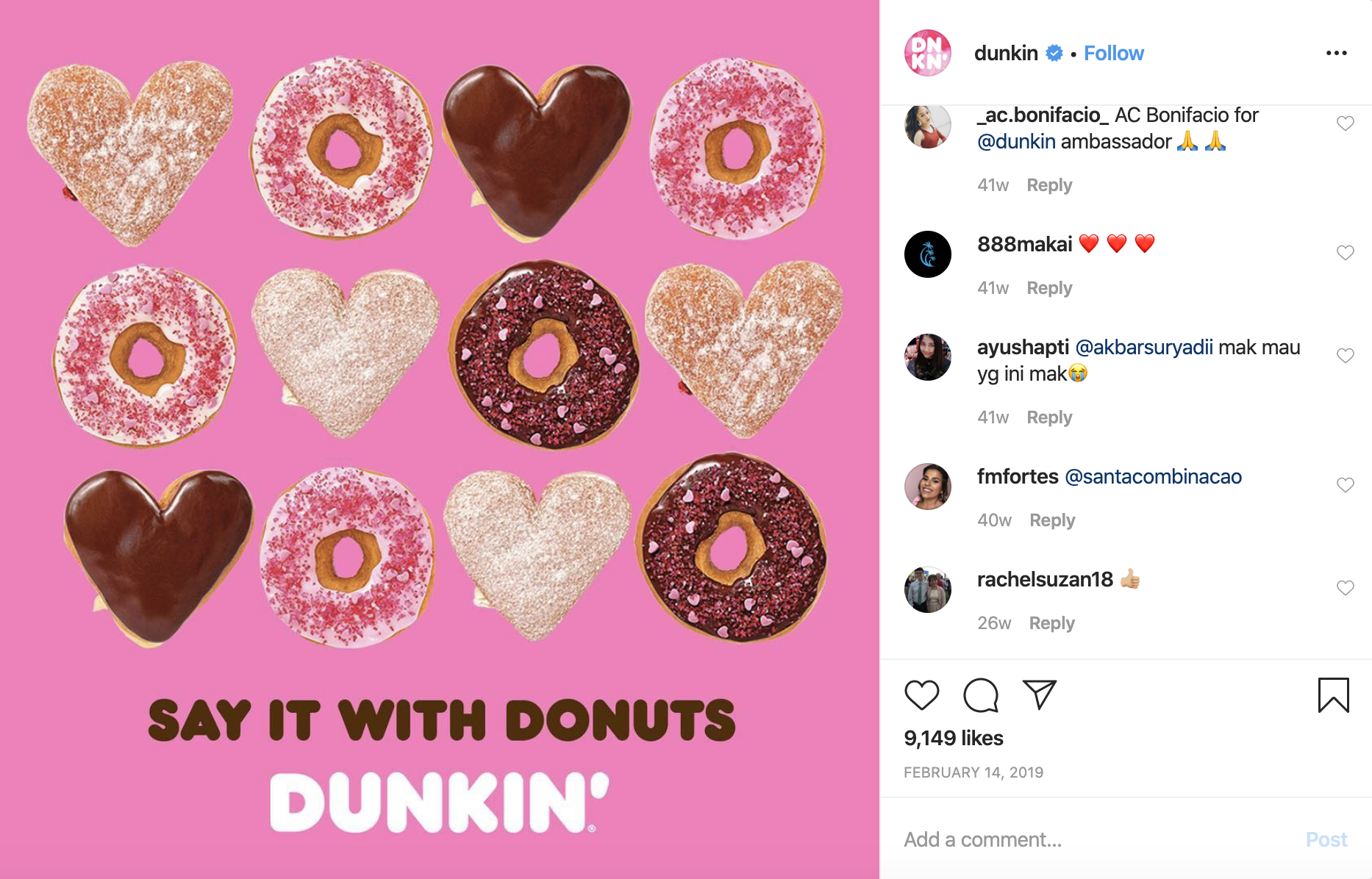 Dunkin' Donuts is known for its inclusive Valentine's Day campaigns and this year is no exception.
Positioned to "help everyone share the love," Dunkin' focuses on empowering customers to celebrate the holiday with anyone in their life. From heart-shaped breakfast treats to love-themed desserts and drinks, Dunkin' is thinking pink.
The company took a new spin this year by releasing two festive Drink Pink at Dunkin' options to its seasonal lineup. The limited-time holiday menu includes a Pink Velvet Macchiato and Pink Velvet Signature Latte. Valentine's Day at Dunkin' also means the return of Brownie Batter and Cupid's Choice heart-shaped donuts.
To generate buzz around this year's campaign, Dunkin' released a bright and playful teaser for its new, fun pink drinks on Instagram.
This campaign is more than a seasonal menu change.
Dunkin' engaged its customers through an omnichannel UGC campaign, including a sweepstake to win a year of free donuts!
In the weeks leading up to Valentine's Day, customers 18 and over could enter to win by following Dunkin' on Instagram and tagging a friend "who sprinkles joy" in their life with the #ValentinesDaySweepstakes hashtag. Check out the smiling faces submitted by Dunkin' lovers around the country!
Dunkin' wants everyone to share the love and doesn't limit its holiday promotions on an otherwise traditional "couples only" celebration. What works about Dunkin' Donuts' approach is the bright, fun and friendship-focused nature of this campaign.
2. Tiffany & Co.: Lockets of Love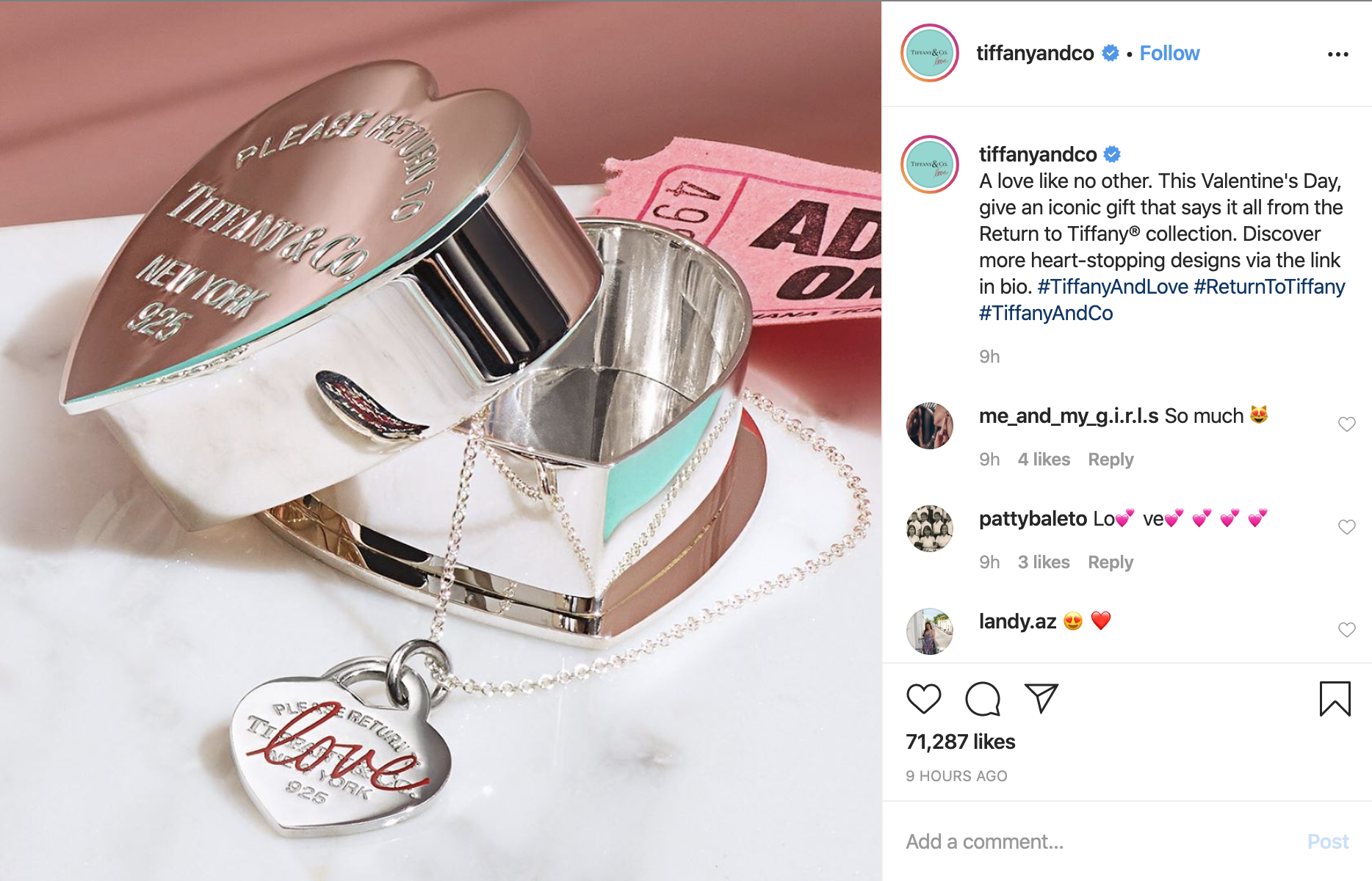 True to its classic and simplistic style, Tiffany & Co. is no stranger to Valentine's Day advertising.
This year, the timeless jeweler added a whimsical cursive "love" to the traditional logo on its signature heart-shaped pendant.

Accompanied by promotional social posts and the hashtag #tiffanyandlove, the campaign offers just the right touch to set this holiday edition jewelry apart from the rest.
This year's Valentine's Day push is subtle, but that wasn't the case in 2018. That year, Tiffany's celebrated the holiday of love with an interactive "Tiffany Tattoo Shop," which offered customers an opportunity to design their own tattoo sticker for sharing on social media.
Not only were the tattoo stickers customizable to the person and their personality, but they included Tiffany's branding and extended their exposure through shareable (and likable) UGC.
Tiffany's is a great example of how a brand can either go big with its holiday campaign or take more of an understated approach. Both can be effective and engaging with the customers, as long as they connects the brand and end-buyer.
3. Kraft: Kraft Is For Lovers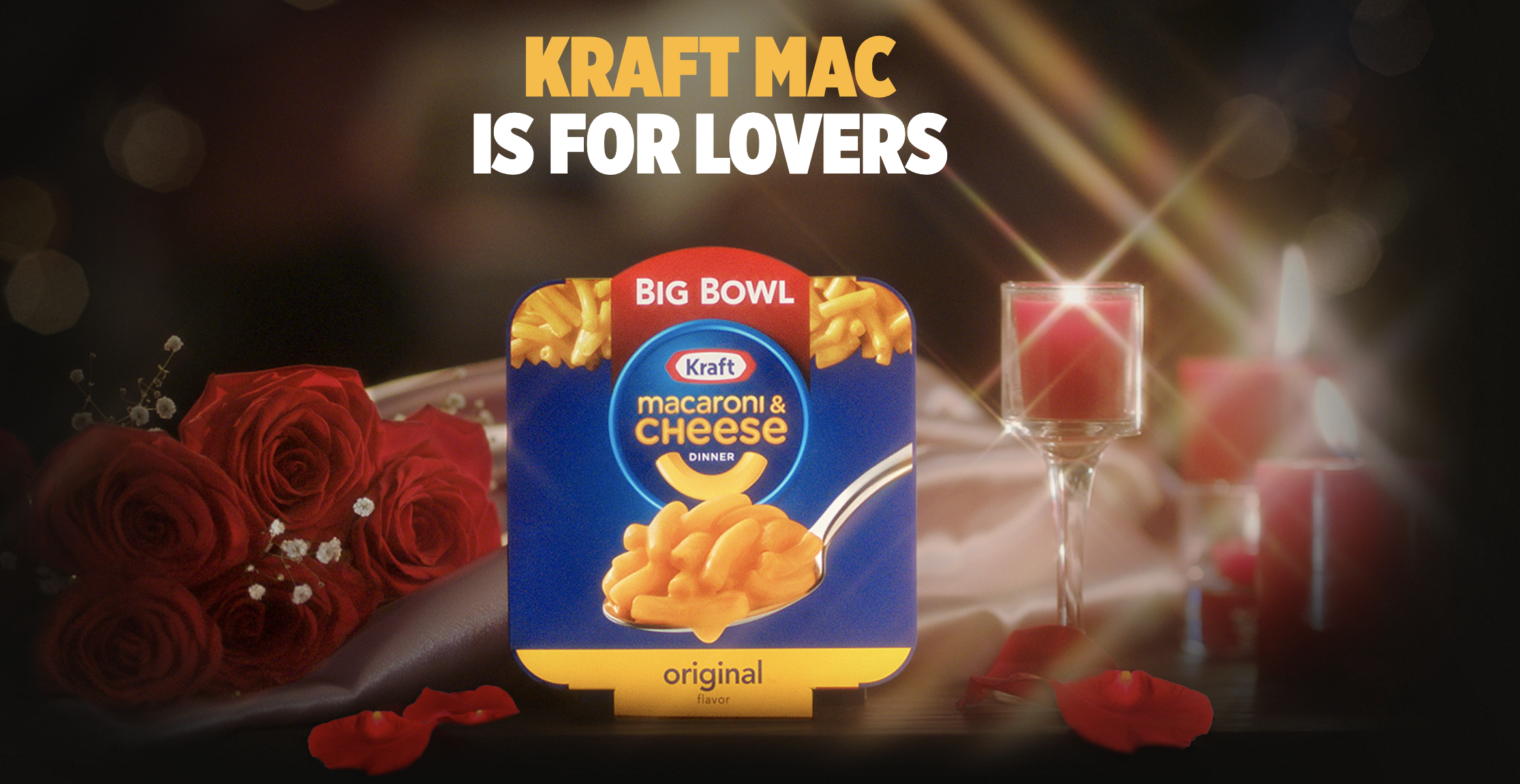 In a slightly more provocative approach to a Valentine's campaign, Kraft went all-in on helping parents this holiday.
The premise behind the marketing ploy? Kraft's new Big Bowl is a quick dinner solution that will fill kids' tummies and send them off to bed quicker, so parents can enjoy some alone time.
It's funny and (more importantly) unexpected, especially from this family brand.
Kraft also leveraged omnichannel promotions, leaning heavily on video via the company's YouTube, Twitter, Facebook, and Instagram profiles to launch the "Kraft Is For Lovers sweepstakes." The giveaway offered customers 18 and over a chance to enter to win a new Kraft Big Bowl and other goodies in time for Valentine's Day.
This campaign is particularly intriguing due to its departure from the typical play-it-safe approach for the Kraft brand, but it's certainly funny and tongue-in-cheek.
I'll be curious to see if this message resonated with Kraft's target audience or if we'll see the brand tame this strategy down next year — or move in an entirely new direction.
4. Macy's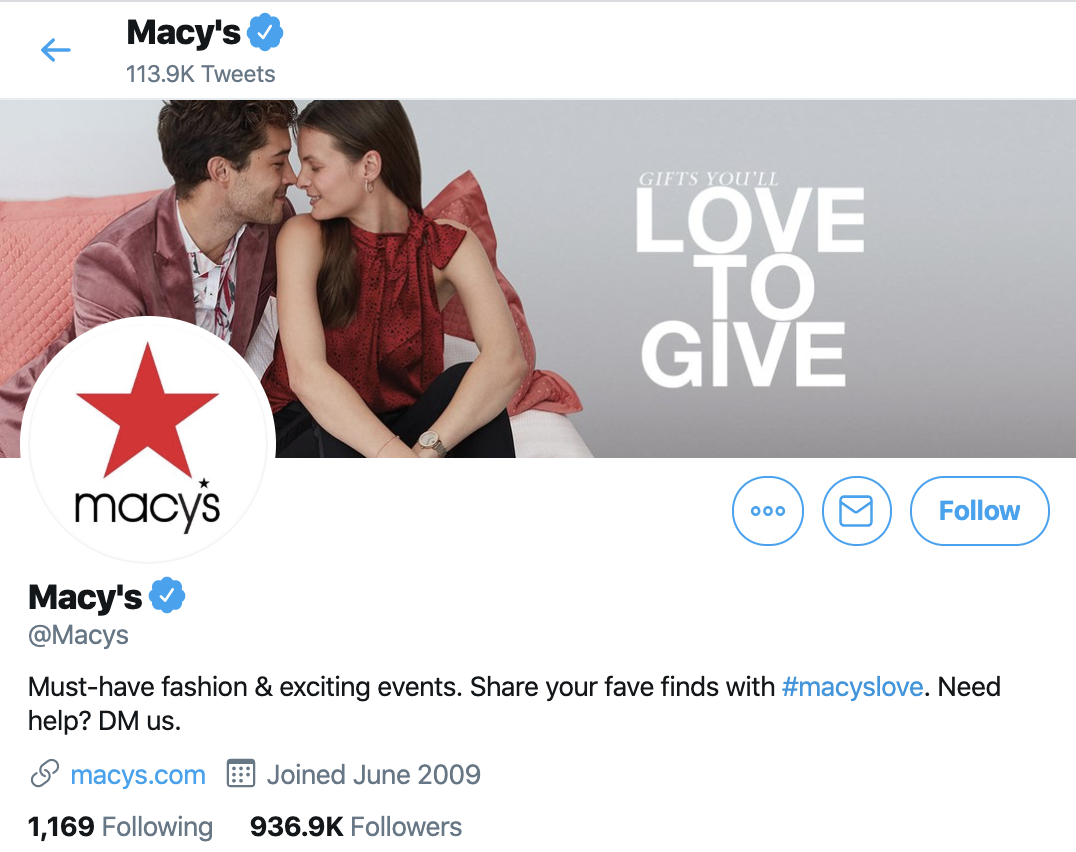 Macy's is another retailer leaning in on love.
The brand rolled out a love-themed overhaul of its homepage, love-inspired social shares featuring sale items, and the final touch — a "LOVE" promo code good for an additional 10-20% off sale items.
The Macy's campaign is a great example to remind us that brands don't have to shock their customers, be dramatic, or think outside of the box to be successful.
All they need is the desire to draw in the holiday theme and offer consumers an easy way to engage and buy.
Oh, and great sale prices seem to help, too!
5. Burger King: Harley Quinn's Flame-Grill Memories of Your Ex and Emancipate Your Heart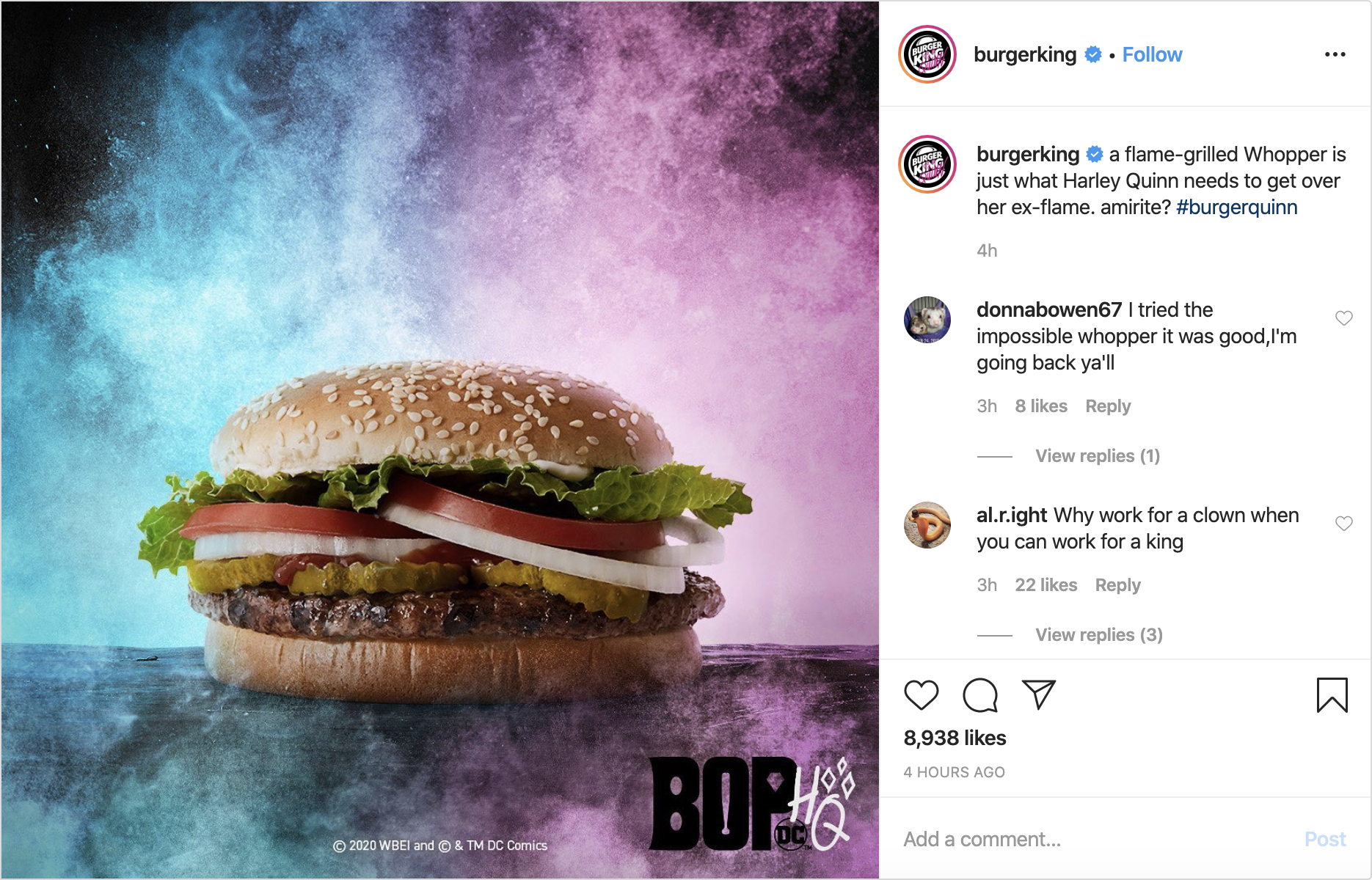 Hell hath no fury like a woman scorned.
Burger King knows this and smartly teamed up with Warner Bros. Pictures and their new film "Birds of Prey (And the Fantabulous Emancipation of One Harley Quinn)" for this year's anti-Valentine's Day campaign:
"This Valentine's Day, who needs The Joker when you can have the King?"
This timely campaign encourages customers to celebrate their emancipation with a flaming Whopper and includes a fun Harley Quinn takeover of the Burger King brand.
Similar to Tiffany's, Burger King is temporarily sporting an HQ-esque logo and infusing bright, bold colors and graffiti throughout its marketing and advertising materials. To help connect consumers and push UGC, the hashtag #BurgerQuinn is sprinkled throughout.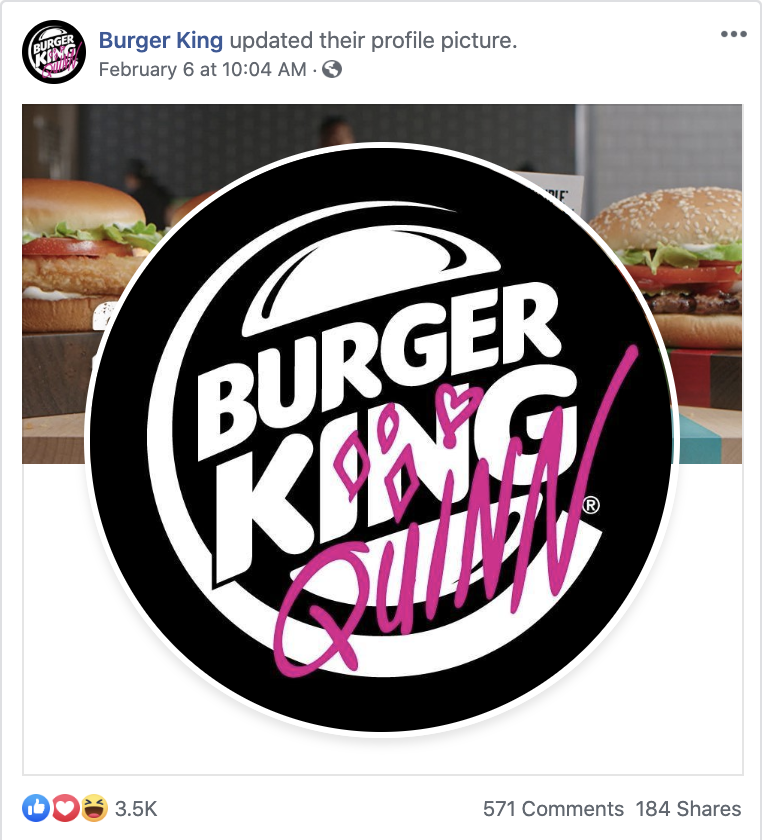 In a few select markets (New York City, Los Angeles, San Francisco, and Boston) patrons who bring in a photo of their ex on Valentine's Day and drop it in a "Birds of Prey"-themed breakup box will receive a free Whopper.
New Yorkers get a few extra perks — those locations are also accepting old love letters for the free offer, and one location is decked out entirely in Harley Quinn style.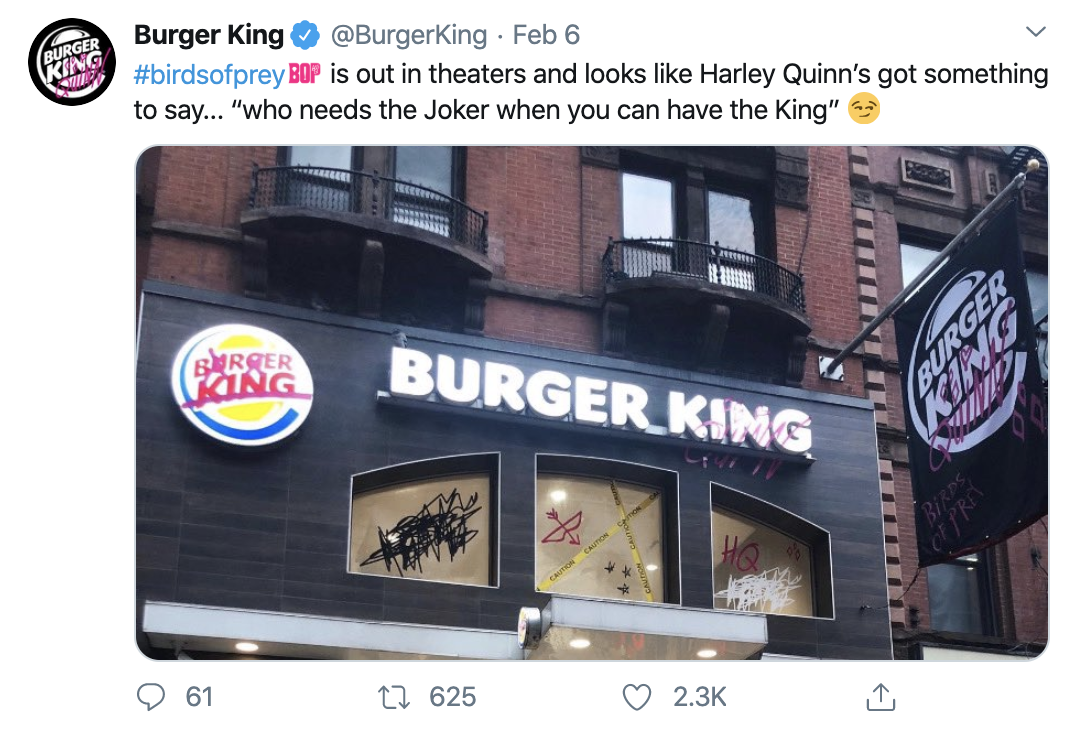 Deliciously malicious, right?
The campaign is all-around clever and the perfect antithesis to an otherwise romantic observation.
6. Calvin Klein: Love Every One of You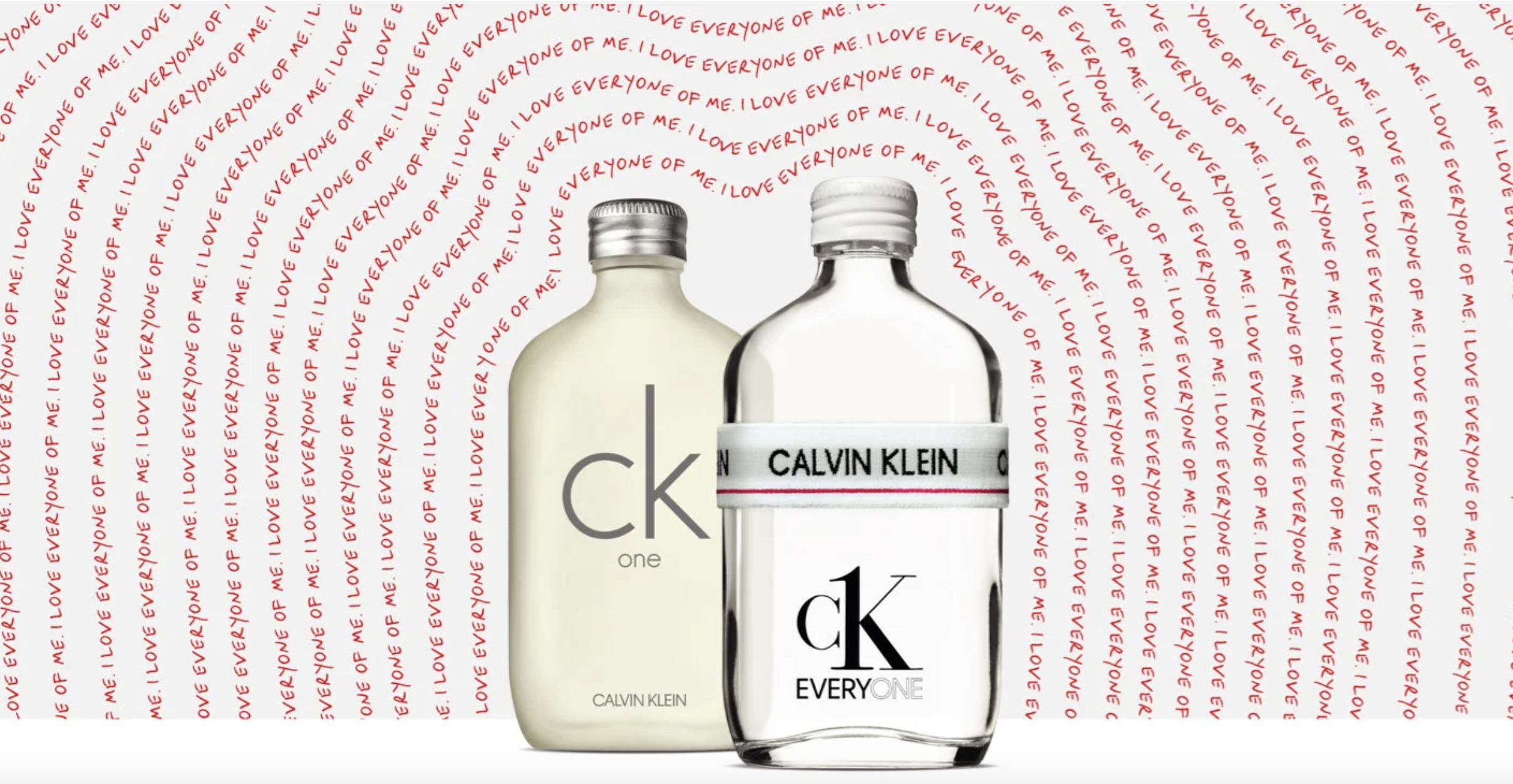 Less pink, but still a message of love, Calvin Klein is taking a different approach to Valentine's Day and encouraging its buyers to love themselves!
This relatively simple campaign features some of the brand's signature pieces — jeans, underwear, and fragrance. And with just a splash of pink and red to identify with Valentine's Day, the bold messaging is all that's needed to stand out and make a statement.



Thank you, Calvin Klein for reminding your customers to love every part of themselves and embrace themselves fully this Valentine's Day!
What do Valentine's Day campaigns teach us?
Holidays, no matter what time of the year, offer businesses an opportunity to get creative and tap into the buying behaviors of consumers.
From bold and sassy angles to simple and self-loving reminders, Valentine's Day is a great occasion for marketers to use for selling products or pushing an initiative.
It's proven that consumers respond well to coupons, discounts, and deals. Promotions work and they drive revenue, which is why they're so prevalent during special occasions and nationally observed holidays.
The major takeaway for brands is this: you don't have to launch a massive campaign to participate in holiday marketing. It can be easy and fun, as long as you're engaging your audience and providing them with value (through savings, experience, or something else).
The biggest consideration surrounding holiday promotions is timing — because each only happens once a year.
For larger-scale promotions or ones that end leading up to the holiday, advance planning is essential to successful execution. That could mean starting weeks, months, or even a full quarter in advance of launch.
Either way, having an intentional strategy and knowing the appropriate timing of your campaign promotion is critical to success.
Good luck planning ahead for the next big holiday! We can't wait to see what your brand has in store.
Free Assessment:
How does your inbound marketing measure up?
Take this free, 5-minute assessment and learn what you can start doing today to boost traffic, leads, and sales.
Get Started
Free Assessment:
How does your inbound marketing measure up?
Take this free, 5-minute assessment and learn what you can start doing today to boost traffic, leads, and sales.
Published on February 14, 2020