No More Parent Trap: What To Do When It Comes to Parental Leave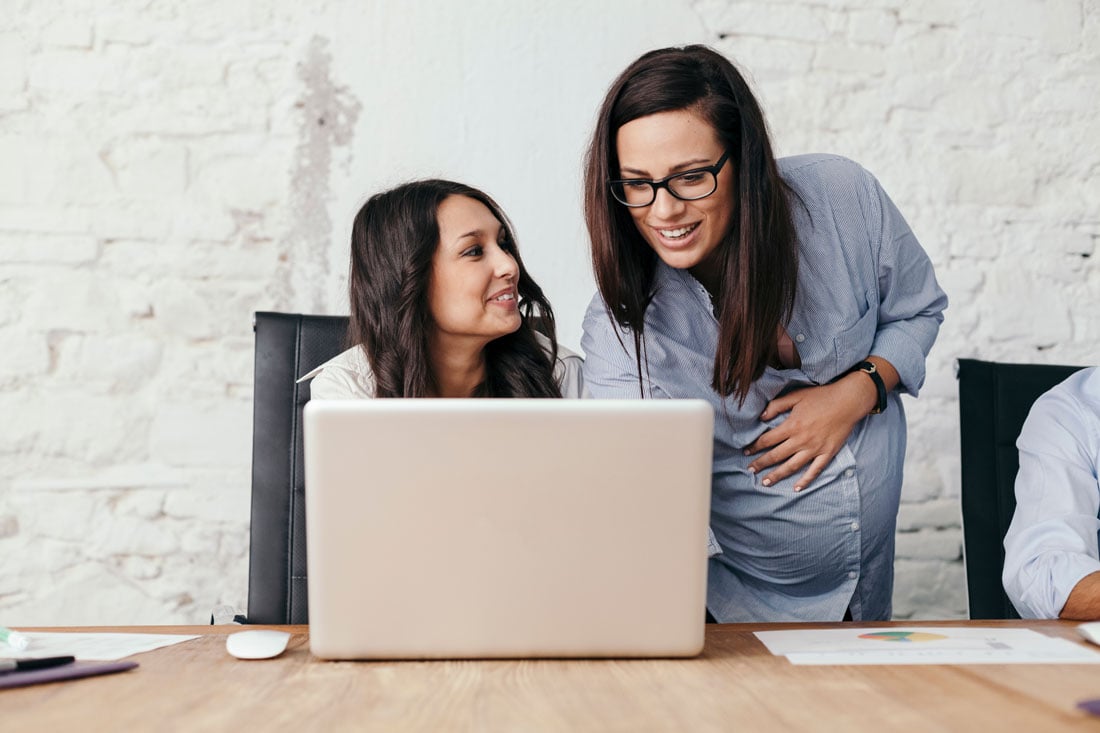 When I first started at IMPACT, I was one of the oldest employees at the ripe old age of 29.
We were a group of hungry, smart, young professionals on our way to building something great.
Then we hired Angela Myrtetus -- who is now our Director of Strategy -- and she was the first employee to have kids. Whoa.
Fast forward to today, three years later, we've tripled our team size and, consequently, significantly raised our median age.
Our hungry, smart, young professionals have not only matured, some have also married and are ready to start families of their own.
We have a flexible work environment, so it was never a question if, as an organization, we would support our employees who are (or want to be) parents, but, for the first time, we're starting to have to figure out the whole parental leave thing -- and it's certainly a challenge.
As a leader, this is keeping me up at night.
Let me unpack that and why every leader should be thinking about parental leave right now.
Why Is Parental Leave Such a Big Deal Right Now?
When I interviewed at IMPACT, one of my first questions was about the maternity leave policy.
I was coming from a professional employment organization, known for its world-class benefits, and knew going to work for a small inbound marketing agency would mean leaving behind my great insurance rate and a three-month, 60% salary paid maternity leave.
I was pleasantly surprised when IMPACT told me they were going to offer not only maternity leave but paternity leave for two months at 100% pay.
This benefit is part of what made it worthwhile for me to relocate from Texas to Connecticut instead of accepting a remote position with another agency. It's that big of a deal, folks.
During a time in your life that can be so amazing, yet so stressful, to only get 60% pay seemed kind of crappy.
Even at 60% pay, I worried about the "what ifs" on making bills, considering I was the breadwinner in my family.
What's worse is more than half of women in the United States get absolutely nothing.
And we wonder why there's a glass ceiling…
Taking a step back, we know that only 15% of employees worldwide say they are engaged at work.
However, my boss and IMPACT COO, Chris Duprey, spoke about this and the movement of inbound leadership to remedy it at IMPACT Live last month.
Inbound leadership is operating from a "how can I help" perspective, obsessed with the success of our people and teams -- leading to a positive and lasting impact on the organization.
With that definition in mind, how is your organization supporting your team's success if you're not offering them time to be with their newborn with a decent living wage?
The fact of the matter is, if you want to be an inbound organization, you need to offer parental benefits to your team.
Otherwise, you'll miss out on building a team of diverse in-age, highly engaged, skilled people.
Okay, So You Have Parental Leave Benefits.
Now What?
This is where we're at right now -- asking, "Now what?"
We've had one person go on parental leave earlier this year, and although everyone involved did their best to get everything covered, we missed a lot of steps.
Now we have two people in my department (our services organization who work directly with our clients) with parental leave in the very near future -- although, not at the same time, at least!
Shoutout to Stacy Willis for showing you don't have to choose between career and motherhood! 👏🏽 #IMLive18 pic.twitter.com/OxbeSvLfBv

— Ramona Sukhraj (@ramonasukhraj) August 8, 2018
I'm not going to lie -- this was not a planned article for me to write today.
I started writing this about an hour from publish time because I have spent a good portion of my morning researching how other companies cover when their employees go on leave.
This was the last thing on my mind the last few nights as I fell asleep, and the first thing on my mind starting my day.
I want our team to feel 100% supported, both the people taking leave and the ones working in their absence.
I had a couple of open hours this morning to research vs. re-inventing the wheel, so I took advantage of it.
But the more I researched, the less helpful information I found.
In fact, what I did find just made me angry.
In the last two decades, the rate at which women take leave, whether paid or unpaid, is the same. Men have tripled, but it was a marginal percentage to begin with.
That means we, as employers, have not solved the problem at-large. Throwing money at the person taking leave isn't enough.
The bigger consequence that any leader should realize is that we're not in a down economy anymore.
It's a job seeker's market, yet we are offering the same old, poor quality parental leave benefits and not solving for the rest of the team.
In addition to even offering parental leave benefits, leaders need to figure out how to balance maintaining and growing our companies while providing benefits employees expect.
Simply spreading out the responsibilities to other team members doesn't always work.
You risk burning out your team, and I'm sure you certainly don't want your internal stakeholders -- or clients if you're an agency leader -- to feel any of the friction of that balancing act.
Plus, what if you have more than one person on a team go on parental leave at the same time?
That's a very real possibility -- and vulnerability -- to solve for.
This Is a Worthy Problem to Solve
Although the United States is well behind in parental benefits, this isn't an unsolvable problem. How has every other industrialized country figured this out?
I don't have the answer, but if you're a leader finding yourself in the same position as me, this is a problem worth solving, especially when you consider the job market today.
And if you aren't thinking about this, you should be.
We're going to have to figure this out ourselves as an inbound community, and need all the help we can get.
Free Assessment:
How does your inbound marketing measure up?
Take this free, 5-minute assessment and learn what you can start doing today to boost traffic, leads, and sales.
Get Started
Free Assessment:
How does your inbound marketing measure up?
Take this free, 5-minute assessment and learn what you can start doing today to boost traffic, leads, and sales.
Published on September 6, 2018