How to Use YouTube Cards for Your Inbound Marketing Video Strategy
George B Thomas also recommends this free course, Video Sales & Marketing Strategy.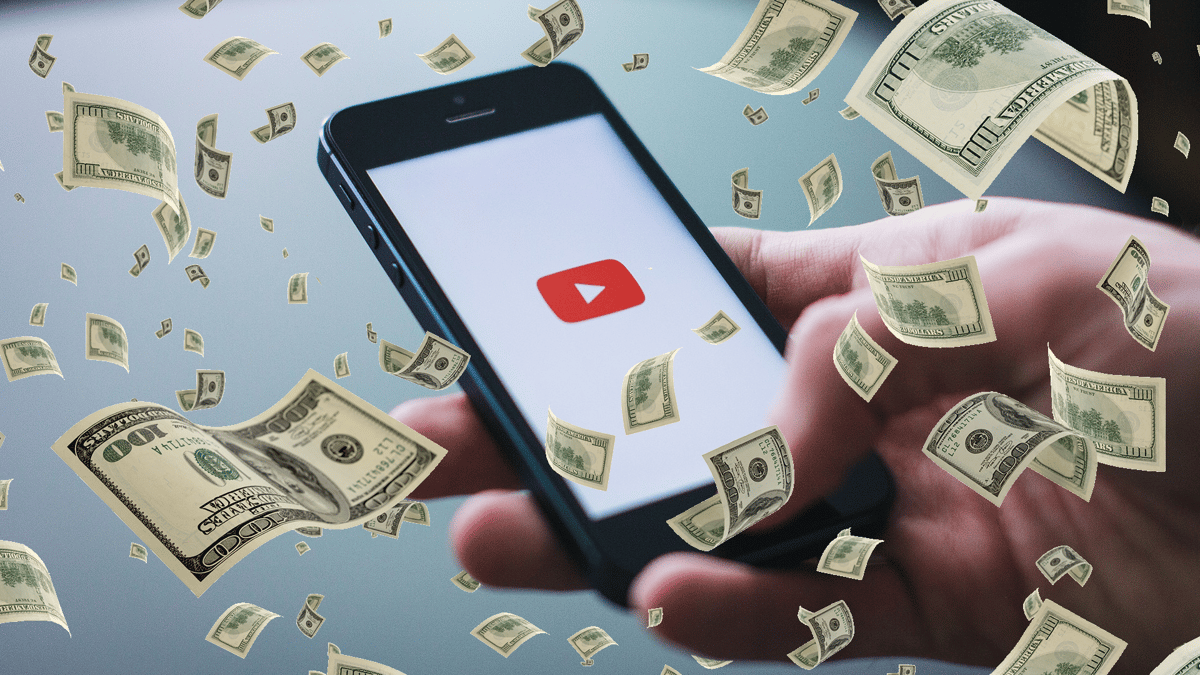 Haven't yet started using YouTube cards? If not, you're missing out, because they're a game-changer. And that is exactly why this article (and video) will take a look at how you can leverage them for your inbound and content marketing video strategy.
Free Course: Video Sales & Marketing Strategy
What is a YouTube Card & What Can it Do?
A YouTube Card allows you to add interactive elements to your videos. I know that is a broad statement so let's dig into everything that you can do right now with these cards.
As you can see from the screen shot above you can do four main things with your YouTube cards.
1. Add a really cool link to your website. This website has to be associated with your YouTube channel, but we will talk about that later. You can customize the title, the call to action, and the image used for this card.
2. Add a card for fundraising. With this card you have to link to one of the approved fundraising sites and you will need to have your own account on that platform. Here are a list of approved fundraising sites available with YouTube cards.
3. Add a card to some merchandise. Do you sell hats, t-shirts, or bowling balls? No problem. Now after you teach someone to pick up that split you can link them to the special ball you used to do it. Here are a list of approved merchandise accounts you can use for these cards.
4. Add a video or playlist. This is where you can add a ton of value to your video strategy. Have you ever mentioned another previously recorded interview in one of your videos? Now send people right to that interview vs them trying to search it afterwards. Do you teach how-to courses? Then let folks dive into the deep end by adding an entire playlist. We do this with our HubSpot CRM and HubSpot COS playlists.
That's what you can do now. As if that's not enough, YouTube plans to add even more functionality to these cards moving forward. You can dig a little deeper into what that means by reading the YouTube Creator article: Make your videos even more interactive with cards.
How to Set Up YouTube Cards
Setup is quite simple. Go to the cards navigation tab and start adding videos and playlists. The first thing we want to do is connect your website.
This sounds simple but can be a little strange if you are not a bit technical. We associated The Sales Lion site by uploading a little piece of HTML to our root folder and then asking YouTube to verify our site.
If you are going to add merchandise or fundraising make sure you have those accounts setup and ready for use.
Once you've done this, you are ready to start using the YouTube card's feature.
Adding YouTube Cards to Your Videos
Adding the cards to your videos is super easy. There are a couple things you will want to remember.
1. Space out the cards using the timeline. You do not want to have all your cards crammed together. In this example you can see that we have three cards spaced out over the first half of the interview.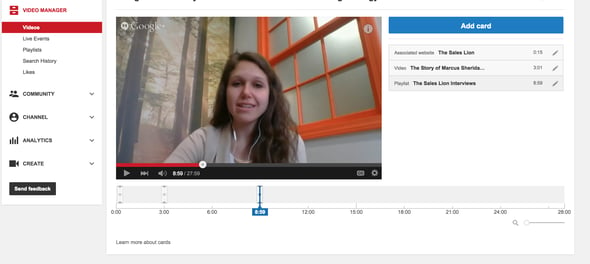 2. Have the first card be your website. You want to get people back to your home base. The best way to do this is to add a card at the beginning and/or the ending of your videos, directing them to your site. You can see in our example that we want people to visit us.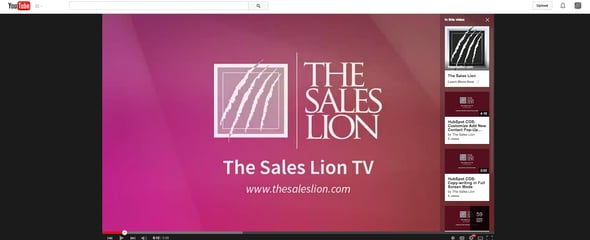 3. When adding cards think value first sales last. In this world of inbound and content marketing, value and trust win the day. That is why I am suggesting that your site, videos, & playlists be placed as cards first. Then, once you have added value and gained the trust of the viewer, add your fundraising and merchandise cards.
Create Your Own YouTube Cards
If you want your business Youtube channel to add more value, be easier to navigate, have more views, and grow the watch time of your channel-- then YouTube cards are a tool you should use in your inbound and content marketing strategy. As a parting gift, I have created a video where I show you how to add several cards to your videos. After you watch the video, go make your own cards and then let me know in the comments or on twitter how you are using this game-changing tool.
Now go crush your video strategy.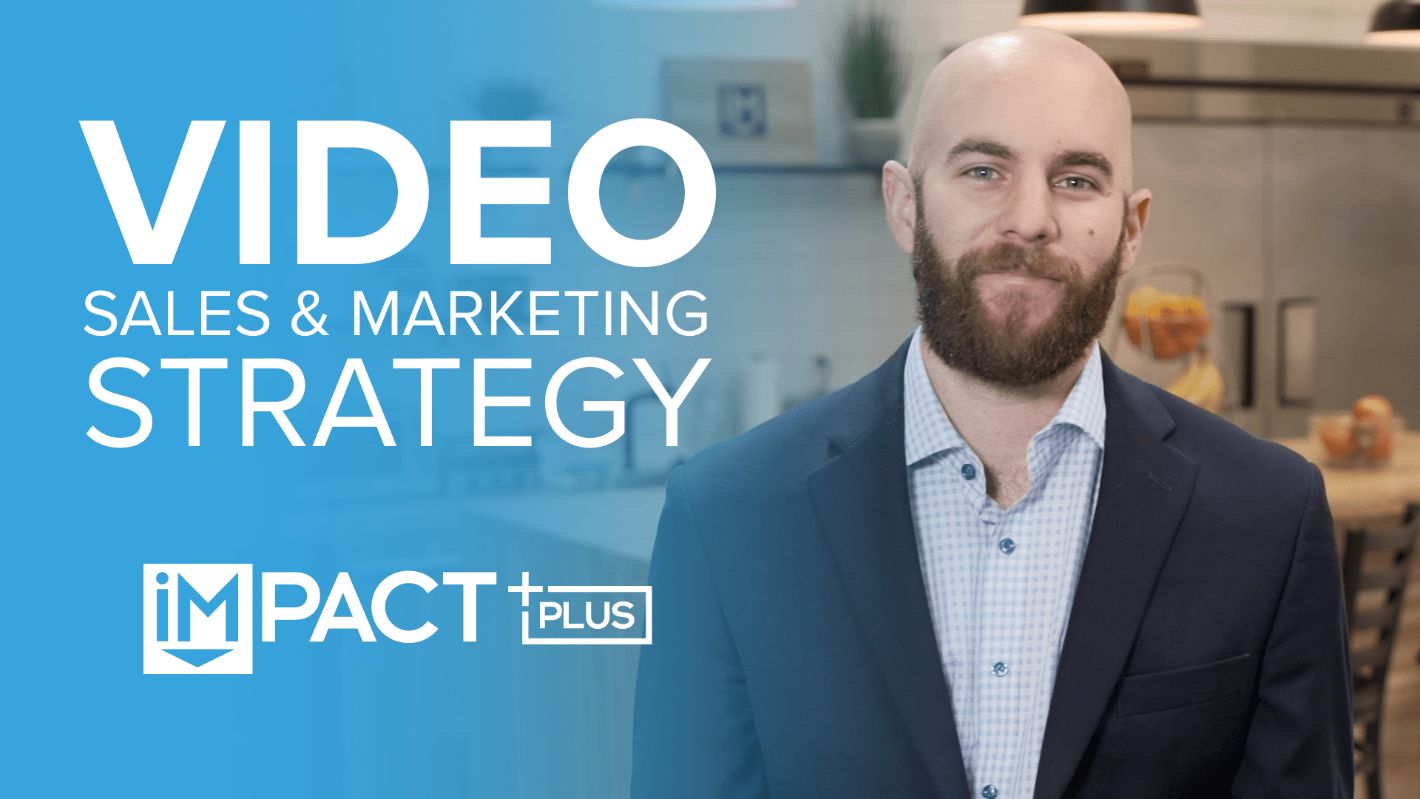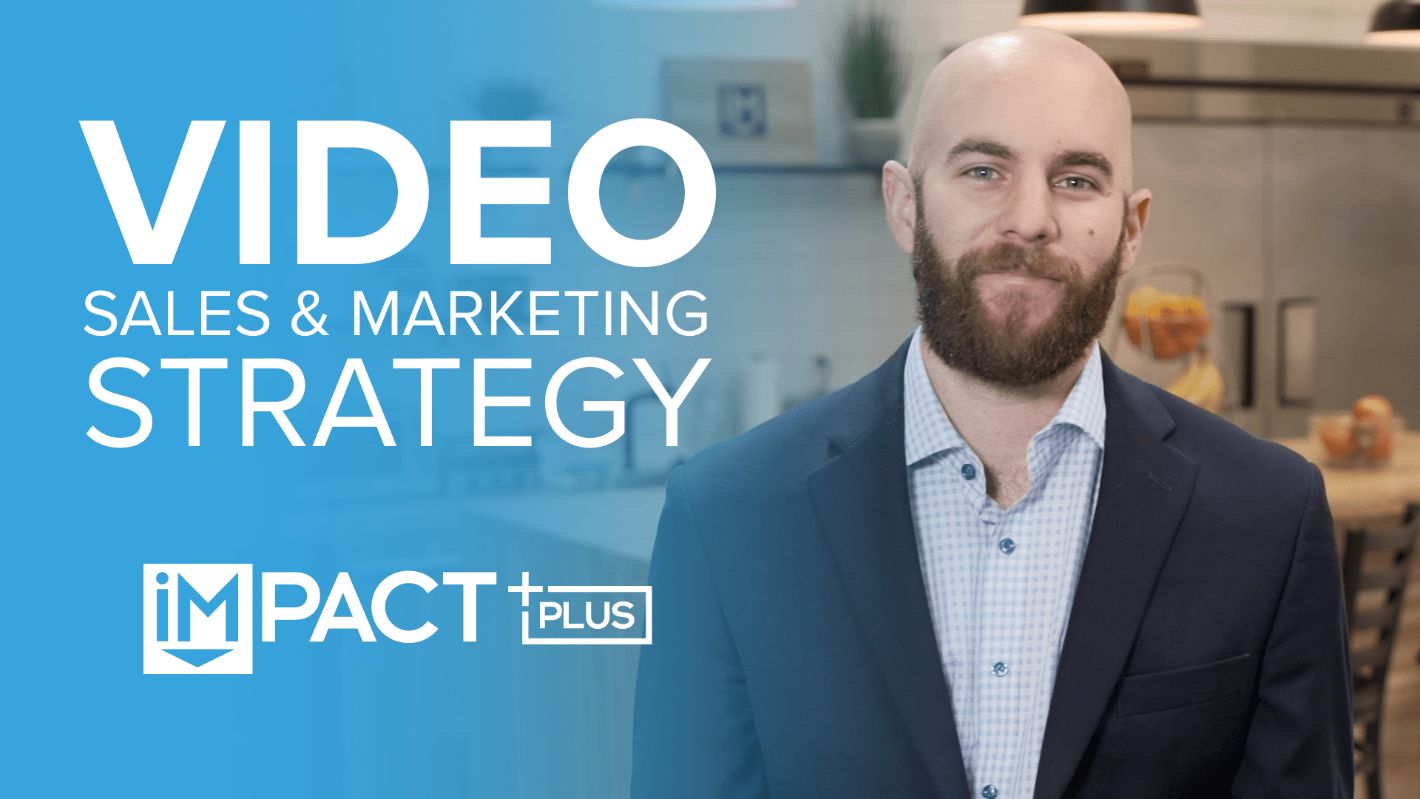 Free Course:
Video Sales & Marketing Strategy
From production to technology, get everything you need to start your video marketing journey with confidence
In this free course, you'll learn:
How to align your teams around a common vision with video
7 types of videos that have the biggest impact on your revenue
6 factors that make up an engaging and effective sales or marketing video
Published on April 14, 2015