6 Tips for Designing More Captivating Instagram Stories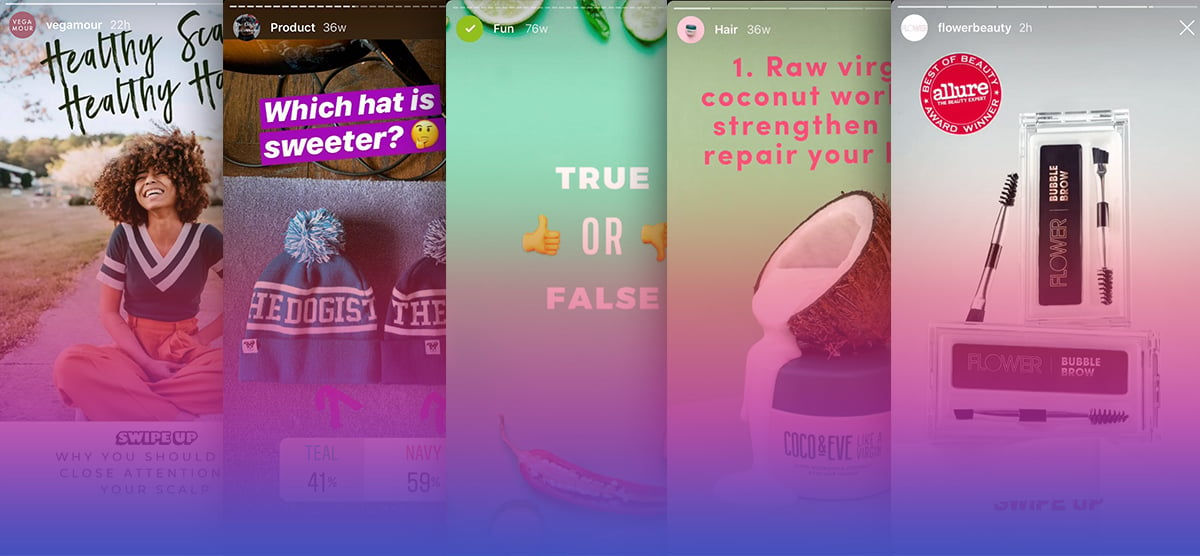 With over 500 million daily active users and its ever-changing features, Instagram Stories is one of the best ways you can connect with your audience.
68% of millennials admit to watching Instagram Stories, and with the vast majority of users following businesses as well as friends and celebrities, we can easily assume most users are consuming business content along with the latte art, cute puppies, and whatever so-and-so had for lunch.
Let's assume we already know the basic ingredients to a killer Instagram Story like
Telling a story
Keeping it quick and engaging
The best times to post
Geotagging and hashtagging
...but how do we make ours stand out visually?
That's where I come in.
Today we're going to cover six quick tips to help you design more engaging, enchanting, delightful, visually stunning Instagram Stories:
Put your brand on it
Make it interactive
Use animation
Keep it simple
Don't treat Stories like your feed
Use apps to your advantage
Let's get started!
1. Put your brand on it
Because users typically view Stories through the endless stream of user Stories (business and personal), it's important that your content self identifies.
Now, this does not mean slapping a logo on every frame. This looks unnatural and corporate.
What we can do is incorporate brand colors and visuals. You can either do this in design programs or apps (we'll get to this later) or right in the Stories tool.
You will also want to establish a brand tone. You have to start internally by establishing the mood you want to set with your Stories. Will your brand be energetic, fun, and playful? Or serious, luxurious, and sultry? Once you decide, the imagery (video or static) should reflect this.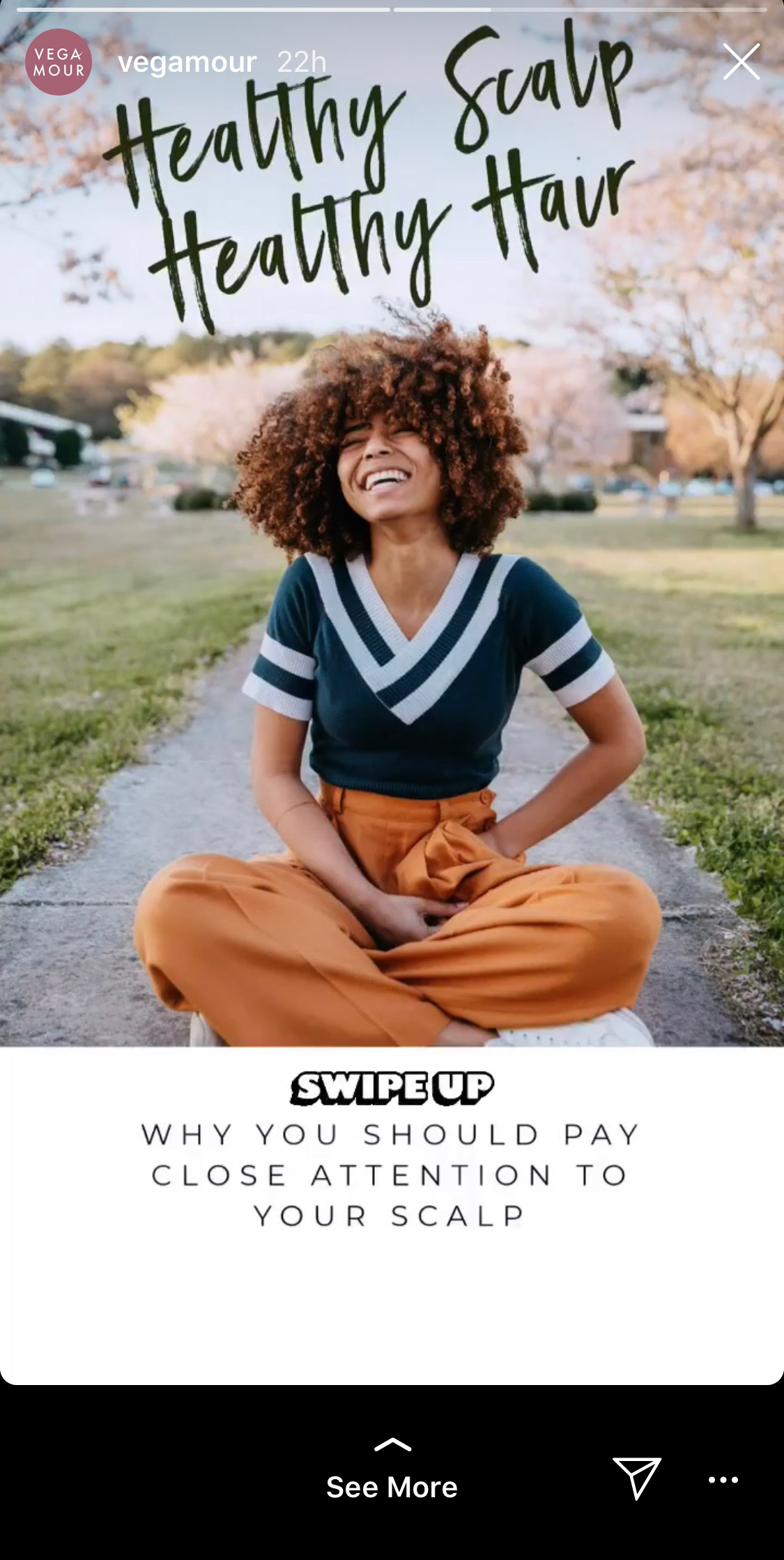 Vegan beauty brand Vegamour does a great job of showing its laid back, positive tone with its photography and simple layouts. The use of a hand-written font gives this Story an extra personal feel, while the photography exudes the feeling Vegamour wants to embody even — without directly showcasing a product.
2. Make it interactive
Instagram offers an ever-growing list of interactive features like polls, questions, and quizzes that are a great way to keep your audience engaged.
By asking the viewers to participate in your content and not just consume it, you are increasing the chances of them staying on your story — and making the whole experience last in their memory after they've closed the app.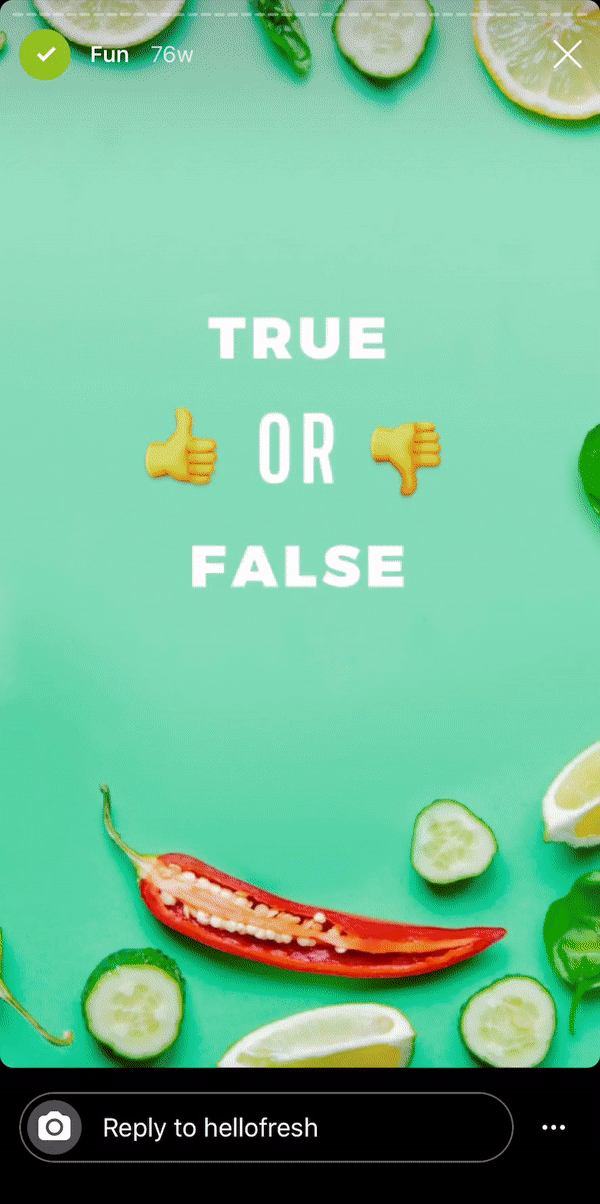 Hello Fresh interacts with its followers by creating fun, food-based quizzes in Stories and urging users to move to its site for the answers (where the company can easily gather stronger info about viewers). Genius!
3. Use animation
Video posts receive 38% more engagement than image posts, but if you do not captivate your viewers in the first four seconds, you will likely lose their interest.
But, you may not always have video content. Adding animation to photos or creating a separate animation is a great way to incorporate movement and keep your viewers engaged.
Instagram has some built-in tools you can take advantage of like animated lyrics or the limitless GIF gallery, but you can also use third-party apps like Mojo and Clips to help you access a broader variety of animation.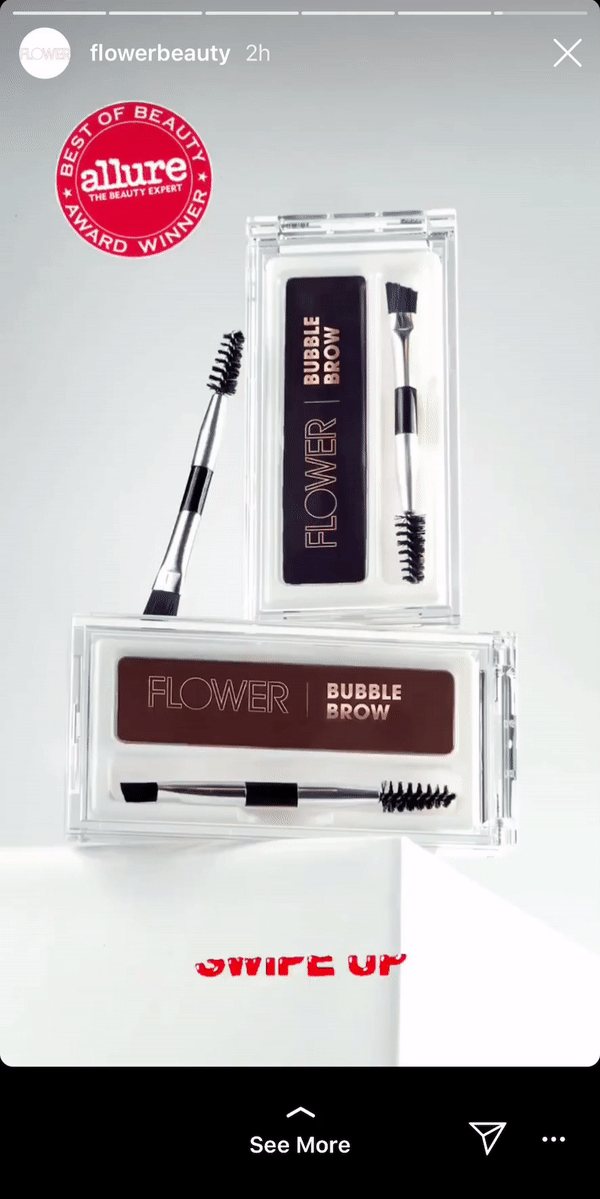 Flower Beauty makes use of two GIFs from the built-in GIF finder for a simple yet eye-catching approach that clearly highlights the product, the award it received, and the next step for the viewer!
4. Keep it simple
Now that we've covered some of the awesome things you can incorporate into your Stories, let me tell you the most important thing to remember:
Keep. It. Simple.
Please do not overload your Stories with text, stickers, animation, and the like. Remember, an Instagram Story is only 15 seconds. Keep it simple and focused.
Think about what you want the user to be focused on and take a look at your finished product. What is the first thing you notice? Or, if you don't notice any one thing, why is that? Is there too much clutter around it?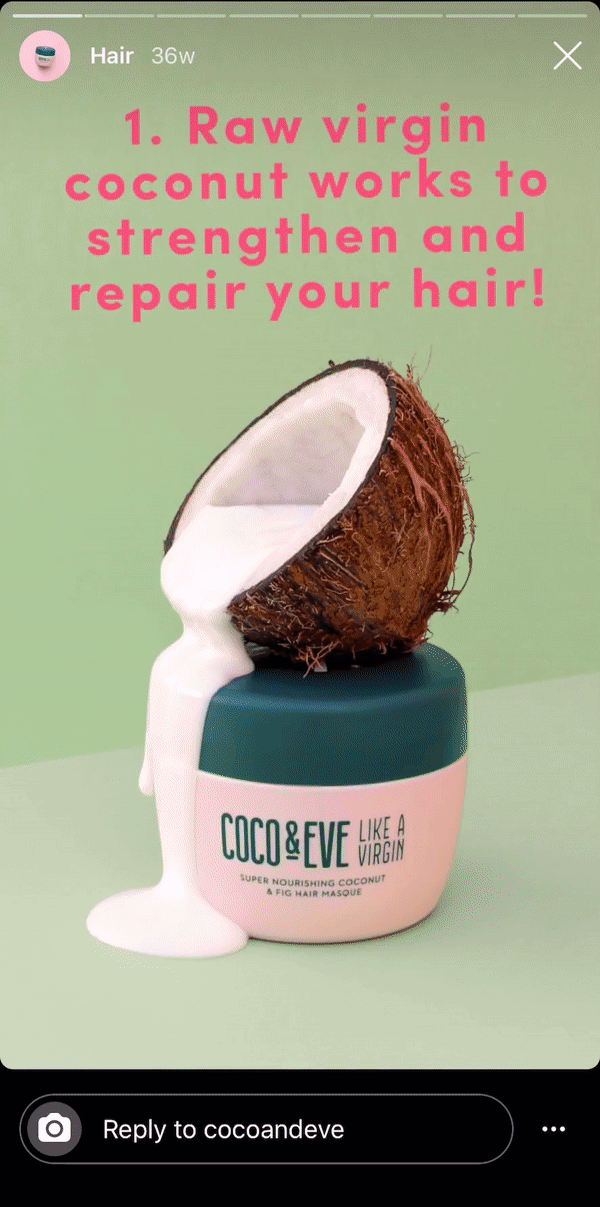 Coco & Eve balances interesting brand photography with limited text per story. Keeping it fun, yet simple makes it easy for the user to take in what they are seeing and stay interested in seeing the next bullet and image.
5. Don't treat Stories like your feed
One of the most fun parts about Instagram Stories is that it can be a really low-pressure arena to try out new ideas. Since Stories are only visible for 24 hours (unless you decide to immortalize them in a Highlight) you don't have to be 100% married to the content.
With built-in polls and questions, you can even grab some feedback right in the Instagram app! Trying out some new options? Post about and it ask whether your viewers like A or B and get some instant feedback.
The Dogist uses Instagram Polls to reveal new merch — as well as gather some data on what colors its fandom prefers.
6. Use apps to your advantage
Now that it's 2019 and being a lazy, smart person is an admirable trait, let's admit that we don't want to spend all day making our Stories look fab. That's where apps come in.
Using third-party apps with things like built-in templates and effects make it easy to create custom and unique Stories that only look like they took you hours to create.
Here's a list of 8 useful story building apps to help you get started.
Tell your own Story
With Instagram Stories, it's important to find the balance of having authentic, natural-feeling content that gives your viewer the experience of being on the inside and having polished, branded content. Too much in one direction and you seem like you're not putting in very much effort, too much in the other you look cold and corporate.
Stories (with their 24-hour viewing window) offer a less rigid format than the Instagram feed. This gives you the freedom to play and explore with your audience. So, take advantage of the things we learned today and start engaging your viewers!
Free: Assessment
Does your website build trust with buyers and bring in revenue?
Take this free 6 question assessment and learn how your website can start living up to its potential.