Subscribe
Join 40,000+ sales and marketing pros who receive our weekly newsletter.
Get the most relevant, actionable digital sales and marketing insights you need to make smarter decisions faster... all in under five minutes.
Thanks, stay tuned for our upcoming edition.
6 Tips for Producing Better Content Marketing Results for Your Clients in a Crowded Market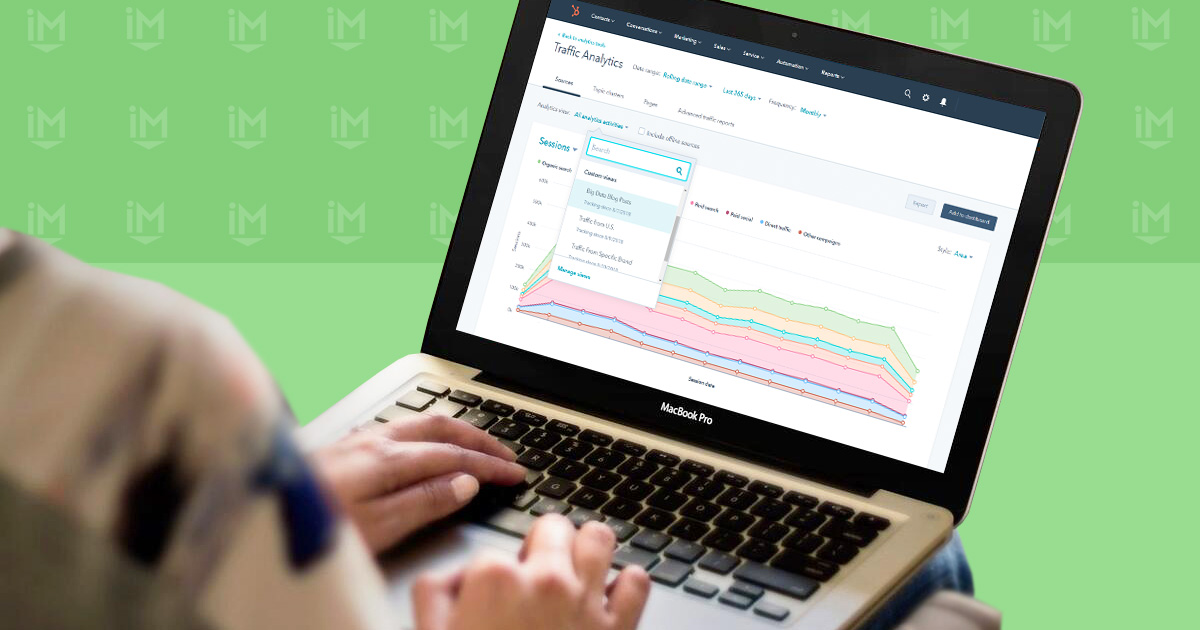 Let's face it, content marketing is nothing new.
Most businesses, especially B2B marketers, know they need to be blogging, email marketing, publishing to social media, and producing video to connect with their audiences, but this popularity and acceptance comes with its challenges.
The market is flooded with "thought leaders" and "experts" at all levels trying to rank for the same terms and get noticed. It is harder than ever to cut through the noise and even if you do, consumers jaded by years of traditional marketing efforts are more skeptical.
All of these factors create a perfect storm of competition making content marketing results harder to achieve, especially if you're an agency, coach, or consultant trying to help clients.
We've been there and thankfully, we've learned more than a thing or two about how to tackle these issues and produce better results for your clients. In this article, I'll cover:
Why great content marketing should ultimately mean sales.
Tips for creating a results-driven content marketing strategy.
How to get started.
Great content marketing means sales
Content marketing comes with many benefits and can achieve many business goals.
In fact, the latest content marketing statistics show the five most common content marketing goals in 2021 were creating brand awareness (80%), building credibility/trust (75%), educating audiences (70%), building loyalty with existing customers/clients (60%), and generating demand/leads (60%).
However, arguably the most important goal for your content marketing efforts should be sales.
I'm not saying every blog post is going to convince someone to buy from them right off the bat.
It would be a marketing miracle if someone saw a piece titled "How much does [your product] cost?" and were ready to sign on the dotted line, but the content clients create should be funneling qualified people into their sales pipeline and helping sales close deals faster.
That means addressing the questions, concerns, and interests their buyers really care about (i.e., cost, reviews, and others of The Big 5) to get them in the door and arming sales with assignment selling pieces to combat and overcome objections during the sales process.
Of course, you and your client can do everything right here and still not close a deal – that's just the way the stars are written sometimes – but if your client is keeping relevance and their marketing and sales funnels top of mind when creating their content strategy, they can put their best efforts forward to change this fate and see big results.
What does putting this look like exactly?
6 tips for creating a results-driven content marketing strategy
There are a number of content marketing tactics and trends you can experiment with that may lead to results from your efforts, but there are also some overarching tips and principles that are almost guaranteed to deliver. Here are six your client's content marketers should know.
1. Have someone own content
To produce better results in your content marketing efforts for your client, you first need to make sure someone owns it.
In our experience at IMPACT, unless someone owns and focuses on an initiative, it quickly gets pushed aside in favor of something "more important," especially if a company has been working with traditional marketing channels like PPC or display advertising.
With all of its moving pieces and the required time commitment, content marketing tends to be a common victim of this, especially if it's a new venture for a business. However, if your client wants to achieve results, it can't be shrugged off so casually.
To make sure your client is creating the consistent, high-quality content they need to drive traffic, leads, and sales, they need to hire a full-time, in-house content marketer to own their content marketing strategy.
This role could have a different job title depending on the size of the company and the person's experience — Content Writer, Director of Content, Content Strategist — but we refer to it as a content manager. This person will be the most important line item in the content marketing budget.
No one will know your client's organization as well as someone working in the company, day in and day out.
When a client outsources their content creation, they risk losing their brand's unique voice, and authenticity, while also creating process bottlenecks. They also limit their ability to create more content or pivot their content marketing strategy as needed.
However, when they have someone in-house who owns their content marketing strategies and subsequent content creation, this person will make sure high-quality, compelling blog posts that accurately reflect the true tone and spirit of their brand are published regularly without fail.
They will also:
Get internal stakeholders onboard and champion content to them and the entire company.
Interview their company's subject matter experts and capture their insights (and their company's unique perspective) and integrate it into your client's content.
Work closely with the sales team and help them integrate content into the sales process, allowing them to close more deals faster.
Monitor your client's organic traffic performance and work to routinely improve ranking and traffic results.
Update existing content to ensure it remains relevant and effective.
Oversee the other areas of your client's sales and marketing initiatives where content is critical (including the website, email, and social media).
When content creation is at least one person's sole focus at your client's organization, you should never have to worry that you and they are not giving it the attention it deserves to achieve real results.
2. Get sales involved early
Now, we mentioned that a client's content owner will work closely with sales — and there's a good reason for this.
Inbound success doesn't rely solely on the shoulders of marketing; it depends on everyone at an organization.
More than anyone, a client's sales reps are the ones regularly engaging with potential buyers and hearing what questions or concerns they have. These topics should be the starting foundation of your client's content strategy.
While your client's content marketing strategy will extend beyond these with time, these Big 5 and purchase-intent-focused topics will help the sales team start seeing results early by providing the answers buyers seek before they even get to a sales conversation.
Speaking of sales…
3. Incorporate content into the sales process
Once your client starts creating engaging content around the topics shared by sales (i.e., creating sales enablement content), they need to make sure the sales team is using it. That means incorporating content into the sales process.
At IMPACT, we refer to this practice as assignment selling. Once a piece is published, make sure your client's content manager is sharing it with the rest of the sales and marketing team and letting them know how and when they can use it.
(This can be done during a revenue team meeting.)
Sales enablement content is only useful if it is actually getting into the hands of prospects when the question or concern is top-of-mind.
4. Focus on relevance
Content is also only useful if it's actually discussing topics that your client's audience cares about. That means addressing questions, concerns, and interests they're actually interested in learning about.
Guide your clients in talking about relevant current events and how their product or service fits in (e.g., think how businesses had to pivot their messaging at the beginning of the COVID-19 pandemic) and prioritize the most urgent questions most buyers have when conducting purchase research.
Marcus Sheridan's They Ask, You Answer summarizes these topics into five key categories we call The Big 5:
Costs: How much your solution costs (factors, considerations, what defines value, etc.).
Problems: The negatives about, or issues with, your solution (that buyers tend to ask about).
Comparisons: How your product or solution compares to similar products or solutions.
Reviews: Honest and unbiased opinions and observations about your product, solution, etc.
Best: What the best solution available is.
The Big 5 can be used for written content as well as long and short-form video, helping you improve your organic search traffic through platforms that include YouTube. That's why we recommend…
4. Guide them in using video in marketing and sales
The pieces your client creates shouldn't just be limited to written content. Whether it's marketing content or sales enablement content, you should also include video marketing.
In 2021, when asked how they'd most like to learn about a product or service, 69% of respondents to a survey by Wyzowl said they prefer to watch a short video than read an article, view an infographic, or watch a webinar, among other things.
Moreover, another survey reported that 83% of respondents had found a product/service-explainer video that had helped them make a buying decision.
With its mix of visuals and sound, this is no surprise.
To capitalize on visual content in your client's content marketing efforts, a great place to start is with The Selling 7:
80% Videos: These are videos that address 80% of the most commonly asked questions during the sales process. Sales reps can send them off to prospects before conversations to save time during calls or to help leads qualify/disqualify themselves.
Employee Bio Videos: These are videos introducing your team and what they do that can be shared on your website or in email signatures. They help your audience get to know your team on a more human level even before they've actually spoken.
Product or Service Videos: As the name implies, these are videos highlighting your offerings.
Landing Page Videos: These are videos that appear on your landing pages, explaining the value of converting and also what to expect after filling out the form.
Cost Videos: Like a cost or pricing article, these videos explain how much your product costs or what influences the cost.
Social Proof/Testimonials Videos: These are videos showcasing positive stories and interviews from past buyers.
"Claims We Make" Videos: These are similar to social proof videos, but focus on showing evidence that backs up other service claims, such as quality of work or particular processes.
And they shouldn't stop there. Guide your clients also on how to incorporate video into their sales process through follow-up emails.
5. Don't neglect content distribution
Don't let your client's content live in a silo. Once published, many marketers expect their pieces to just "go viral," but in such a crowded content marketing landscape, that is rarely the case.
Have your client's content marketing teams set aside time to distribute their work, whether that be via social media, email marketing, a Facebook group, or any other medium your buyers respond to.
The point is to get their content in front of the consumers who need it. Content promotion in this way is critical to getting momentum with any content marketing strategy.
More organic traffic and SEO are the only ways you should be reaching more of your audience. You should also meet potential and existing clients where they are.
6. Track the right metrics
Finally, make sure your clients are tracking the right metrics.
Far too often, especially with content, businesses and marketing leaders get caught up on vanity metrics like views, likes, or shares.
Marketers measure these because they sound flashy and can often lead to other things like monetization, but if their goals are not awareness, these numbers are often purely superficial. They are not indicative of progress toward what they're actually trying to achieve.
Keeping in mind what we said about the different types of results content marketing can produce for you, know exactly what you're setting out to achieve with each piece, and make sure you have relevant metrics to monitor and track to move toward them.
Here are some common metrics you may track based on your content marketing strategy goals:
Awareness: site visits, number of views, number of impressions, reach, search rankings
Engagement: number of likes, number of shares, number of comments
Leads: website conversion rates, number of marketing qualified leads
Sales: sales (surprise), number of sales qualified leads
Tracking to content marketing success
With these tactics in your arsenal, you will be equipped to start producing better results for your clients through the rest of the year and into 2023.
To help you along the way, make sure to have an analytics tool set up and ready to help you track their progress toward their goals and measure their return on investment.
Databox and HubSpot are some of our favorite tools for doing this. Want to learn how to get started? Check out our IMPACT+ course, "Fundamentals of ROI Reporting in HubSpot."
Free Assessment:
How does your sales & marketing measure up?
Take this free, 5-minute assessment and learn what you can start doing today to boost traffic, leads, and sales.