5 fantastic free tools for leveling up as a marketer [IMPACT Toolbox Oct 2019]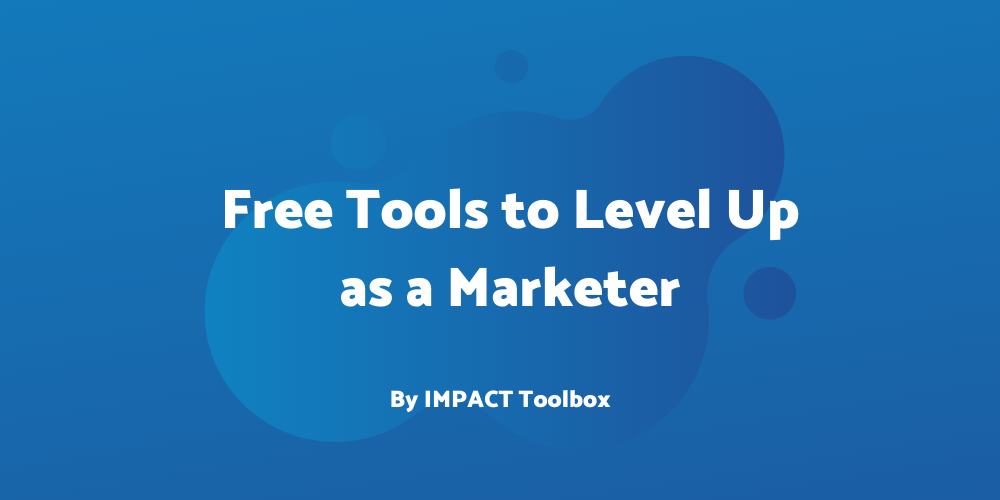 I'm all for paying for stuff that's worthwhile — tools especially.
Nothing shows support like pulling out your wallet, but it's nice to not HAVE to pay for everything.
Everything we are about to look at this month is either completely free, or most of the features can be used for free, and all of it is going to help you level yourself up as a marketer.
This article is part of our IMPACT Toolbox series
With IMPACT Toolbox, we discuss all of the latest (and sometimes underrated) sales and marketing tools that you need to try. We make recommendations by category, helping you figure out what tool is best for your situation, and introduce you to tools you may not hear of otherwise.
Have questions about a marketing tool? Want to know whether or not we've reviewed it? Reach out to @morganandrewv on Twitter and we'll see how we can help.
Today we're going to look at:
1. Marketing Examples - Handcrafted marketing case studies with actionable advice
Price: Free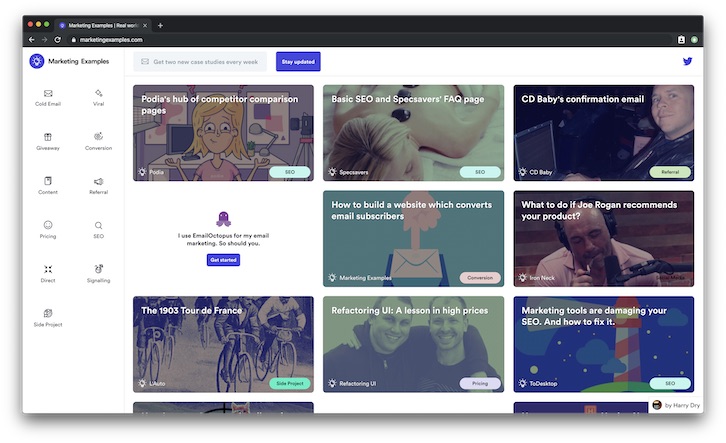 PSA: This does not fall under the normal category of "tool." But if you use it, you will become a better marketer.
What makes good advice?
Good advice should be both actionable and encourage you to take action; actionable so that there is something you can do with it and encouraging so that you actually follow through.
Marketing Examples is a collection of case studies chock full of this kind of advice.
The case studies are short so they're quick to digest, but also well-written so you'll enjoy even the ones that don't implement.
There are examples like how to build viral loops into your content marketing and how to make sure your marketing tools aren't damaging your SEO.
If you'd like to keep up to date with the latest examples, you can sign up for the newsletter and follow Harry Dry on Twitter (a master with threads).
Price: Free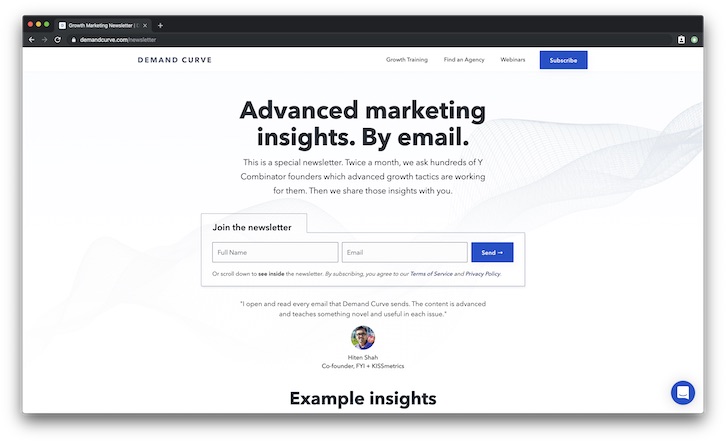 Continuing the good advice train, this next tool is a twice-monthly email that delivers marketing insights.
"This is the one growth / marketing email you need to subscribe to. Founders, makers, marketers and product people alike. Do it. You won't regret it!" - Hiten Shah
Highly recommended by Hiten Shah (who started Crazy Egg and KISSmetrics), each email has advanced marketing teachings that will give you a unique perspective or a hyper-focused drill-down into a specific topic.
The topics are bulleted and easily digestible. For example, a recent topic focused toward Ad Creatives discussed how startups were making their video ads, such as "SaaS and mobile apps: They often use Screenflow or TechSmith to record a 45 second timelapse of their in-app experience. Then they pair that recording with a professional voice over from VoiceBunny."
The content does skew towards startups and product-based companies since the insights are drawn from Y Combinator founders.
Y Combinator is seed accelerator investment firm that invests twice per year in a large number of early stage startups. Some companies that have gone through Y Combinator include Airbnb, Dropbox, and Zapier.
So there are probably more than a few gems you can glean from this free resource.
Let us know which insights worked for you!
3. Stoop - Upgrade your email newsletter reading experience
Price: Free, $10/year for premium features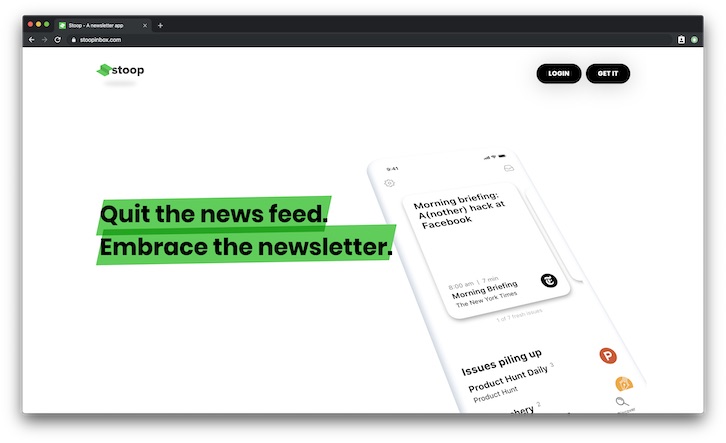 Since we covered two newsletters, it only makes sense to talk about how you consume those newsletters.
I wouldn't leave you hanging like that.
My biggest problem with newsletters is that while I actually enjoy reading a handful of them, I always seem to lose them in my inbox.
They get left as unread (but then the unread badge drives me crazy), or I forward them into some other system, but read-it-later systems aren't always great for emails.
If you've ever had to test email designs across different clients, you'll know exactly what I mean.
Stoop is a bit different. Instead of forwarding emails to it, you'll get a unique Stoop email address that you can use to sign up for newsletters (or update to it in your current subscription settings).
Now all your newsletters are isolated in your Stoop inbox, and they aren't surrounded by all the junk mail, just what you care about.
Now that's refreshing.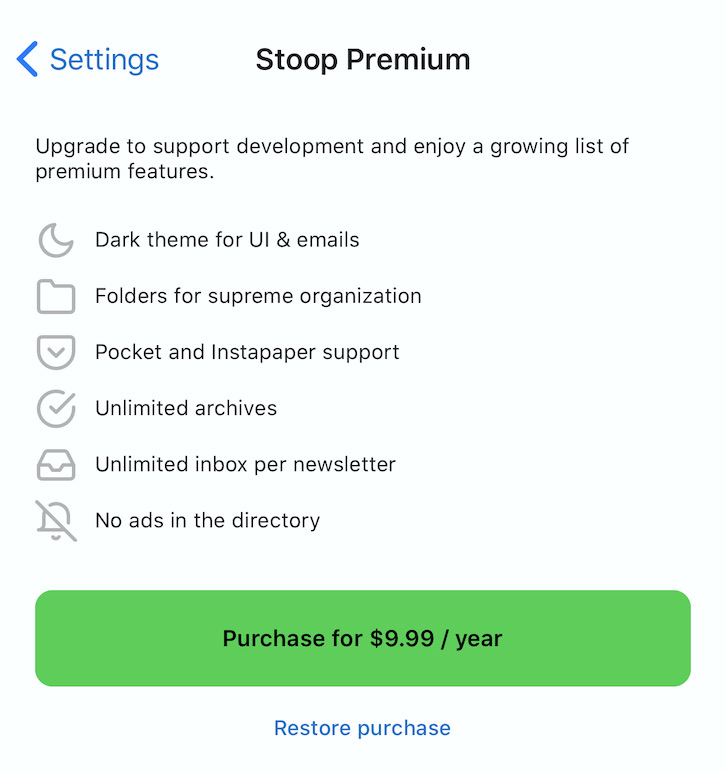 If you'd like a more premium experience, you can upgrade Stoop with an in-app purchase of $10/year. With that, you'll get:
Dark theme

Custom folders (free is limited to Unread, Unwatched, History, and Saved)

Pocket and Instapaper support

Unlimited archives

Unlimited inboxes per newsletter

And no ads in the directory (your inbox has no ads, this is if you search for newsletters within Stoop)
None of these are make-or-break features for trying it out, but if you find yourself using Stoop a lot then it may pay off to upgrade.
Today, instead of opening up a social feed, I check to see what's new in Stoop.
Maybe it's the recent edition of The LATEST, or one of the newsletters we discussed earlier.
Maker Minds is another favorite I discovered recently. It's a weekly newsletter at the intersection of neuroscience and entrepreneurship, with science-based tips to make the most of your brain.
What are some of your favorite email newsletters? Tweet them to me
4. INK - The AI web content platform for writers (recommended by Rand Fishkin)
Price: Free (potential paid upgrades in the future)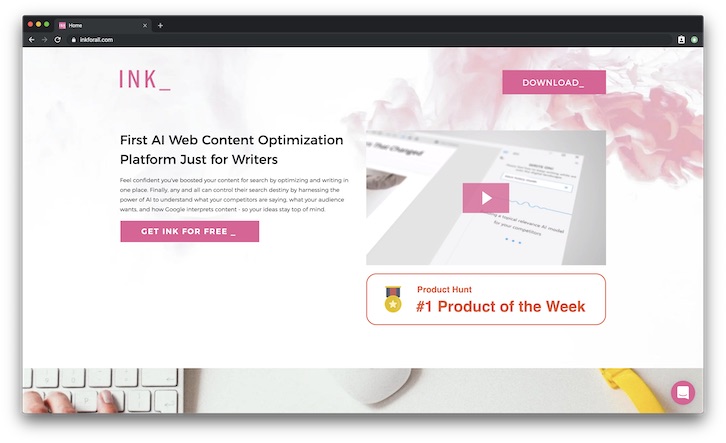 Now that you have been able to consume all of the great marketing content, you probably want to turn around and share some of your own thoughts with the world.
If you've been paying any attention to us at all, you know that content should be at the very core of your business, and that means you'll be doing at least a little writing.
There are all kinds of writer-focused editing tools out there, but INK is special. It's an AI web content optimization platform recommended by Rand Fishkin:
"I had a chance to see this product in preview, and found it a very impressive writing tool, with a ton of potential. If you've been using Yoast or another product to optimize your content for Google, this one's worth a look -- it's bigger than that: distraction-free-writing meets smart suggestions for SEO and beyond."
The team behind INK ran a successful enterprise SEO agency and now they've developed a unique tool to make your writing smarter.
Put simply, INK is a really smart text editor.
You write your content right within it and it helps you write more favorable content for Google, with Content Relevance measurements and a number of tasks to complete for each piece of writing.
Those tasks include things like hitting a certain level of keyword usage, adding an image, using the key phrase in your title, and maintaining a high topical relevance for your article (measured by percentage).
It's an application for your computer (instead of a browser-based tool) that handles everything from auto-sizing and compressing images (hallelujah) to adding hyperlinks by highlighting text or images and pasting a link from the clipboard.
Then when you're ready to export, the special INK file can contain SEO metadata, image alt text, keyword choices, and more.
How is INK free? Great question.
The INK team developed it without any reliance on external or paid services or APIs, so their costs are lower than they would be otherwise.
While there will be paid features at some point, their goal is to always have a free version available.

5. LinkedIn Events - Why pay for Meetup when you can use the business social platform
Price: Free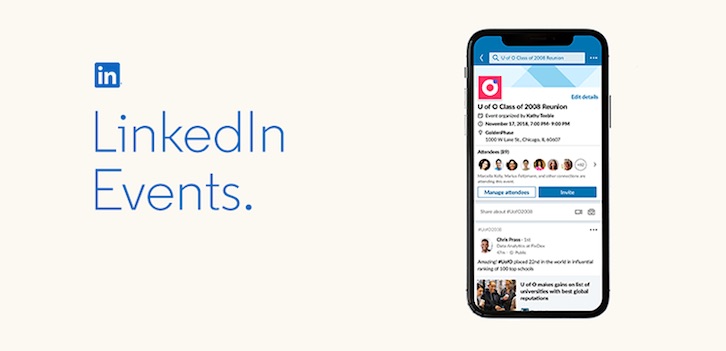 At the time of writing, LinkedIn Events hasn't rolled out to everyone yet, but given the recent announcement by Meetup that a large portion of events were going to be forced into a paid model, this is worth mentioning (Meetup has since adjusted their stance but still looks to be moving to a paid model).
In an increasingly digital world, meeting in person is becoming more rare which makes in-person events even more valuable.. And that makes in-person relationship building more special.
Try as we might, there is no substitute for a face-to-face conversation or the energy from a group of focused people in a room. And if you can be someone who brings people together like that, you will always have a valuable skill to lean on. LinkedIn Events can help.
Like Facebook Events, LinkedIn Events let you create and invite connections to attend your in-person professional events.


There are two roles available at launch:
Organizer

– A member that operates as the event's host by creating the event, deciding on the event details and inviting attendees.

Attendee

– A member that either accepted an invitation to attend an event, or who has joined a public event.
In either role, however, you'll be able to start making connections with other attendees before going to events, and then follow up with discussions afterwards. As LinkedIn Events becomes more widely available in the near future, you'll be able to create and join events created by other LinkedIn members.


Tools to level up your marketing expertise and produce better content
Sometimes we need to consume a little to produce a little.
The more you produce, the better you'll be at finding your voice, cementing your expertise, and drawing your best audience toward you and your business.
I know I'm guilty of consuming way more content than I produce, but hopefully the tools today will help to start flipping that dynamic.
If you're in a similar boat, wherever you fall on the consumer-producer spectrum, make sure to commit to both consuming and creating. You should have plenty of ideas and a great tool to work with now.
Get to it.
Did you find something useful in our round-up? Let us know how one of these tools helped improve your business in IMPACT Elite! And if there's a specific tool you have questions about, let us know and we'll see if we can help you figure out the best option for you.
Free: Assessment
Does your website build trust with buyers and bring in revenue?
Take this free 6 question assessment and learn how your website can start living up to its potential.