Google Introduces Policy Manager to Help You Navigate Ad Penalties & Regulations
Iris Hearn also recommends this free guide, The Inbound Marketer's Guide to Search Engine Optimization.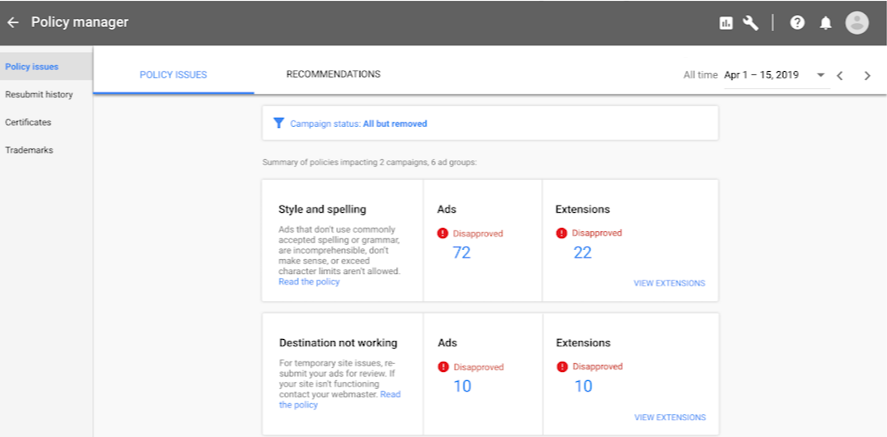 Google has been making significant strides over the years in protecting the public from misleading, illegal, or harmful ads created in its Ads interface.
In fact, the search giant shared that they removed more than 2.5 billion ads in 2018 due to violations of new and existing ad policies - that's nearly 6 million per day.
Free Guide: The Inbound Marketer's Guide to Search Engine Optimization
The reason these ads were taking down varied, but Google noted several commonalities among the removed ads, including:
207,000 ticket resellers, which is illegal in some states and always comes with the risk of the seller advertising fake tickets.

531,000 ads for bail bonds, after Google saw evidence this sector was targeting and taking advantage of vulnerable communities.

58.8 million phishing ads, which include malware, stealing sensitive information, and more.
On the Google Ads Blog, Google provided more reference to their improved ad policies and measures they've taken to remove ads (and the ad accounts creating them) that violate Google's ad policies - you can read the full post here.
Now, these updated policies are great for cracking down on those that use the service to scam, take advantage of, or mislead the public - but more rules also increase the likelihood of well-intentioned marketers unknowingly breaking some of them.
To help advertisers confidently create ads that are within Policy guidelines, Google announced that they'll be adding a Policy Manager into the Google Ads interface starting in April.
This feature will provide peace of mind knowing ads are following all restrictions in place, and help marketers develop better practices moving forward.
What's in Store with Google's Policy Manager?
Google has an extensive list of policies advertisers running campaigns with Google Ads must follow to be within guidelines.
It's great they provide the list in this format, but just like many terms and conditions, the average user doesn't always spend the time they should reviewing them, especially not with every campaign run through Google Ads.
Because Google is rolling out more and more policies, your ads can get removed, even if your campaign wasn't ill-intentioned.
Clearly, this can cause unnecessary frustration for advertisers, so Google developed Policy Manager to mitigate confusion and help marketers run better ads.
Coming in April, Google's Policy Manager will help advertisers get a clearer picture of how those policies are affecting the ads they're running, and manage their current campaigns.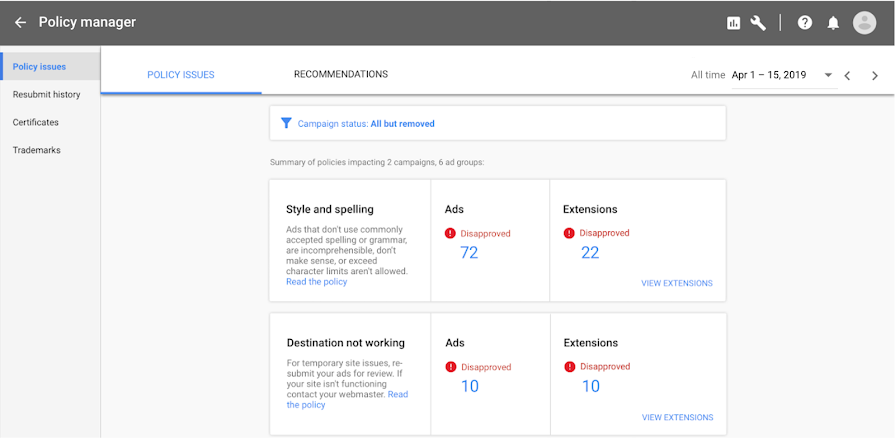 This new dashboard will display any policy-related issues that are keeping your ads from running - including items related to the ad copy itself, the keywords, or any ad extensions associated with your account.
Currently, the initial launch of this will allow advertisers to view any disapproved ads and get more details as to why the ad wasn't approved by hovering over it.
However, Google is planning to roll out more features over the course of the spring, including:
More in-depth details on why the ad got disapproved, including specific attributes that the system picked up (rather than general policies it's violated)

Recommendations for fixing violations

A historical record of all appeals and certifications that are associated with your account

A simplified appeals process, similar to how you would fix a crawl error in Google Search Console

You can click "resubmit" right in the Policy Manager after you believe you've fixed the issue - or if you believe your ad has been mistakenly flagged, you can click "dispute decision"

After an appeal is made, you can track the appeal status directly in the Policy Manager
Additionally, Google hopes to eventually ad functionality to enable real-time policy violation alerts when you're creating an ad on the platform.
This feature will be powerful in fixing issues before they become a problem and allow advertisers to learn exactly what attributes can lead to policy violations.
Final Thoughts
The ability to display highly targeted ads across the internet is revolutionary - but fallen into the wrong hands, it can do great damage.
Google isn't the only one cracking down on these unethical practices - Facebook, Pinterest, and many oher platforms have joined in trying to limit the exposure of fake news, anti-vaccination groups, and other tactics to try and misinform the public.
As more people have access to these advertising methods, it's likely we'll see Google and other PPC platforms lock down their policies to try and limit exposure.
While this can come across as a burden to many ethical advertisers, it's a good thing in the long run for the majority. The more guarded these platforms become, the less spam and the more consumers can trust the ads they're seeing.
If people can trust the ads shown to them (and they're relevant to what they're looking to buy) the public is likely to become more receptive to these type of ads and less skeptical, leading to a better ROI and better results for your bottom line.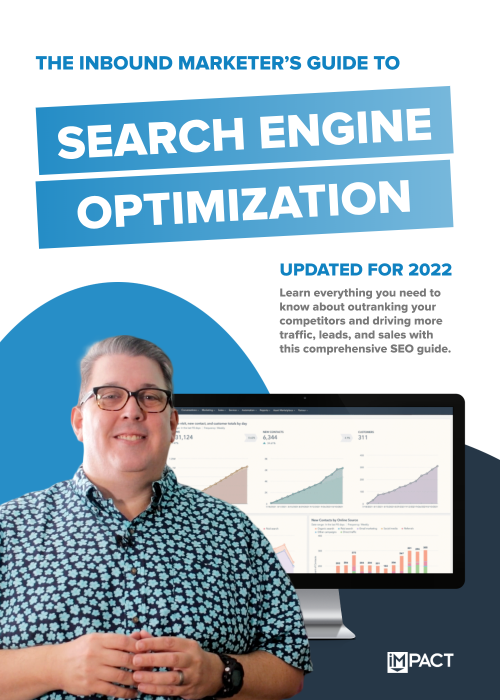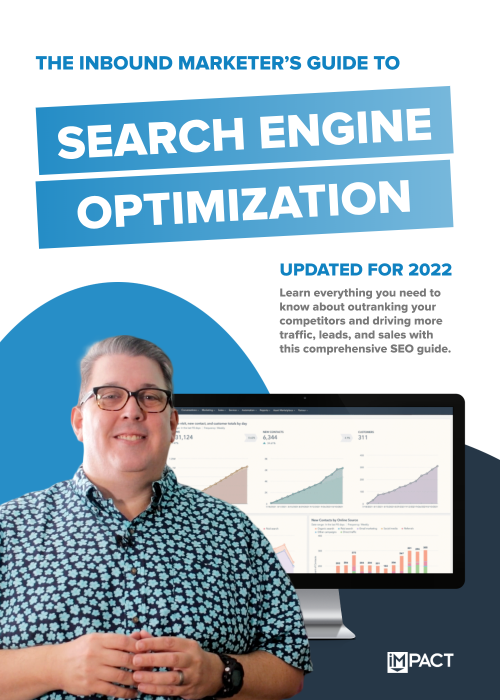 Free Guide:
The Inbound Marketer's Guide to Search Engine Optimization
Generate more traffic, leads, and sales with search engine optimization
In this free guide, you will learn:
What search engines are and who uses them.
What search engine optimization is and how it works.
Best practices for search engine optimization.
Published on March 19, 2019