Google Reveals Internal SEO Strategy: Here's What We Learned
Iris Hearn also recommends this free guide, The Inbound Marketer's Guide to Search Engine Optimization.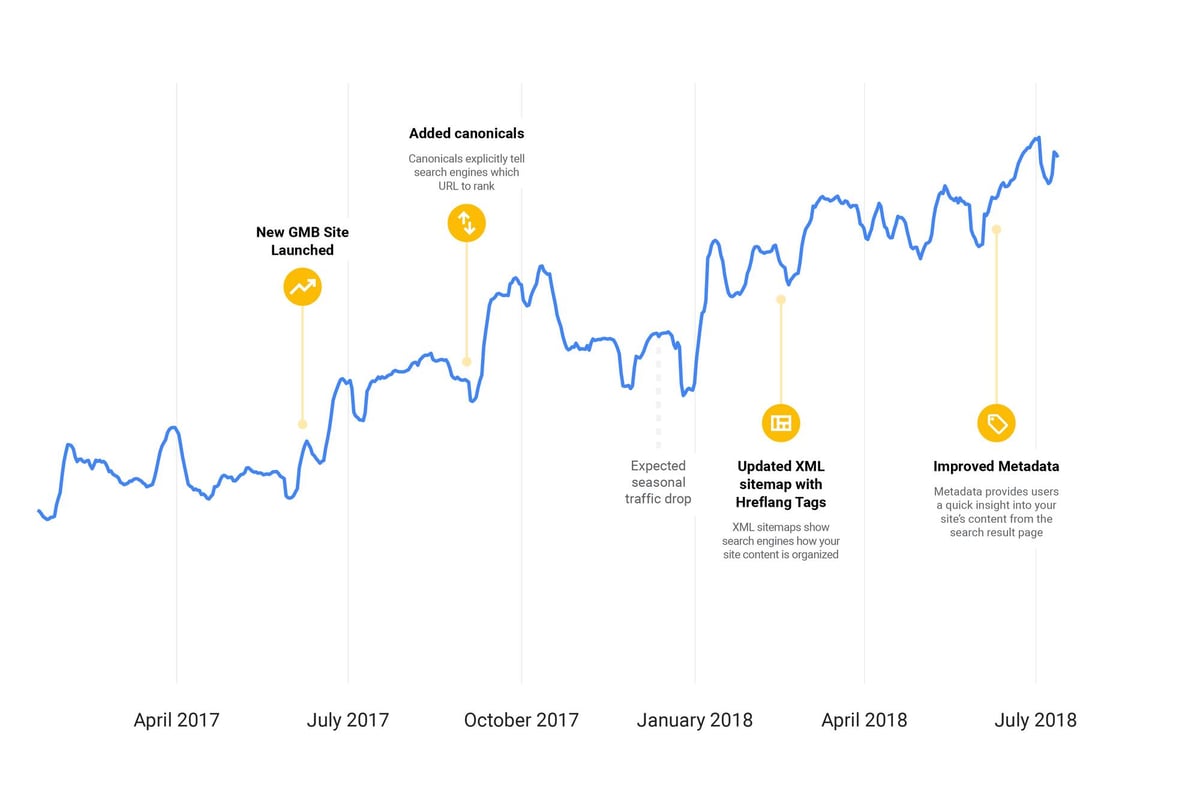 It's no secret that Google plays a huge role in your marketing strategy.
But have you ever thought about how Google approaches SEO? How do they set their own websites up for success?
Google's own Website Optimization Expert Sean O'Keefe shared a rare glimpse into the company's internal SEO practices and the results of these efforts for the 7,000 websites the tech giant manages.
The findings have been quite eye-opening and insightful for marketers.
Free Guide: The Inbound Marketer's Guide to Search Engine Optimization
First off, it should be known that Google-owned websites are subject to the exact same treatment as any other website, and website managers have the same access to external guidelines as any other website manager would.
So, anything that they've done is a result of following the same SEO protocols that we all can learn from - and hopefully, share the same results they have.
In fact, O'Keefe stated in his article that despite the various updates Google makes on a daily basis, they've created a "cohesive website SEO strategy that we can rely on no matter what fresh changes are introduced — and that anyone else with a website can learn from."
Read on to get a peek behind the curtain to see the 3 key principles Google uses in SEO internally.
Lesson #1: Start Small
O'Keefe starts off by stressing the smaller, more incremental changes that might have a big impact on SEO over time.
Often, these small changes are on the technical side (i.e. reducing image size, adding canonicals), and making them can help smooth the way for Google's algorithm to favor your site over another.
This goes back to the Trinity of SEO that we frequently reference at IMPACT.
Pillar #3 of this is 80/20 prioritization, or 20% of things that you can do that will improve your results by 80%.
Essentially, these often go back to website best practices but are easy to overlook in the day-to-day. When efforts are made to implement these best practices (even minimal efforts), we can see a huge SEO reward.
Results from Google
The article provided an example from when these changes were done to Google My Business.
In the fall of 2017, the Google My Business team put a heavier focus on implementing SEO best practices to the website. This involved adding canonicals, a practice that shows search engines what URLs to index, updating the sitemap, and improving metadata.
The organic traffic growth speaks for itself here: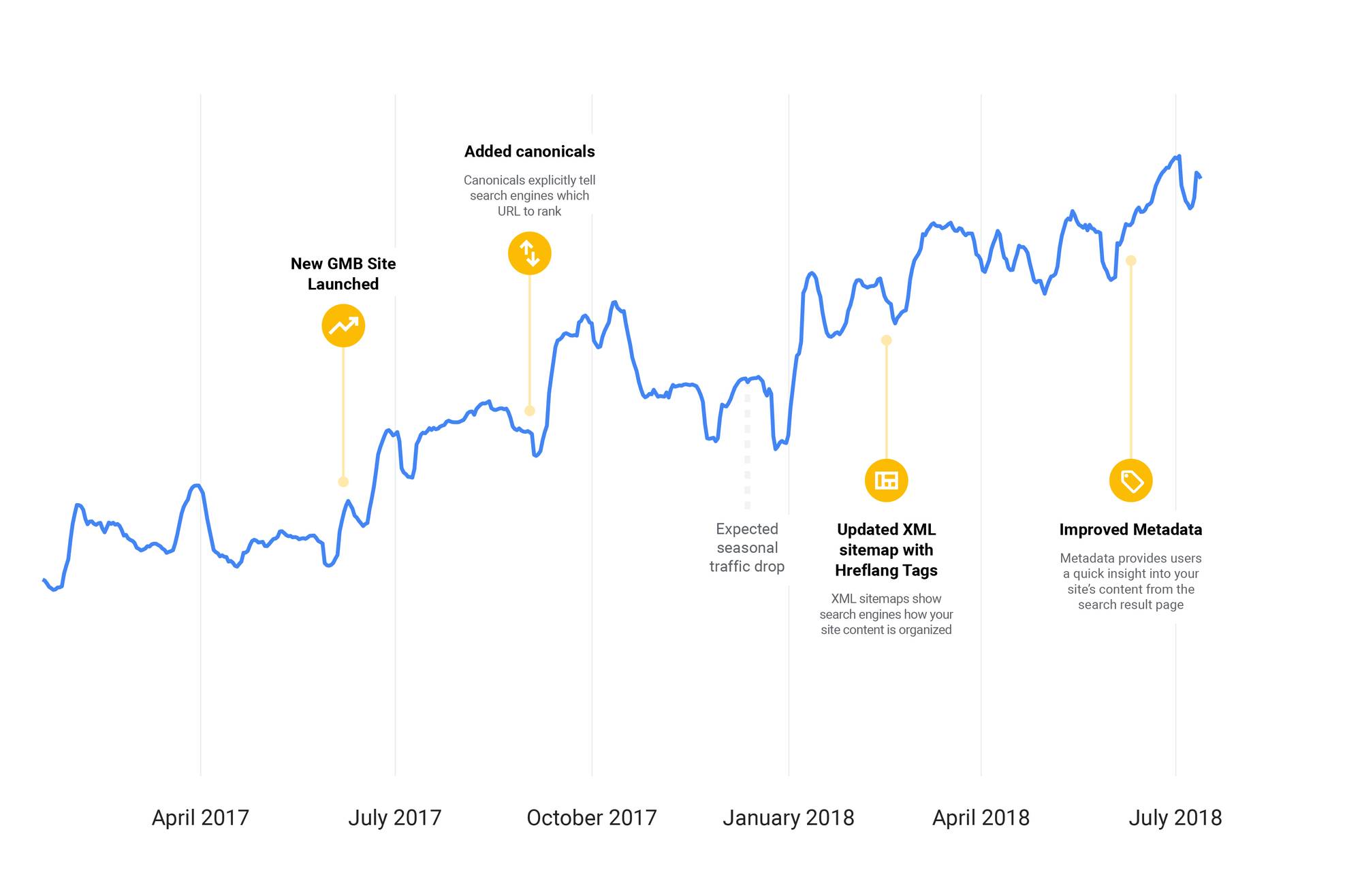 Takeaway for Marketers
Prioritize technical SEO.
These changes don't require a lot of bandwidth and can make a huge difference in your site's organic traffic growth.
If you're not sure where to start, use tools like SEMrush to run a full site audit so you can see what issues to tackle.
You can also use Google Search Console's crawl errors or URL inspection tool as a guide to help you.
Lesson #2: Embrace Changes
O'Keefe also shared the importance of leaning into big changes - rather than away from them, stating:
"It can be easy to get overwhelmed by these changes, but internally we've found that the more we embrace.... and experiment with them, the better our SEO results."
After all, Google's updates are not made to frustrate marketers; they are created so Google can continue to serve up the most relevant content to users according to current user behavior trends.
Rather than resisting changes or getting angry about whether or not they were smart moves, work towards a solution.
Results from Google
Here, O'Keefe references changes made to Think with Google website.
In 2018, they focused heavily on the following factors:
Fixing Google Search Console errors

Implementing Structured data

Adding AMP (to keep up with increased web traffic from mobile)

Improving overall content to be more competitive
Experimenting with features like AMP and structured data, paying attention to the Google Search Console error reports, and creating content that was better than their competitors was a huge success for the team.
He noted by just fixing one common error they saw with several AMP pages, impressions increased by 200%
Furthermore, by improving their content to be richer and more valuable than other articles ranking, they saw more of articles selected for featured snippets, which resulted in generating an additional 1,000 impressions per day.
Takeaway for Marketers
For this example, I can't help but think of Blockbuster. You can continue to employ the same tactics because they've "worked in the past" as the long-lost video rental chain, but in a changing landscape, that's not going to cut it.
The more marketers can embrace the new updates, features, and trends, the more successful they'll be - not only because of compliance with Google's algorithms but because they're catering to what the user actually wants to see.
Pay attention to updates, use the tools that Google provides to help you develop the right strategy that will help generate the kind of results you need.
Lesson #3: Consolidate
In short? Less is more.
With hyper-targeting being a huge trend, it can be very tempting to create website pages that cater to each possible type of customer, location, etc., but this is something that should be avoided.
Not only is this approach confusing for users, but it's also confusing for search engines.
Duplicate content, that frequently comes with landing pages like these, creates clutter, which can be difficult for your users to find what they're looking for, and more difficult for search engines to organize.
Creating one space with all needed information instead of multiple microsites or web pages that have slight variations based on specific persona attributes, is the best way to encourage organic growth over time, O'Keefe shares.
Results from Google
O'Keefe shares that this is something Google is even guilty of, stating that "A recent audit revealed that, over the years, we had developed a large number of near-duplicate sites based on different campaigns or marketing goals."
They made serious strides to resolve this for Google Retail this year.
Their efforts were focused on consolidation and simplicity, which included reviewing six old websites, consolidating duplicate content, and taking the remaining pieces and putting into one great website.
So what happened? Just by simply consolidating these six websites, the new, main website had the following results:
Doubled sites CTA click-through rate

Increased organic traffic by 64%

Takeaway for Marketers
Evaluate your website and see if you can consolidate your site.
Hyper-targeting has its place in attracting people to your website - but once you've gotten them there, make sure you're not being overly redundant. It's fine to have pages that cater to different audiences but see what's really necessary and what you can simplify.
Doing so will make a smoother experience for your users, be easier on your team to update, and Google will reward you not only for reducing duplicate content, but if your click-throughs on Google are consolidated to one singular page, you'll see that page rank higher than if you had several, more targeted pages saying the same thing.
What Does this Mean for Marketers?
Google-owned websites are more or less in the same boat as all of us.
Marketers should use these tactics and apply them to their own SEO strategy. While we won't always be able to predict what will change with SEO next week, these lessons can help us better navigate the changes that do arise.
By making small, incremental changes, embracing experimentation with new tools, and consolidating repetitive content, you can stop panicking at every algorithm change, and start driving more organic traffic to your website.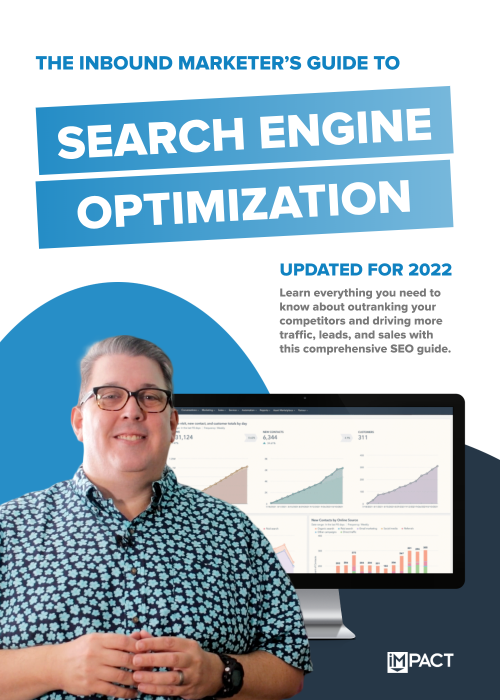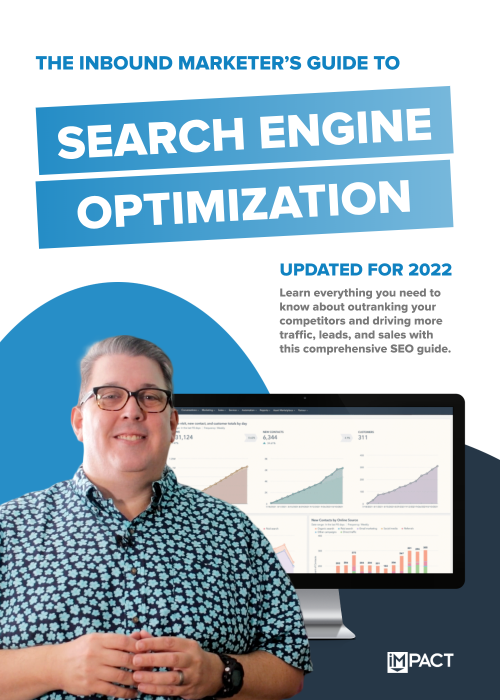 Free Guide:
The Inbound Marketer's Guide to Search Engine Optimization
Generate more traffic, leads, and sales with search engine optimization
In this free guide, you will learn:
What search engines are and who uses them.
What search engine optimization is and how it works.
Best practices for search engine optimization.
Published on January 22, 2019