How Much Does Marketo Cost (And is it Worth it)?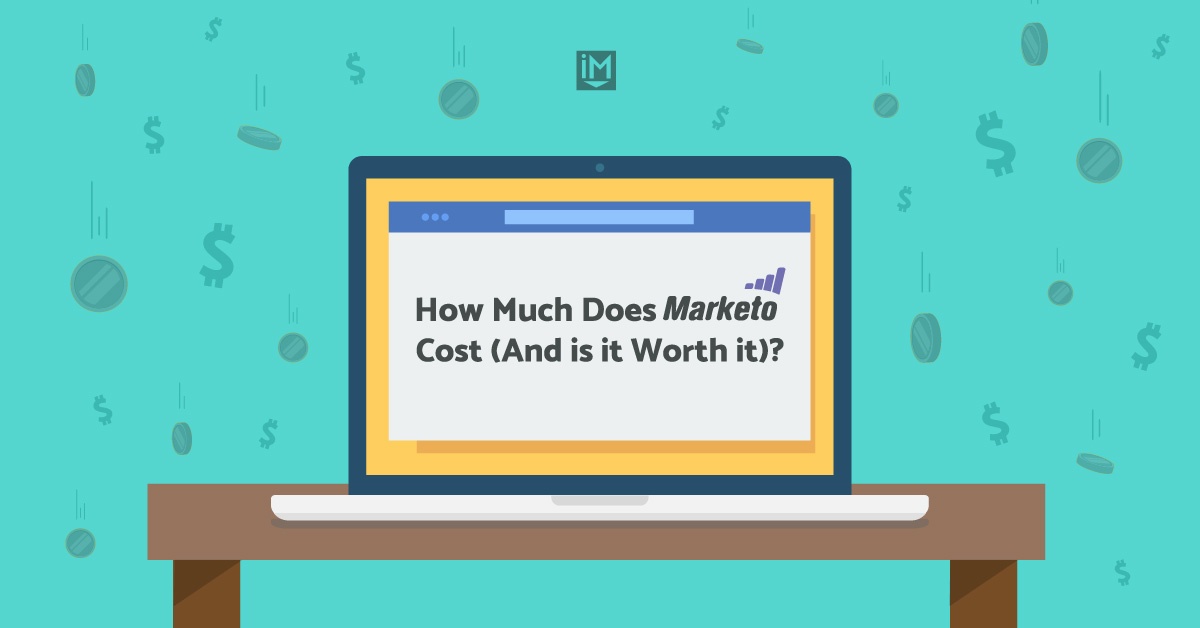 HubSpot is our marketing software of choice, but that doesn't mean it's the only choice. In fact, there are more options than ever before, making the buying decision a bit of a Sophie's Choice.

When we meet with prospective clients who aren't already using HubSpot, we get asked about a handful of different platforms and Marketo is one of the most common.
Now, don't get us, wrong. Marketo has a solid reputation and is effective, but there is a lot more to consider when comparing marketing software than just price and features.
In this article, we'll give you an overview of Marketo and their pricing, a general comparison between HubSpot and Marketo, and let you know if we think the high price is worth it.
What is Marketo?
Marketo is one of the world's leading marketing automation software companies, offering a variety of solutions to help businesses accomplish all of their marketing tasks.
The company was founded in 2006 (the same year as HubSpot) and experienced rapid growth as it captured the business of growing organizations.
In 2012, it was even named the 78th fastest growing business by Inc. magazine, but in recent years, it shifted its focus towards enterprises.
Marketo expanded its products and services now offer advanced, customized solutions for large organizations that require more than a one-size-fits-all solution.
Last year, Marketo was acquired by Vista Equity Partners for $1.8 billion. Today, the software is active on over 19,000 websites and the company has over 100,000 users around the world.
Marketo's solutions include:
Marketo's applications include:
Marketing automation
Account-based marketing
Email
Mobile
Social
Digital ads
Web
Marketing analytics
Predictive content
Marketo shines by offering customized solutions that help enterprises integrate marketing automation into their existing business systems. In fact, in March of 2016, it formed a strategic partnership with the consulting firm Accenture to land bigger clients, lead deeper marketing research, and ultimately, compete with biggest brands like Oracle and Adobe.
As a result, it also offers a variety of services to help customers achieve greater results with marketing automation, but those included in your Marketo subscription depend on the bundle you choose.
Onboarding and implementation services - Choose between implementation packages for small and mid-sized companies or request a custom enterprise implementation program.
Expert consulting - Marketo has marketing consultants who have worked with businesses around the world to improve their marketing automation effectiveness.
Strategic advisory services - Work with Marketo's team of digital marketing experts to align your marketing strategies with your business goals.
Creative services - Marketo's team of creative experts can design custom templates for emails, landing pages, and mobile layouts to match your brand and serve your ideal customers.
Marketo Training Programs
In addition to its marketing solutions, Marketo offers a couple of training programs and certifications. While not as extensive as HubSpot's selection, the training programs are worth noting:
Marketo Certified Expert -

The Marketo Certified Expert designation is a technical marketing credential that validates competency, expertise, and operational knowledge in the broad use of Marketo.

Marketo Certified Revenue Cycle Analyst -

The Marketo Certified Revenue Cycle Analyst designation is an advanced-level credential that validates a wide range of knowledge and skills in analytics and reporting.
So, How Does Marketo Compare to HubSpot?
Marketo and HubSpot are two of the most compared software products of any kind. As you probably expect, they have many similarities as well as several key differences.

Both are similar in that they exist to help companies promote their brands across several different channels, including their website, social media, email, etc.
Both have the standard lead generation and lead nurturing tools such as built-in email marketing, A/B testing, event-based triggers, and various optimization tools and provide tools for measuring and analyzing web traffic and other marketing metrics.
Plus, both operate on cloud platforms, which your IT department will appreciate.
Where They Differ...
Marketo is Not an All-In-One Solution
If you're expecting the tightly integrated, all-in-one platform that HubSpot users know and love, you'll be disappointed by Marketo, which chops its database across multiple systems.
With HubSpot, you only have to learn one set of software tools because everything is built into one ecosystem.
Another one of the key differences between Marketo and HubSpot is that Marketo does not have a built-in CRM like HubSpot does. Marketo was, however, built on the Salesforce platform, meaning it integrates with Salesforce better than almost any marketing software.
Marketo requires more time and effort focusing on integrations, whereas HubSpot is ready to go from the start.
Plus, HubSpot even has its own website platform for a complete end-to-end solution -- something you currently won't find with any other marketing automation software.
Marketo Focuses Heavily on Email Marketing
Marketo's software is designed around email marketing -- which is something tit definitely excels at, however, a lot of marketing automation users want more.
Email marketing is crucial to a successful inbound marketing strategy, but it's only one component. HubSpot balances their tools across the full funnel, from top to bottom, to support all inbound marketing activities.
HubSpot Provides a Smoother User Experience
Long story, short, HubSpot is easier to implement, learn, and use. Simply getting started with Marketo takes much longer because the implementation process is more complicated.
Being an enterprise-driven product where most customers opt for a custom solution, Marketo naturally requires more IT knowledge to operate and isn't the type of software that a person with limited marketing automation experience can "pick up as they go," so to speak.

As a result, HubSpot generates more favorable reviews on software review websites for its usability, but teams that have an experienced marketing automation professional may appreciate the depth of advanced features Marketo provides.
If you already have members on your team who can write custom code for landing pages and responsive emails, usability might not be an issue. If not, however, the drag-and-drop editor HubSpot provides for editing landing pages and web page layouts will be much appreciated.
Analytics
Though HubSpot is actively improving this each quarter, one area that Marketo has a clear edge on it is analytics.
Marketo provides some of the most advanced analytics features of any marketing software, and while many organizations have no need for these features, the biggest enterprises (Marketo's focus) in the world do.
How Much Does Marketo Cost?
One of the most notable differences between HubSpot and Marketo is price, which you'll see in a second is significantly higher for Marketo than for HubSpot.
While both platforms offer packages for businesses of all sizes, Marketo tends to focus more on enterprises with larger budgets -- a fact that can be easily seen its pricing.
Unfortunately, Marketo is not as transparent with its prices as most of us would like. Instead of listing them on its website, the company requires you to speak with a sales rep first.
Now, this is understandable since so many of its customers require custom solutions, but in today's buyer's market, this hurdle usually creates more friction than anything else.

Fortunately, with a little digging, you can find out the estimated prices of its three main packages, which I've shared below:
Marketo's Standard Pricing Tiers
Similar to HubSpot, Marketo's tiered pricing is based on the number of contacts in your marketing database and the features and services included in your package, but there are no limits on the amount of emails you send or caps on any lead management features.
Basic -- $895 per month
Customer engagement engine
Lead scoring, segmenting and nurturing
Search engine optimization
Email, landing pages, and forms
Social marketing, events, and webinars
A/B testing
Sales intelligence
CRM integration
Campaign dashboards and reports
Marketing calendar
Pro -- $1,795 per month
Everything from Basic
Digital ads
Predictive content
Program and campaign analysis
API and integrations
Additional marketing and sales users
Elite -- $3,195 per month
Everything from Basic and Pro
Anonymous retargeting
Opportunity influence modeler
Revenue modeler
Success path analyzer
Advanced report builder
Each tier unlocks various optional features that could potentially add an extra $900 to $1,400 to the monthly price tag.
Other Considerations for Marketo's Total Cost of Ownership
One thing you might not consider before you purchase Marketo is what you'll need to spend in order to use it the way you want to.
Since a lot of its features require more technical skills, most users opt to hire Marketo's consultants and other experts for their help.
Here are a few common costs associated with Marketo ownership:
Custom email templates
Custom landing page templates
A Marketo consultant
If your business needs to hire a Demand Generation Manager (or similar), average salaries range from $80,000 to $95,000.
So, Is the Price of Marketo Worth it?
By now you already know our answer to this question.
For startups and smaller businesses, Marketo's entry-level price simply isn't as cost-effective as HubSpot's or some of the other marketing automation software on the market for that matter.
Large enterprises, however, often need a custom solution to accomplish their marketing objectives no matter which software they choose, which makes the price of Marketo a bit more reasonable.

Most businesses who want an all-in-one solution that is easier to use and more affordable to purchase will find that HubSpot not only meets their needs but in most cases, far exceeds their needs.
Plus, HubSpot accommodates almost every inbound marketing tactic.
To implement the inbound methodology in your business with Marketo you would most likely need additional tools, increasing the total cost even more.
Key Takeaway
Years ago, just like you, we were once comparing the various marketing automation tools to decide which product was the right fit for your business.
For us, HubSpot's platform was a better fit and we love being part of its community.
But don't just take our word for it; we encourage you to do additional research.
With a simple Google search, you'll likely find that HubSpot is ranked #1 across many of the marketing software review websites and that there are countless diehard HubSpot fans (like us!) around the world -- but I'll stop gushing.
Ultimately, you will have to weigh the options with your team and decide which software is right for you. Need some help?
Download the Ultimate List of HubSpot Pros and Cons to learn more about the marketing automation software and how it compares to Marketo.
Free Assessment:
How does your sales & marketing measure up?
Take this free, 5-minute assessment and learn what you can start doing today to boost traffic, leads, and sales.