How to Fix the Top 3 Structured Data Markup Errors from Google Search Console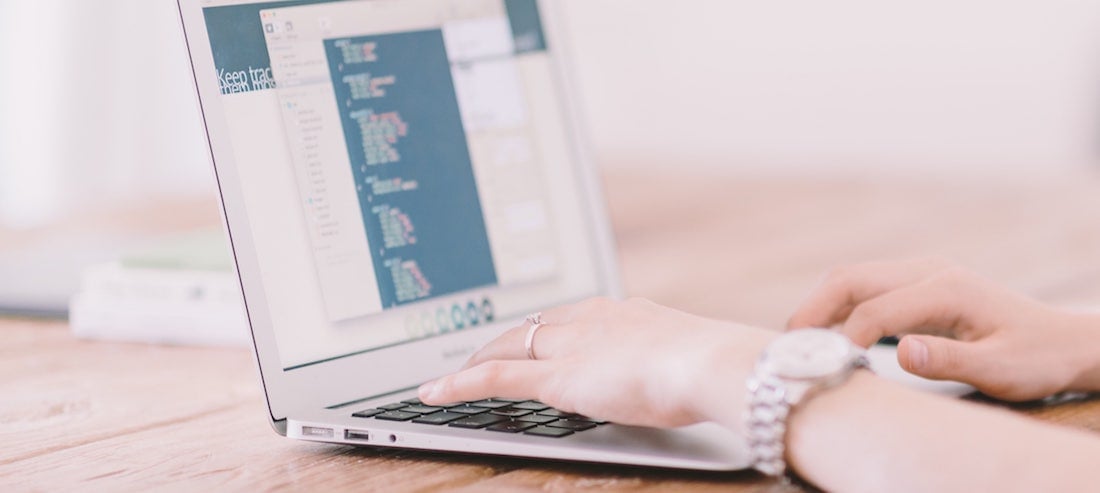 Google has come a long way in being able to recognize the keywords you are trying to rank for based upon the way your page's content is written, but even so, it has created a way to shorten that review process by developing structured data.
To recap, structured data is "code used to more clearly provide information to search engines so it can understand your content, which ultimately helps provide users with better, more accurate information...".
As we try and implement this language across all of our pages, it's inevitable that errors will occur, especially for those of us with large sites.
Depending on how many are plaguing your site, your performance may become compromised if actions are not taken to remedy the errors.
How Do I Know If I Have Structured Data Errors?
If you've implemented and structured markup on your site, chances are you aren't going to have any errors. In this case, take a step back and learn more about what they are and how you can start implementing them.
For everyone else, there are a couple of actions you can take to review your existing pages and discover which have errors and what specifically those may be.
If you already have a Google Search Console account for your website, you can discover pages that might be affected under the menu items 'manual action' or 'unparsable structured data.'
The manual action area (Security & Manual Actions > Manual Actions) specifically notifies you of errors that appear to be spammy or unnatural.
The error will look similar to the example below on spammy structured markup (which we will go into greater detail later on), and will result in lower search rankings for all affected pages.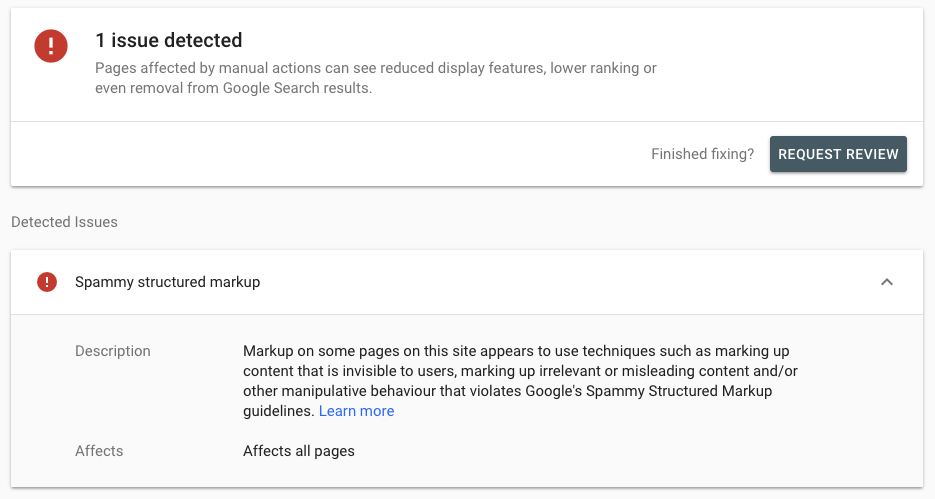 If everything looks clean here, one other section that may appear under Enhancements is 'Unparsable Structured Data.'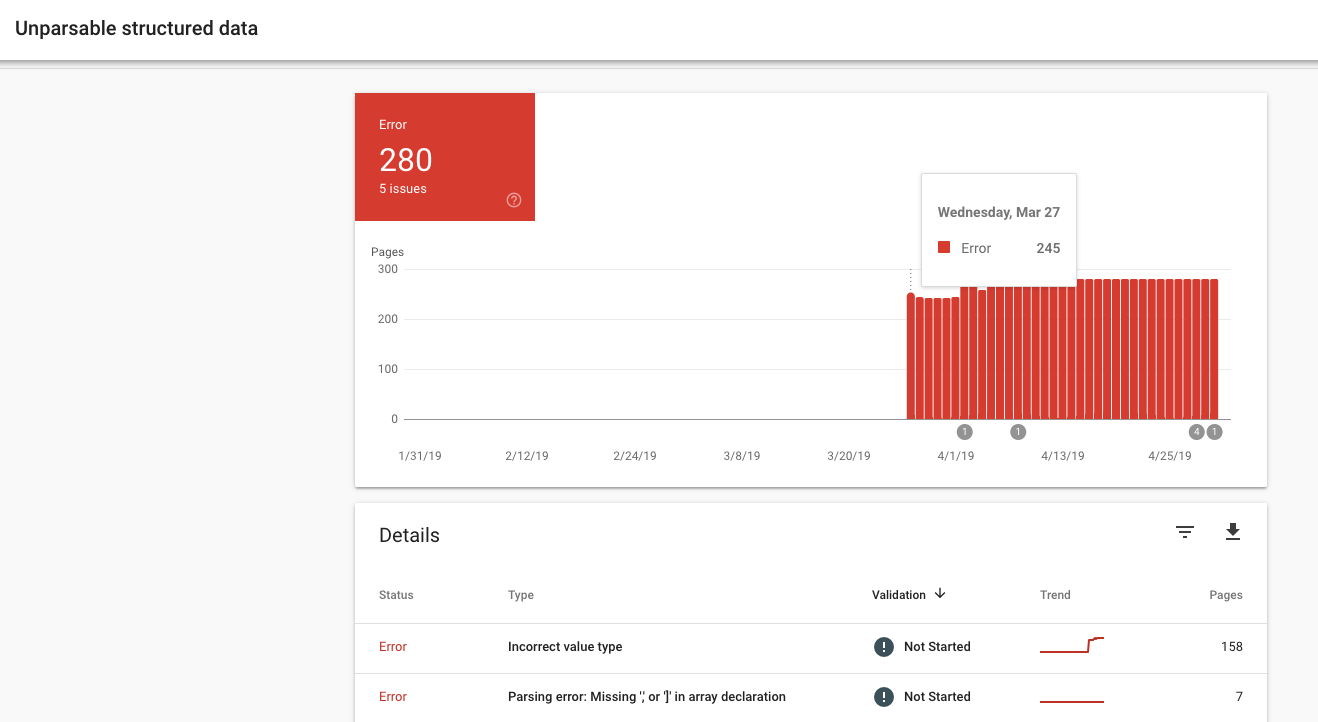 This error is connected to structured data that is already on the site but is formatted improperly, causing readability errors from Google.
Within it, you can see a graph of all the errors and a list more specifically detailing the types of errors your site might be facing.
If you are looking to test individual pages on their structured data markup and validate their eligibility to generate a rich snippet, you can test those pages individually in the Rich Results Test tool.
If your snippet has errors, this will give you a high-level understanding into what might be causing the error and where. This way you can return to your page to identify and remedy the issue at hand.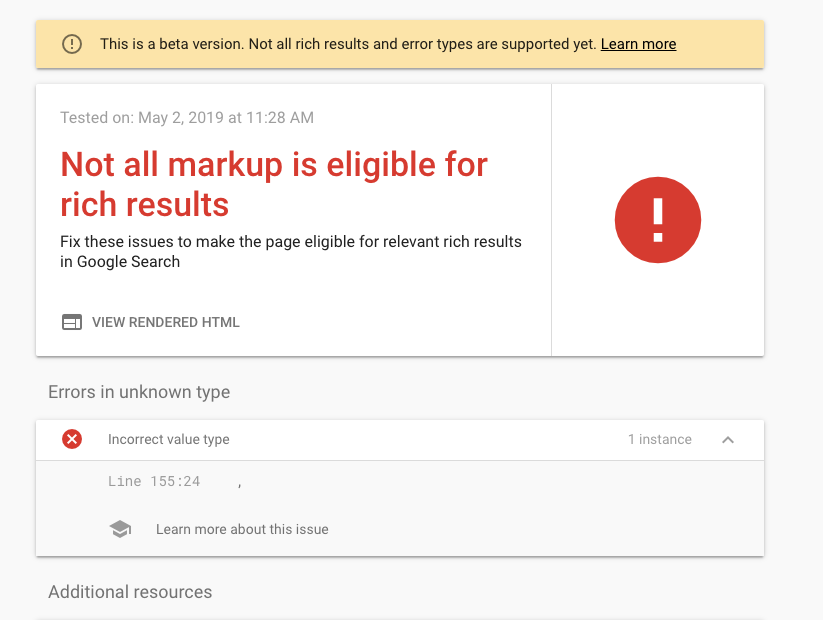 Similar to the Rich Snippets Test tool, Google's Structured Data tool will allow you to submit a URL to test the validation of your pages structured data.
Although, this tool also gives you a deeper understanding into what data entry types your page has and what parameters are associated with each line.
Any errors will be detailed on the right side of the tool and may be accompanied by an explanation of the fix so long depending on what's wrong.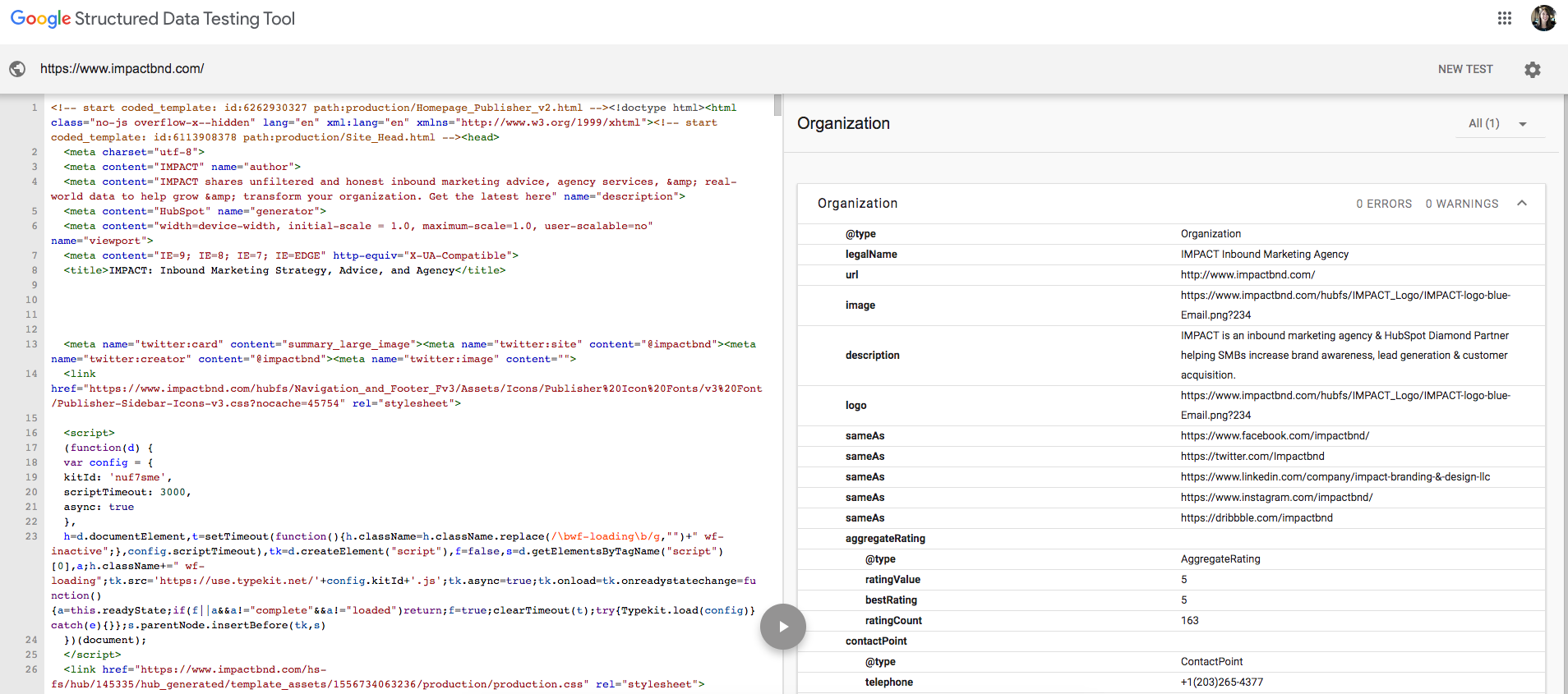 You can also use the Structured Data Testing Tool as an environment to experiment with data you may be writing before you plug it into a page.
This will notify you as errors whenever you resubmit the updated code so you can get it perfect first, then place it on the appropriate page.
Top 3 Most Common Structured Data Errors:
Now that you've gotten a handle on where to locate some errors, we can now begin breaking down some of the most common ones you might encounter.
Because the structured data options are vast, we won't be able to dive into each and every issue you can encounter, but ideally, this list of the three most common can be used as a guide to discovering how to fix other errors that may come your way.
1) Structured Data Found on Hidden Content
Some instances of schema markup on your site require you to have elements on the page that represent the details the schema markup language.
For example, say you are an e-commerce site with individual product pages.
You would ideally want to have product schema so search engines are able to read and rank the product on the page.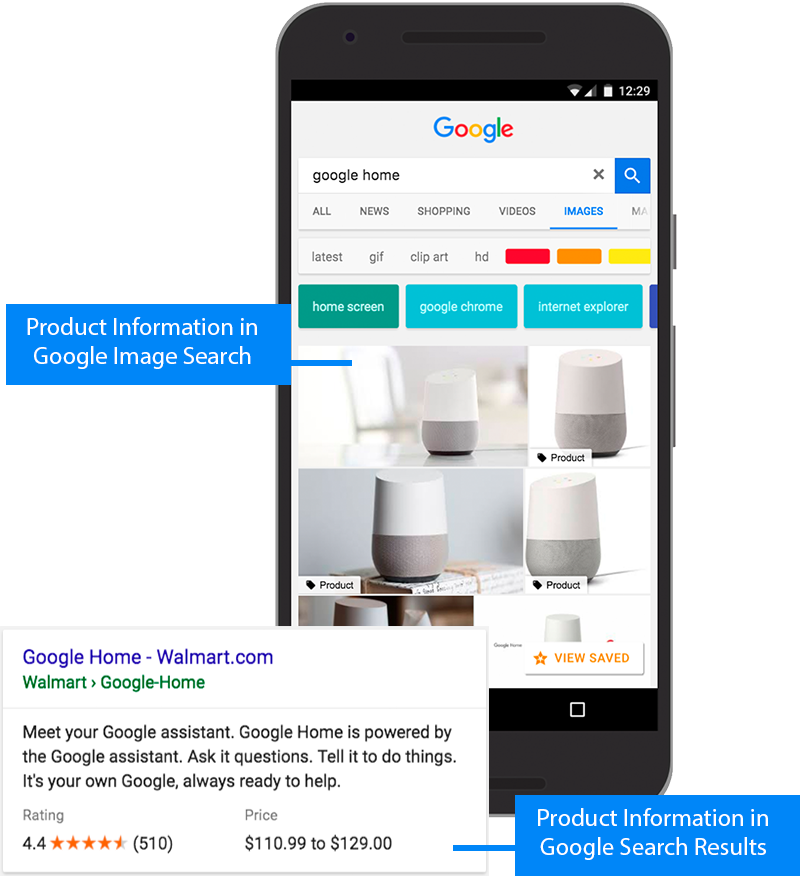 Image from Google Schema Documentation
One of the elements within this markup type is reviewer ratings.
If you want to include that within your schema, you have to make sure those reviews are also visible on the page. You cannot put details about reviews in site's code, but not visually show it when looking at the site page.
Doing tactics like this are read by Google as being misleading.
This is because your code might tell a Google spider you have two hundred 5-star reviews, but your users can't see that information anywhere on the page they are viewing.
How to Fix This Error
One of the common reasons I've seen this issue occur is because you temporarily hide data on your page that is connected to the schema you have listed, but, the user has the option to show that data on your page's interface.
Take a product page as an example again.
Maybe you've decided you only want certain elements on your page to show when someone visits it initially. In this case, ratings are hidden, but, people can view them by selecting a 'view rating' button.
Although this data is still accessible, Google's spiders won't understand you have given the users the option to do this functionality.
In these cases, I'd suggest displaying as much content as you can and modifying the schema to accurately reflect what the user can see on page load.
2) Spammy Structured Markup/Misleading Structured Data
Spammy structured markup is one of the vaguest errors I've encountered and tends to be the hardest to pinpoint, especially because Google will not go into specifics as to where these issues are occurring.
Google describes this as structured data that injects information into the SERP which misuses another markup type and presents itself in an overwhelming way.
For example, Search Engine round table posted an article showing how some coupon websites used to use the events markup to list out coupon codes their site pages had.
Hi John, I really do not think Webspam team is taking enough manual actions to fight against abused SD use, please check the image attached. pic.twitter.com/fuk7SJceSj

— Murat Yatagan (@muratyatagan) September 6, 2017
Google has since cracked down on most cases of people abusing it, but it is still an error that can plague website owners, especially if you don't know where to look.
How to Fix This
First, identify if the spammy error is on a single page or if it's sitewide.
This can at least narrow down which part of the schema might be throwing this error.
If the error is sitewide, double check each markup type you have against Google's Structured Data Guidelines.
You may accidentally be misusing a type of markup format for incorrect data.
Some examples of this can include, but are not limited to:
Review ratings/testimonials that are not actually viewable on your site
Overly repetitive markup, for business types, services, etc..
Listing multiple products in the markup on pages that only contain one product
Classifying a page as something it's not (ex. Saying a 'business' is a 'product')
Be wary too of cases where you get messages from Google Search Console specifying 'all pages' are being affected by this error.
In some cases, it might be a large number of pages but Google has just decided to blanket target the site incorrectly.

In this case, check specific templates you know are being utilized across large chunks of your site and begin running them through the Rich Text Tool or Structured Data Tool to see if they throw more specific errors. Some of these can include:
Incorrect value type
Parsing error: Missing ',' or ']' in array declaration

Invalid top level element "string"

Bad escape sequence in string
Once you believe you fixed the issue, submit a reconsideration request to Google and they can recrawl the site to verify the issue has been resolved.
3) Unparsable Structured Data
This is one of the easiest structure data issues to tackle, specifically because this error typically refers to places in your structured data where you may have a semantic, or 'spelling' error.
Google Search Console will list these errors in the 'unparsable structured data' section I mentioned earlier in this article. Clicking into the errors listed will tell you the URL where the errors are located.
How to Fix This
Unless you clearly see where the error is within the structured data, I would not recommend messing around on the page.
Instead, I would enter the page URL into the Structured Data Tool to pinpoint the specific line it might be occurring.
If you're comfortable with the markup, you can also copy and paste it into the tool and experiment testing with it until you figure out the correct format.
Once you confirmed with yourself the error has been remedied, you can head into Google search console and press the 'validate fix' button.

Doing this will enable Google to immediately recrawl the page and take it off the list of affected pages.
Not Seeing Your Issue Listed, or Still Need Advice?
In cases where you are still struggling to remedy an issue, or just want a second pair of eyes, there are a couple of places you can seek help.
The Search Console Help forum will allow you to ask your question to a community of experts who can provide additional assistance when you think you've hit a wall.
I also recommend checking out our Facebook group, IMPACT Elite, and posting your question.
The community contains a variety of marketers and SEO folks who are passionate about helping out folks, especially if they went through the same issue.
Free: Assessment
Does your website build trust with buyers and bring in revenue?
Take this free 6 question assessment and learn how your website can start living up to its potential.
Score My Website
Free: Assessment
Does your website build trust with buyers and bring in revenue?
Take this free 6 question assessment and learn how your website can start living up to its potential.