4 internal tools to maximize your team's efficiency [IMPACT Toolbox]
Morgan VanDerLeest also recommends this free guide: The Ultimate Inbound Marketing Strategy Playbook 2022.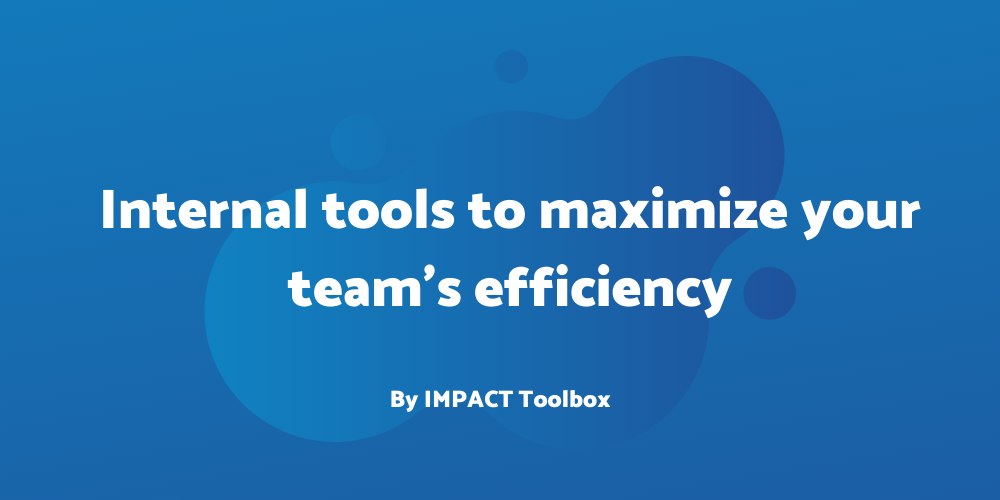 It's pretty easy to point to tools that will improve the external results of your organization, like implementing video with Vidyard, tracking and optimizing your conversions in HubSpot, or expanding your reach with a podcast transcribed with Descript.
But one of the biggest boosts a tool can give you is in how well your people and teams work together.
Free Guide: The Ultimate Inbound Marketing Strategy Playbook 2022
If you can avoid interrupting your teammates when they're focused, or save someone a chunk of time every day, or prevent them from having to ask around for information that should already be available, your team and organization will have more time to focus on the important things.
In other words, the more efficient you can make administrative tasks or internal processes, the more time your organization will have to do their best work.
So we're going to talk about some tools you can use internally that can drastically improve your team's efficiency.

This article is part of our IMPACT Toolbox series
With IMPACT Toolbox, we discuss all of the latest (and sometimes underrated) sales and marketing tools that you need to try. We make recommendations by category, helping you figure out what tool is best for your situation, and introduce you to tools you may not hear of otherwise.
Have questions about a marketing tool? Want to know whether or not we've reviewed it? Reach out to @morganandrewv on Twitter and we'll see how we can help.
Today we're going to look at:
1. Hugo Meeting Notes - Level up your meeting notes and integrate them wherever you need them
Price: Free up to 40 users, then $399/mo up to 100 users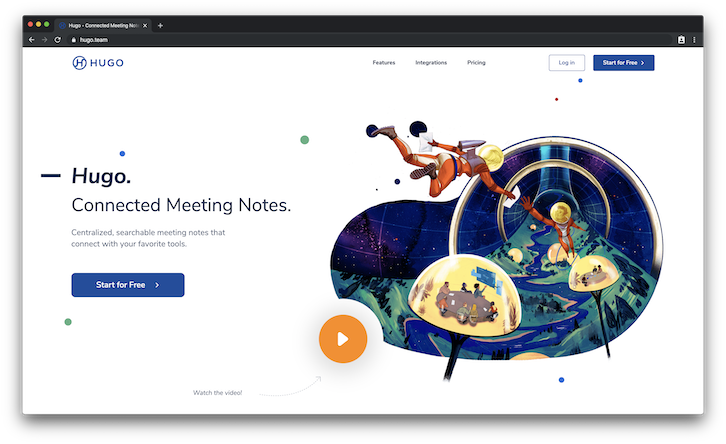 How much time do you spend in meetings every week?
If you're anything like the average office employee, you spend over five hours each week sitting in meetings and over four hours preparing for them.
That's a lot of meeting time.
More importantly, do you think your meetings are worth the time you spend in them?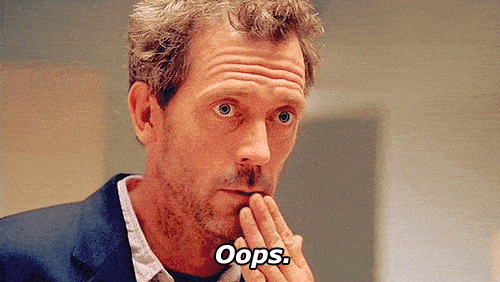 Sorry, should've said trigger warning. Please don't @ me.
For meetings to be worthwhile, they need to be prepared for and followed up with.
And Hugo makes this possible.
The first thing you'll do in the tool is connect your calendar, so Hugo can pull in all of your scheduled meetings (don't worry, you can make impromptu meetings as well).
Then, every day, you'll receive an email with a list of your daily meetings and buttons to create agendas for those meetings (and collaborate with anyone with access from your team/organization). You can also do this directly from your dashboard.
The Meetings Dashboard
They can be based on a template or freeform rich text, so you can standardize the agendas that have a similar format and customize the rest on a per meeting basis.
During your meeting, you can also create a note and keep track of the important information and actions discussed.
From there, the real magic happens.
Notes in Hugo are collaborative, so you can be editing the same document as another team member in your meeting and know what is being recorded and anything additional you need to note.
Then Hugo's integrations allow you to connect your notes to over 20 other tools, and not just the entire note, but individual lines and comments.
For example, maybe you need to send:
A task to Jira for your engineering team to complete
A comment to Slack to notify your team
A content idea to the marketing Trello board
All of these from within one Hugo note.
With Hugo, you can send your team exactly what pertains to them without creating a new document or just hoping that they find what they need.
You can also connect Zoom, which allows you to join Zoom meetings directly from Hugo, and play back recordings while writing notes and view the call transcript.
At the end of the day, meetings are a necessary thing and if they are managed well, they can drive significant results for your organization.
With a free option for up to 40 users, it's hard not to give Hugo a try.
If you have any integration requests, reach out to their team! They're on a mission to modernize meetings and love feedback from their users.
2. Airtable - Give your team more flexibility in how they organize their work with this spreadsheet database hybrid
Price: Free plan with limited features, paid plans starting at $10/user/mo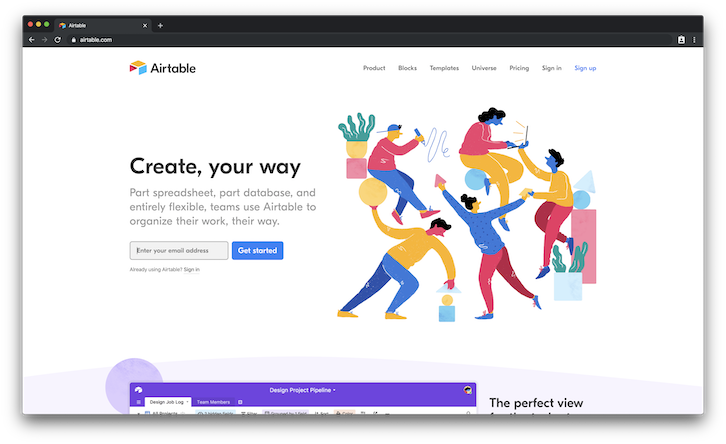 Spreadsheet technology has come a long way from tools like Excel or Google Sheets and Airtable is the next level.
Airtable combines the ease-of-use of a spreadsheet with the power of a database and the integrations expected from modern SaaS tools.
What can you do with Airtable?
Lots of things.
For example, you could build a competitor product comparison overview. That may include three general categories: products, companies, and features. Each of those has additional details within it, and you can link them up relationally (that's a database benefit that's harder to manage with a standard spreadsheet).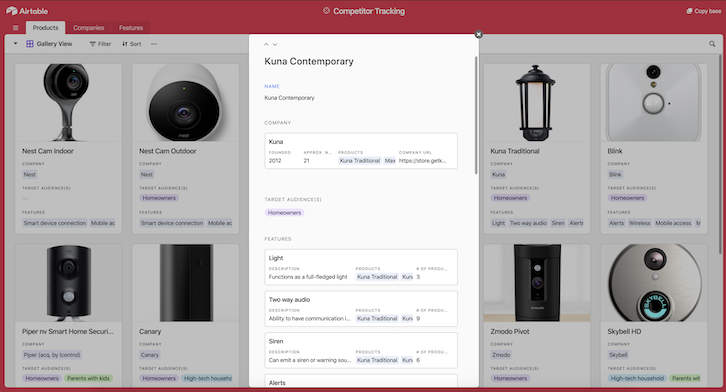 Competitor product comparison overview
And then you can arrange your creations into different views like a grid, calendar, Kanban, gallery, or form.
If you've ever managed tasks in a spreadsheet, you know it can be quick to setup but a real pain to use and organize. Updating a cell doesn't reorganize or move something off your list. But if you use the Airtable Kanban view, then you can update tasks by moving them across the board. The actions you take visually also update your data.
That's the power of Airtable.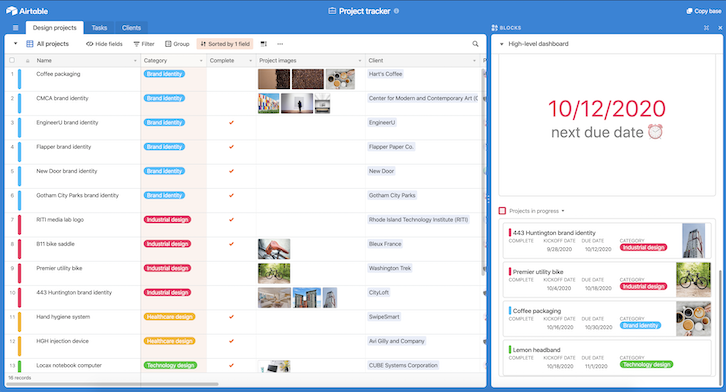 Project tracker example
Airtable also added a powerful feature called Blocks, which gives you app-like functionality to mix and match to create the perfect workflow for your team with components like maps, data visualizations, countdowns, video chat, and much more.
If you are currently using Excel or Google Sheets for any business functions, check out Airtable. You may find it can help streamline or automate processes that are harder to manage in other spreadsheet tools.
At IMPACT, we use Airtable to keep track of projects, clients, and financials.
What will you use Airtable for?
3. YAC Chat - Asynchronous voice collaboration for remote teams
Price: Free plan (unlimited users, 30-day message retention), $8/user/mo for unlimited message retention + transcription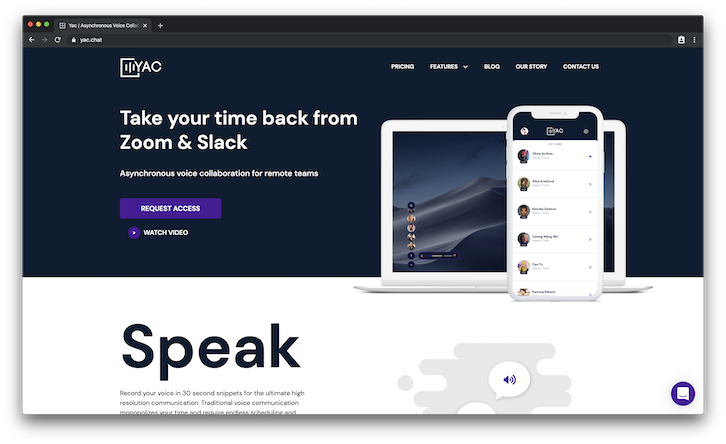 Sometimes you need to do more than send a Slack message.
But what if you can't sync up with Zoom?
If only there was a way to tap on someone's shoulder, but only when you knew it was convenient for them to respond, and get a quick answer before moving on with your respective days.
YAC is the missing link: asynchronous voice and visual communication.
Whether that's a 30-second audio message, or an annotated screenshare, YAC gives you a smooth interface with a great user experience to quickly touch base and get feedback from colleagues without interrupting their focus time or yours.
That's where YAC gets its name: Yelling Across Cubicles. But this is a far more civilized and 21st century way of doing that. Easy screen sharing when you need it, and dead simple audio communication when you don't. Like walking your computer to someone's desk, or privately shouting through space.
The YAC app icon lives in a floating bubble on your computer. When you receive a message, the icon will show a bubble, like an app notification on your phone.
While the previous version of YAC played the audio when it was sent (like a walkie talkie), this latest version let's you consume it when you're ready.
To respond or send a message to someone else, just click on their image, select the microphone or screenshare icon based on the message, record, and send.
It's really simple.
But I think there's an underrated benefit here — reduced cognitive load.
Instead of opening a full app, finding the person you want to message, and typing to them underneath the massive message history you already have with them, the YAC interface is blissfully calm.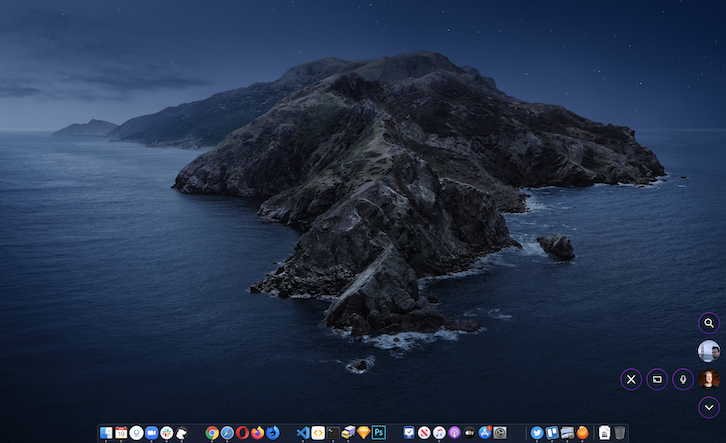 The YAC interface at its busiest
With a desktop and mobile options, the app is everywhere you need it to be.
They are currently in beta with a waitlist, so sign up now if you're interested. There's a free plan with most features so it's worth a try.
Let me know what you think @morganandrewv on Twitter!
4. You Need A Wiki - Simple organizational wiki built on top of Google Docs
Price: Starts at $10/mo for teams
All great organizations need a resource library; a single source of truth that acts as a reference point for everyone in your team and company.
This is helpful for your current employees so they always know where to go to find a new process or brush up on something and also for new employees just getting familiar with your ways.
There are a lot of options for creating this, but if you're an avid Google Docs user, a great minimal starting point is You Need A Wiki (YNAW).
Getting started is as simple as adding Google Drive folders and files.
The wiki displays like a nested folder structure, with access to all of the benefits of a Google Doc like a rich text editor, formatting options, and integrations.
With YNAW, you're taking your wiki interaction from this...

To this...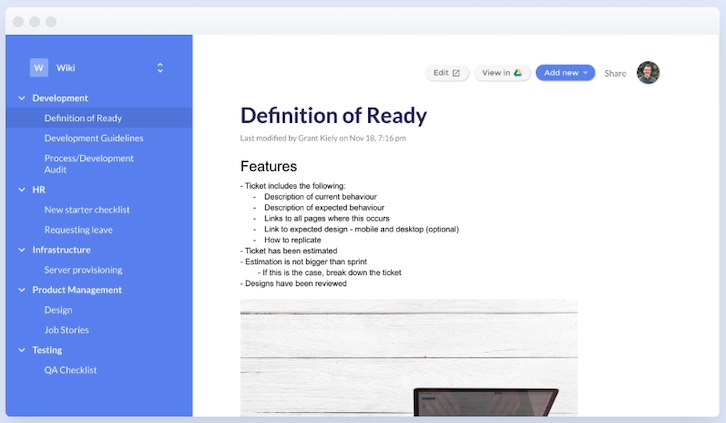 Same content. Same structure. Huge interface upgrade.
You can easily link to other documents in your wiki, share and collaborate, and even use a custom domain.
At the end of the day, that's all an organizational wiki is.
So don't overthink it. You Need A Wiki may do everything you need.
Make your teams more efficient with these organizational tools
It's easy to overlook the people and processes we rely on everyday, but if you can boost and streamline all the mini-interactions you have throughout the day, your organization will be better for it.
Whether through Yac's asynchronous communication, Hugo's supercharged meetings, Airtable's database empowerment, or You Need A Wiki's… wiki, these tools can do wonders for your team.
Now make it happen.
Did you find something useful in our round-up? Let us know how one of these tools helped improve your business in IMPACT Elite! And if there's a specific tool you have questions about, let us know and we'll see if we can help you figure out the best option for you.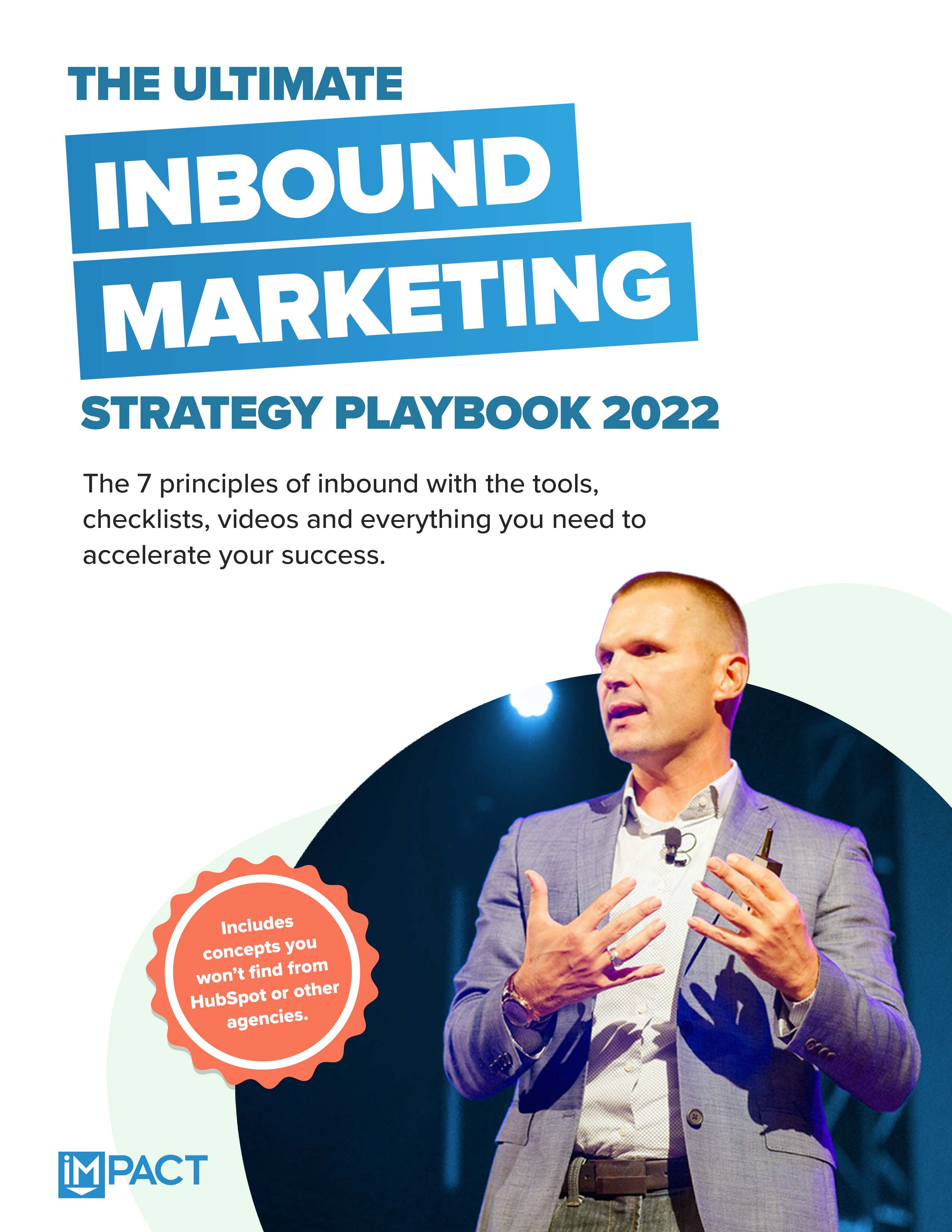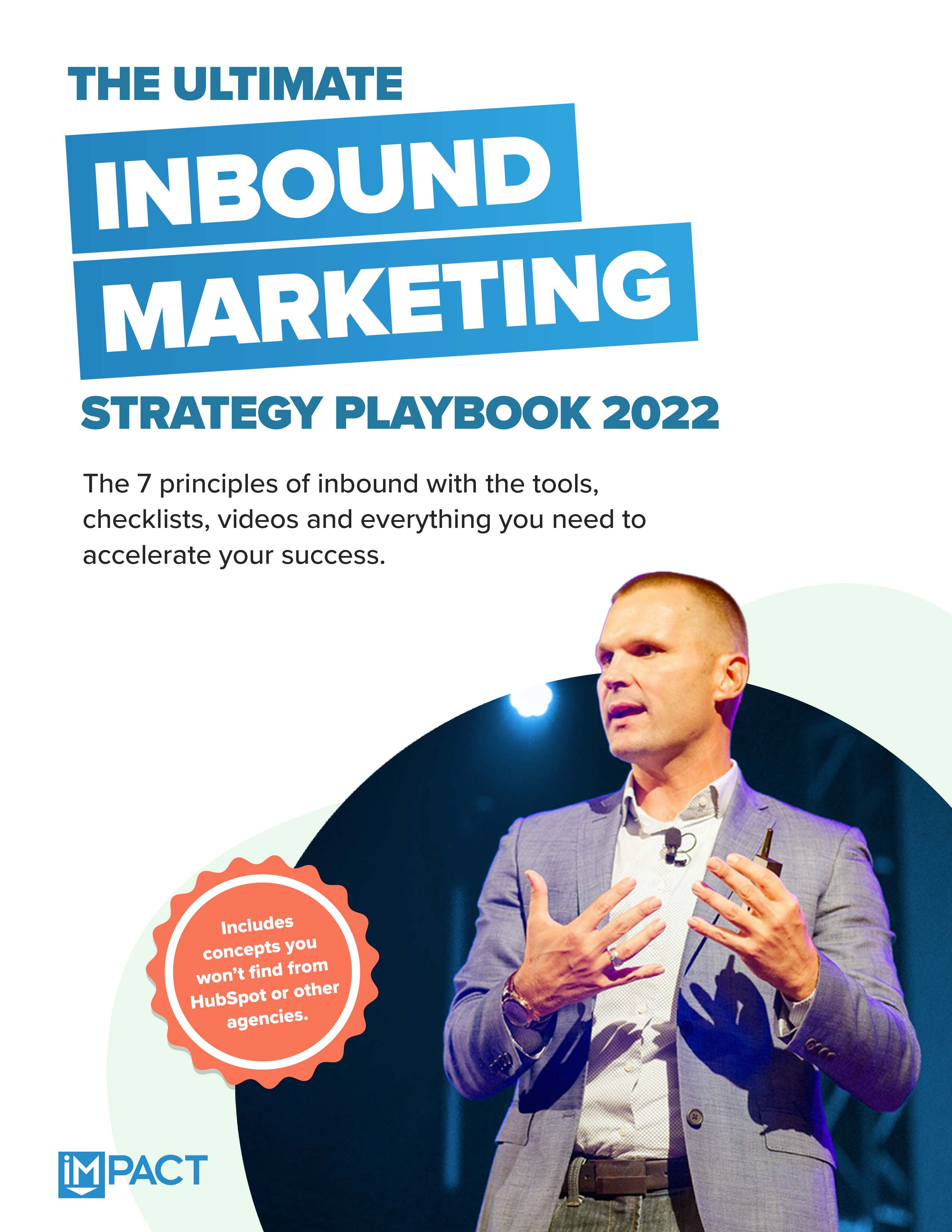 Free Guide:
The Ultimate Inbound Marketing Strategy Playbook 2022
Take your inbound strategy to the next level
Master the 7 principles of highly effective inbound marketing
Dramatically improve your inbound sales
Get more buy-in at your company
Published on December 3, 2019