Zoom launches all-in-one home communications device for $599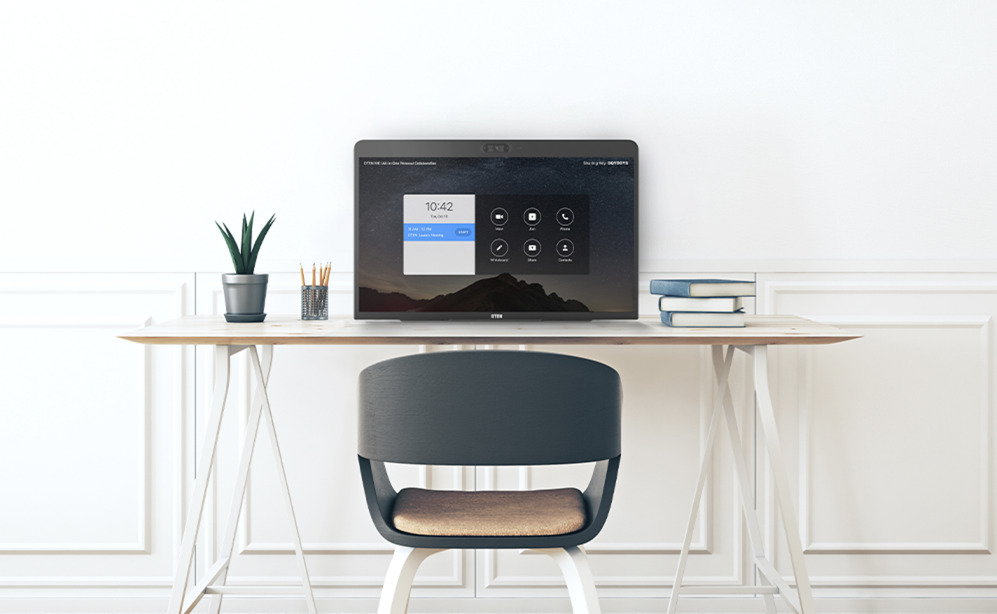 Video conferencing giant Zoom has had a whirlwind uprising in popularity in the time of COVID-19, with as many as 300 million users on the platform daily — many of whom are entirely new to Zoom and remote meetings as a whole.
Join the IMPACT coaches for a deep dive on a new topic every month in our free virtual event series.
However, this rapid ascendency has not been without controversy, including questions about features and privacy. Furthermore, new and unfamiliar Zoom users brought with them a whole host of problems, as some users struggled to connect with their home setups.
Zoom has historically done a good job of listening to its users, including its response to "Zoom bombing" at the start of the pandemic. So it is no surprise that the company has created a quick and holistic solution for those struggling to connect at home.
Their solution to "empower remote workers" is a shiny new device called the Zoom for Home – DTEN ME.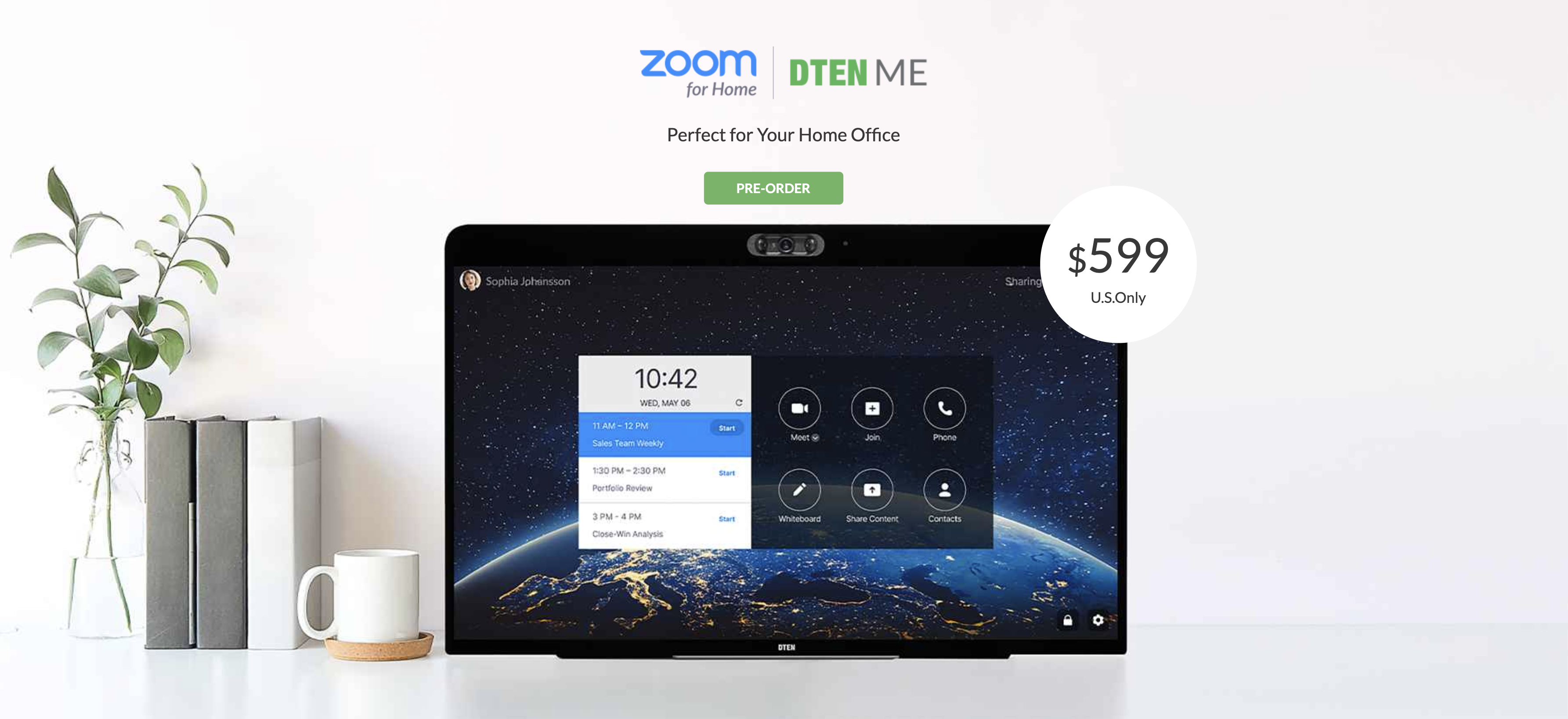 What is Zoom for Home?
The new all-in-one home communications device, produced by partner DTEN, promises to be an out of the box solution, built with simplicity in mind.
The standalone 27-inch touchscreen, comes equipped with three wide-angle cameras designed for high-resolution video, 8 microphones, and the Zoom software preloaded.
A highly useful new feature will be the whiteboard mode where users can use the touchscreen as a live shared whiteboard for diagrams, annotation, and doodles that can be saved to your device for later reference as well.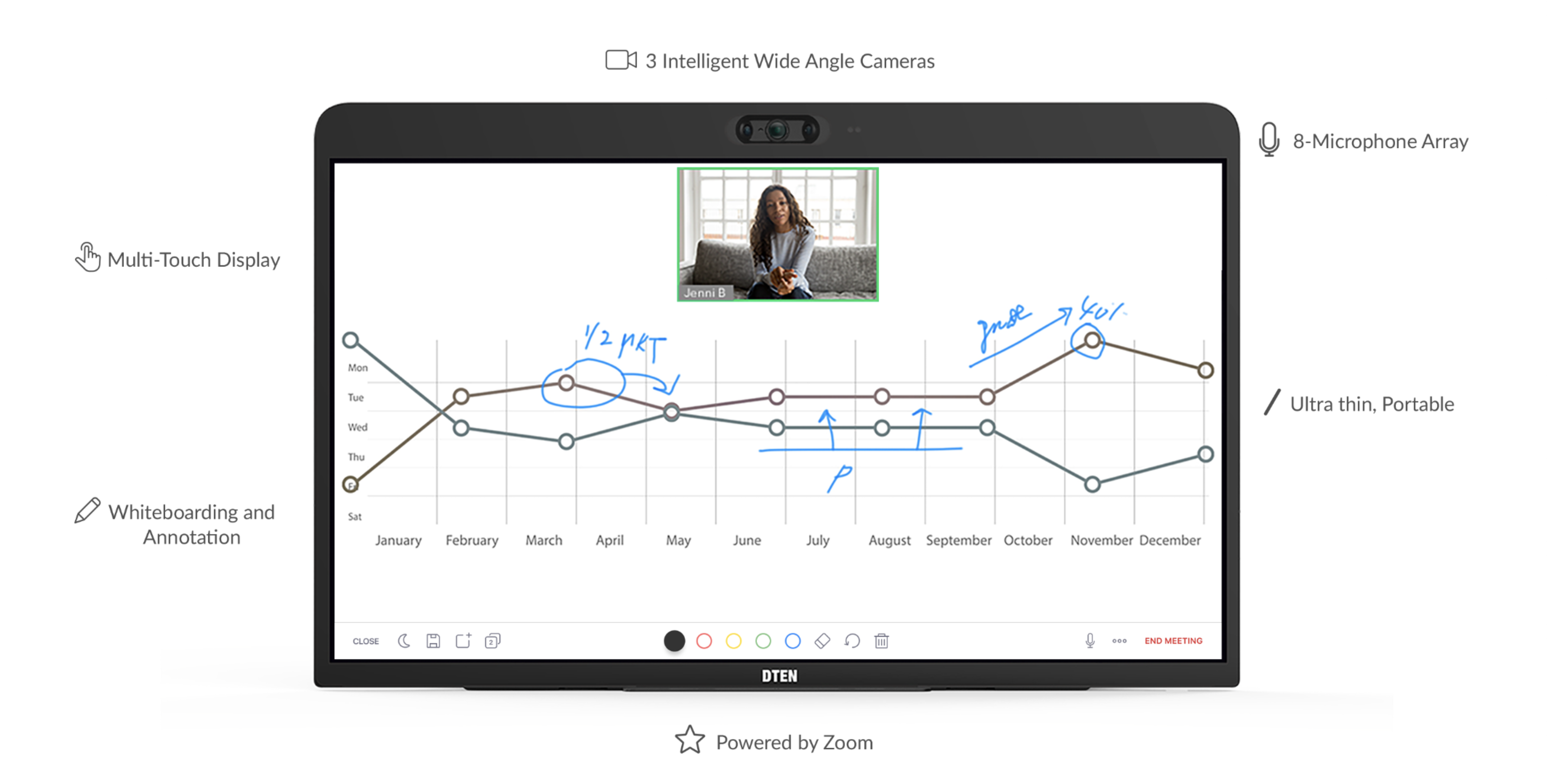 It is unclear at this point if the device will only be able to be used for Zoom or if it will be able to be used for other programs and applications like a traditional tablet or computer.
Setting up the appliance is as easy as entering a pairing code on a website on any of your other devices. From there, the interface will load and you will be able to tap whichever function you want, such as making a phone call or starting a meeting, and it will automatically connect you.
Zoom is relatively new to the video conferencing hardware game, launching its first expedition into HasS (hardware as a service) with its own video conference room system, Zoom Rooms, launching last year. Zoom Rooms is a subscription service that's provides hardware, software, and complete setup for a fully equipped video conference room.
However, this is their first attempt at a home device.
Jeff Smith, head of Zoom Rooms, told TechCrunch that the goal is simplicity:
"Zoom for Home is an initiative from Zoom that allows any Zoom user to deploy a personal collaboration device for their video meetings, phone calls, interactive whiteboard annotation — all the good stuff that you want to do on Zoom, you can do with a dedicated purpose-built device,"
The device, when paired with your calendar, will show all upcoming events on its interface. Simply tap the meeting to connect or start the call. Sharing from your laptop or other devices is easy with the built in ultrasonic pairing. (Think Bluetooth, but done with ultrasonic signals instead of radio.)
Preorder is open with a cost of $599. The device will work with existing Zoom licenses. Shipments are expected to begin in August.
So, is it really worth it?
For many businesses thrown into "temporary" remote working back in March, it may be time to consider a long term solution for facilitating better remote meetings.
As COVID-19 doesn't seem to be going away in the near future and the soonest vaccines won't arrive early 2021, businesses not typically accustomed to remote working will need to adjust to ensure the safety of their workforce and the longevity of their company.
For Zoom, this product launch is a no-brainer as the company's enterprise solution, Zoom Rooms, seemed to have hit a pandemic-sized snag right out of the gate. The pivot to this hardware to serve the at home "conference rooms" (i.e. our living rooms, dining rooms, and any spare corner) seems like a logical next step.
But do we seriously need one more device on our wifi?
If your workers are having consistent issues connecting, you'll need some sort of reliable solution. But do you need a $600 shiny new all-in-one device? Maybe not.
Consider a lower cost alternative tablet or lightweight laptop that can amp up your employees' connectivity.
However if using the software itself seems to be an ongoing struggle and you have the budget, this might be a good option for your team as Zoom promises its ease of use will be the product's biggest asset.
The Zoom for Home reminds me of a business version of Facebook's Portal. Seems pretty good at serving one main purpose, but I would rather have fewer devices that do the job of many.
Join the IMPACT coaches for a deep dive on a new topic every month in our free virtual event series.
Register Here
Join the IMPACT coaches for a deep dive on a new topic every month in our free virtual event series.
Published on July 17, 2020