5 tools for being productive and happy while working remote [IMPACT Toolbox Mar. 2020]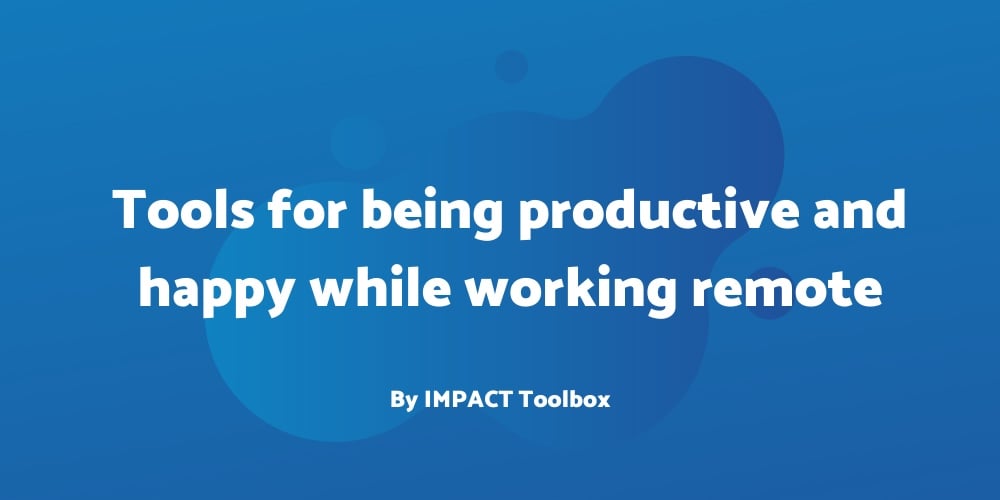 We're big supporters of remote work here at IMPACT.
Most of our team is remote by default, and everyone has the option to do so when needed.
As of this writing, a large majority of other companies are allowing their teams to work remotely for the first time and, in turn, they are finding themselves looking for ways to make this go as smoothly as possible.
There are many lists out there of the "best tools for working remote," and they list all the standard examples:
Slack
Zoom
Microsoft Teams
Basecamp
Skype
Trello
You get the idea…
But there are a lot of remote tools you probably haven't heard of that can be great alternatives (or additions) to the ones on those lists.
Today, we're going to look at five tools that focus on connecting you with your team while you are working remote and shout-out some tools we've mentioned previously that fit here as well.


This article is part of our IMPACT Toolbox series.

With IMPACT Toolbox, we discuss all of the latest (and sometimes underrated) sales and marketing tools that you need to try.
We make recommendations by category, helping you figure out what tool is best for your situation, and introduce you to tools you may not hear of otherwise.
Have questions about a marketing tool? Want to know whether or not we've reviewed it? Reach out to @morganandrewv on Twitter and we'll see how we can help.
Today we're going to look at:
Previous tools roundup:
1. Tuple - one-to-one pairing app to fully interact on one computer
Price: Starting at $25/user/month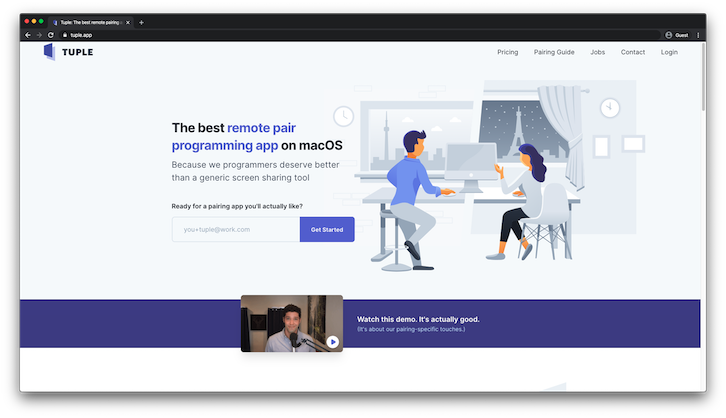 PSA: Don't let their messaging fool you. While Tuple is focused on programmers, the benefits apply to anyone who needs to collaborate on a computer.
How many times have you sat on a screen share with someone trying to tell them where to click? It's painfully obvious to you, but you can't describe exactly what you're thinking.
Or maybe you have a tool that only one person at a time can use, but need to work through that with someone else?
Tuple is a one-to-one pairing app that allows seamless control of one computer by two people, almost like you're in the same room with two keyboards and mice linked to the same machine.
Think of it like video conferencing tool Zoom, but designed from the ground up to allow full interactions between two people.
How does this really differ from other screen share tools? Glad you asked.
Pairing with someone is incredibly easy with Tuple. There are no links, URLs, rooms, or hosts; your pairing list lives in your menu bar, and one click connects you to start collaborating.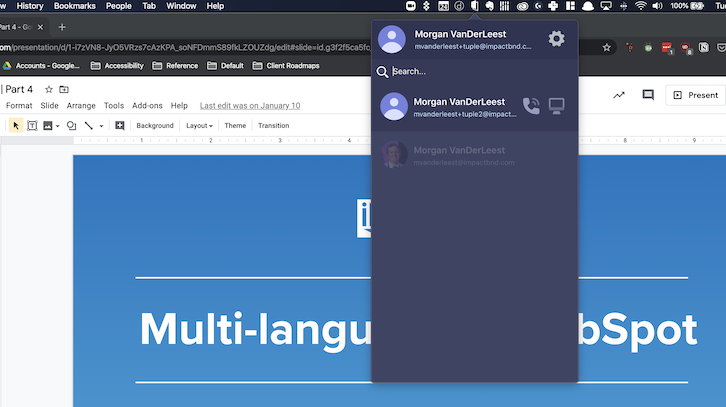 Speaking of living in your menu bar, that's where the entire Tuple UI exists. Nothing is hidden underneath dedicated screen elements or weird window controls.
When you need to take control, just click and Tuple recognizes that you're running the show. If you just want to draw on the screen or highlight for emphasis, you can do that too.
Who isn't a fit for Tuple?
If you do most of your work in office collaboration tools like the Microsoft or Google Suite with built-in collaboration features, you probably don't need Tuple. At most, a phone or audio call would work fine.
Also, if you don't need to collaborate one-to-one but between many, then Tuple wouldn't be helpful (yet).
If you are not technical at all, some of their messaging may be a turn-off. They know their market (programmers) and they're leaning into it. But if you look at what the tool actually does, you may find it works great for you.
2. Miro - collaborative whiteboard for distributed teams
Price: Free option, paid starting at $8/user/month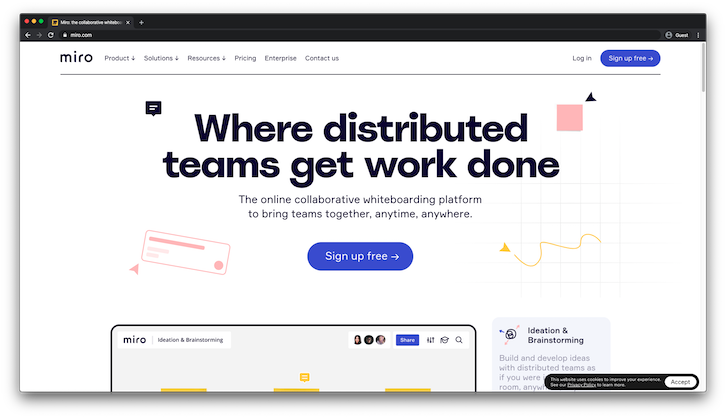 Speaking of multi-user collaboration...
Sometimes you just need to sit down with white space and get to brainstorming with your team. Whiteboards make this easy in an office, but how do you manage that digitally?
Miro is an infinite canvas whiteboard tool that allows you to use sticky notes, freeform pen, shapes, arrows, smart drawing, and more.
You can see everyone's cursors so you see how and where they're engaging with the board content, but video chat is also included, so you can talk with and see your team while you work.
Want to use something from your board IRL? You can export and print your content in high resolution and show off the details.
This is a great option for wireframing or getting early feedback on an idea. Instead of being strapped into another tool's canvas, Miro gives you a flexible area to drop ideas, get notes, and move your projects forward.
Since you probably work on some things more than once, you can also create templates for great jumping off points (or use a built-in template to get started from the very beginning).
What are the drawbacks of Miro?
The biggest drawback of using Miro is that, as flexible as it is, any work created in it would need to be transferred elsewhere.
There are many great integrations that can help with this, but it doesn't replace using a dedicated tool for that purpose.
For example, if you need to build a slide deck, it may be better to collaborate in Powerpoint or Slides than to brainstorm in Miro and move everything out after.If you have a dedicated brainstorming phase prior to building the slide deck, however, Miro would be a great option.
3. RemoteHQ - flexible collaboration workspace that comes close to replacing an office
Price: Free full access until June 1, 2020, paid starting at $10/user/month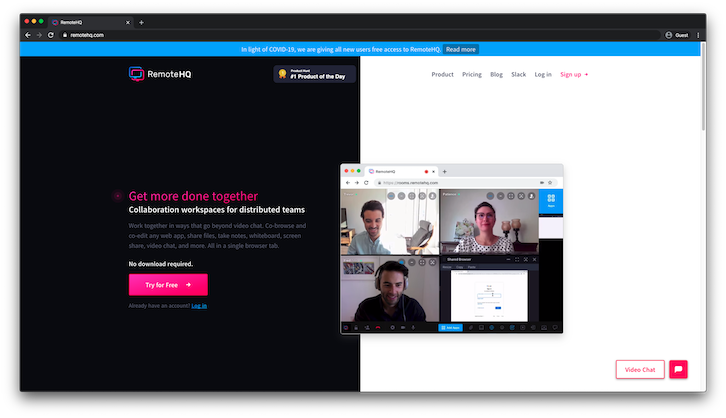 What if you want to collaborate directly in a browser-based tool?
A browser-based tool is any tool that doesn't require a download; rather you access and use directly through any web browser.
For example, HubSpot does not have a desktop app but works in a browser. Another example is Evernote, which has a desktop app, but can be used via your web browser as well.
You could always fallback to Zoom, but that's really just focused on video and doesn't directly enable as much collaboration.
A tool like RemoteHQ is built with browser-based workflows at the forefront.
It is designed to help you collaborate (simultaneously, if needed) in browser-based tools as conveniently as possible.
All you have to do is start a room in RemoteHQ, open a Shared Browser from the tool's app bin (at the bottom of your screen), and go to any site you need to visit.
From there, you can allow everyone to have control over it (click, scroll, type), everyone to just view, or keep the browser private to you.
Then add a notes section, or better yet enable the transcription feature (paid feature, but works in the trial).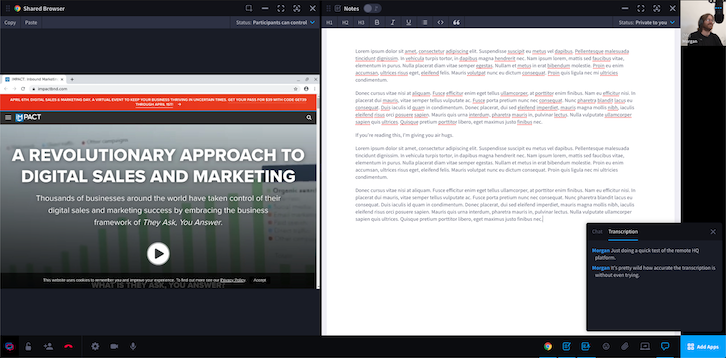 The RemoteHQ interface works like a series of blocks allowing you to place them where it is most convenient to you.
You can drag elements around the screen to lock them into different layouts. For instance, you can create a gallery view of your teammates, pin a single person, or display different people on different sides.
Then select one of their connected apps or paste any browser link to collaborate on it.
There's also a whiteboard tool. Oh, and one of their apps is Miro. Sometimes you just can't make this stuff up.
Who isn't a fit for RemoteHQ?
If your work is predominantly not in a browser, RemoteHQ may not be as useful for you. You can still share files and collaborate with notes and a whiteboard, but it's not designed for screen sharing or using native applications (non-browser). You can but that's not the main purpose.
4. Dialup - serendipitously connect via phone to the people you want to stay in touch with
Price: Free for personal use, paid option for Private Lines and Organizations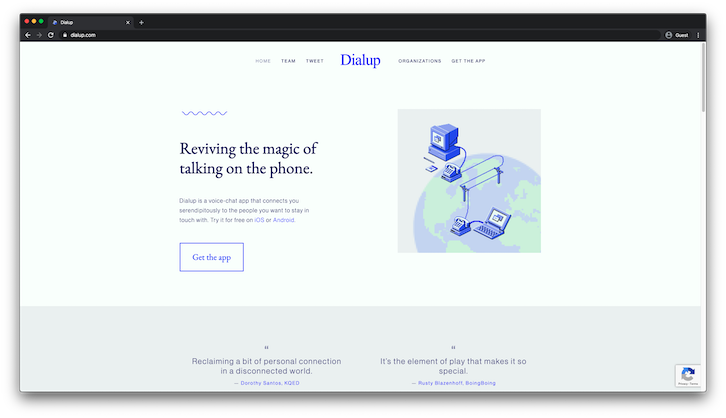 Collaboration and productivity aside, how do you stay connected to your team on a personal level when remote?
Social media can only get you so far, and that may not help you feel more connected at all.
What about a phone call?
OMG Morgan no one makes phone calls anymore.
You're right.
And that's why taking the time to pick up the phone can be so special.
Dialup is here to help.
It's a novel idea: a tool that randomly connects you with others one-on-one over the phone. But it's also so last-century.
The tool is made up of different lines or groups of people you can be connected with.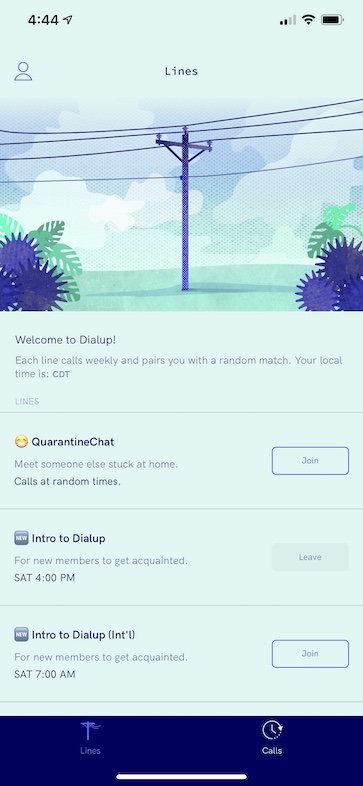 Then, based on the line you join, Dialup will call you and a randomly paired person from the line at the designated time automatically.
You don't need to remember to call, just answer the phone. You'll know it's Dialup because of the custom caller ID.
But it doesn't have to be completely random.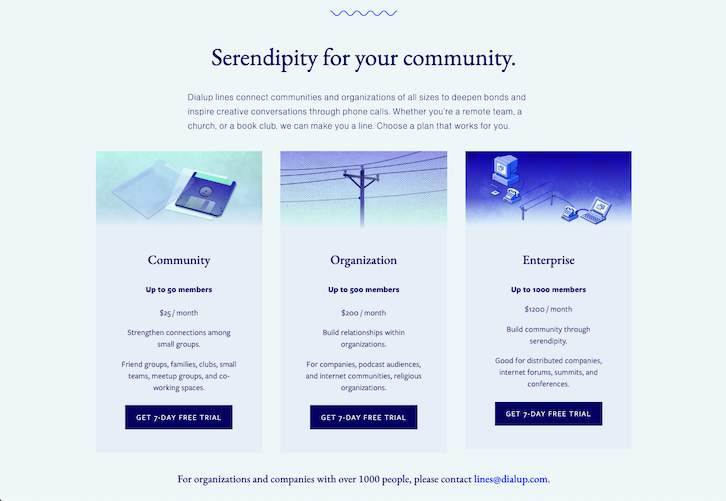 You can create a private line and sign up a group of people (maybe your team, your family, or a group from the last conference you went to) or join an interest group.
With the whirlwind of things going on in the world, Dialup can help with that personal connection and keep you grounded.
5. ClickUp - Collaborative all-in-one work management tool
Price: Free Forever Plan available, paid plans starting at $5/user/month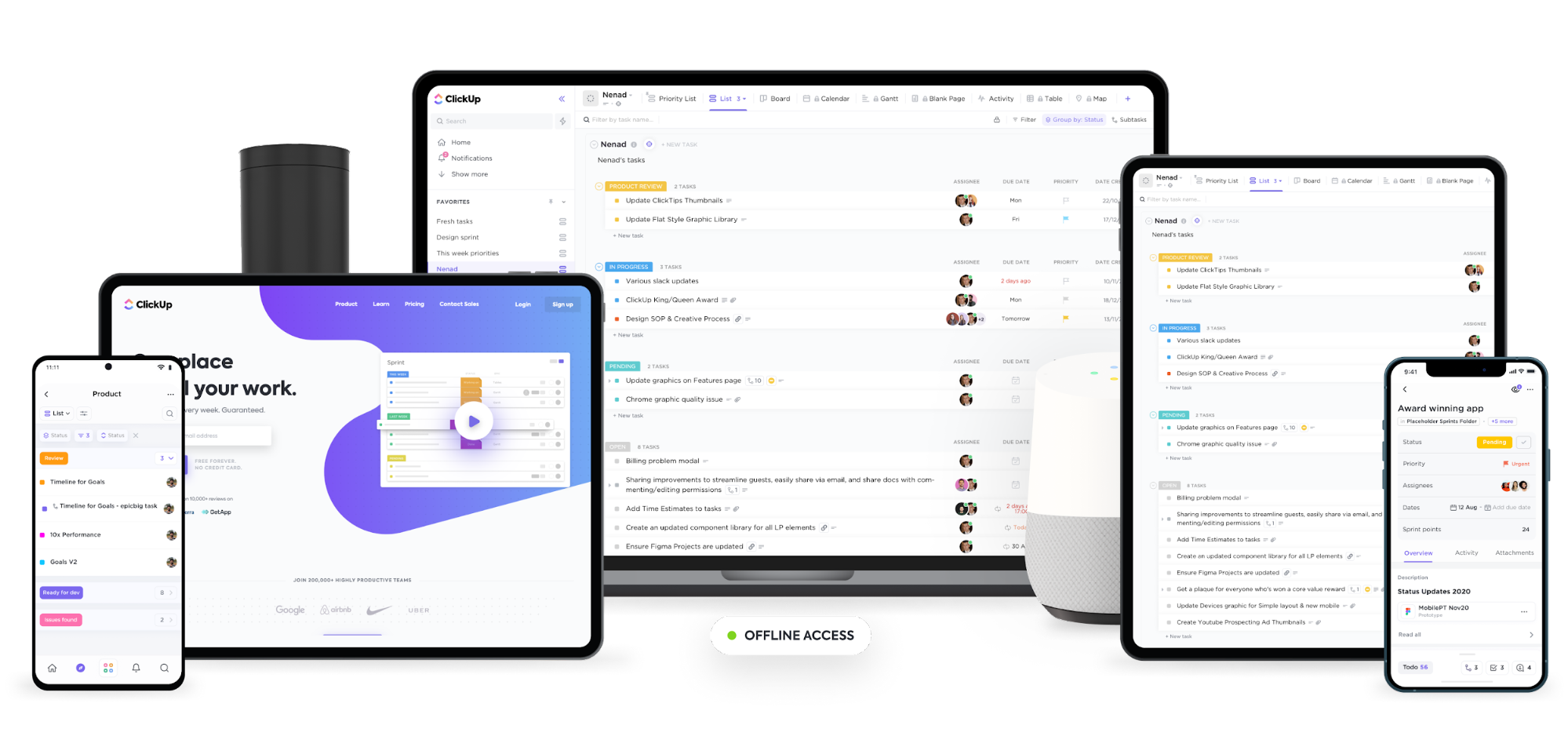 ClickUp is an all-in-one productivity platform that offers a feature-rich and completely customizable work experience to help remote teams of all sizes stay connected and manage progress, no matter what project style you use.
Its collaboration features ensure everyone in your Workspace can comment, edit, and work on tasks simultaneously, without overlap. Keep your remote team in the loop with ClickUp's in-app Chat feature, ClickUp's Docs with collaboration detection, add watchers to tasks to receive automated updates, and assign comments to specific team members.
Plus, ClickUp's brand new Whiteboards feature is the only collaborative whiteboard that enables teams to turn ideas directly into actionable items and projects. Teams can brainstorm ideas and map out projects while seeing everyone's edits and cursor movements right as they happen. Add content like drawings, text, shapes, notes, images, and media files with rich editing features, and easily embed tasks into Whiteboards to provide relevant context to your brainstorm sessions.
ClickUp is available on mobile devices and integrates with over 1,000 other work tools to align seamlessly with your current tech stack.
What are the drawbacks of ClickUp?
While ClickUp has many features, there may be a steep learning curve since the platform is so flexible and customizable. It also doesn't offer a Table view in its mobile app (yet).
Rockstar remote tools we've talked about before
Now, I'd be remiss if I didn't mention some great remote tools mentioned in previous #IMPACTToolbox articles.
You can read more about each in the associated link.
Krisp - mute background noise during calls and video streaming (tools to improve your video and audio). I use Krisp for every single Zoom, GoVideo, Hangout, and other video/audio chat. I cannot tell you how many times debilitating background noise was completely cut out on my calls. They've recently added a phone app, and are working on bringing conference room features soon (currently only available on Windows).
Yac - remote voice messaging for teams (tools to maximize your team's efficiency). We don't have many people at IMPACT using Yac, bBut as more teams move to Slack and Zoom, I expect the drawbacks to those tools to be more apparent (synchronous vs asynchronous communication), and Yac is a great middle ground for still talking to your teammates but not interrupting one another.
Stay productive, connected, and happy
The shift to remote can be tough when you're not used to it. Hopefully some of these tools enable you and your teams to do great work under trying circumstances.
If you're interested in other tools with free offerings or special discounts, check out Software Donation to see a list of tools and what options are available. At the very least, your team can get started inexpensively over the next few weeks and months.
Stay healthy, happy, and productive y'all!
Get to it.
Did you find something useful in our round-up?
Let us know how one of these tools helped improve your business in IMPACT Elite!
And if there's a specific tool you have questions about, let us know and we'll see if we can help you figure out the best option for you.
Free Assessment:
How does your sales & marketing measure up?
Take this free, 5-minute assessment and learn what you can start doing today to boost traffic, leads, and sales.