The Top 8 April Fools Pranks of 2013
Hopefully none of your co-workers, friends, or family members played any crazy April Fools pranks on you. Unfortunately, the day is just beginning.
Viral content is one way to get your company's name out there. One the best times of the year to create viral content is on April 1st.
Not only can your company create a new out of this world product or say that they are shutting down and grab the attention of everyone around of the world.
Unfortunately, going viral can be extremely hard. Especially if your not a well known company or brand.
The Elements of Successful Viral Content
Keep it Short
Whenever your developing some sort of viral content, make sure that you're keeping it short. Did you know that 44% of people lose interest in a video after 60 seconds? You aren't making a short film, so don't put enough content in your video to last 20 minutes or more. The shorter your video is, the more chances your have of your video being shared.
Don't wait till the last 15 seconds of the video to make your point. The point of your video should be obvious within the first few seconds. Not only will this grab the attention of your visitors but it will also keep them watching til the end.
Does it Look Real?
Especially when your talking about developing viral content for April Fools, you want to make your viewers or readers ask themselves, is this real. When readers see something that looks real, they sometimes find it hard to believe. Which will increase your videos chances of being shared. I don't know about you, but when I see something that I cannot believe is true, I have to share it with friends and family to debate the validity of the video.
It's also important to know that viral content doesn't just have to be video.
Viral content can include:
8 Best April Fools Pranks of 2013
With so many product ideas and videos being released for April Fools, it makes it hard to pick my favorite. After watching all three of them several times, my favorite has to be the Google Nose. What if you could just ask ask google what something smells like? How psyched would you be?
Developing new products is a great way to develop viral content. When it comes to inbound marketing, hundreds and thousands of people look to HubSpot. Wouldn't you want a pair of their sprocket vision glasses that would tell you who your companies qualified prospects are?
If you're a bacon fan this might just be your favorite video. There are just so many uses for bacon, whether its a bra, shaving cream or mouth wash you just cannot go wrong when your using Scope. What a unique approach to developing viral content that grabs the attention of viewers.
What? There is no way that this could be possible. This is great viral content that grabbed the attention of viewers. I don't know about you but this made me say, is this real? What's your favorite video on YouTube? There are honestly so many to choose from.
Would you be willing to pay $15 just to use vowels on Twitter? Maybe its just me but I would like to keep all of the vowels, cause I have no idea what Twitter just posted. D Y hv fvrt vd? (Do you have a favorite video? Isn't that hard?)
Trd th nw Twttr yt? Mr tm fr mr twts! blog.twitter.com/2013/03/annncn… #nvwls discover.twitter.com/twttr/

— Twitter (@twitter) April 1, 2013
For those of you that loved Rocko's Modern Life, you were probably really excited to learn that they just uncovered a never before seen episode. Until you watched the video and realized that today is April Fools.
What a great idea. You've seen photos of cats and dogs wearing glasses and sunglasses, why not headphones and technology? Your animals aren't just considered a pet, they are a part of the family. So why don't you get them the gadget that they'll love.
This is a great example of viral content that's not a video. Wouldn't you love to ride in a plane that has a glass bottom? I don't know about everyone else, but I'll stick to a regular air plane that only using glass only for the windows.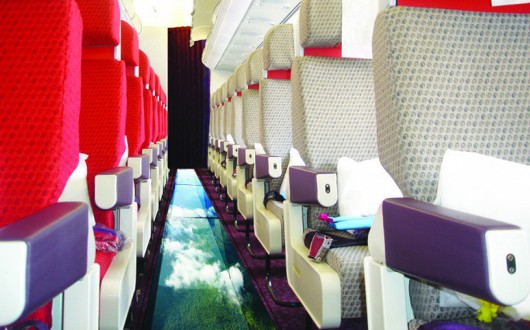 Free Assessment:
How does your inbound marketing measure up?
Take this free, 5-minute assessment and learn what you can start doing today to boost traffic, leads, and sales.
Get Started
Free Assessment:
How does your inbound marketing measure up?
Take this free, 5-minute assessment and learn what you can start doing today to boost traffic, leads, and sales.
Published on April 1, 2013