Subscribe
Join 40,000+ sales and marketing pros who receive our weekly newsletter.
Get the most relevant, actionable digital sales and marketing insights you need to make smarter decisions faster... all in under five minutes.
Thanks, stay tuned for our upcoming edition.
With Yet Another Facebook & Instagram Outage, What Are Marketers to Do?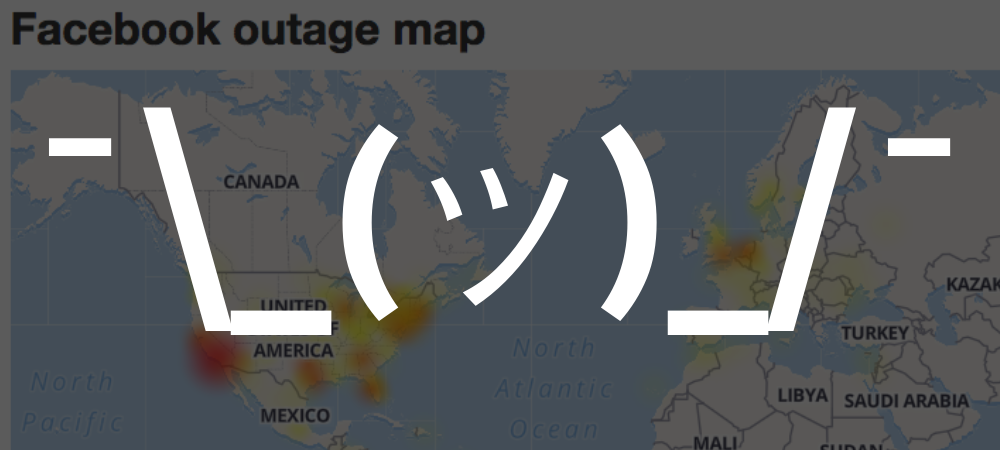 This morning around 8:30 a.m. Eastern, I attempted to publish this Instagram story about our two dogs, Nugget and Horatio, and their clear favoritism toward my husband, Patrick. (Rude.)
It failed to upload. Multiple times.
I assumed it was our terrible service -- because our home is a black hole, where Verizon dreams and cell signals go to die -- but I was wrong.
As it turned out, Facebook and Instagram were down across the United States, Europe, and beyond: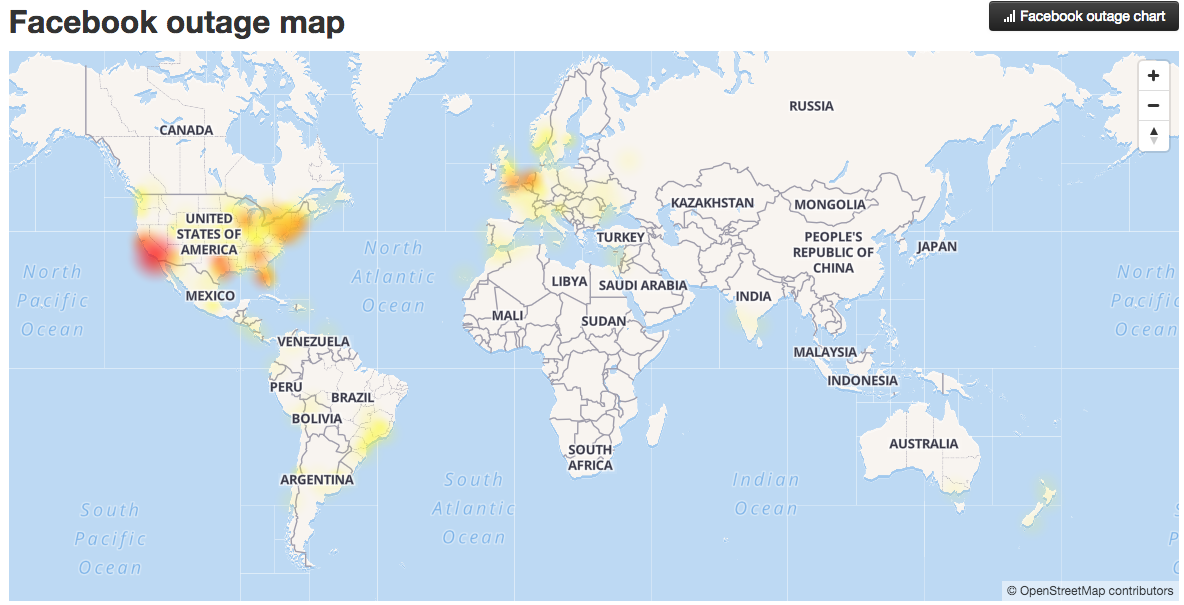 Facebook outage map as of 3 p.m. Eastern via Down Detector
Unfortunately, this is the third time recently there has been some sort of outage affiliated with Facebook. The second was on November 12 (a little over a week ago, due to a routine test), and Facebook and Instagram both went down on October 11.

Of course, people took to Twitter. Because we can never suffer alone or in silence.
Complaining About Facebook & Instagram in Twitter Is the New Black
Social Media Managers rn#FacebookDown #InstagramDown pic.twitter.com/qHi08IJ2FE

— Cannes Lions (@Cannes_Lions) November 20, 2018
After slacking with Ali & Stephanie today, I can report this is accurate.
Sitting at work waiting for Facebook & Instagram to come back like… #FacebookDown #InstagramDown pic.twitter.com/pWofhKXOOs

— Sesame Street (@sesamestreet) November 20, 2018
Even the folks at Sesame Street weren't having it.
*instagram crashes*

my brain:
don't do it
don't do it
don't do it
don't do it
don't do it
don't do it
don't do it
don't do it
don't do it
don't do it
don't do it

me:
*runs to twitter and tweets about it*#instagramdown

— applefessings (@applexfessings) November 20, 2018
Don't be too hard on yourself, you're not alone...
#instagramdown

Facebook and Instagram are down...

Twitter be like... pic.twitter.com/ISiF6YeIQc

— ☆Raeesa Kimmie☆ (@RaeesaK) November 20, 2018
...plus, you know Twitter isn't mad about it.
Dear Facebook & Instagram, Please Stop Breaking
As adorable as a Cookie Monster undergoing Facebook and Instagram withdrawal is, repeated outages are undeniably problematic for marketers who rely upon those two social platforms to do business.
Whether you're the B2C store promoting upcoming Black Friday and holiday weekend sales in your Instagram and/or Facebook stories, or a B2B consulting firm running more complex, budget-intensive, full-funnel Facebook advertising strategies, you are probably concerned about this recent spat of high-profile outages.
We're in the same boat, so we don't blame you.
Is this the sign of a troublesome new pattern of service disruption that we should expect more of (and plan for) in future?
Given that Facebook reported $39.9 billion in ad revenue last year -- with 98% of their global revenue coming from advertising -- I think we can all assume Facebook is equally tired of being in the headlines for downtime.
(And all of the other stuff, too, I suppose. It's hard being Facebook right now.)
"When I saw that Facebook was down, I thought to myself, 'Zuckerburg has got to get his act together. Or else I won't be able to share all of these videos of cats sneezing.'"

Carina Duffy, IMPACT HubSpot & Inbound Specialist
"To Say That Today's Outage Has Hurt Is a HUGE Understatement"
Ali Parmelee is our resident Facebook genius.
(If you don't believe me when I say she's basically a Facebook wizard, I invite you to spend 15 minutes inside this woman's incredible brain by watching her talk at IMPACT Live on how to implement Facebook and Instagram strategies that drive real, measurable growth and revenue for businesses.)
After going to Twitter, I immediately logged into our #general Slack channel to see how she was doing. Spoiler alert -- not great.
"I saw super late from my colleagues in Australia that it was starting to struggle, and it was fine at 7 a.m ... it just happened in the last 20 minutes, and it's killing me!"
Later on...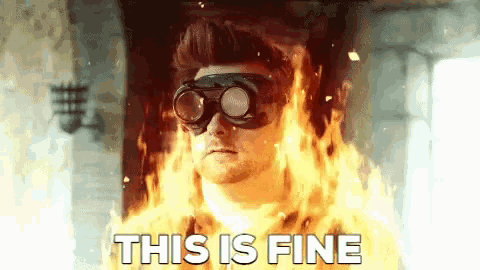 "How I'm handling this."
Seeing that she clearly needed space and time to circle the wagons on her strategies, I left her alone until this afternoon, before I asked her for her take on this third outage.
Here's what she had to say...
Ali's Reaction to the 3rd Facebook Outage
"We work in a digital environment, so I get that things happen that are out of our control. But this is like tax season for Facebook and Instagram advertisers. And to say that today's outage has hurt is a HUGE understatement.

For example, we've spent months building strategies that targeted net new audiences for the holidays so that we can retarget them.

For one client, we launched their Black Friday promotions yesterday and had 3x our projected sales -- when done right, it's that effective.

And now today? Crickets (and zero sales) while waiting for Facebook to fix itself."

Ali Parmelee, Facebook Ads Specialist at IMPACT
Ali's Advice to Agency & In-House Marketers
"Most importantly, you need clear lines of communications.

We immediately started alerting our clients so that they knew what was going on, and we could make some decisions together on how to pivot.

The thing to remember is, if you're not implementing a multi-channel approach, that's your biggest issue.

There is never a perfect scenario, just best-case.

So, Facebook went down today. It sucks. But we have enough other channels in place as a collaborative team that we can pivot, focus on the CRM and emails, create extra organic posts, funnel more into our PPC bids, etc.

No matter what, Facebook and Instagram offer huge opportunities for sales, leads and brand recognition.

Sometimes the technology can be painful. But it is still worth it."

Ali Parmelee, Facebook Ads Specialist at IMPACT
Of course, she's not the only one at IMPACT who had some great wisdom to share.
From Our Director of Audience Engagement & Community Stephanie Baiocchi
Most know Stephanie as the ringmaster of our 4,500+ member Facebook group IMPACT Elite -- which means she definitely had some feelings about what happened today with Facebook.
For me, she hit the nail on the head when she told me this:
"The outage itself doesn't affect my opinion of Facebook but the frequency with which they have been happening lately definitely does.

The other thing that really negatively impacts my feelings on Facebook is the fact that they rarely respond to these outages even with a pop up when you log in.

I don't know if this is related to the last one (and thus may happen again soon) or is a completely different issue. Furthermore, there's just a general silence from Facebook on most of their issues (that aren't political).

For instance, I've had issues with captions on longer videos for weeks now. I have contacted support, and the response I always receive is that they receive a high volume of support requests and likely won't get back to me.

What help is that? It's very frustrating.

... this takes me from thankful we're already working on additional homes for our community outside of Facebook to utterly relieved and adamant that it's of the utmost importance to my strategy right now."

Stephanie Baiocchi, Director of Audience Engagement & Community at IMPACT
As for her advice to others...
"1. Try not to panic. Nothing makes responding to things in a crisis worse than a brain clouded with panic. Remember that, while very important, this is just social media. No ones' lives are at stake.

2. Plan ahead for the next time. Do you have a live broadcast scheduled on Facebook that was supposed to be happening? I've definitely planned many of these myself and if Facebook went down during one I would be quite lost. I know now I will make sure I have a backup plan for any live events hosted on Facebook.

3. Make sure Facebook isn't the only place you live. Our IMPACT Elite community is so amazing and has proven to me time and time again that Facebook is a fun, easy, and useful place for this community to live…for now. Of course I am working on an alternate and more comprehensive home for our community so that it doesn't rely so heavily on Facebook or any social platform for that matter."

Stephanie Baiocchi, Director of Audience Engagement & Community at IMPACT
Another Day, Another Outage ¯\_(ツ)_/¯
We're not in the prediction business, but again, we share your unease. We all rely on Facebook, both as consumers and marketers.
But unlike the team at HubSpot who have demonstrated their commitment to owning their mistakes and making things right with their customers, Facebook has a history of silence and lack of ownership across the board, as Stephanie pointed out, which only compounds the problem of Facebook's recent outage frequency.
So, yes, we'll be back on the platform tomorrow, plugging away at our strategies. But I think we're all going into this evening feeling a sense of long-term Facebook brand fatigue settling in, undoubtedly influencing what decisions we make for 2019 and beyond.
Free Assessment:
How does your sales & marketing measure up?
Take this free, 5-minute assessment and learn what you can start doing today to boost traffic, leads, and sales.