What You Should And Shouldn't Outsource When It Comes To Your Digital Marketing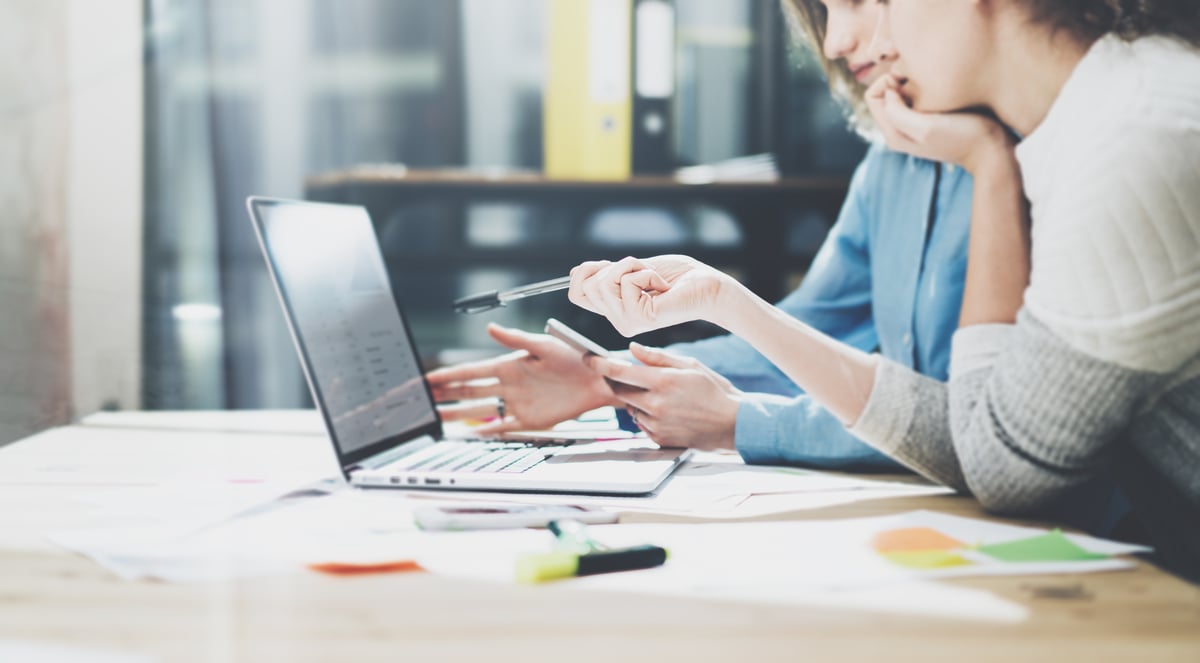 I've been in the digital sales and marketing field for over 10 years now and before coming to IMPACT, I held many positions within many agencies where I thought, "I shouldn't be the one doing this."
There are plenty of reasons why that thought crossed my mind, but perhaps the most important was simply this: the thing I was being asked to do just wasn't my area of expertise.
I'm not an expert in writing content for industries outside of digital sales and marketing. I'm not an expert at Google Ads or Facebook and understanding the best way to spend a company's money through paid ad campaigns.
I was just not an expert in certain areas, and yet I was tasked to do those jobs because my boss figured I could.
But here's the thing: When you're tasked to "do it all" inside of your organization, things don't get done as well as they could (and should).
Blogging works better when you write about topics your buyers care about.
You're pulled in too many directions and nothing gets done — or worse, you spend time spinning your wheels while the company is wasting time and money.

Now on the flip side, sometimes companies do the opposite of playing on their employees' strengths — they outsource it all!

When a company typically hires an inbound marketing agency, they're hiring a partner to do it all for them — develop campaign strategies, write copy (for website pages, blog posts, email campaigns, and more), create website and landing pages, capture video, and the list goes on.
Sure, outsourcing it all is "easier" for the company, and frankly, sometimes it's totally acceptable — but it doesn't make sense to outsource your inbound marketing efforts when you have really talented, passionate people sitting inside of your organization.
Evaluate your options
The fact is, there's a time and place for outsourcing, but it's something that should be used sparingly when your team truly doesn't have the capacity or skill to take it on.
Before we go into the specifics, a good rule of thumb is that if the position or responsibilities you're looking to fill plays an integral role in communicating your brand's voice and value, you want to keep that in-house to ensure quality and consistency.
There may be someone already on your team suited to take this on.
Oftentimes, the people who have the most passion or drive to learn more about a specific area of business are too bogged down with other tasks to really become an expert.
Take good, hard look at the talent you already have, to ensure that you're not overlooking someone who may want to explore a new growth opportunity or career path.
Once you've done that, it's time to truly look into the areas of your marketing that should be owned internally by your team and what areas of your marketing you should outsource.
What you should in-source for your digital marketing
1. Content creation
If you're choosing between hiring a freelancer to create copy or utilizing someone in-house to creating and owning the entire process — including researching and interviewing your subject matter experts to creating and publishing trust-building copy — there are far more benefits to the latter.

That role is what we call a content manager.
Having someone in-house who can own anything that has to do with your brand's voice will ensure consistency. In addition, you also have a person on your team whose sole responsibility is to create great, revenue-generating content.
Content you produce will be working for you on your website and blog long into the hours of the night when your sales team isn't available.
In that case, shouldn't it be content that is created by someone who understands your business and industry inside and out?
Think of it this way, when you hire a freelancer you run the risk of running into these common issues:
They're not as knowledgeable about your company, your products and/or services, or what makes you different from your competition: There's a big learning curve, and oftentimes, because the freelancer needs to work quickly to finish the job, the content can miss the mark.
Limited access to your experts: For someone who isn't living and breathing inside your industry, to create the best content they'll need to set up multiple interviews with your experts to get the information they need, and setting up time with your experts can be difficult — especially if the freelancer is writing as a side hustle and cannot meet during a normal workday.
Off-brand voice: When it comes to content creation, there is a lot to do, and the job is never done. Now, when you hire a freelancer (or different freelancers for different campaigns or initiatives) you run the risk of various pages or blog posts sounding off-brand.
Fixed deliverables: This is a big one. When hiring a freelancer, there's typically a standard approach you agree to — two rounds of revisions, 1500 words, and so on. By limiting yourself to these guidelines, you're missing a big opportunity to continually update and create the right pieces of content to educate your audience.
An in-house content manager can be hired and trained on your industry, products, and services right from the first day of working with your team.
They're immersed inside of your business for 40 hours per week and their entire job is creating the right on-brand content to educate your audience. No limitations, no restrictions.
Their nine-to-five job is just focused on creating the right things, for the right people, to help build trust with your prospects and potential customers. And that's worth it.
2. Video creation
Many of our most successful clients have an in-house videographer because, like content creation, the job of video production is never done.
There are so many opportunities for someone to capture trust-building video footage inside of your company and when someone is dedicated to this, less is likely to be missed.
Relying on outsourced video talent can prove to be time consuming, costly, and honestly not worth the end result:
Video production is expensive to outsource: The companies who are seeing the most success from their video creation are filming two videos per week, which ladders up to approximately 100 videos per year. If you're paying a production company, the costs add up quickly — especially at this pace.
You won't achieve optimal output: Creating two or three videos per week is optimal to achieve success, and that's a full-time job. If you attempt to hire a freelance videographer or video team, there's an extremely good chance that they can't or won't deliver for you on that basis.
An in-house videographer can help build video culture inside of your organization and they can create video content out of the day to day — think video testimonials, bio videos for your sales team to help them build trust with prospects before even talking to someone, or even capturing footage at trade shows or big company meetings.
When you bring video production in-house, you show dedication to creating a video culture.
Capturing video content becomes normal inside of your company, your team will understand the importance of video content, the trust it builds (as opposed to just the written word), and new opportunities to capture additional video will be brought up by members of your team.
Plus, having a videographer in-house allows for more organic and fluid planning, scripting, and execution.
Oftentimes, there's lag in between these stages in video production, which means that there's a chance that days (or sometimes weeks) will lapse before content is even captured when a project is stuck in the planning stages.
By having someone in-house, this lag time is nearly eliminated as they're inside of the company and their focus is not divided.
What you should outsource with your digital marketing
While owning content creation in-house (both written and video) is crucial for all of the reasons mentioned above, there's actually a situation where working with someone outside your organization is the right choice for your marketing and sales strategy.
1. Digital sales and marketing coaching
There is tremendous benefit to outsourcing a digital sales and marketing coach.
When thinking about hiring a coach or consultant, any companies initially think, "I have an in-house marketer, isn't this the same thing?
Sure, many in-house marketers are strategic when it comes to campaign strategy and yearly planning; however, they're likely so in the day-to-day weeds that they may have a hard time seeing the bigger picture.
An outside coach will guide your digital sales and marketing journey by providing clarity on complex problems, assisting with decision making and driving change within your organization.
They'll see things as they really are versus what they look like within the walls of your company.
An outside perspective, along with a specialized set of skills and experience, is really valuable.
This fresh perspective will help you and your team figure out how to get your company from where you are now to where you want to be, uncovering blindspots you may not have seen, tackling roadblocks as they come up, and helping to make the right decisions at the right time.
2. Graphic design and web development
These are two areas that are great if you have the talent in-house; however, it's not completely necessary to achieve outstanding results.
A great example of finding success outsourcing design and development is through website redesign projects. Many companies hire an agency or another company for their website redesign project because they don't have the talent and/or resources to accomplish this in-house.

Additionally, agencies who are familiar with executing website redesign projects understand what specifically needs to be designed and developed to adhere to best practices: building pages to be responsive, ensuring optimization for speed and search engines, strategic site structure, and more.
Plus, if you're owning development in-house, then the Q&A, website launch, and review will all fall on your team, which means that things can be missed and the process can drag out.
Your team likely isn't used to checking website development for quality and bugs. They also likely already have plenty on their plates, so this process might not be done well — and you could risk a failed website launch.
3. Paid media
The person who is owning paid media (Google Ads, Facebook Ads, Instagram Ads, LinkedIn Ads, etc.) truly needs to own this responsibility alone. They can't be wearing multiple hats.
The paid space is such a tricky one, with rules, regulations, and restrictions that can change day to day positively or negatively impacting the ads you have running.
I've heard horror stories that Facebook has had a history of turning off running ads without alerting the company. Even worse, you could be throwing away money on a Google Ads campaign because you weren't in the tool every day watching and optimizing your spend.
I commonly tell prospects and clients that outsourcing this service is the best option for many companies.
By outsourcing this to an expert team, you can be sure that they're inside of your ads manager tools every day checking on performance, optimizing where needed, and understanding how and when to tweak campaigns to ensure that you're getting your money's worth.
Consider your priorities before deciding what to outsource and what not to outsource
When understanding how you should staff your internal team versus what you should outsource, it's important to consider what your priorities are.

We've seen that implementing a proven methodology, such as They Ask, You Answer, encourages business growth because it focuses greatly on the creation of trust-building content.
Therefore, content creation roles (such as a content manager and videographer) should be in-house instead of outsourced for efficiency, cost, and more.
For those initiatives that are less consistent, require a high-level of expertise, or benefit from outside perspective, it's not a bad idea to outsource.
Published on May 27, 2020