Subscribe
Join 40,000+ sales and marketing pros who receive our weekly newsletter.
Get the most relevant, actionable digital sales and marketing insights you need to make smarter decisions faster... all in under five minutes.
Thanks, stay tuned for our upcoming edition.
2020 SEO news: the biggest stories you might have missed (so far)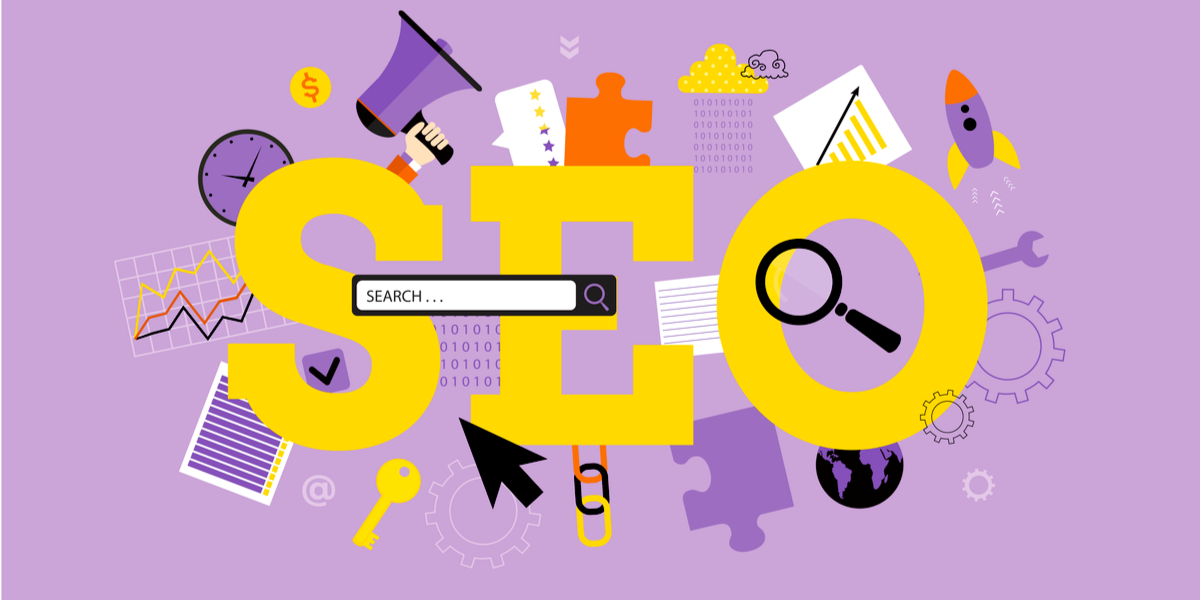 Top SEO news stories in 2020
Google's massive August update was actually a Google glitch
New SERP panel for coronavirus is a game-changer for search result displays
What Google's Rich Results Test now means for marketers
How COVID-19 has specifically changed the SEO game (exclusive interview)
What Google's massive May core update meant for site owners and marketers
Research shows COVID-19 increased focus on SEO (and smaller budgets)
I know what I'm about to admit reveal to you all a deep character flaw of mine that I would not otherwise even whisper out loud.
But it's 2020, right? It's a year when us marketers are all tripping all over ourselves to tell you how "uncertain" these times are because, well, they are. So, if I can't be honest now, when can I?
This morning, while I was drinking my coffee, I heard a story on one of my morning news podcasts that brought me to a state of utter elation I thought would remain out of my grasp until I was allowed to hug people again.
Dunkin' Donuts is bringing back pumpkin-flavored everything next week, even though we're still in the middle of August and summertime heat waves.
"While there is so much uncertainty heading into the fall, one thing our fans can count on is the return of pumpkin at Dunkin'," said their VP of marketing strategy.
I, for one, welcome our returning pumpkin spice overlords.🎃
Look, before you judge too harshly, I think we can all agree it's been a heck of a year. For me, personally, I moved up here, full of optimism and excitement, ready to start a new chapter of my life at the end of February.
Then, a mere 10 days later, local- and state-mandated quarantine orders took the world by storm, in the wake of the coronavirus (COVID-19) pandemic.
And nothing has been the same since
Social distancing, virtual everything, and wildly new hot takes on the term "seasonal creep" notwithstanding, however, we've seen a lot of changes in how we do our work as digital marketers. Some of this has been influenced by COVID-19, but a lot has not.
With that in mind, today we continue our series to keep you informed on what big digital sales and marketing news stories you may have missed so far. Last week, we talked about social media.
Below you'll the biggest stories in search engine optimization (SEO) that might have slipped under the radar, while you were busy stocking up on toilet paper.


The 'biggest Google update we've seen in a long time' was actually a 'whoopsie' glitch by Google (August 2020)


Last week, SEOs and digital marketers started panicking as they say massive shifts in the organic search traffic hitting their websites, although admitting it seemed on par with the theme of "everything is on fire" for 2020: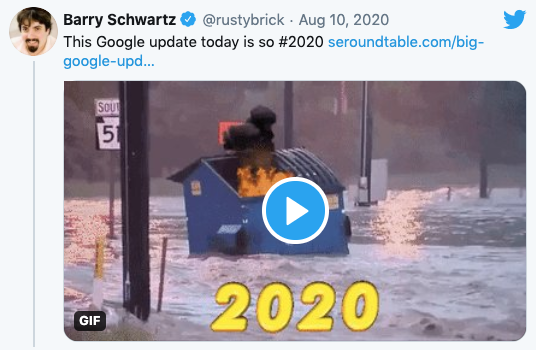 But things were not as they seemed, initially, according to Search Engine Roundtable:
"Yesterday afternoon I reported on one of the biggest Google updates we have seen in a long time. It was so big and the results were so all over the place, many suspected it was a bug. And a bug it was. A Google spokesperson confirmed with me over email last night, 'I confirmed with the team that this is a bug that we are fixing but still in the process of fully diagnosing, so we don't have specific details to share right now.'"
To quote modern-day philosopher Han Solo, "Everything's perfectly all right now. We're fine. We're all fine here, now, thank you. How are you?"
Could Google's new coronavirus SERP panel be a preview of what's to come? (I hope so)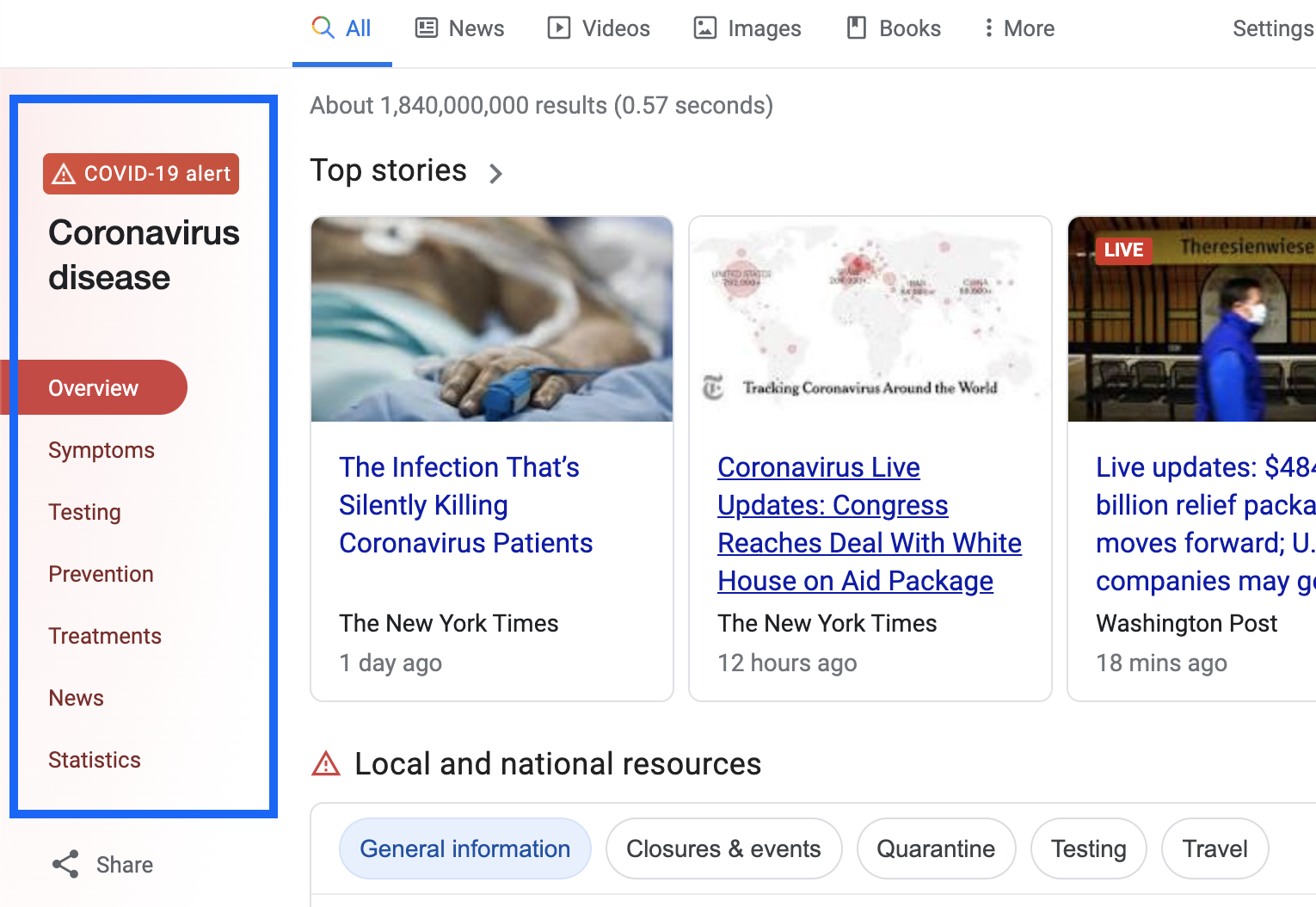 SERP is an acronym that simply stands for search engine results page. And when coronavirus hit, the search giant made some big changes to what was displayed when you searched for coronavirus-related topics, as you can see above.
This was a big, big deal, and it still is! As Mordy Oberstein noted at the time, this rollout is poised to permanently change the face of what the SERP looks like, in a way that gives the search much more control.
Read our full story and analysis.

Now that Google's Rich Results Test is out of beta, what does that mean? (Let's talk about it)

If you're unfamiliar with rich results, they "are experiences on Google Search that go beyond the standard blue link." Last month, Google announced that the Rich Results Test is now officially out of beta and it supports all of Google Search rich result features.
But what does this actually mean? If you've watched Google search results evolve over the past few years (including the story above about the new SERP panel), you've noticed your search results are no longer only a page full of large blue text links and descriptions: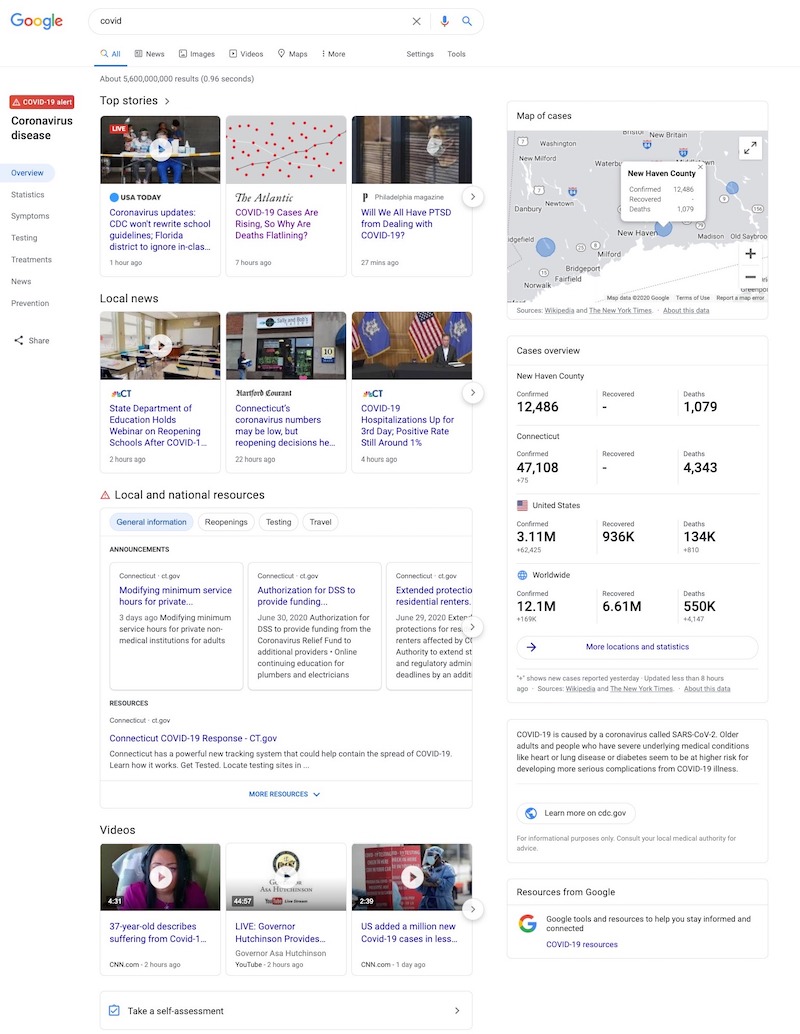 Trying to rank higher using structured data for rich results won't necessarily get you to the top of SERPs. However, it can, over time, influence click-through rate.
Read our full story and analysis.

Considering that search ranking sometimes seems to be affected by the flutter of a butterfly's wings on the other side of the world, what effect will the greatest humanitarian crisis in decades have?
As the world comes to grips with the new realities of the COVID-19 (coronavirus) crisis, many businesses are seeing big changes to their traffic, search rankings, online reviews, and other metrics. To shed some light on these open questions, Narrative SEO founder Franco Valentino came (virtually) to explain what's happening.
Read our full interview with Narrative SEO founder Franco Valentino.


What did Google's massive May core update mean for marketers? (Get the answer)
Anytime there's a massive Google core update there's a waiting period as the dust settles. Such updates could mean dropped search rankings for SMBs, and the need to pivot strategy in the short term — but so far the May 2020 core update doesn't appear to be causing an extreme level of chaos.
Still, publishers and big-name websites took a hit. For example, even Twitter saw a drop in its visibility to the tune of -44.99%. With these bigger sites seeing search results and visibility drop, small to mid-sized businesses were left wondering how they would fare as the update continued to roll out.
Read our full story and analysis.

Research: increased SEO focus — and smaller budgets — with COVID-19 (Get the inside scoop)
In this unprecedented time, marketers are having to pivot their tactics to react the way the markets and their customers are reacting. But how can they reshape an entire strategy when outlooks and forecasts change daily?
Data collected by Conductor shows us that, while many marketers are in fact reducing their budget, they are investing more heavily in their SEO at the same time.
For example, when asked about how their marketing budgets would be affected by the developing situation of COVID-19, 45% of respondents said they would reduce their budgets slightly, 27% expected to stay the same, 20% expected to decrease greatly and around 9% expected to increase.
Free: Assessment
Does your website build trust with buyers and bring in revenue?
Take this free 6 question assessment and learn how your website can start living up to its potential.