If I Become a Certified They Ask, You Answer Coach, Will IMPACT Help Me Train My Staff?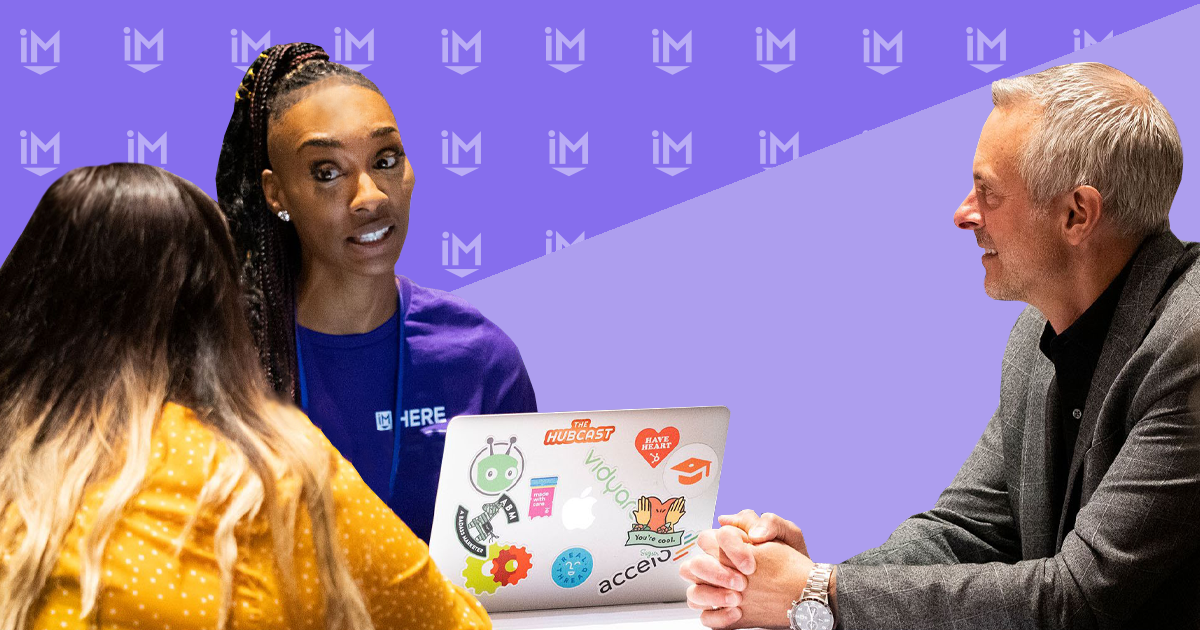 Becoming a certified They Ask, You Answer coach allows you to reimagine the way you service your clients.
Rather than serving as an implementation specialist who writes the copy, films the videos, and builds the workflows for your clients, you become a strategic specialist who sets the direction and holds the clients accountable.
The results of this shift are significant, and there are broad benefits for both you and your clients.
No longer are you stuck in a loop of razor-thin profit margins and client churn. Instead, you can service more clients with greater efficiency, and those clients see better results as they take ownership of their sales and marketing success.
But in order for this new model to work, you'll need to figure out the necessary logistics. You'll want to provide your clients with the most valuable experience possible. The first step is beginning your certification. Next, you need to create a plan for your business and assemble your team.
Other than through the certification program, IMPACT does not help you train employees to offer They Ask, You Answer coaching to your clients, but we do offer resources to help.
With our resources and the expertise you already have, you will likely be able to offer coaching services immediately upon completion of your certification. This article will explain how to get started.
Below, we'll cover:
Which They Ask, You Answer services you'll be able to sell once you're certified
Exactly what team members you'll need to offer each They Ask, You Answer service
How you can train your staff to deliver the services
Advice on getting started
Trust us, it's easier than you think.
Offering They Ask, You Answer services
The beauty of They Ask, You Answer coaching is that it works in nearly every industry. No longer do you need to feign deep knowledge about the niche a particular client inhabits.
When you're a coach, you provide the framework and strategy — the client provides the knowledge about their industry, their business, and their competition.
To deliver these services, we advise you to split them into three separate offerings.
They Ask, You Answer workshops
During your intensive first week of sessions, you'll learn everything you need to know to begin offering They Ask, You Answer workshops.
In fact, you'll present elements of the workshop directly to Marcus Sheridan in your second week — and you'll get detailed feedback.
After you complete the first six months of the certification program, you can offer these workshops on your own. (Note: Here's how IMPACT markets its own They Ask, You Answer workshops.)
Certified coaches typically charge $5,000 - $7,500 for this workshop, plus travel costs, if you choose to do one in person.
You can deliver workshops on your own. No additional team members are required.
Executive-level They Ask, You Answer coaching
Upon completion of the certification program, you will be able to offer full-fledged executive coaching services to your clients.
The typical coach sells these services starting at $2,500 per month, meeting with clients two to four times per month.
No additional team members are required.
They Ask, You Answer Mastery
As coaches scale their business and staff up their agency, They Ask, You Answer Mastery is their flagship service offering.
Typically priced between $5,000 and $12,500 per month, They Ask, You Answer Mastery services include coaching, as well as supplemental training in specialized areas like marketing automation, content and video strategy, and sales technique.
Most coaches have team members assist them in delivering this service. When we sell this service at IMPACT, our clients work with a content trainer, a video trainer, and a HubSpot trainer.
IMPACT won't help you hire or train these other employees. So, how do you assemble the team necessary to deliver They Ask, You Answer Mastery to your clients? Two ways.
Use IMPACT+'s library of lessons and courses. You can have your clients watch these courses themselves, or you can have your team members learn from these courses to prepare for training sessions with clients.
Utilize the knowledge you already have on your team. If you run a small marketing agency, your team members should have much of the knowledge you need to teach your clients. Chances are, you already have expertise in marketing automation, content creation, video strategy, and virtual sales.

You'll just need to deputize these team members to become trainers.
Building and training the team you need
Let's explore the options you have for building an internal team of trainers:
IMPACT+
IMPACT+, our online learning community, offers a wealth of resources in all aspects of inbound marketing and They Ask, You Answer.
As Pro-level members, you and your team will have access to dozens of courses and lessons, hundreds of event recordings and keynotes, and other tools such as scorecards, learning paths, and more.
Using IMPACT+ to train your clients
You can use IMPACT+ resources to train your clients directly. Assigning courses is a great way to focus on a specific skill. For example, if you're doing content training for a client, these are a few of the courses that would be extremely valuable:
And trust me, there are literally more than a dozen others that would also work well:
You'll find just about everything you need in there.
Using IMPACT+ to train your team
But clients don't need to have all the fun. There's another alternative. If, again, you're providing content training for a client, someone on your team could watch the same videos and then deliver the lessons to the clients themselves.
This lets your team member make the information their own and set the appropriate pacing for the client, which a video cannot do.
Your trainers can also access several different pre-planned learning paths, such as this one about blog content or this one about video content, or you can pull together a customized curriculum for your trainers' individual needs.
IMPACT+ also offers mastermind groups that foster in-depth discussions with like-minded professionals that provide your trainers the support they need to take their skill sets to the next level.
Utilize the expertise within your organization
As you're coaching and developing the trainers on your staff, don't overlook a valuable resource you might already have access to in-house: your own HubSpot, content, and video experts.
If you're a marketing agency that's been working with clients for years, you've likely developed rich expertise in content creation, inbound strategy, CRM use, email marketing, and more.
Thus, if you have a seasoned copywriter on staff, use that person to show your clients the ropes of content creation.
When you use your personnel in this way, you're freeing them from implementation and empowering them to do consultation. This also provides your agency with the bandwidth it needs to take on more clients.
As a certified coach, you can work with your staff to help them level-up their communication and training skills ahead of their work with clients. You can share the knowledge you've gained from the certification program.
You can also have other members of your team get certified as well.
You can start coaching sooner than you think
You already have many of the tools necessary to deliver effective They Ask, You Answer coaching to your clients. As a certified coach, you'll bring a robust skill set to every meeting you have with clients.
You'll be an expert in the They Ask, You Answer framework, but you'll also be an expert communicator, leader, and goal setter.
As for the other training roles, use the expertise your team already has. As marketing professionals, they already have deep knowledge of content strategy, email marketing, and CRM use.
If you can help them learn how to teach what they know, you'll be ready to offer training services.
And, for any skills that fall outside your knowledge base, utilize IMPACT+ as a training resource for your clients. There, they'll get direct instruction from Marcus and other IMPACTers who can guide their efforts.
Free Assessment:
How does your sales & marketing measure up?
Take this free, 5-minute assessment and learn what you can start doing today to boost traffic, leads, and sales.