Google launches Keen — a new app to help you spend more time doing what you love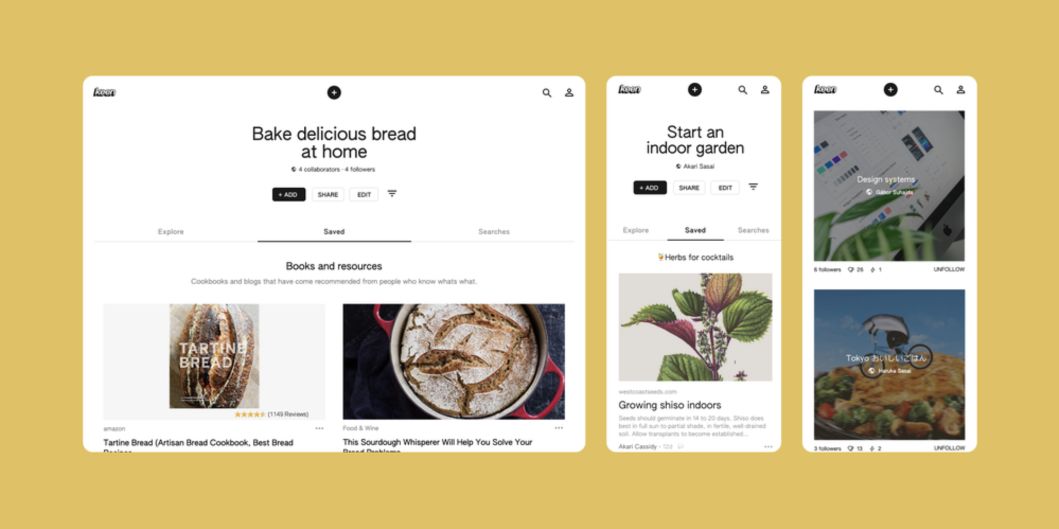 In the world of digital marketing, when Google makes an announcement, the ripples are felt everywhere. Take, for example, regular search algorithm updates, which can trigger near hysteria as businesses closely monitor search rankings and wait for aftershocks every time one rolls out.

It remains to be seen, however, whether Google's new product announcement from last week will have similar repercussions.
A new Google app called Keen, which sounds like a blend of Facebook Groups and Pinterest, purports to make it easier for you to learn more about what you love and connect with others who share your passions.
According to Google's press release, "On Keen...you say what you want to spend more time on, and then curate content from the web and people you trust to help make that happen."
So, what does this look like in practice?
What Keen can do for its users
Keen is the product of Google's Area 120, the search engine's startup lab division, and it launched last week. At this point, Keen is only a web and android based app, and there has been no mention of an iOS version. Still, it is easy to sign up and get started.
My main screen was quickly filled with topics that housed collated content within: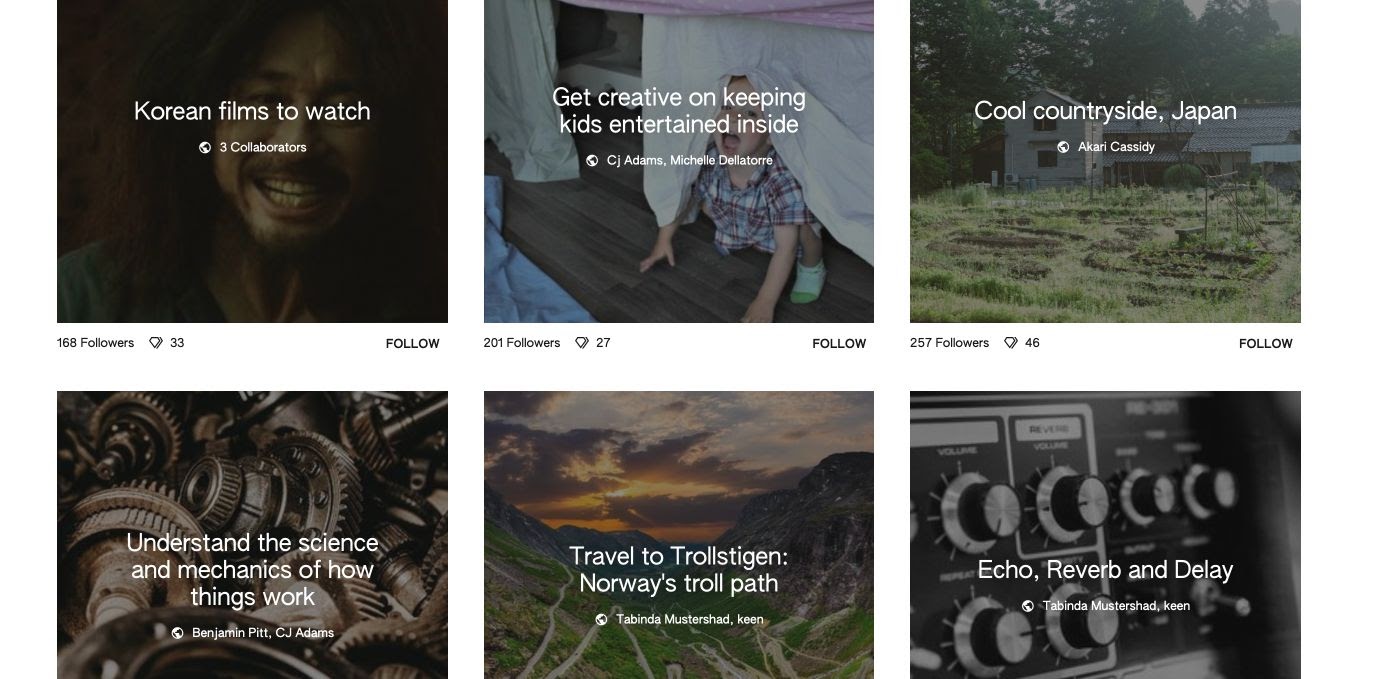 It works like this: users create a "keen" (which could be about anything: learning to juggle, boat travel, or still life painting), then curate content related to the topic. These keens can be shared with others, too — but they are private by default. You only share what you want to share.
If you start searching and find something interesting, you can mark it as a "gem" to save it for later.
In turn, Keen will use machine learning to better predict what content to show you in the future. As Google puts it: "These bits of content act like seeds and help keen discover more and more related content over time."
To try it out, I signed up at staykeen.com and got started. Within a minute, I was in and exploring.
And guess what, I found my own content in there: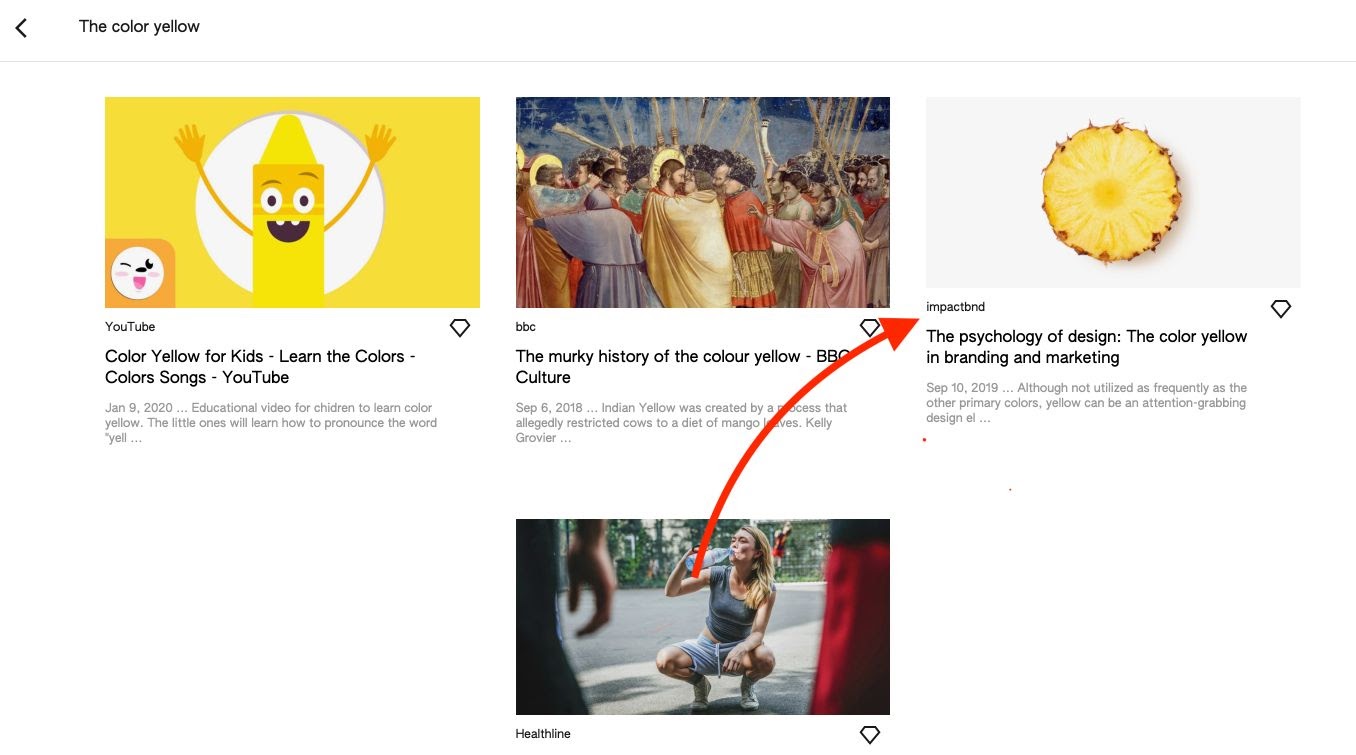 Under a search for the color yellow, I found my own article from last year covering the use of yellow in modern marketing and corporate design — right next to a YouTube video and an article from the BBC.
And this is where it gets interesting. How does a Keen search compare to a regular Google search? Could Keen be a new source of web traffic for your site?
How Keen might affect your web traffic
According to Roger Montti, writing in Search Engine Journal, Keen could be a new source of traffic for your website.
He explains:
"The most powerful recommendation a website can receive is a recommendation from one friend to another. The value of Keen to the web ecosystem is that it represents a new way for users to discover web content.

"Keen actively searches and suggests relevant content to users.

"A search engine is passive. It waits for someone to ask it a question. Keen is proactive. Instead of passively suggesting content in response to search queries, Keen actively recommends content that people will enjoy."
In other words, if Keen takes off, it could drive traffic to your site. If people are finding and marking your content, that content could snowball and find its way to other keens and, in turn, get in front of more and more eyes.
Once again, though, it all comes back to how well your content delights and informs your audience. Google doesn't see Keen as another social platform for users to endlessly scroll through pictures.
According to the press release, "Keen isn't intended to be a place to spend endless hours browsing. Instead, it's a home for your interests: a place to grow them, share them with loved ones and find things that will help in making this precious life count."
It stands to reason that if your content aligns with people making their precious life count, you could see more visitors, more shares, and more traffic.
To check out Keen for yourself, go to staykeen.com to sign up.
Free: Assessment
Does your website build trust with buyers and bring in revenue?
Take this free 6 question assessment and learn how your website can start living up to its potential.