5 Brands with a Great Holiday Marketing Strategy You Can Learn From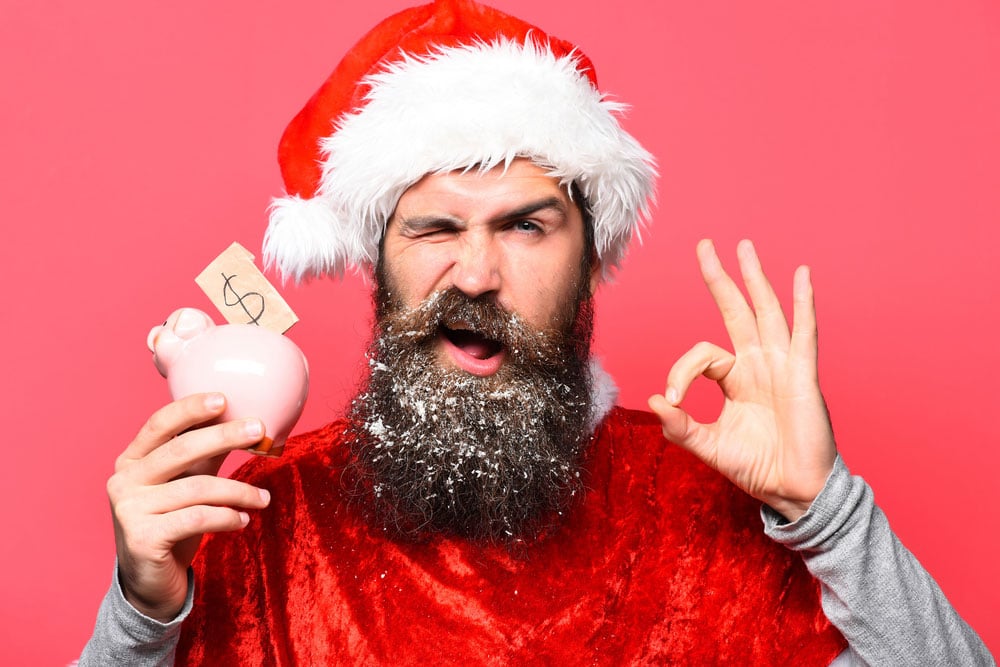 I don't know about you, but I am a HUGE fan of the holidays. (Seriously. Buddy the Elf and I would be friends.)
In addition to the twinkling lights and Christmas music, I love whole spirit and sentimentality of the season. I get to spend time with my family, take time off, and enjoy food and traditions that came long before me.
From about November first through the New Year, you'll find me with a goofy smile on my face and I couldn't be more proud of it.
The holiday season, however, has changed for me over the years, especially since I started working as a digital marketer. I no longer just see videos or commercials with puppies wearing big red bows, but rather smart, strategic marketing plans that were created to make prospective buyers say "aw" and feel an emotional connection to a brand.
In just a few short weeks, we will pack away all of the lights, pick up the tinsel, and put Santa back in the corner of the attic until next year, but before then, let's take a look at five clever brands with great holiday marketing strategies you can learn from.
1. REI - #OptOutside
REI pulled a 180 on marketers and stuck with their #OptOutside campaign once again in 2016. In it, the brand challenged its audience to go outside and avoid Black Friday shopping. Can you imagine? A retail store actually encouraging people not to shop on the one of the busiest shopping days of the year.
As a outdoor recreation retailer, this message is completely in line with REI's brand, and they stayed true to it, closing their stores and paying their employees to opt outside that day.
People were also encouraged to show what they were doing outside by sharing pictures and videos on social media with the hashtag #optoutside.
REI even created pre-made "filters" so you could upload your image and have a fun message like "Will you go out with me?" appear as an overlay.
The brand created waves when it first launched the campaign in 2015, but once others saw how many people engaged with the new idea, other brands joined in.
This year, more than 275 national and local organizations partnered with REI in encouraging people to get outdoors on Black Friday. Even big brands like Subaru and Skedaddle were on board! The result? 6,033,922 people chose to opt outside on Black Friday this year, a huge increase in the 1.4 million people that participated in 2015.
Lesson learned: Create a new message for the holiday season.
The entire product line of REI is centered around outdoor clothing and gear. Instead of just marketing their products for people to purchase this holiday season, they crafted a new, outside-of-the-box message -- one that even went against the commercialization of the season, but stayed true to their brand; Get outside and get moving! Do something fun and don't be stuck indoors shopping.
From social media posts to blog articles, REI shared this message with the world and allowed like-minded, outdoorsy individuals to reclaim Black Friday. Personally, I love it and have opted outside two years in a row now.
2. Sonos + Spotify - #PlaylistPotluck
Spotify has been reinventing music discovery for years. From collaborative playlists to mood channels, people can find new (or long-forgotten) music easier than ever.
This year, Spotify partnered with home sound system company, Sonos and launched Playlist Potluck just in time for the holiday season.
The overall concept is simple. Spotify users invite their friends to an event by sharing their playlist and then allow the friends to add their own favorite songs to the list for the night.
The functionality was built off of Spotify's existing collaborative playlists, but included a fun twist where the event creator can only add five songs to the playlist. From there, they must turn it over to a guest to add more.
This is perfect for those that have suffered one too many parties with Nickelback on repeat.
In order to create your playlist, simply connect your Spotify account through a landing page. In addition to your "potluck," you'll entered to win Sonos speakers and the chance for a top chef to come cook for your party.
Lesson learned: Rethink common problems.
Spotify and Sonos teamed up to create a fun solution that party guests and hosts often endure. Then took the common practice of a potluck -- where everyone contributes to the dinner or event -- and brought it into the digital world.
By making the playlist a collaborative aspect of the event, they were able to rethink how people engage with their products/services for holiday get togethers. Think outside of the box with your marketing for fun solutions to common problems.
3. Google - Santa Tracker
Oh, I love this campaign.
Every year for the past 12 years, Google launches their Santa Tracker so children (or adults…) can countdown to Christmas Eve and track Santa on his night out delivering gifts.
Every day in "Santa's Village" starting December first, new activities go live that allow users to engage with games that teach basic coding skills, geography, and languages, and even certain charitable organizations.
Teachers can even download lesson plans so they can engage with their students offline using the tool as well. Santa Tracker is available not only on desktop, but also Android and iPhone Apps and through the Android TV app and Chromecast.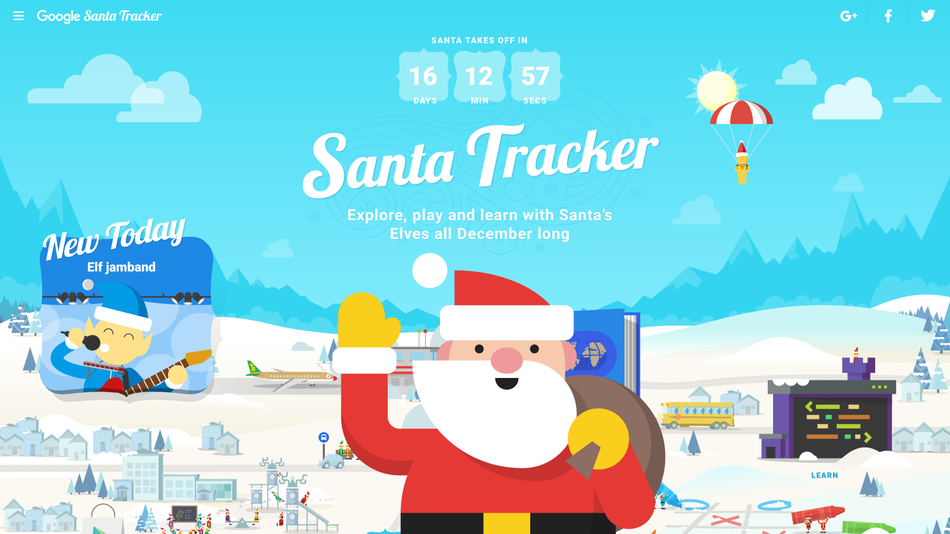 Lesson learned: Make your marketing interactive!
Educational games. They're a rare intersection where parents and children are both happy and entertained. Kids are able to have fun tinkering with the elves while parents and teachers are relieved that their children are getting something educational out of it.
It's hard to target multiple audiences in the same campaign, but Santa Tracker does it perfectly.
Starbucks has been launching red cups every holiday season since 1997. The cups are meant to mark the season and customers look forward to the festive designs, however, in 2015, Starbucks opted for a simpler look and featured an all-red cup design with a slight ombre coloring. The response? Not. Good.
Many people were outraged that Starbucks removed the Christmas aspect from the design when cups in years past have featured lights, ornaments, pine trees, snowflakes, and more.
The controversy got so big that it gained international coverage with celebrities and even our President Elect chiming in on the matter.
Through all of the bad press though, people used their plain red cups as a blank canvas for holiday doodles and sketches, much like they do the usual white cups.
This year, 13 of those designs have been chosen to be featured on the Starbucks cups. In other words, real designs by real customers.
Lesson learned: Pivot!
Starbucks executives listened to their audience and used the reactions from last year to create an even more memorable product this year. The designs are some of the most intricate work ever done on the cups and with thirteen women from six different countries having their designs featured, it's fun to learn about the individuals who penned them.
Just because a marketing plan didn't pan out the way you wanted doesn't mean you can't learn from it and adapt your strategy. When faced with adversity, take note of what went wrong and explore ways to pivot back to success.
5. Apple - Frankie's Holiday
Apple's latest holiday ad will give you the chills and pull at your heartstrings -- at least it did for me.
It features "Frankie," or Frankenstein's monster, trying to get into the holiday spirit by going to the town square and singing along to the tune "There's No Place Like Home for the Holidays."
When the townspeople are taken aback by his appearance, Frankie becomes disheartened. Check out the video below to see the ad:
Lesson learned: Put your story first.
Did you notice the iPhone in the commercial when first watching it? I didn't.
I actually had to rewatch the video to see where the product placement was, but this isn't a bad thing.
Apple creates products that aim to better people's lives so it shouldn't be surprising that their holiday ad focuses on the people instead of the product, and also speaks volumes about the brand itself.
It's message is clear: come together and open your heart. At the end of a year that has been filled with so much opposition and prejudice, it's touching to witness this -- the product is an afterthought.
Remember, your marketing is meant to tell a story. All too often brands get caught up in pushing their products or services instead of focusing on the end user and the story and values that will impact them.
Each of these brands took their marketing to the next level for the holiday season in different ways, but did not disappoint.
Don't limit your brand to being average and continue to produce the same marketing initiatives year over year.
Engage with your audience in more ways than just eBooks and infographics. Need inspiration? Check out these 10 outside-of-the-box inbound marketing ideas to get your creativity flowing.
Did you have a special campaign running this holiday season? Let us know in the comments below!
Free Assessment:
How does your sales & marketing measure up?
Take this free, 5-minute assessment and learn what you can start doing today to boost traffic, leads, and sales.