How 7 Brands Are Celebrating St. Patrick's Day With Their Marketing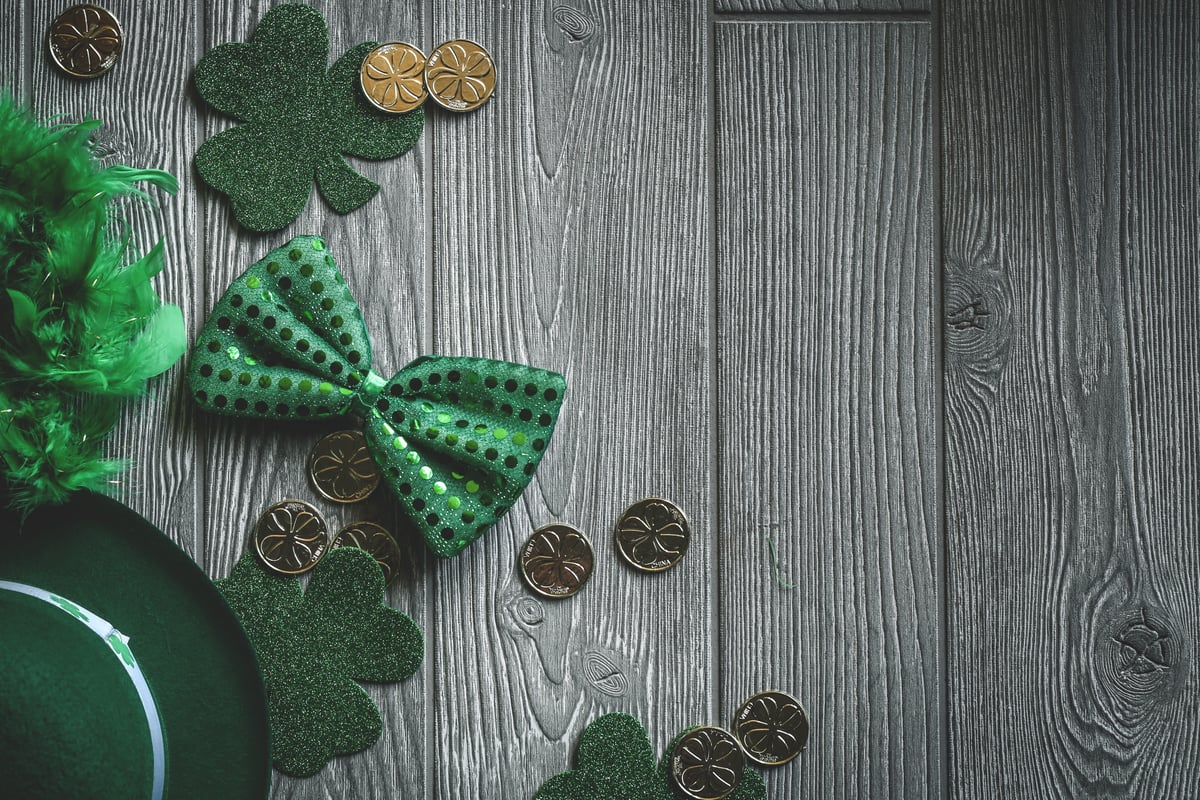 For marketers, holidays present a great opportunity to get creative with your strategy and try out a unique and memorable campaign.
While St. Patrick's Day might not be considered a national holiday, we still see some great campaigns each year from brands looking to capitalize on the fun and festive nature of this day and connect with their audiences.
With that in mind, here are seven brands that came out with some great St. Patrick's Day campaigns this year.
1. Krispy Kreme
For one day only, Krispy Kreme is turning their iconic Original Glazed Donut green - and temporarily changing the name the "O'riginal Glazed Donut" (see what they did there?).
Dying foods green for St. Patrick's Day is not a new strategy by any means, but because Krispy Kreme is such a traditional brand (and their glazed donut is so well-known), the news of them changing one of their most popular products has earned the company a lot of press, and there's a good chance their donut sales today will reflect that.
The tasty campaign capitalizes on St. Patrick's Day celebrations in a memorable way and the "one day only" messaging creates a sense of urgency.
Want a green donut? Come in on St. Patrick's Day before they're gone! I'm sure we'll be seeing more than a few of these on Instagram.
2. Jameson
A free trip to #Dublin to celebrate #PaddysDay 2018? Cheers to that! Learn how: https://t.co/4kJPGJ55Hg #CheersYourJameson pic.twitter.com/T19261xCQD

— Jameson Whiskey (@jamesonwhiskey) February 1, 2017
Jameson, a popular Irish Whiskey Brand, typically celebrates St. Patrick's Day through festive social posts and other campaigns.
This year, they took it a step further offering their customers the opportunity to experience St. Patrick's Day the right way with a free trip to Dublin, Ireland, to celebrate St. Patrick's Day in 2018.
To enter the contest Jameson tells customers to "simply submit a photo of you and your mates cheers'ing your Jameson, and use the hashtag #CheersYourJameson and tag your location".
One lucky person that sent in a photo will be winning the trip to Ireland for next St. Patrick's Day, but regardless, the brand will share all of the submitted photos today on their website, so be sure to check it out!
This is a great campaign for a few reasons. For one, it increases consumer engagement with their brand, getting them interacting with and sharing the brand with their personal networks on social media. Displaying all of the different locations showcases their brand's popularity across the world, and is a great way for the brand to gain insight into where their social audience is.. Being able to see all of the photos and locations of people celebrating in a similar fashion also creates a sense of community among Jameson drinkers.
3. Guinness
Only one week until #StPatricksDay—time to get your 'stache in shape. #StacheForCharity Details: https://t.co/tyLKzgdU7Y pic.twitter.com/KwlTKDH6wl

— Guinness US (@GuinnessUS) March 10, 2017
Another popular Irish brand, Guinness, also regularly has St. Patrick's Day themed campaigns on social media
This year, they use their platform to help give back to the community with their #StacheForCharity campaign.
Explaining the details on the brand's Facebook Page, this campaign asks customers share their experiences with Guinness, saying "adult beer lovers can sip their pint slowly and share photos of their stache – whether self-grown and groomed, drawn-on, or Guinness-enhanced – with @GuinnessUS using #StacheForCharity"
For every picture they receive, they'll donate $1 to the Guinness Gives Back Fund, a non-profit organization that helps provide communities with the support they need.
They'll be submitting all proceeds from this campaign on St. Patrick's Day, but continue collecting pictures until March 19th, so there's still time to submit your picture!
4. National Highway Traffic Safety Administration (NHTSA)
Join our Twitter Chat to get tips and facts to keep you safe this #StPatricksDay. #BuzzedDriving pic.twitter.com/8D7YdQe1WR

— NHTSA (@NHTSAgov) March 9, 2017
Because St. Patrick's Day is most commonly associated with alcohol consumption, The National Highway Traffic Safety Administration, as known as NHTSA, uses this holiday as a platform to discuss driving safety and to spread awareness against drunk driving.
Last year, they posted a series of facts on Twitter about the high number of fatal drunk driving accidents during the St. Patrick's Day season alongside the message "Luck Is Not on Your Side."
This year, they took a more interactive approach to their education, hosting a live Twitter chat on March 16th where they discussed tips to help stay safe over the coming weekend.
5. SEMrush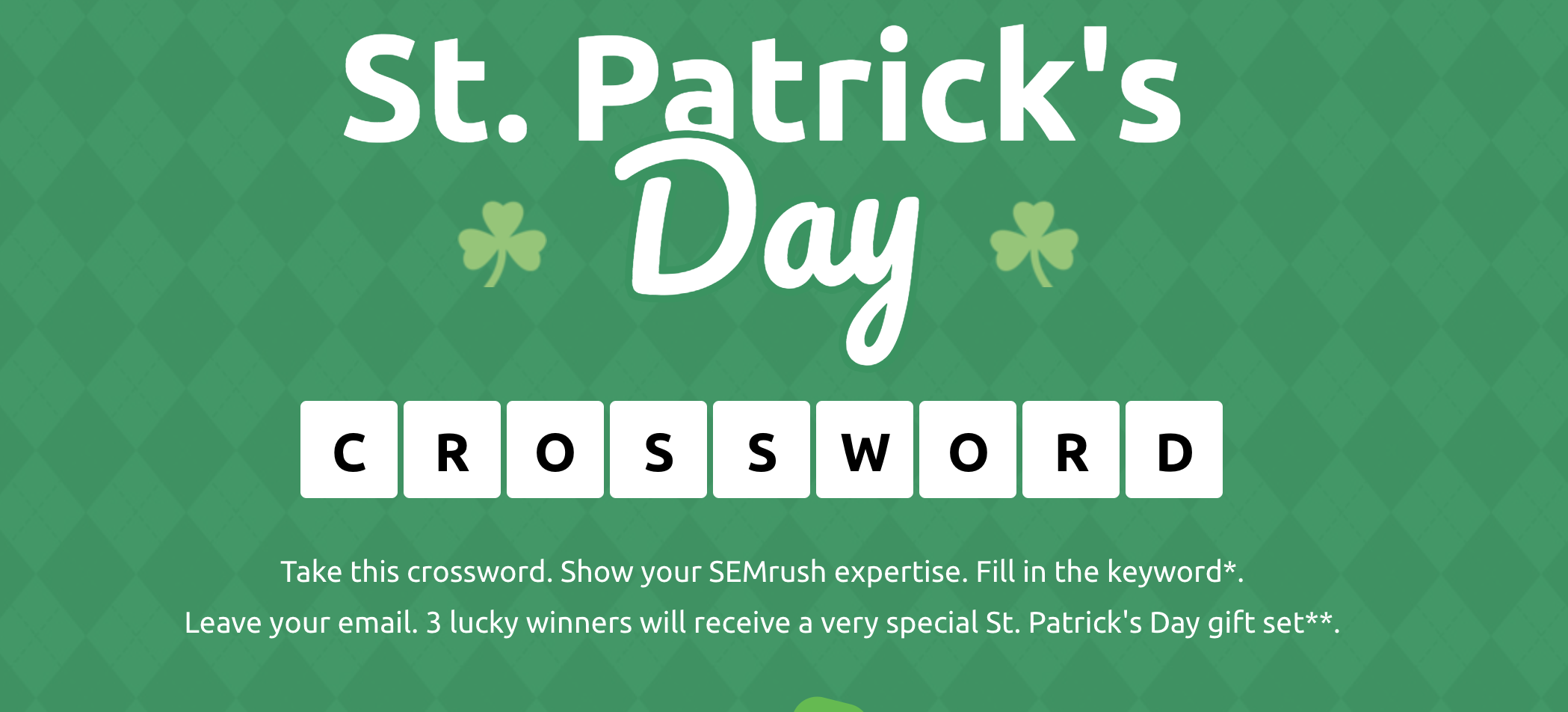 SEMrush, a marketing software company, came out with a fun and interactive idea to get in the St. Patrick's Day spirit: a St. Patrick's Day themed marketing crossword, with the chance to win a Guinness gift set.
Because their target audience is marketers, this campaign was the perfect balance of relevant, engaging, and tailored to their specific audience.
6. Hard Rock Cafe
The Hard Rock Cafe has locations in several cities around the world, and for St. Patrick's Day this year, they each used a different marketing campaign to best reflect their unique customer base.
Here are just a few examples from some of their locations:
New York City:
May the Luck of the Irish Be with You!
Try the Irish Mule today. #hardrocknyc pic.twitter.com/fUVB0zV9P7

— Hard Rock Cafe NYC (@HardRockCafeNYC) March 6, 2017
The Hard Rock's NYC location is offering special St. Patrick's Day themed drinks, as well as a Jameson & Guinness-Infused bacon cheeseburger. Because people spending St. Patrick's Day in New York City are likely to be interested in the cities popular bar scene, this Hard Rock location tailored to that audience with these festive offers.
Orlando:
We're getting our green on all weekend! Live music Friday night, + our Reuben Sandwich available Fri - Sun + Chef's own Guinness Cupcakes! pic.twitter.com/3dIb6vYxrB

— Hard Rock Orlando (@HardRockOrlando) March 14, 2017
Because the Orlando Hard Rock Cafe is located in Universal Studios Theme Park, this location is offering more family-friendly festivities with live music, a special menu, and Guinness cupcakes.
By focusing on things that families with young children would be interested in, the Orlando location was able to position itself as the place to celebrate together.
7. McDonald's
Enjoymint – when your 2 favorite flavors unite for chocolaty-mint awesomeness #ShamrockSeason pic.twitter.com/neeEIMFctw

— McDonald's (@McDonalds) February 28, 2017
I don't know about you, but when I think about St. Patrick's Day marketing campaigns, I immediately think of McDonald's limited edition Shamrock Shake.
For those of you who don't know, every year, McDonald's releases a green, mint-flavored milkshake known as the Shamrock Shake, for one month leading up to the festive day. This is a long-running campaign, and it gets a ton of hype every year from their customers awaiting its release.
In my opinion, the Shamrock Shake is a prime example of a great marketing campaign because it creates a sense of urgency and excitement in their customers for a seemingly average product, that wouldn't exist if they simply added a mint chocolate chip milkshake to their permanent menu.
Simple, but brilliant!
Conclusion
No matter what marketing angle you choose, St. Patrick's Day, like many other holidays, provides marketers like you rare opportunities to think outside the box and be creative with your marketing strategy.
Celebrating holidays with your marketing helps humanize your brand. It helps you connect with your audience on a more personal, fun level, and allows your message to better resonate with them in their current state of mind.
Free Assessment:
How does your sales & marketing measure up?
Take this free, 5-minute assessment and learn what you can start doing today to boost traffic, leads, and sales.