Subscribe
Join 40,000+ sales and marketing pros who receive our weekly newsletter.
Get the most relevant, actionable digital sales and marketing insights you need to make smarter decisions faster... all in under five minutes.
Thanks, stay tuned for our upcoming edition.
5 Customer Service Lessons I Learned First-Hand from GoDaddy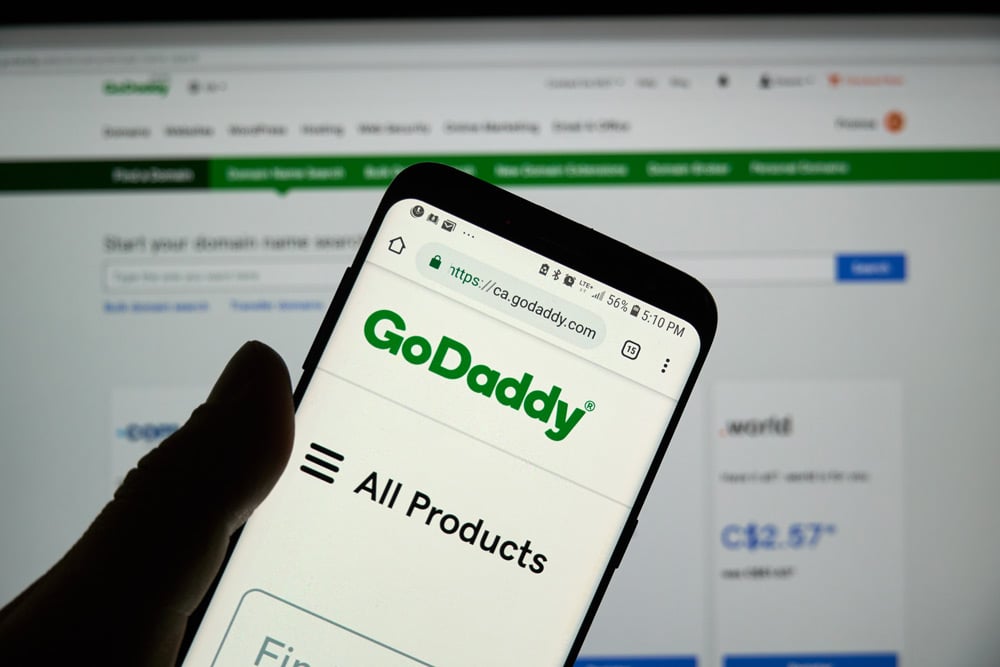 These days, I'm pretty sure everyone dreads calling 1-800 numbers.
You'll likely be on hold for a frustrating amount of time or go through a seemingly endless amount of options prompted by a computer, in a desperate effort to get to a person.
Sometimes I go around in circles so much I end up giving up and don't get to accomplish what I called for in the first place.
Sounds like fun, right?
Not so much.
Which is why I was shocked when I actually had a pleasant experience when I had to call GoDaddy the other day. Such a good experience that I ended up buying from them twice in two days.
As I went back to analyze my experience, I found that there were a couple of key things they did to make me a customer - and then a repeat customer.
Here are a few of the main takeaways you can apply to your business to help provide an excellent customer experience.
1. Show Respect for Your Customer's Time
Instead of keeping me on hold forever, GoDaddy provided the option to call me back when one of their associates were available. This took the burden off of me and enabled me to continue on with my day, instead of waiting who knows how long on the line.
I was afraid I'd be waiting for hours and possibly never even receive a call, but within 20 minutes my phone rang. I even happened to miss the first call, but a few minutes later they called back again.
I've never used this option when waiting for a salesperson before, and I actually don't run into it that frequently, but I really enjoyed the process.
If you typically have a long phone wait for your customers, this might be a great option to look into. It shows respect for their time and ultimately creates a better overall experience.
2. Take Note of How to Reach Them
The first question I was asked when I was connected with a representative was what my call back number is in case we get disconnected.
While this might seem trivial, it made me feel like they really cared about my experience and getting my issue addressed.
One of the biggest fears I have (and I'm sure you and many of your consumers can relate to) after finally connecting with a person is that we'll get disconnected and I'll have to start over again.
Knowing they had my direct call back number took away the worry that that might happen. It made me feel like they actually valued our conversation (and me as a potential customer). Because of that, it made me want to work with them more, right off the bat.
If you don't already have a call back number (and/or email address( for each person you get on the phone with, consider asking in case you get disconnected for whatever reason.
This attention to detail will let the customer know that you care truly about the conversation you're having with them and want to see it through to whatever the conclusion may be.
3. Be Helpful, Nice,
and
Knowledgeable
For the 20 or so minutes I was on the phone with GoDaddy, I didn't feel like I was talking to a robot or someone who hated their job.
The sales person I talked to was genuinely nice throughout the whole conversation, and I was shocked at how knowledgeable he was about the company's products.
Not only was he able to help me with my GoDaddy questions, but he walked me through all of my WordPress questions as well.
Because of his knowledge about both products, I was confident enough to purchase from him knowing exactly what my next steps would be for setting up my website.
If your salespeople don't know your product, its competitors, and integrating products inside and out, you might be missing out on numerous sales opportunities.
Your team should be ready to field any question or situation that may come their way. This knowledge not only instills confidence in the customer but further establishes you as a trustworthy expert.
At IMPACT, our onboarding process allows people to shadow and learn from different departments in the company before diving fully into their role. This gives them diverse knowledge of the company and what we do. Especially for someone on our sales team, shadowing our client services team helps them to better understand our services and how we work with clients for when they're talking with potential customers.
Consider creating a detailed training process to bulk up on your team's knowledge of your product or service and of all relevant products or services.
4. Guide Them
Remember the good old days when sales associates would walk you to the aisle and product you were looking for instead of just telling you where to go?
This is what it felt like on my phone call.
Every time I asked the salesperson a question, he would walk me through how to do everything and wait for every step to be complete, no matter how long it took.
This made the phone call really productive for me, and I left in a better place with the product than I ever expected.
I also appreciated the salesperson for doing this and knew that if I bought from them again I wanted to work with him.
This extra 5-10 minutes he spent with me, made me feel closer to GoDaddy and increased my potential to become a repeat customer.
Whether your company can physically or verbally walk your customers through things, make sure to follow it through to the end to make sure your customers are fully satisfied and set up for success.
5. Give Them
Your
Contact Info
At the end of our call, the salesperson asked if I wanted his email address in case I had any other questions about the product I purchased.
This gave me a huge sense of relief because I knew that if I got stuck with something I had someone knowledgeable who could help me out.
Right after the call, I received a nice email from him with the best way to contact him.
Knowing what a great process this was, I decided to buy another product the very next day because I knew if I reached back out to this same salesperson, I would get top-class service, and just as expected, it was another amazing experience and even faster than before.
If your customers don't already have a way to follow up with the salesperson they worked with, make sure they give their contact information as part of the process.
This, once again, shows that your engagement is two-way. You're not just trying to push your message on them and make a sale; you're readily available to help them get to where they want and need to be.
How Can You Improve Your Customer Experience?
I understand that all of these steps might not work for your current sales process, but that doesn't mean there aren't a bunch of ways to improve.
Take a look at each step touch point you have with your prospects and see where you can make their experience more personal, helpful, and memorable. Or better yet - ask your customers (or the people who didn't purchase) what would have made the whole process better for them.
Feel free to comment with your ideas for improving the customer experience in IMPACT Elite!
Free Assessment:
How does your sales & marketing measure up?
Take this free, 5-minute assessment and learn what you can start doing today to boost traffic, leads, and sales.