Subscribe
Join 40,000+ sales and marketing pros who receive our weekly newsletter.
Get the most relevant, actionable digital sales and marketing insights you need to make smarter decisions faster... all in under five minutes.
Thanks, stay tuned for our upcoming edition.
HubSpot Impact Awards: Evaluation Checklist Hits Big With Seniors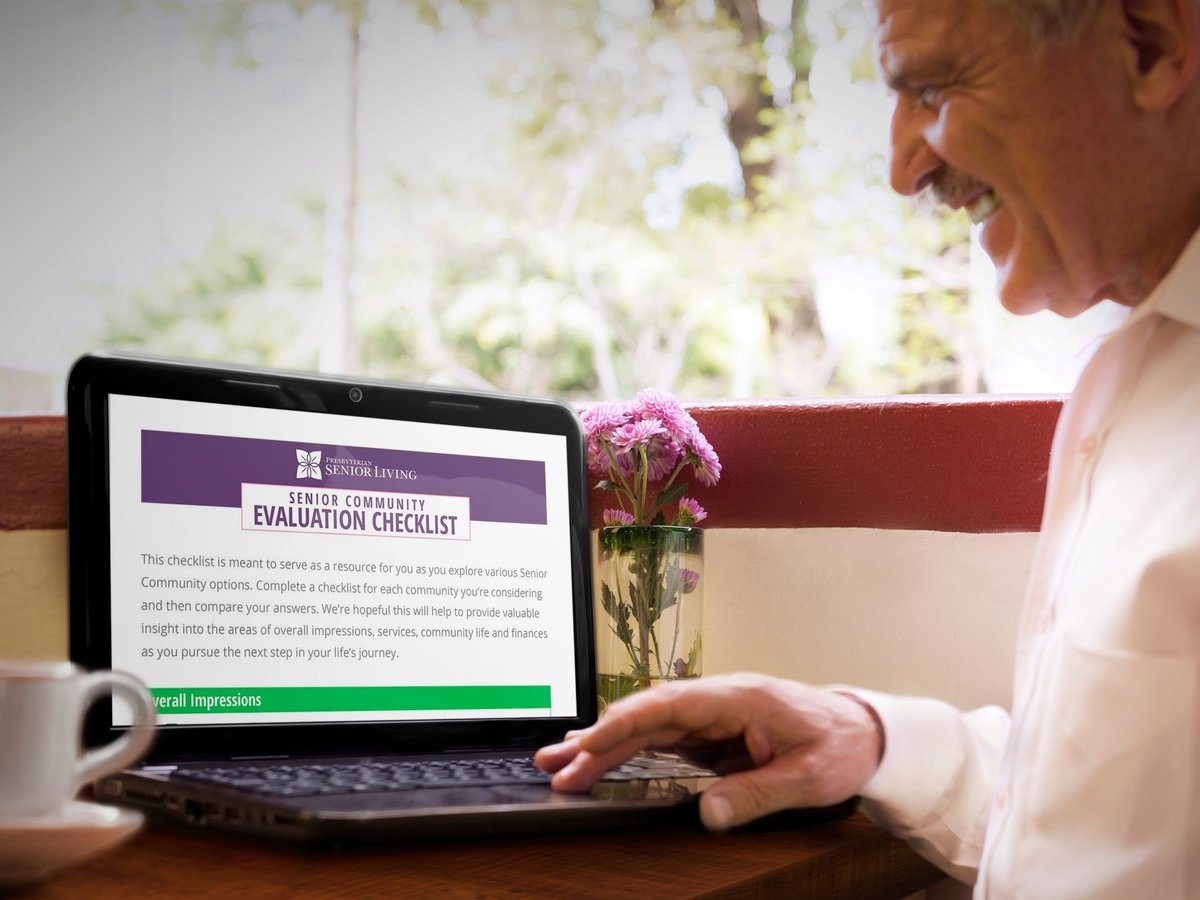 Presbyterian Senior Living (PSL) is a not-for-profit organization with several communities offering a broad range of senior living services located in Pennsylvania, Delaware, Maryland, and Ohio.
The Challenge
Trying to find a retirement community is hard and is a big decision to make for any family. There are a lot of factors to consider from all different angles.
It's your, or your loved one's life, and you need to make sure you choose a place that will cater to your needs as they change, allow you to maintain your independence, and be somewhere you can be happy for years to come.
PSL wanted to create an irresistibly valuable offer that not only made this process easier, but also created a bond between families searching for a community. And for PSL, it would generate qualified leads.
Not only did it have to be useful for the seniors who wanted to evaluate communities objectively, it needed to be useful for the community directors, who provide the tours and schedule visits as well as manage the sales process.
Even though in today's day in age, people are always on their computers, phones, and/or tablets, seniors still like to have hard, paper copies, so the offer also had to be printer-friendly, not use a ton of ink, and be easy to read.
The Solution
IMPACT and PSL got together and decided to create a printable checklist, giving prospective residents (or their loved ones) a list of factors to consider when evaluating a senior living community.
IMPACT met with Ryan Kinsey, now a Corporate Sales Manager for PSL's Continuing Care Retirement Communities (CCRCs), who gave input when creating the checklist to make sure the items on the list were useful to any senior evaluating a continuing care residential community, but also helpful to PSL in the sales process.
PSL's Senior Community Evaluation Checklist, provides 23 questions ranging from Overall Impressions and Services to Community Life.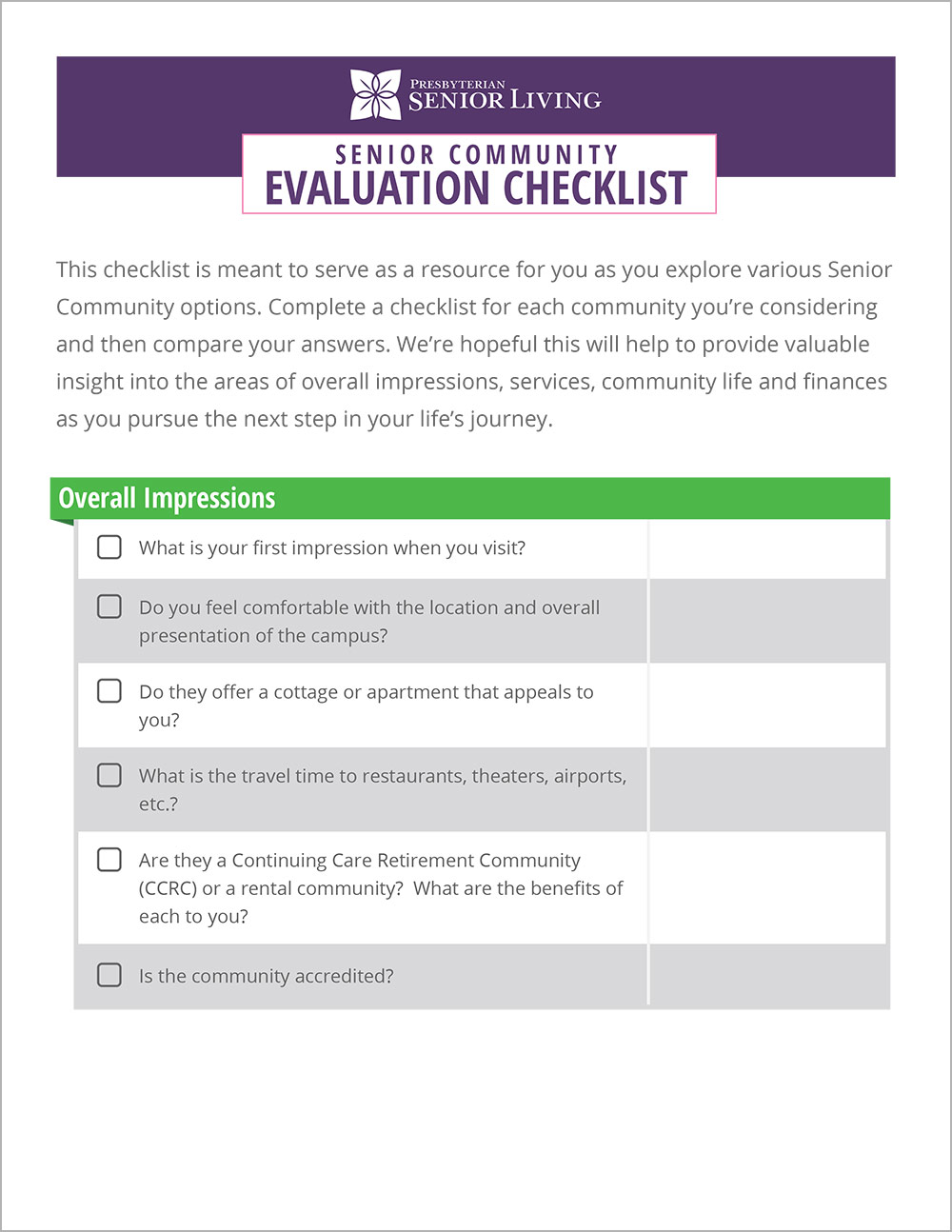 IMPACT designed the checklist to be printer- friendly and allow you to check off the questions with a pencil or pen, and leave some comments.
Catering to older audiences, the checklist was designed with large, prominent boxes, allowing for easier marking. The alternating background colors were also used to help differentiate each question from the others, while the green headers identified new groups of questions.
The font is also bold and large so that no one has to squint or struggle to read it. Overall, this checklist has a simple design which allows for the focus to be on the questions, the seniors should be looking for when taking a tour of the community they are looking at.
We also created a landing page using HubSpot's Landing Page Tool and Form Builder to gate the checklist and generate leads.
The Results
From July 2016 - October 2016, the landing page had 287 views, 80 submissions (27.87%) and 5 new contacts. This was the highest performing PSL offer at the time, and has been in the top three landing pages for PSL for every consecutive month.

(Senior Community Evaluation Checklist Landing Page - July 2016 - October 2016)

On September 29, 2016, we worked together to publish a blog article to promote the checklist further, since it was performing so well.
The blog has had 3,037 views, 105 submissions, and 11 new contacts. Of those 105 submissions, 54 are from organic search (52%).
(Senior Community Evaluation Checklist Blog - All Time)

Since then the landing page has seen 1,170 views, 292 submissions (24.96%), and 49 new contacts (4.19%), and 2 customers. Of those 292 submissions, 76 are from organic search (26%).
(Senior Community Evaluation Checklist Landing Page - All Time)
Featured Image Created Using Placeit.net.
Free: Assessment
Does your website build trust with buyers and bring in revenue?
Take this free 6 question assessment and learn how your website can start living up to its potential.