The What, Why and How of Facebook Messenger Ads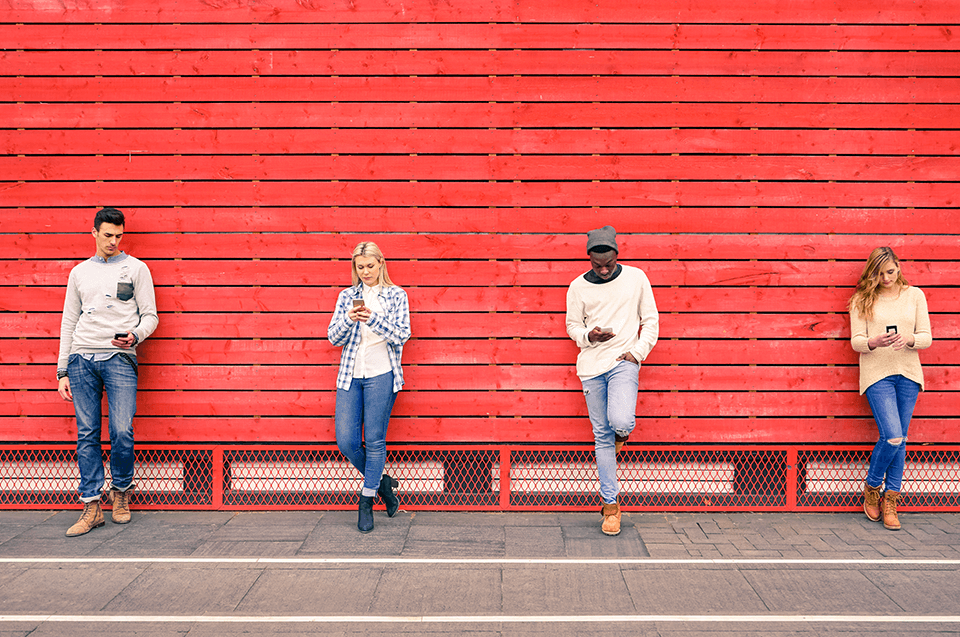 When used right, social media marketing makes users feel like they're being spoken to—and engaged with—directly. That's why social media marketers spend so much time and effort trying to create a conversation between their brand and their customers.
With Facebook's new Messenger ads, creating a conversation and engaging in dialogue are more than just metaphors—they're something your ads can literally do.
Facebook first announced their new Messenger ads back in November of 2016, calling them "an unprecedented opportunity to use amazing targeting capabilities and reach of the Facebook News Feed."
Messenger ads have been available since then, but it hasn't been until recently, after a few months of testing and Messenger ad evangelism, that their popularity has really taken off.
If you're interested in taking advantage of Facebook's newest offering for advertisers, keep reading to get the what, the why and the how of advertising in Messenger.
What Are Facebook Messenger Ads?
Messenger ads are paid, branded advertisements that take advantage of Facebook's billion-plus user Messenger app as a delivery platform. They come in two basic forms.
Messenger as a Destination for News Feed Ads
The most common (for now) type of Messenger ads are so-called "destination ads." At first glance, destination ads look like any other typical News Feed advertisement. The difference is in the call to action. Instead of taking users to a website or brand page, these ads' ask viewers to "Send Message" as the call-to-action to open up a chat window in the Messenger app on mobile, or in a chat window on desktop. So they can bridge the gap between Facebook's two main platforms, Messenger and News Feed.
Sponsored Messages
Sponsored messages are a bit more direct than destination ads, delivering sponsored chat messages straight into users' Messenger inboxes. The caveat for these ads is that you can only send them to users who have already interacted with your brand on the Messenger app.
The Benefits of Messenger Ads
As I mentioned earlier, Messenger ads are custom-built to fulfill the cardinal goal of any social media campaign (trust me—us Facebook advertisers were dancing a jig when they launched this option). By opening direct, one-on-one chat conversations with your audience, you can create hyper-personalized brand experiences at the individual level. Let's face it, many people want instant gratification, so the idea of direct contact for answers they aren't put off by the Messenger experience.
Users can ask questions about your location or business hours, get more information about your products or services, offer feedback, make appointments and more just as directly as they would with a phone call—if not more so. This can shorten the conversion funnel considerably or lead to easy upsells, in addition to the obvious benefits for branding and relationship-building.
Not to mention, you can hyper-target anyone who has engaged with your page via Messenger with more ads.
"Create hyper-personalized brand experiences at the individual level with #FacebookMessengerAds" TWEET THIS
How to Create Messenger Ads in Facebook
If you're interested in Messenger ads and want to start experimenting with and testing your own, here are the basic steps to do so. Keep in mind, this is the how...but there is so much more that goes into your targeting, strategy and actual campaign development. But this is a great place to start testing.
Creating Destination Ads
Open Facebook Ads Manager and select Create Ad in upper right corner.
Under "What's your marketing objective?" select either Traffic or Conversions. Enter the name of your new ad campaign.
Select your audience targeting, budget, and ad placement. Remember—Messenger can only be used in the Desktop News Feed and Mobile News Feed for ad placements. You can layer additional targeting on top of that as needed by demographic, interests or custom retargeting.
Choose the page you want to connect and your ad format. This is the same as for any other Facebook News Feed ad. Options include Carousel, Single Image, Single Video or Slideshow.
Under destination, select Messenger or Messege Text.
Enter your welcome message. This is what users will first see in their new Messenger conversation when clicking on your ad.
Review and place your order.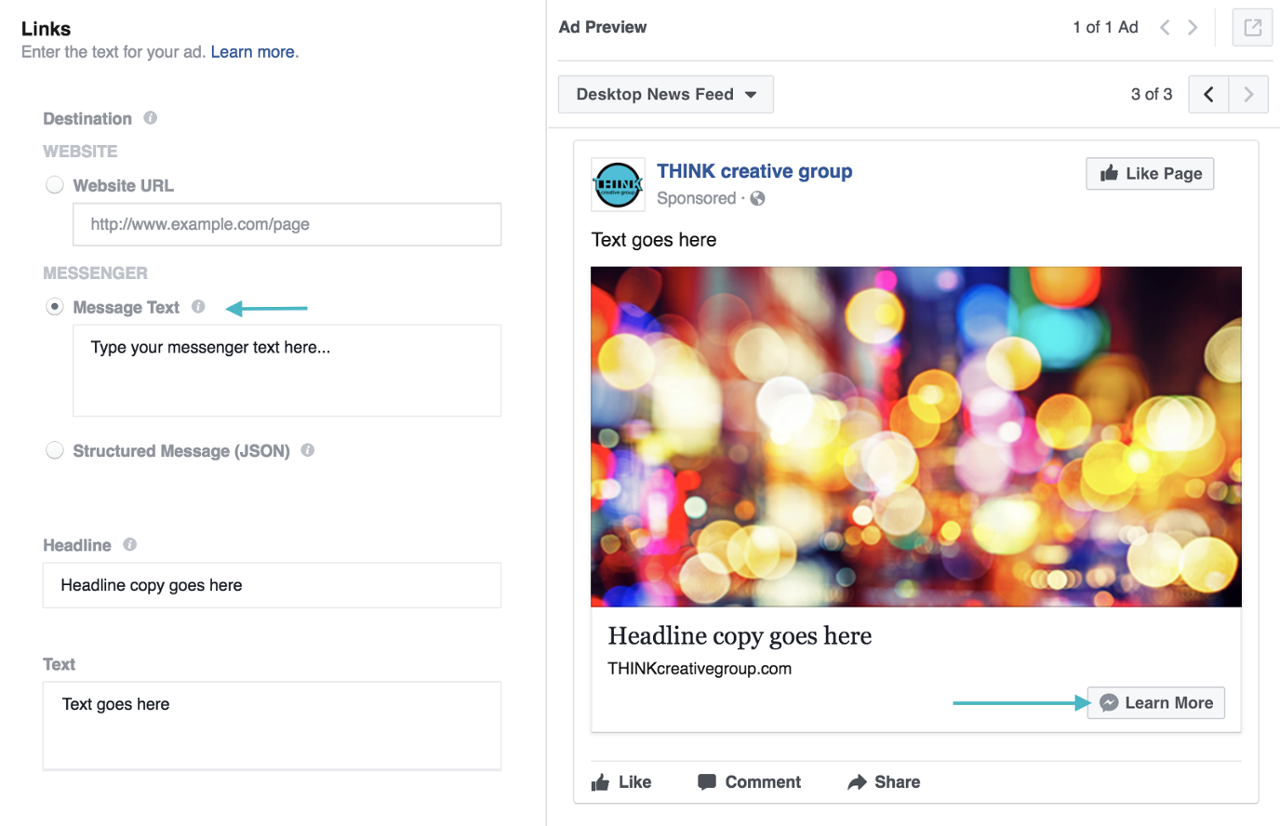 ---
BONUS TIP: always select to track all conversions (if you properly have set up your Pixel), this way you can track your conversions and sales!

---
Creating Sponsored Messages
Click Create Ad in Ads Manager.
Under "What's your marketing objective?" select Conversions.
Select the conversion event you'd like to promote.
Under Audience, select Create a Custom Audience. Then select Engagement on Facebook.
In the Include dropdown select "People who sent a message to your Page," a timeframe for engagement and enter a name for your audience.
Under Placements, select Edit Placements and select Messenger.
Select "Turn On" when the Messenger placement notification comes up.
Complete your budget, images, CTA and place your order.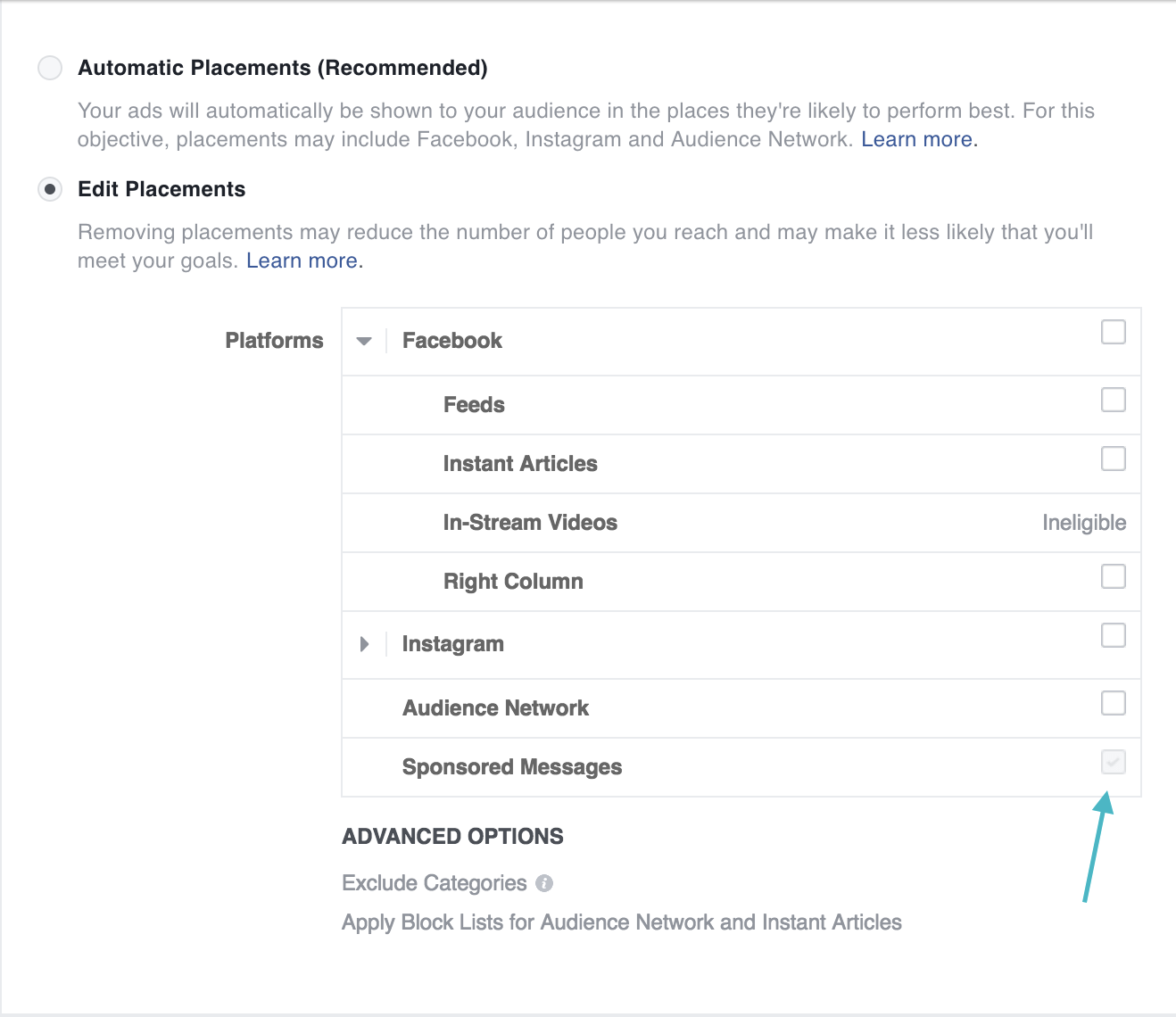 Once you select Sponsored Messages, you'll get this notification: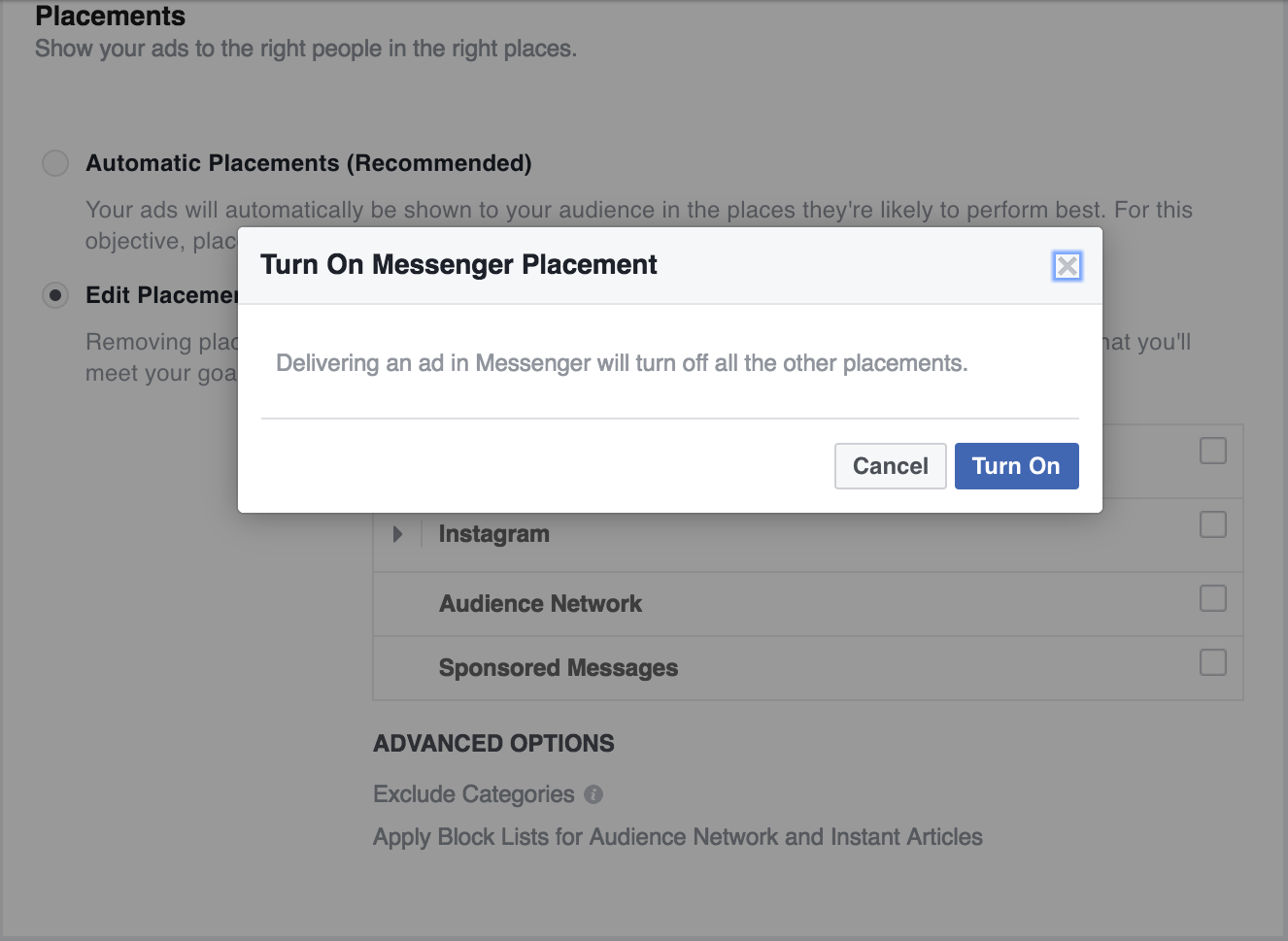 Keep in mind Messenger ad campaigns require certain delivery settings, are automatically optimized for impressions and require a manual bid.
Using Chatbots in Facebook Messenger
The process of creating Messenger ads is fairly simple. The difficult part is having people available on-hand to respond to any chat requests that come through. This is especially true for smaller businesses that may not have the capital for full-time customer representatives.
Luckily, having live humans on-hand for every message isn't strictly necessary. Automated chatbots are an effective and easy to setup way to automatically respond to users in Facebook Messenger.
There are few chatbots to choose from. We use ManyChat, which integrates automatically with your Facebook account and can be setup in as little as a few minutes. ManyChat supports automated responders with text, images and links, automatic content aggregation and more.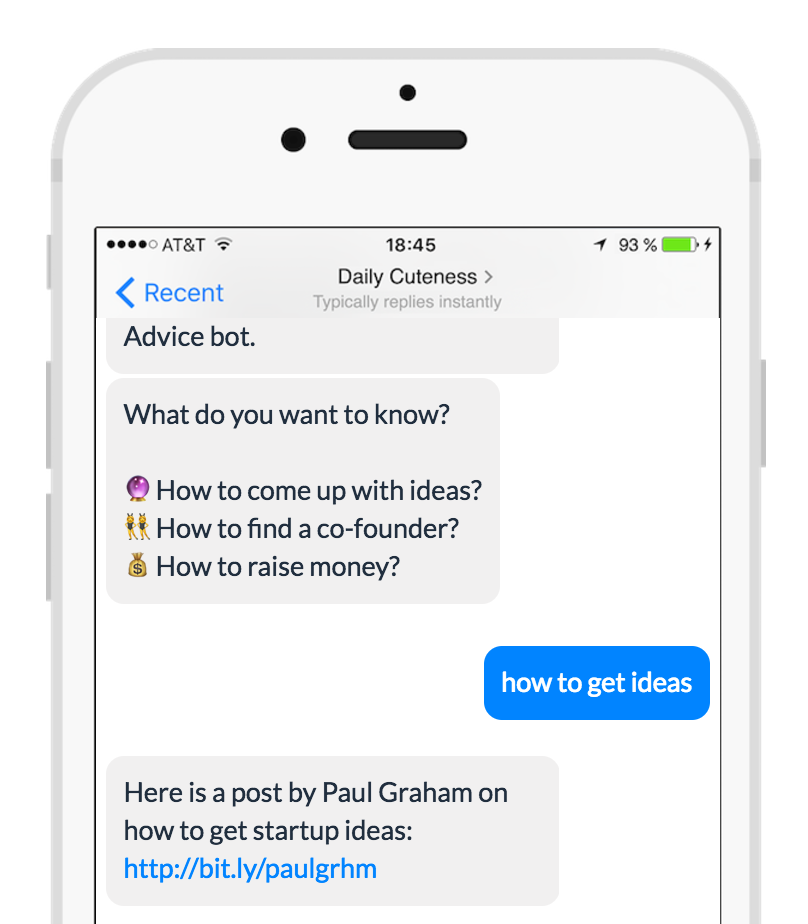 All things considered, if you're already advertising on Facebook and especially if you enjoy good engagement on your page, you should explore Messenger advertising. Facebook has been careful not to make the learning curve for seasoned marketers too steep, and the potential for a significant return on your investment is too much too ignore.
Free Assessment:
How does your sales & marketing measure up?
Take this free, 5-minute assessment and learn what you can start doing today to boost traffic, leads, and sales.