7 reckless B2B content marketing mistakes you can't afford to make
When you know what mistakes to avoid, your B2B content marketing can drive incredible results in website traffic and qualified lead generation. It can also shorten the sales cycle and increase your revenue.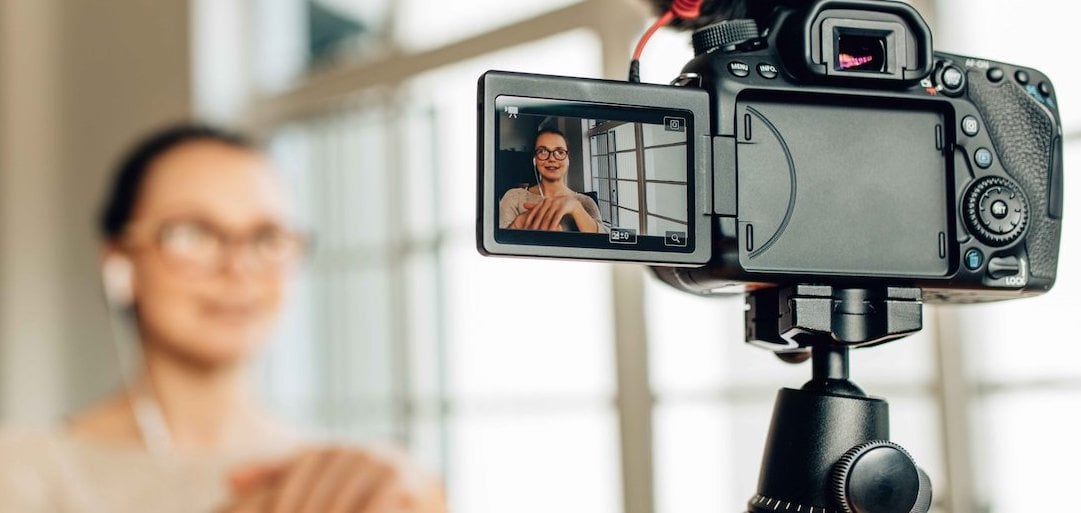 Most common B2B content marketing mistakes
You don't have a strategy or a plan
You're not obsessing over your customers
You're not speaking the right language
You're selling, not educating
You're not embracing video in sales or marketing
Your content isn't optimized for search
You aren't promoting your content
Years ago, while in a job I wasn't particularly happy with, when I had a brilliant idea.
"I'm going to start a marketing blog!" I said to myself with bright-eyed ambition.
You see, I had started taking on consulting clients on the side of my full-time job, with a plan to leave once I built up more. I thought content marketing would be a great way to start getting myself out there. So, I started a content calendar and tons of topics ready to go.
I spent my nights and weekends churning out articles and I even had a friend help me create videos to add to my content.
I thought I was doing all the right things. Yet, my traffic told a different story.
The reality was, I was doing some of the right things, but I was also missing obvious opportunities that could have had a much bigger impact on my business.
A colleague I consulted on what I could be doing better started off with one statement that said it all: "You're creating content on an island and hoping people find you. You're not putting it where you know they are."
He was exactly right, I wasn't focusing on the right keywords to get found online, I wasn't doing enough to promote my content, and I was choosing my topics based on what I wanted to talk about, not what my audience was asking for.
The thing is, I wasn't alone. Many business owners, even marketers, were making these same mistakes and still are. So, we're going to right this ship together. Here are the biggest content marketing mistakes that you need to avoid in your B2B content marketing.
1. You don't have a strategy or plan
One of the biggest mistakes you can make with your B2B content marketing is not having a plan!
Think about it like this, would you tell your finance team to "just wing it" or have your sales team only forecast their revenue when they felt inspired to? Absolutely not!
Content marketing is no different.
When starting your content strategy, you'll need to create a monthly plan.
It's imperative that you don't just post a blog when inspiration strikes. Having a monthly editorial calendar, that is based on customer and keyword research (see more about this below) and considers multiple stages of your customer journey will help you create consistency for your audience.
🔎 Related resources:
By giving your audience something to expect and anticipate from you, you're helping build a relationship and most importantly trust.
Next, you need to think about what your company's style and voice is. This is especially important if you're going to have multiple members of your team creating content.
Your prospects should always know your content when they see it. Of course, each author will bring their own tone, but having an overarching style guide will help keep consistency for your audience.
Not sure how to create a content style guide? Check out this comprehensive guide to getting started.
2. You're not obsessing over your customers
Think about what you do when you need to buy something. Maybe it's a product, maybe it's a service. What do you do first?
If you're like most buyers, you're going to head to Google and start typing in your questions.
When your content is focused on these questions, you're setting yourself up to get found when people turn to Google and you're giving your potential customers exactly what they are looking for.
🔎Related: The Big 5 blog topics guaranteed to drive traffic, leads, and sales
Before they've ever met you, you've already started gaining their trust by answering their most important questions.
(Note: This is the core of Marcus Sheridan's, They Ask, You Answer , which is at the heart of IMPACT's philosophy.)
One of the simplest ways to get started with this philosophy is to ask your sales team for a list of the questions they most commonly hear from prospects and start adding these topics to your content plan.

You can also use tools like SEMrush to do keyword research on what your website visitors are searching for, and better yet, what visitors to your competitors' sites are searching for.
There are typically five topic areas you'll start to see trends with when identifying common questions from your customers:
Cost
Problems
Comparisons
"Best of" Lists
Reviews
Shaping your content plan around these areas (we call them "The Big 5") is a great place to start in giving your prospects the answers they are looking for, and to also start arming your sales team with powerful content that they can use to close deals faster.
3. You're not speaking the right language
One of my biggest pet peeves in content marketing is when businesses use internal language (the way you might speak to a coworker) and jargon and expect their customers to get it.
BIG mistake.
I once had a tech startup as a client. When I began working with them, they were trying to create website copy and content to drive more sign-ups to their platform.
The owners of the business were almost all programmers, and they couldn't get out of the habit of writing as if they were talking to other programmers. The problem was, this wasn't their audience.
The end result led to a lot of very confusing programming jargon and tech-speak that the average visitor couldn't make sense of.
They weren't speaking about the benefits of their product and how it would help solve their customers' problems in a way they could actually understand.
Who are you more likely to buy from? A business that understands you? Or a business that doesn't?
This goes directly back to obsessing over your customers.
When you don't understand how your customers search or speak about products like yours, you can't expect to resonate with them.
In addition to talking to your sales team and doing keyword research, start the practice of social listening.
"Social listening is the monitoring of your brand's social media channels for any customer feedback and direct mentions of your brand or discussions regarding specific keywords, topics, competitors, or industries, followed by an analysis to gain insights and act on those opportunities."
This is a simple way to take note of the language your customers and prospective customers are talking about your products and services.
You can also do this by mining review sites to monitor exactly how your customers are describing what they like and don't like about products like yours.
When your B2B content marketing uses the same language your customers speak, you're more likely to strike a chord and build a rapport with them off the bat.
4. You are selling, not educating
Put yourself into your buyers' shoes for a moment.
Let's say your buyer has a critical problem in their business, and you have the perfect solution for them.
You've done your research, so you know the questions this buyer is searching for, you've put that topic into your content plan and posted multiple articles to answer them.
Now, your prospective buyer has found your link right at the top of their Google search.
They click in, in anticipation.
The headline seems promising. The first paragraph is on the right track.
And, then BAM! You hit them with a sales pitch.
Now instead of having a happy prospect who feels like they got even more information than they could have hoped for, you have a disappointed visitor who just clicked the back button and is now on their way to your competition's article on the same subject.
Did you know that B2B buyers are 57% to 70% through buying research before ever contacting a salesperson?

Today's buyer wants to be educated, not sold to.
Your content marketing should be thoughtful, provide useful and relevant answers to your prospects' questions, and educate your customers as they move through the buying cycle.
It should NOT be self-promotional and have a blatant agenda.
Make education the mission of all of your content and you will see far better results in the end.
In other words, when you proactively answering all of your buyers' questions and concerns before they've contacted sales, you've not only helped qualify them, but also built trust. Both of these can shorten the sales cycle dramatically!
5. You aren't embracing video
A comprehensive B2B content marketing plan shouldn't just be about writing.
You must embrace video.
There are endless stats out there on the value of video in your marketing. Here's just a few:
Remember what my friend told me? You can create content on an island or you can put yourself where your customers are. Well, when YouTube gets over 30 million visitors per day, you need to be there.
Video provides your customers with the education, insights, and information they need, in an easily digestible format they want. It also allows you to diversify your content and bring a much larger reach to a topic than just a blog alone.
🔎 Related resources:
If you want to take video to another level, get your sales team to embrace it too!
Video is a powerful sales tool that will help your prospects connect to your team and start building trust before they've ever scheduled a call.
If you aren't embracing video yet in your content marketing, you need to be!
6. Your content isn't optimized for search
Let's be real, the internet is a competitive place.
Your content might be answering the right questions and providing value to your customers, but if it's not optimized for search, you're basically leaving a ton of traffic on the table or even worse handing it to your competitors.
There are so many facets to SEO, it can be daunting to know where to start.
Starting with a technical SEO audit of your website is a worthwhile investment to make.
It will help immediately impact your search ranking by ensuring that the backend of your website, including the .xml sitemap, H1 tags, and meta descriptions are all optimized for search.
As you're building your B2B content marketing strategy, you'll also want to get into the regular habit of conducting keyword research.
Investing in a tool like SEMRush, Moz, or leveraging free tools like Google Trends are all great ways to keep on the pulse of your industry and know what keywords your content needs to be targeting.
Remember, if you're including video in your B2B content marketing plans (and you should be), you should also be conducting this same keyword research for your YouTube videos and descriptions.
7. You aren't promoting your content
An effective content marketing strategy means pulling several levers at once. Even if you've got a killer optimization plan and valuable content, you have still got to promote it.
Here are some easy ways to add a boost to your traffic through content promotion.
Create an email newsletter:
Have you read THE LATEST? It's IMPACT's newsletter that goes out three times per week and is filled with our best content, valuable tips, and colorful commentary from the always insightful and clever Liz Moorehead.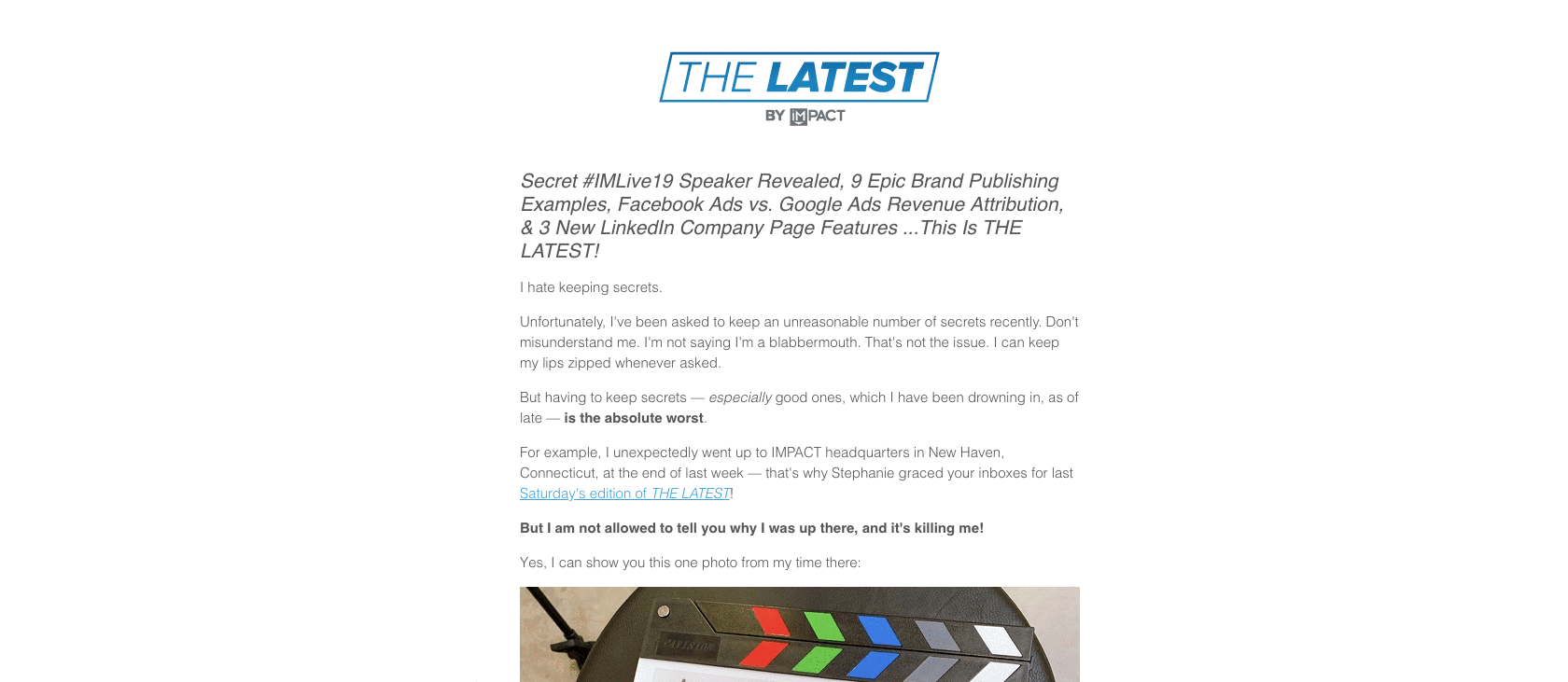 Creating a newsletter is one of the best ways to make sure your audience is always seeing your most recent content. Depending on the frequency you publish new content will help you determine how often your newsletter should go out.
For most businesses weekly or even bi-weekly newsletters are sufficient.

Share your content on social media:
Every time you publish new content, you should be posting it on social media and what platform should be determined by where your audience is most active. For example, if your audience engages with you most on LinkedIn and not at all on Twitter, focus on LinkedIn.

Leveraging popular hashtags related to your blog topic or industry will help you ensure that the right eyeballs are seeing your posts as well.

Also, if your blog or video talks about other businesses or influencers, make sure you tag them! You'd be surprised how many are willing to do a simple repost or share when they get a shoutout.

Strategically use your content in paid media campaigns:
If you've got the budget, strategically putting some ad dollars behind your best performing content and targeting a lookalike audience of your best customers is a great way to get even more from your content marketing.
🔎 Related: The ultimate Google Ads getting started guide
Again, focus on platforms where you know your audience is. Facebook may not be right for you, but perhaps LinkedIn is.
Consult with paid media experts to make sure you are spending your money in the right places and your campaigns are optimized for success.
Your B2B content marketing can drive incredible results
Content marketing doesn't often get the props it deserves.
All too often it's an afterthought or seen as a "nice to have" if the sales team brings in enough revenue to justify it. But the reality is, content is a crucial piece of both the marketing and sales processes and can quickly and dramatically help boost their revenue.
When you know what mistakes to avoid, your B2B content marketing can drive incredible results in website traffic and qualified lead generation. It can also shorten the sales cycle and increase your revenue.
Free Assessment:
How does your inbound marketing measure up?
Take this free, 5-minute assessment and learn what you can start doing today to boost traffic, leads, and sales.
Get Started
Free Assessment:
How does your inbound marketing measure up?
Take this free, 5-minute assessment and learn what you can start doing today to boost traffic, leads, and sales.
Published on July 31, 2020