What the Reversal of Net Neutrality Means for Small Businesses [Updated]

The regulations against net neutrality have been moved back into the spotlight.
On April 26th, Ajit Pai, FCC Chairman, gave a speech in Washington where he announced his move to undo an Obama-era FCC regulation against broadband internet providers.
His proposal looks to undo the 2015 rules that implemented net neutrality with a Title II classification. But people on each side of the debate have varying concerns about altering the regulation and how it not only affects the big companies but the little guys as well.
With an initial vote coming up on May 18th, many are looking for a better understanding of net neutrality, review the proposed changes, and weigh the benefits and worries the changes may create.
So, what do you need to know?
In this article, we've outlined the key details about the current and proposed legislation, how it may affect small businesses and operations, and what the future may hold if it's passed.
What is net neutrality anyway?
Net Neutrality (also known as Open Internet) revolves around the idea that all internet service providers (ISPs) treat the deliverability of web traffic, applications, and content equally.
Some consumer advocates were concerned that certain providers (such as Verizon, AT&T, Comcast or Charter) could slow down broadband connections to companies who they see as rivals. This also allows ISPs to increase speeds for content providers the companies have agreements with or companies that are subsidiaries.
What do the rules now currently enforce?
Back in 2015, the FCC established and began enforcing a new set of rules that leveled the playing field for all internet carriers. These new measures classified the internet as a "Title II" common carrier under the Communications Act. This regulation enforced a multitude of different rules including but not limited it:
A greater disclosure from ISPs about hidden fees and data caps.

The prevention of ISPs exempting their own video services from caps on mobile data while charging competitors of video for a similar data cap.

The prevention of ISPs throttling the speed of sites and apps for competitors.

The prevention of ISPs creating interconnect agreements (contracts that connect networks in exchange for telecommunications traffic) with big content companies.

The ability for ISP customers or competitors to file complaints about conduct they deem as "unjust".
Where Things Stand As of December 2017
Despite many advocacy groups calls to delay any proceedings, the FCC intends to vote on Dec. 14th to repeal the net neutrality rules.
The commission released a 200 page revised plan on November 22nd, which has taken many a lot of time to sift through and review the changes.
An FCC representative assures that the new document took into account many of the serious comments from the 22 million responses the initial plan received. Yet, others look at the doc and see that the core orders still intact. These orders include:
Removing broadband's telecommunications designation

Removing the statutory authority for the 2015 rules (Title II of the Communications Act)

Lightening the regulatory framework which

permits

ISPs to throttle and prioritize traffic
For the days leading up to the vote, people are keeping their eyes on the doc for any new changes that are made.
In the News
Since 2014, Comcast has promoted it would uphold net neutrality by stating on a webpage they would not charge for websites or other online content.
The webpage, found here, used to contain the statement 'Comcast doesn't prioritize Internet traffic or create paid fast lanes.' This page was left unchanged until the April 27th, the same day the FCC released its initial plan to repeal net neutrality.
Come April 27th, the page now looks like this:
Although a Comcast spokesperson insists that the company has 'no plans' create paid priority planning, their statement and the website copy still leaves future changes up in the air.
This has left many concerned that Comcast will eventually move towards paid fast lanes for content streaming if the repeal of net neutrality is successful.
FCC Bot Infiltrates Comments System
As hundreds of thousands took to the FCC's website to voice their support or opposition to repealing net neutrality, so did a slew of bots.
Amid the 22 million comments the FCC received were a hefty one million fake ones submitted by a bot proficient at natural language generation (NLG) supporting the repeal. The language it used was nearly identical to one another, yet varied in the words used to formulate the comment.
While NLG content generated from bots is traditionally easy to spot, those with more sophisticated systems can make detection more difficult.
FiscalNote did a compelling report showcasing the NLG patterns among some of the comments that were submitted showcasing this particular bots sophistication.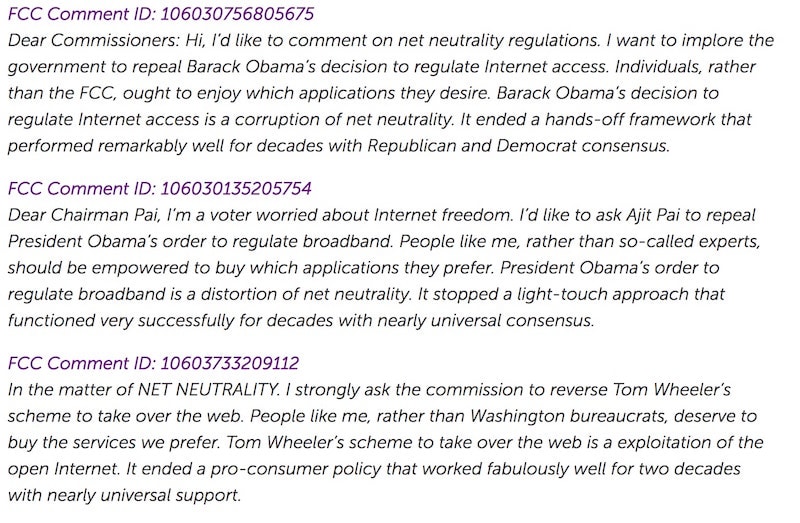 Screencap from FiscalNote
With the New York Attorney General's office currently investigating the comments, there's still a high probability more fake comments will surface.
Another interesting side to this is that many websites create an experience that makes it easy for those to submit feedback to the FCC (copy/paste text blocks or buttons that send auto-generated submissions). While these comments are being submitted by actual humans with good intent, they also run the risk of being flagged as spam now.
Either way, the task of segmenting the mountain of comments is no easy feat that will surely take an extensive period of time.
So, how does it affect small businesses?
1. ISPs Could Pick Market Winners and Losers
As mentioned above, one of the more widespread concerns of the rollback is the ability for ISP's (more likely the larger corporations) to throttle web traffic to startups or ISP competitors. This would allow more dominant companies, such as larger scale web firms or more established companies that are partners or subsidiaries, to get priority speed.
As many companies already know, site speed plays a pretty important role is Google's search rankings. So small businesses fear that if their site unknowingly begins getting throttled from certain providers, it will kill their ranking and there's nothing they can do to change it.
Throttling comes at an especially high risk for video marketing companies who rely on speed to show videos with limited interruptions and buffering. Larger video companies may be able to pay additional costs, while startups or smaller ones may be at risk.
Ultimately, these problems feed into the financial luxuries that larger companies have which enable them to cut deals and offer specific content deals for particular ISP packages.
In response to the proposal, a group of eight hundred startups, innovators and investors sent a letter to Pai over concern of how the changes may hurt their industry in hopes that he will reconsider changes the registration.
2. Divide in the Competition
Right now, one of the outcomes of Title II is that no ISP can attempt to outperform the other, giving all companies, big and small, the ability to offer the same speed and no limitations.
But some argue that reversing the title will open up the competition and allow ISPs to offer more flexible pricing and more free data plans. Others say that this is a benefit that won't be as easy for smaller ISPs to offer, causing the little guy to fail.
Although, others say this may open the doors for smaller ISPs to get more innovative and develop packages that may appeal to other audiences, giving them a chance to diversify itself from its larger counterparts.
3. Financial Burdens
If premiums for high speeds and faster internet usage are imposed on smaller companies, there is a risk that the fee may be outside of their organization's budget. Depending on how high these fees run, they may face a high financial strain just to gain visibility and to promote their business.
Smaller companies also run the risk of having to make cuts elsewhere to assure their online visibility. This may translate into salary cuts or stunted job growth until their business finally begins gaining online traction at a consistent rate.
What happens next?
As mentioned earlier, the Federal Communications Commission will vote Dec. 14 on a plan to undo the landmark 2015 rules.
With the five-member FCC having a Republican majority, many believe the plan, called "The Restoring Internet Freedom Order", will likely pass.
Like the 2015 rules, its expected this iteration will face a lawsuit. But as the clocks come closer to the date, only time will tell what happens and what the future holds for businesses and US citizens.
Free: Assessment
Does your website build trust with buyers and bring in revenue?
Take this free 6 question assessment and learn how your website can start living up to its potential.
Score My Website
Free: Assessment
Does your website build trust with buyers and bring in revenue?
Take this free 6 question assessment and learn how your website can start living up to its potential.
Published on December 6, 2017